Finder is committed to editorial independence. While we receive compensation when you click links to partners, they do not influence our opinions or reviews. Learn how we make money.
Compare New Jersey SR-22 insurance
Get cheap SR-22 insurance in New Jersey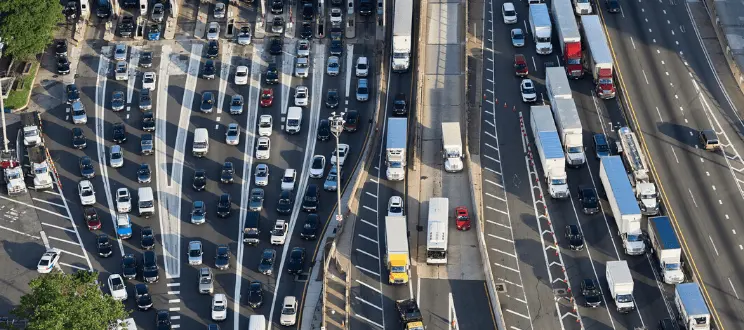 Although New Jersey requires minimum liability insurance in order to legally get behind the wheel, you're not required to file an SR-22 after a violation. Instead, you pay an annual surcharge. Avoid stress and time off the road by looking over a few of New Jersey's requirements.
Compare New Jersey SR-22 car insurance
Find the best rates from insurance providers near you or learn more about state minimums and other requirements in the comprehensive guide to New Jersey car insurance.
Do I need to file an SR-22 in New Jersey?
The New Jersey Motor Vehicle Commission (MVC) will let you know if you need to pay a surcharge. Common situations when you'll need to pay the fee include:
You have six or more points on your license.
You're caught driving without a license or car insurance.
You're convicted of driving under the influence of alcohol or drugs.
You refuse a breathalyzer after you're pulled over.
What if I don't have a car or a license?
Yes, if you want to drive legally in Jersey. If you don't have a car but will drive a friend's or family member's, look into purchasing a non-owner policy. The state may also require non-owner insurance to simply reinstate your license after a suspension.
What if I'm from another state?
You must maintain an SR-22 filing that you receive in another state. New Jersey doesn't require an SR-22, but in order to drive legally you must hold the required insurance for the entirety of your filing period.
How much does the annual surcharge cost in New Jersey?
If you're convicted of any type of unsafe driving, the New Jersey MVC will slap you with an annual surcharge for three years. How much you'll pay depends on your violation.
For example, DUIs and other major driving convictions can require up to $1,000 in annual surcharges, while driving without a license and other less serious charges can cost as low as $100 a year. The New Jersey MVC will notify you how much you're required to pay at the time of your conviction.
A potentially bigger cost you'll see after a conviction in New Jersey is a steep increase in your insurance premiums. After a driving conviction, you're considered a high-risk driver, and most insurance providers will raise your rates accordingly to cover that risk.
Get instant SR-22 quotes online
Compare SR-22 car insurance from companies near you.
Your information is secure.
Need help? Call (877) 959-5072 toll-free to speak to an SR-22 specialist.
How do I prove financial responsibility in New Jersey?
Although you don't need an SR-22 in New Jersey to prove financial responsibility, you are required to pay for minimum car insurance coverage before you can legally drive in the state.
Look for an insurance company licensed in Jersey to purchase a policy that includes your state's minimum coverage:
15,000 bodily injury liability per person.
$30,000 bodily injury liability total per accident.
$5,000 property damage liability total per accident.
$15,000 medical payments coverage.
You must keep proof of insurance and car registration in your car every time you get behind the wheel in New Jersey.
How long will I need to pay the annual surcharge?
You're required to pay the surcharge for a minimum of three years. However, your penalty ultimately depends on your offense and what the MVC decides.
It's your responsibility to pay your fines on time. Failure to pay them could result in tacked-on fees and the suspension of your license.
What happens if I fail to pay the surcharge?
If you fail to pay your surcharge, the state can suspend your license — costing you more money and more time before you can legally get back on the road. If your debt remains unpaid, you could wind up in court, forced to pay the penalty with your property or automatic withdrawals from your paycheck.
Nonpayment can also affect your credit score, resulting in a penalty that hurts well into the future.
What happens when I don't need to pay the surcharge anymore?
As long as you've avoided accumulating more points and you've paid your annual surcharge for the length of the mandate, you should be able to simply halt payments. Nonpayment can result in your license being suspended and additional fees, so it's important to confirm you no longer have a surcharge due before ceasing payments.
Bottom line
New Jersey doesn't require SR-22 filings, but it does have an annual surcharge based on point violations. Your best bet is to keep on top of the surcharge payments and try to keep a clean record throughout the mandated period.
Even without the SR-22, you're required to hold insurance. With a high-risk status you may find that premiums are higher. Compare providers to find which will give you the coverage you need at a price you can afford.
More guides on Finder