Finder is committed to editorial independence. While we receive compensation when you click links to partners, they do not influence our opinions or reviews. Learn how we make money.
Mini Convertible car insurance rates
Get cheap insurance for this chic, sporty convertible.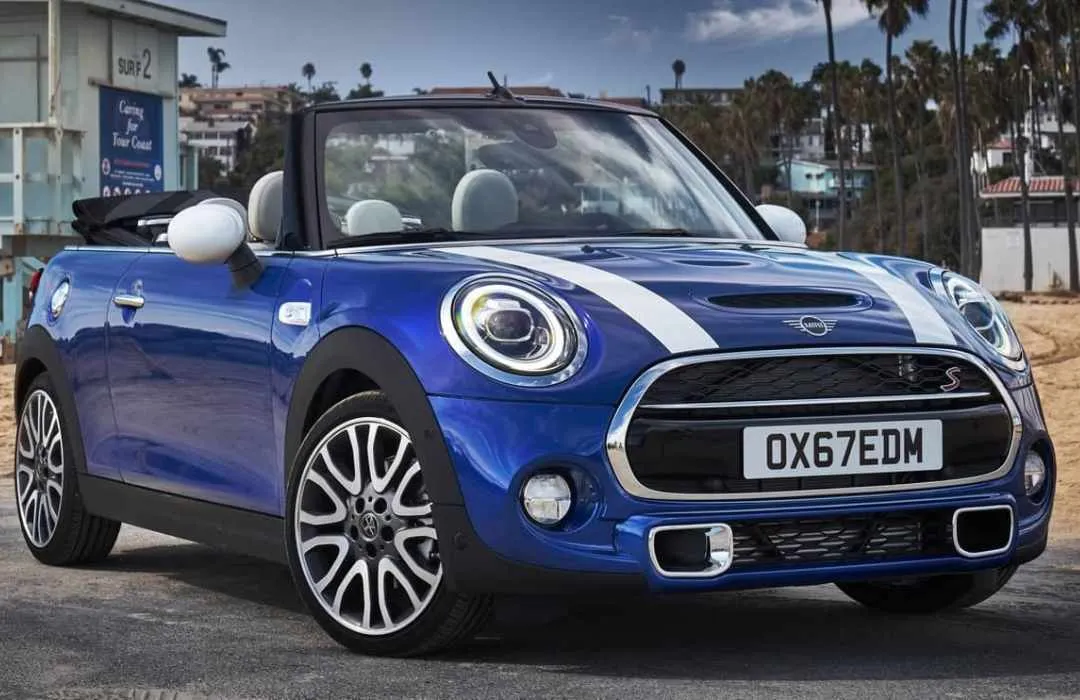 Compare car insurance quotes
Enter your ZIP code below and click Compare to see the cheapest rates in your area.
Your car insurance premium is a product of your provider, driver profile, where you live, the year of your car and the level of coverage you opt for. The average cost of insuring a Mini Convertible is $108 a month — or $1,297 a year.
This rate is lower than average across all Mini models, which comes to around $200 a month — or $2,400 a year.
Discover coverage that's broader than competitors, valuable discounts up to 30% off and perks like shrinking deductibles that reward no claims.
Broad coverage, including for custom car parts or ridesharing
Transparent pricing tools that help you buy within budget
Accident forgiveness on small claims or for staying claim-free
Stack a variety of discounts for multiple cars, autopay or homeownership
Compare insurance for your Mini Convertible
Mini Convertible insurance rates by model
| Model | Monthly insurance rate | Base car price |
| --- | --- | --- |
| Mini Cooper | $227 | $20,950 |
| Mini Cooper 4-door | $140 | $23,450 |
| Mini Clubman | $132 | $26,000 |
| Mini Convertible | $108 | $22,500 |
| Mini Countryman | $140 | $26,600 |
| Mini Countryman SE | $130 | $33,441 |
How to compare insurance for the Mini Convertible
One of the biggest benefits of car insurance is its flexibility. You have the freedom to change providers and tweak your policy, coverage levels and extras. When you're shopping around for insurance for your Mini Convertible, consider these factors:
Price. Car insurance is a required expense in most states, so it needs to be affordable. Decide how much coverage you want, and then use that number to compare the costs between providers.
Deductible. The higher your deductible, the lower your premium, and vice versa. Settle on a number that suits your budget and driver profile. If you're stuck, think about the part that's most likely to break — for example, a taillight — and how much it would cost to fix out of pocket if you need to file a claim.
Minimum coverage. In most states, car insurance is a legal requirement. Before you get behind the wheel, you'll most likely need liability protection at a minimum. Check the rules for your state to be sure.
Additional coverage. You can add layers of protection to your policy, such as personal injury protection (PIP), uninsured and underinsured motorist coverage and medical payments coverage. Since the Mini Convertible has a low theft rate, most policyholders only opt for comprehensive coverage for brand new cars.
Extras. If you want to dress up your policy with features like roadside assistance, vanishing deductibles and accident forgiveness, ask your provider for a list of available extras.
Restrictions. Some providers can't — or won't — cover teens, while others impose restrictions on ridesharing or driving overseas. Research these now to avoid any gaps in coverage or denied claims later. The Mini Convertible isn't a luxury or sports car, so it's likely not going to have too many limitations, but it pays to read the fine print.
Manufacturer offer or unique discounts. In the military? USAA members and their families in the US may be eligible for discounts when they lease or purchase a Mini Convertible. With the US Mini Diplomatic Sales Program, diplomats, ambassadors and members of international organizations could also unlock special savings on a new Mini. College grads could score $500 off a certified new or preowned Mini. Your insurance company may also offer discounts for loyalty, safe driving and paying your premium in full.
Warranty. A four-year or 50,000-mile warranty comes standard with any new Mini Convertible. This includes roadside services like locked-out assistance and towing, bumper-to-bumper coverage and powertrain. You'll also get complimentary maintenance services for issues with your engine oil, brake fluid or air filter for up to three years or 36,000 miles, whichever comes first. Find out what's covered by your warranty to avoid paying for coverage you don't actually need.
What factors affect car insurance for the Mini Convertible?
The rate you're offered reflects your insurance company, as well as your driving history, where you live, the car you drive and how often you drive it. Providers put their own emphasis on things like mileage and body styling.
For a Mini Convertible, the insurance rate is affected by these factors:
Body type. These two-door convertibles are made in the UK, so it'll probably be less expensive to insure than a luxury car, but more than the average sedan.
Fuel option. The Mini Convertible runs on gas and has a turbocharged engine. Typically, gas vehicles come with lower insurance rates than diesel or hybrid vehicles.
Theft. This car doesn't have a reputation for being stolen. In general, Mini cars have low theft rates.
Repairs. While it's a stylish and respected brand, it's not a luxury vehicle. The cost of repairs might be slightly higher than, say, a Toyota or Honda but not as high as a BMW or Mercedes. The US is Mini's biggest market, so repair services are readily available. Mini also has a generous warranty system for maintenance issues.
Safety features. You'll find plenty of safety features to keep you and your car safe in an accident, including airbags, parking sensors, automatic headlights and a rearview camera. These features can also help cut down the cost of insurance.
Driver factors
When determining your premium, your provider assesses your driving history and any violations, accidents and claims. If your driving record is free from major traffic violations in the past three to five years, you'll most likely be rewarded with a cheaper rate.
The carrier will also look at your credit score as well as your nominated drivers. If your car is driven by a teenager or someone with a slew of speeding tickets, that may increase your rate.
Insurance is a game of risk. The riskier you are to insure, the pricier your policy will be. That's why it's so important to shop around for the best car insurance policy.
Does the Mini Convertible qualify for discounts?
There are plenty of ways to cut down the cost of your premium. Each provider has its own discount program, but typically, you can save 5% to 30% for purchasing a new car equipped with extra safety features.
Driver discounts aside, the Mini Convertible may be eligible for these discounts:
New car discount
Antitheft discount
Anti-lock brake discount
Passive restraint discount for motorized seatbelts
Automatic lights and wipers discount
With the Mini Mobility Program, you may qualify for a one-time reimbursement of up to $2,500 if you need adaptive equipment for your car. While it's not a discount per say, it's an appealing offer for drivers with disabilities or limitations, and it's rare for a manufacturer to offer a deal like this.
Special savings with Liberty Mutual
Since Mini currently has a partnership with Liberty Mutual, you may be able to get special savings on your premium and additional coverage options, such as:
Genuine Mini replacement parts
Towing back to the nearest Mini dealership
Accident forgiveness
24-hour claims service
Reliability and safety ratings for the Mini Convertible
The Mini Convertible hasn't undergone crash testing by the National Highway Traffic Safety Administration (NHTSA) or the Insurance Institute for Highway Safety (IIHS). However, the nearly identical 2017 model earned an IIHS Top Safety Pick Label for its successful crash tests.
US News awarded the vehicle a score of 8.3 out of 10 in its subcompact cars category. This score reflects reliability data and a range of features, including safety. In addition, the Mini has an above-average predicted reliability score of 3.5 out of 5 from JD Power.
The Convertible is equipped with safety features like a rearview camera and parking sensors, which are standard as of 2018, automatic headlights, airbags and rain-sensing windshield wipers. If you invest in extra safety features, such as automatic parking assist and a head-up display, your insurance provider may slash your premium.
Cars.com praises the car's acceleration, handling and responsive transmission, but says the windshield may limit the view of overhead stop lights. It also points out that the center armrest gets in the way of using the parking brake lever.
The Mini Convertible has not had any recalls. The NHTSA has recorded one consumer complaint about airbags.
In terms of fuel, the tank size is 11.6 gallons. The average fuel cost is $1,700 per year for the automatic version. That figure is a product of the current fuel prices, as well as 45% highway and 55% city driving over 15,000 annual miles. This means it costs you around $40 to fill the tank. According to Fuel Economy, you can expect to pay $500 more in fuel over five years in comparison to the average new vehicle.
What you might not know about Mini
In 1957, the Morris Company set out to build a small, fuel-efficient car that was within "economic reach of just about everyone." The engineer, Alec Issigonis, was tasked with the design, and his first sketch was on a napkin. Two years later, the first Mini launched. Fast-forward to today, and the US is the Mini's largest market.
Even though it's now owned by BMW, the Mini is still staunchly British. The new Mini Convertible has tail lights that light up in the shape of the Union Jack, and you can add this iconic flag to other details of your custom Mini Convertible.
Bottom line
While the Mini Convertible tends to be pricier than its competitors, it's reasonable to insure thanks to excellent safety features, easy repairs and low theft rates along with Mini's outstanding warranty and maintenance program.
The Mini Convertible is a good choice for people who want a fun ride without expensive insurance. To get the most value for your money, compare car insurance rates before settling on a provider
Compare Mini Convertible competitors
Not sold on a Mini Convertible? Compare other cars and convertibles like the Mini Convertible.
Get the cheapest quotes
Compare car insurance companies near you.
Your information is secure.
Frequently asked questions about the Mini Convertible