Finder is committed to editorial independence. While we receive compensation when you click links to partners, they do not influence our opinions or reviews. Learn how we make money.
Compare Massachusetts SR-22 insurance
Get cheap SR-22 insurance in Massachusetts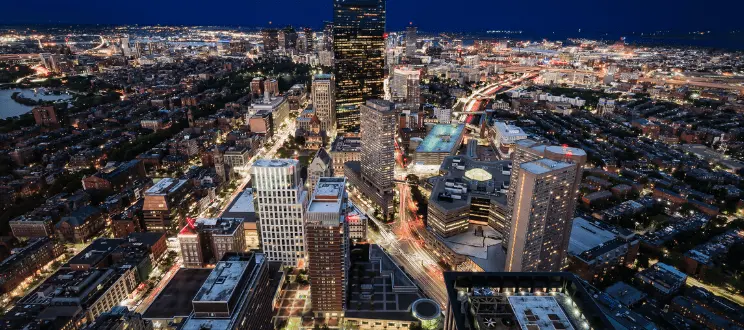 If you've racked up a lot of points on your driving record in Massachusetts, you might be required to file proof of insurance with your state. In some states, this is a certificate called an SR-22.
An SR-22 is certification of financial responsibility. It's a form that verifies you have liability car insurance that meets the minimum requirements in Massachusetts.
Compare Massachusetts SR-22 car insurance
Find the best rates from insurance providers near you or learn more about state minimums and other requirements in the comprehensive guide to Massachusetts car insurance.
Do I need to file for SR-22 insurance in Massachusetts?
Massachusetts doesn't use an SR-22 certification. However, the Massachusetts DMV will let you know if you are required to file a financial responsibility form. You might need to file this form if:
You're convicted of driving without insurance.
You've convicted of a DUI.
You rack up multiple speeding tickets.
What if I don't have a car?
To get your license reinstated, you might be required to file an insurance certification form even if you don't own a car. In this case, you'll purchase a non-owner or operator insurance policy.
What if I'm from another state?
If you have an SR-22 from another state, you must maintain it while driving in Massachusetts.
How much does an SR-22 cost in Massachusetts?
The fee your provider charges for filing the certification will likely be around $20 to $50. But it's not the filing fee that's most expensive when you're required to submit an insurance certification form — you'll also typically see your insurance rates rise.
The impact of an SR-22 on your car insurance rates
SR-22s and financial responsibility forms are often required after a driving conviction, such as driving without insurance or a DUI. After such a conviction, Massachusetts considers you a "high-risk" driver, as will most providers. This typically results in higher insurance rates.
Still, you'll find providers — like the General — that specialize in high-risk drivers. Talk to your provider about how much you can expect your rates to increase.
Get instant SR-22 quotes online
Compare SR-22 car insurance from companies near you.
Your information is secure.
Need help? Call (877) 959-5072 toll-free to speak to an SR-22 specialist.
Companies that offer SR-22 car insurance in Massachusetts
Not every insurer offers SR-22 filing support. Compare cheap rates from Massachusetts insurance companies that offer SR-22 insurance. Your actual quotes will vary based on your demographics, location, driving record and other factors.
How do I file for SR-22 insurance in Massachusetts?
Here's what to do if you need to provide proof of insurance:
Notify your insurer. If you already have insurance, let your provider know that you need to file for insurance certification with the state. Most are equipped to file this form on your behalf.
Find an insurer. Not all providers insure people who are required to file an insurance certification form. If your current provider doesn't provide this service, look for one that will.
Pay the filing fee. Your insurer will charge a minimal processing fee to file the certification.
Verify minimum liability coverage. Make sure your policy includes the minimum liability insurance required in Massachusetts:

Bodily injury to others: $20,000 per person; $40,000 per accident.
Personal injury protection: $8,000 per person, per accident.
Bodily injury caused by an uninsured auto: $20,000 per person: $40,000 per accident.
Damage to someone else's property: $5,000 per accident.

Submit your proof of insurance. In Massachusetts, your insurance provider will typically file the certification electronically on your behalf. Ask for confirmation before you get back behind the wheel.
How long will I need an SR-22 for?
You're generally required to maintain a certificate for three years. But the severity of your conviction ultimately determines how long you'll need one.
Make sure you understand your role in maintaining your insurance and your insurance certification. A lapse or nonrenewal could set you back a lot of money and time.
What happens if I let my SR-22 lapse?
A lapse in coverage could cause your license to be suspended. Your insurer is required to notify the state as soon as your insurance is canceled. Cancellation can occur because of a failure to pay premiums, consistently making late payments or failure to renew. If your license is suspended you'll be required to renew your insurance before it's reinstated, and you may be required to pay reinstatement fees.
What happens when I don't need SR-22 coverage anymore?
Auto insurance is compulsory in Massachusetts, which means you will need to maintain coverage even after your SR-22 or insurance certification mandate has passed. You may freely change your provider as necessary if a form of financial responsibility is no longer required, but you're still required to hold a minimum amount of coverage.
Bottom line
Whether your certification requirement is from another state or not, you'll need to stay on top of your insurance premiums in order to drive legally in Massachusetts. Failure to do so can result in your license being suspended and costly fees.
A mark on your record means that insurance premiums will likely be higher for you. Shop around and compare your options to find the insurer with the best rates available and the coverage you need.
Read more on this topic