Finder is committed to editorial independence. While we receive compensation when you click links to partners, they do not influence our opinions or reviews. Learn how we make money.
Compare Illinois SR-22 insurance
Get cheap SR-22 insurance in Illinois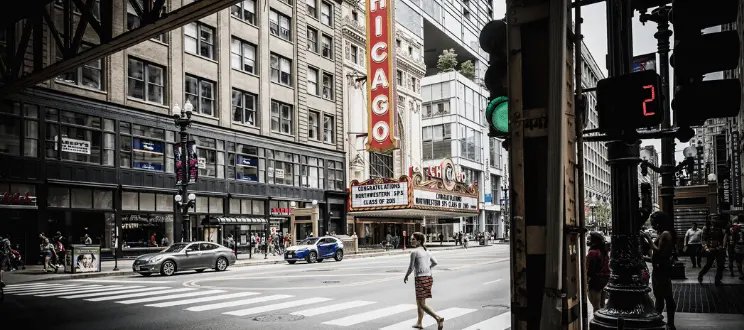 If you live in Illinois and have recently been convicted of DWI or reckless driving, you may be required to get an SR-22 to prove your financial responsibility before you get your license back. Filing for SR-22 is simple if you can find a provider willing to cover you for an affordable rate.
Get instant SR-22 quotes online
Compare SR-22 car insurance from companies near you.
Your information is secure.
Need help? Call (877) 959-5072 toll-free to speak to an SR-22 specialist.
How do I get an SR-22 in Illinois?
Find an insurer. If your current insurer is authorized to issue SR-22s in the state of Illinois, request adding one to your policy. Otherwise, you'll need to find another provider willing to file on your behalf.
Pay the SR-22 fee. You'll pay a processing fee to your insurer to finalize your SR-22 filing.
Verify minimum liability coverage. If you're already insured, make sure your policy includes at least 25/50/25 liability coverage:

$25,000 for injury or death to one person.
$50,000 for injury or death to more than one person.
$20,000 for damage to property.

Submit your SR-22. Your insurance agent will file your SR-22 with the Illinois Secretary of State's office.
Wait for confirmation. You'll receive a letter from your insurer and the Illinois Secretary of State that your SR-22 is accepted. Without this confirmation, you can't legally drive in Illinois.
When would I need SR-22 insurance in Illinois?
An SR-22 is proof of future financial responsibility. It's a form that demonstrates you have a car insurance policy that meets Utah's minimum auto insurance requirements.
Your state DMV will let you know if you need to file an SR-22. In Illinois, you must file for an SR-22 if:
Your license is suspended due to a safety responsibility issue or unsatisfied judgment.
Your license is revoked.
You're under mandatory insurance supervision.
You're convicted three or more times for insurance violations.
There are three types of Illinois SR-22 certificates:
Operator's certificate. For drivers who don't own a vehicle. Also known as nonowners SR22.
Owner's certificate. For drivers who intend to drive their own cars.
Operators-owners certificate. Coverage for all cars you might drive, whether you own them or not.
What if I don't have a car or license?
You'll still need to file for an SR-22 to legally get behind the wheel in Illinois. Ask your insurer for an operator's certificate.
What if I'm from another state?
If you have an SR-22 from another state, you must maintain it while driving in Illinois. Your SR-22 might be sufficient for Illinois' requirements, but you'll need to check with your local Illinois DMV and your insurer.
How much does an SR-22 cost in Illinois?
Once you've purchased or renewed a policy, most providers will file an SR-22 for a fee of $20 to $50. It's not the fee that's most expensive when you file for an SR-22 — you'll also typically see higher premiums than you're used to.
Premium increases are a result of your infractions moving you into a category of drivers that the state and insurers consider to be high risk. On top of those higher rates, you may also need to pay your coverage for the year all at once instead of on a monthly basis. Set aside time to talk with your insurance agent to determine how the SR-22 filing will affect your standing.
High-risk drivers can steer into savings from discounts and payment options like reduced premiums with a down payment.
Get accepted even if you're high-risk
Lower rates with multi-car, homeowner or driving course discounts
Make a 33% down payment on premiums for bonus savings
Find flexible pay schedules and payments through money transfers
Compare Illinois SR-22 insurance
Find the best rates from insurance providers near you or learn more about state minimums and other requirements in the comprehensive guide to Illinois car insurance.
How long will I need an SR-22 in Illinois?
In Illinois, most court-ordered SR-22s result in a coverage requirement of three years. You'll typically need to renew it at least a month or two before your policy expires.
What happens if I let my SR-22 lapse?
Your insurance is required to file an SR-26 with the state Safety and Financial Responsibility Section in the event of your coverage ending. A lapse in your insurance, be it from not renewing far enough in advance, expiration or cancelation, can result in your license being suspended.
In order to prevent a gap in coverage be sure to pay your premiums on time and renew your SR-22 insurance a minimum of 45 days in advance. The insurance provider you're going through is also required to report if you don't renew your SR-22 coverage within 15 days of expiration, which may also result in your license being suspended.
What happens when I don't need SR-22 coverage anymore?
After your mandate period is over you'll be able to cancel your SR-22 coverage. To avoid a potential suspension check with your local DMV and confirm you no longer need to have that particular coverage before you change your insurance policy.
Are there any alternatives to SR-22 insurance in Illinois?
Yes, but it's probably easier to stick to the SR-22 route. You'll need to deposit $70,000 with the Illinois DMV as a financial guarantee.
Bottom line
You're responsible for staying ahead of the game when it comes to your SR-22 insurance. Monitor where you're at in your filing period carefully, stay on top of your payments and renew before the 45-day deadline to avoid potentially getting your license suspended again.
Insurance premiums can be especially costly for drivers who have been marked as high risk. Take the time to compare your options to find the company that best fits what you can afford while providing the coverage you need.
Get instant SR-22 quotes online
Compare SR-22 car insurance from companies near you.
Your information is secure.
Need help? Call (877) 959-5072 toll-free to speak to an SR-22 specialist.
More guides on Finder