Finder is committed to editorial independence. While we receive compensation when you click links to partners, they do not influence our opinions or reviews. Learn how we make money.
Compare Hawaii SR-22 insurance
Get cheap SR-22 insurance in Hawaii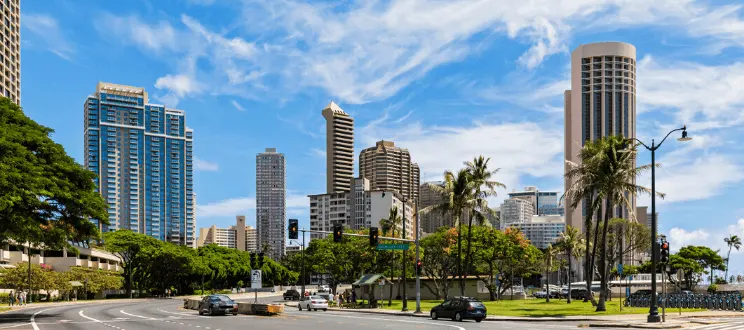 If you run into trouble on the roads of Hawaii, you may need to file for an SR-22 — also called financial responsibility insurance. High-risk drivers in Hawaii are required to file an SR-22 to prove they're covered by the state's minimum insurance requirements. We've gathered what you need to know about filing for an SR-22 in Hawaii.
Compare Hawaii SR-22 car insurance
Find the best rates from insurance providers near you or learn more about state minimums and other requirements in the comprehensive guide to Hawaii car insurance.
Do I need to file an SR-22 in Hawaii?
Your state DMV will let you know if you need to file an SR-22. Hawaiian courts may require an SR-22 if:
You have a safety responsibility suspension on your record — for example, you were responsible for an accident and didn't pay for damages or injuries.
You're convicted of driving under the influence of alcohol or drugs or refused a breathalyzer.
You accumulated many points on your driving record.
You're caught driving without insurance.
It's key to check with your local DMV office to find out how to reinstate your license. Each county has its own division for driver's licenses and vehicle registration.
What if I don't have a car or license?
In most cases, yes. Insurance covers you — not your car. If you don't have a car but will drive someone else's, you'll need to look into a non-owner policy. You're also required to get non-owner insurance to reinstate your license in Hawaii.
Hawaii has fewer licensed insurers than most states, so research and compare your full range of options to find a provider that's best for your needs.
What if I'm from another state?
Your SR-22 coverage should be enough to allow you to legally drive in Hawaii if you're from another state, but you'll need to transfer the filing to Hawaii. Contact the local vehicle licensing office and your insurance to be sure you're good to go before you get on the road.
Snag affordable coverage for high-risk drivers, a marketing claim backed by our rate analysis which showed premiums less than $80 a month.
Qualify even as a high-risk driver
Get instant access to proof of insurance
Take advantage of 10 discount opportunities
File a claim conveniently by app
How much does SR-22 insurance cost in Hawaii?
You could pay from $25 to $50 to file an SR-22, depending on your insurance provider. But the real penalty comes with an increase in your premiums.
In most cases, you'll pay more for insurance now that you're considered a high-risk driver. When you're looking for affordable coverage in Hawaii, talk to an agent about how much your rates will increase and what you need to do to ensure timely renewal.
How do I file for SR-22 insurance in Hawaii?
If you already carry an insurance policy, contact your current provider to see how you can go about filing for an SR-22. Most insurance providers will file an SR-22 on your behalf for a fee.
To be eligible for an SR-22, your policy must cover Hawaii's minimum liability requirements:
$20,000 bodily injury per person.
$40,000 bodily injury total per accident.
$10,000 property damage total per accident.
$10,000 personal injury protection.
Once you've purchased your policy, your provider will file an SR-22 with the Hawaii Department of Transportation (HDOT).
You can't drive until your SR-22 is fully processed, so stay on top of your filing status. If after a week you haven't heard anything, call your provider.
Find out how to get an SR-22 with…
How long will I need an SR-22 in Hawaii?
You're required to carry an SR-22 for a minimum of three years, but your exact penalty period depends on your offense and whether you face court penalties or fines.
It's your responsibility to renew your policy each year. Failure to renew your insurance and SR-22 could add more time — and more money — to your filing requirement.
What happens if I let my SR-22 lapse?
Whether you fail to pay your insurance or don't renew your SR-22 with your policy at least 15 days before it expires, your insurance company will notify the HDOT of the lapse. Once notified, the HDOT may decide to suspend your driving privileges until you apply for a new SR-22.
If you allow your SR-22 to lapse in Hawaii, it won't necessarily reset your time required to hold this type of coverage. Talk with your insurance provider or your local DMV to confirm any penalties.
What happens when I don't need SR-22 coverage anymore?
Once your filing requirement ends you'll be free to change your policy as you see fit. Before you cancel your current policy confirm with the HDOT that you no longer need SR-22 coverage. Doing so can help you avoid penalties you may otherwise incur on the off chance that it is still required.
Bottom line
Even without a car, you may be required to carry insurance under an SR-22 mandate. Your local DMV will likely have resources available to help keep you on track to fulfilling your required filing time. Be sure to keep up on payments, as it's your responsibility to avoid a lapse in coverage.
You're not without choices, even with a mark on your record. Take your time and compare providers to find a policy that fits your needs.
Get instant SR-22 quotes online
Compare SR-22 car insurance from companies near you.
Your information is secure.
Need help? Call (877) 959-5072 toll-free to speak to an SR-22 specialist.