Finder is committed to editorial independence. While we receive compensation when you click links to partners, they do not influence our opinions or reviews. Learn how we make money.
Ferrari FF car insurance rates
What to expect to cover this when insuring this grand tourer.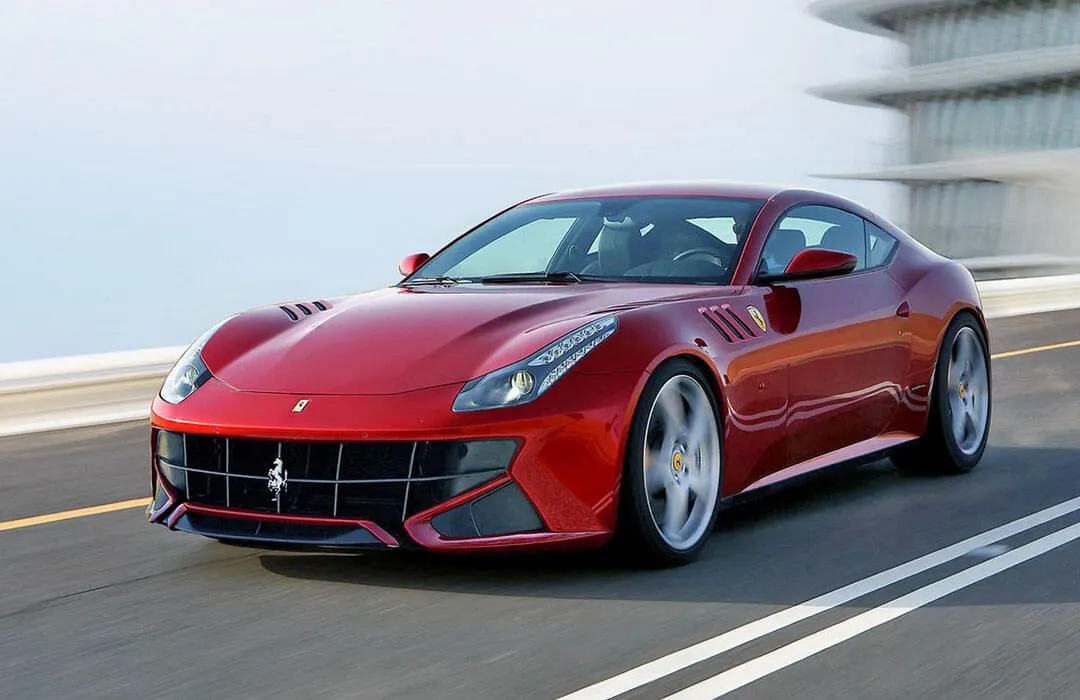 Compare car insurance quotes
Enter your ZIP code below and click Compare to see the cheapest rates in your area.
The Ferrari FF offers a long maintenance plan and tends to need minimal repair. But that doesn't affect the insurance rate much — you'll find average insurance costs at about $935 monthly or $11,220 annually. That cost is nearly $9,800 above the annual national average of $1,426.
Discover coverage that's broader than competitors, valuable discounts up to 30% off and perks like shrinking deductibles that reward no claims.
Broad coverage, including for custom car parts or ridesharing
Transparent pricing tools that help you buy within budget
Accident forgiveness on small claims or for staying claim-free
Stack a variety of discounts for multiple cars, autopay or homeownership
Compare insurance for your Ferrari FF
How much does Ferrari FF car insurance cost?
| Model | Monthly insurance rate | Base car Price |
| --- | --- | --- |
| 488 GTB | $783 | $245,400 |
| 488 Spider | $868 | $272,700 |
| 812 | $1,188 | $335,275 |
| California T | $648 | $202,723 |
| F12 Berlinetta & TDF | $1,015 | $319,995 |
| FF | $935 | $295,000 |
| GTC4 Lusso | $953 | $300,000 |
How do I compare insurance for the Ferrari FF?
This car features an extensive maintenance plan, long-lasting parts and roomy interior that can fit a small family. These factors could help to reduce your premium. Still, its Ferrari stamp and high price tag does make it a high-cost car to insure.
Body type.The FF is an interesting mix of a luxury coupe with a roomier wagon body style.
Fuel.This car gets low fuel economy, rated at 13 mpg for city and highway combined.
Maintenance.Maintenance costs can be expensive on an Italian luxury vehicle. However, car owners on review sites and forums boast its long-lasting parts and few repairs.
Theft.The FF's low theft rates could score positive points with insurance companies.
Coverage.You may want to consider additional insurance options that protect you widely from costly repairs. For example, luxury car insurance provides higher limits and often uses agreed value for claims. In addition, comprehensive, uninsured/underinsured motorist and loan or lease gap insurance could go a long way in an accident.
Insurer options.Geico won't offer car insurance on Ferrari models. However, most other insurance companies do.
Warranty.Ferrari offers a three-year, unlimited mileage warranty and extensive, seven-year maintenance plan to cover all your basic needs.
Why is insurance so expensive for the Ferrari FF?
The Ferrari FF costs more to insure because it's a four wheel drive, meaning its V12 engine shoots torque to all four tires making it fast, powerful and high-risk for insurers. Also, its luxurious interior and exterior parts make it high dollar to repair.
Does the Ferrari FF qualify for discounts?
You could receive discounts on the FF's high insurance premium with these safety features.
Anti-theft system
Airbags
Anti-lock brakes
Electronic stability control
Parking sensors
Backup camera
Why is insurance so high for the Ferrari FF?
The Ferrari FF may have a roomy interior that's family friendly. However, its insurance rates don't match up with other typical family cars for several reasons:
High MSRP. This car's ticket price is set far above a family sedan or minivan. Starting around $300,000, the car will cost your insurance company more to repair or replace.
Higher coverage. The tradeoff for insuring a luxury car with higher coverage is a higher rate.
Powerful engine. The FF comes with a whopping 651 horsepower, making it a tempting high-speed ride. The engine's power may pose a risk in the eyes of your insurance company.
Specialized repairs. This Italian sports car may need special imported parts or a Ferrari specialist for repair work. Both will raise the cost of repairs significantly.
How reliable is the Ferrari FF?
While the car has seen a few early recalls, FF owners do show satisfaction with its reliability.
Safety. The Ferrari FF doesn't hold safety ratings with the IIHS or NHTSA. That fact may be due to most consumers choosing cars at a lower price point.
Reliability. Car owners from forums relate this car's minimal repair needs, even after 15,000 to 20,000 miles.
Recalls. The FF has included a few recalls. Those involved incorrect installment of the front airbag and an airbag inflator that may explode upon deploying. These issues have not come up in the 2016 model.
Bottom line
The Ferrari FF includes several safety features, an extensive manufacturer maintenance plan, and minimal repair needs. Its roomier body helps luxury-seekers still use this as a family car.
While these factors could help reduce your insurance premium, the high Ferrari price tag does drive up the average cost.
Compare car insurance options for the FF or look at costs for another make or model.
Get the cheapest quotes
Compare car insurance companies near you.
Your information is secure.
Frequently asked questions about the Ferrari FF