Finder is committed to editorial independence. While we receive compensation when you click links to partners, they do not influence our opinions or reviews. Learn how we make money.
Compare SR-22 insurance in Connecticut
Get cheap SR-22 insurance in Connecticut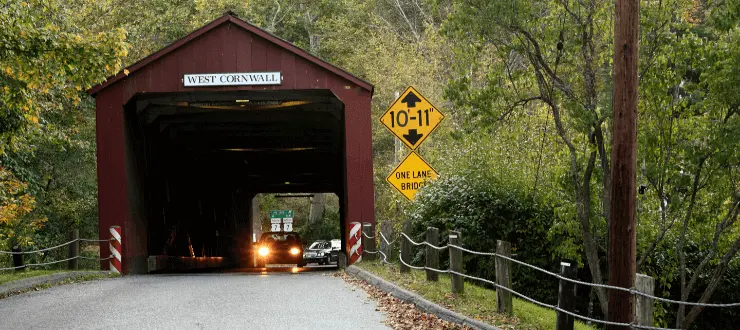 You may need to file an SR-22 form to prove continuous car insurance in Connecticut if you make major driving or financial violations like driving uninsured or accumulating too many license points. While the SR-22 only costs a few dozen dollars for filing, your insurance rates will increase and you may need a specialized policy for high-risk drivers.
How do SR-22s work in Connecticut?
If you're deemed a high-risk driver in Connecticut, your car insurance company must file an SR-22 with the DMV to prove you're keeping the state-mandated car insurance in place. You need to keep continuous insurance with an SR-22 for three years, although serious violations can go up to 10 years.
Do I need SR-22 insurance in Connecticut?
Your state DMV will let you know if you need to file an SR-22 form along with keeping continuous car insurance. You can check your court order to make sure you know exactly how long you're expected to file this certificate of insurance, also called a certificate of financial responsibility.
You might have to file an SR-22 form in Connecticut if:
You're caught driving without your state's legal minimum for auto insurance coverage.
Your driver's license has been suspended because of too many traffic violation points.
You're caught driving under the influence of alcohol or drugs (DUI).
You failed to pay for damages for an accident you're held responsible for.
What if I don't own a car?
If you want to continue driving, you'll need an SR-22 form on file whether or not you own a car. Ask insurance providers in your area about non-owner or operator insurance to find the kind of coverage you need.
What if I live in another state?
If you live in a different state and have an SR-22 form on file there, you have to maintain it no matter where you are. Your existing SR-22 filing is probably sufficient in Connecticut. However, it's best to check with your insurance company and the nearest DMV to make sure.
Snag affordable coverage for high-risk drivers, a marketing claim backed by our rate analysis which showed premiums less than $80 a month.
Qualify even as a high-risk driver
Get instant access to proof of insurance
Take advantage of 10 discount opportunities
File a claim conveniently by app
Compare Connecticut SR-22 car insurance
Find the best rates from insurance providers near you. Or learn more about state minimums and other requirements in the comprehensive guide to Connecticut car insurance.
How much does SR-22 insurance cost?
You can expect to pay between $20 and $50 to file an SR-22 form with your state through an insurance provider. While this isn't much money, the real cost comes when your insurance premiums rise for several years because of the violation on record.
SR-22s are often required after a driving conviction, like driving without insurance or under the influence of drugs or alcohol. These situations classify you as high-risk by the state and by insurance companies.
Talk to your company about how much you can expect to pay. Be sure to understand your role in maintaining your insurance and your SR-22 certificate. If you fail to renew your coverage, you could face fees, legal penalties and payments for SR-22 insurance longer. You could be expected to pay the annual premium upfront to protect the insurance company from the risk of nonpayment.
How do I file an SR-22 in Connecticut?
In cases where your SR-22 form is mandated by the court, you could be required to file through the state DMV.
If you're already insured, call your insurance company to make sure your policy covers the state's legal minimum for car insurance. If you don't have car insurance, find an insurance company that's licensed and willing to provide you SR-22 coverage. You won't be allowed to drive until your SR-22 form has been filed and processed.
What happens if I let my SR-22 coverage lapse?
If your coverage lapses at any point while you have an SR-22 on file, your insurance company is required to let your state or DMV know that you're uninsured. Once this happens, you may have a short grace period to provide proof of insurance if the state allows one. Otherwise, your SR-22 term will start over and legal penalties may apply.
For example, if you've maintained SR-22 coverage for two out of the three years required, a lapse in coverage causes your mandatory term to reset. That means three more years of paying for an SR-22, costing you more in money and time.
What happens when I don't need an SR-22 on file anymore?
Once your SR-22 term expires, your insurer will file a form to end the coverage. Your insurer can do this through the DMV or online with the American Association of Motor Vehicle Administrators (AAMVA). Check with your insurance provider once your SR-22 term is up to make sure they've ended your special coverage.
Insurance costs after your SR-22 term is finished
After the SR-22 form is no longer hanging over your head, you should see your insurance premiums return to a level close to what you were paying before your SR-22 filing.
The SR-22 form doesn't cost anything to file, but the classification of a high-risk driver on your record is what makes an SR-22 costly. Once you prove you're a safe, responsible driver, it's likely your insurance rate will decrease.
Get instant SR-22 quotes online
Compare SR-22 car insurance from companies near you.
Your information is secure.
Need help? Call (877) 959-5072 toll-free to speak to an SR-22 specialist.
Bottom line
Once you're classified as a high-risk driver, you may have to upkeep an SR-22 document and meet state requirements for years without a lapse. Because you could see car insurance premiums jump up, consider multiple car insurance companies that offer SR-22 coverage.
Read more on this topic