Finder is committed to editorial independence. While we receive compensation when you click links to partners, they do not influence our opinions or reviews. Learn how we make money.
Compare SR-22 in Alaska
Get cheap SR-22 insurance in Alaska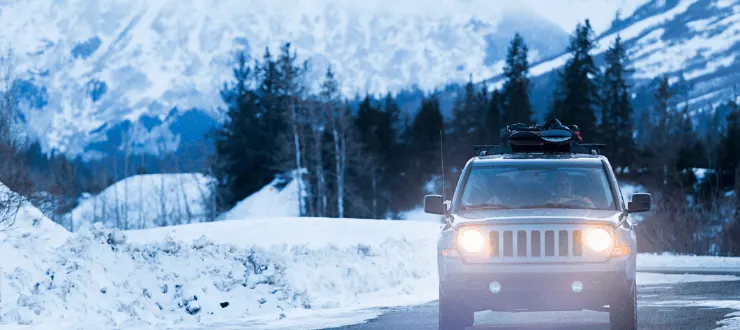 Alaska requires two types of SR-22s depending on your circumstances: an owner's certificate for motorists who own a car and an operator's certificate for those who don't. Here's what you need to know about getting an SR-22 in Alaska.
Get instant SR-22 quotes online
Compare SR-22 car insurance from companies near you.
Your information is secure.
Need help? Call (877) 959-5072 toll-free to speak to an SR-22 specialist.
Do I need an SR-22 in Alaska?
Your state DMV will let you know if you need to file an SR-22. If your license is suspended or revoked in Alaska, you could be ordered to file an SR-22.
Cases in which an SR-22 requirement could apply include:
You're involved in an accident that results in death, injury or damages of more than $500.
You're convicted of driving under the influence or refuse a breathalyzer test.
You're considered a high-risk driver due to reckless driving, speeding or similar driving violations.
You're caught driving without insurance or are unable to show proof of your insurance to the authorities.
The steps to reinstate your driver's license in Alaska depend on your violation and driving history.
What if I don't have a car or license?
In most cases, you'll still need SR-22 coverage. If you don't own a car, Alaska could require you to file an SR-22 operator's certificate with proof of a non-owner insurance policy. These documents prove to the state that you're covered by the state's minimum insurance requirements.
What if I'm from another state?
Check in with the Alaska DMV to ensure your SR-22 insurance from the state where it was issued provides enough coverage. While you're away from your home state, you're still required to keep up an SR-22 that is in compliance with your state's mandates.
How much will an SR-22 cost in Alaska?
Most car insurance providers charge a filing fee up to $50, though you could find a few in Alaska to file for free.
However, when choosing an insurance company, don't base your decision solely on the fee for your SR-22. The most expensive penalty will be the higher insurance rates that come as a result of being marked as a high-risk driver.
Be your own advocate by discussing your specific needs with your insurance agent.
Discover coverage that's broader than competitors, valuable discounts up to 30% off and perks like shrinking deductibles that reward no claims.
Broad coverage, including for custom car parts or ridesharing
Transparent pricing tools that help you buy within budget
Accident forgiveness on small claims or for staying claim-free
Stack a variety of discounts for multiple cars, autopay or homeownership
Compare Alaska SR-22 car insurance
Find the best rates from insurance providers near you or learn more about state minimums and other requirements in the comprehensive guide to Alaska car insurance.
How do I file for an SR-22 in Alaska?
To file for an SR-22, you'll need to go through a car insurance provider licensed in Alaska. Most providers are willing to file for an SR-22 on your behalf for a fee.
Many areas of Alaska don't require vehicle registration or even insurance. However, if you require an SR-22 this exemption doesn't apply to you.
Instead, you're required to purchase the state's minimum liability coverage:
$50,000 bodily injury liability per person.
$100,000 bodily injury per accident.
$25,000 property damage per accident.
The provider will file your SR-22 with the Alaska Division of Motor Vehicles. But if you haven't received confirmation within a week that you're good to get back on the road, call and make sure. You're not legally able to drive until your SR-22 is accepted.
How long will I need an SR-22 in Alaska?
Most violations require an SR-22 for a minimum of three years, but timing can vary based on your violation. In Alaska, you could be required to carry SR-22 insurance for up to 20 years — or even life for repeat offenders.
Once you're required to file an SR-22, it's your responsibility to renew your policy on time each year. If you let your insurance or SR-22 lapse, you risk adding more time to your filing requirements and more money on your insurance rates.
What happens if I let my SR-22 lapse?
If you fail to renew your policy, your SR-22 is canceled. Your insurance company will notify the DMV through an SR-26, resulting in the state revoking your license until you file a new SR-22.
If you allow your SR-22 to lapse in Alaska, it won't necessarily reset the time required to hold this type of coverage. Talk with your insurance provider or your local DMV to confirm any penalties.
You aren't able to legally drive in the state until you've renewed your insurance and SR-22 status.
What happens when I don't need SR-22 coverage anymore?
Once you've cleared the time required for your SR-22 mandate, you'll be free to cancel your coverage. It's important to be sure you're fully finished before canceling to avoid penalties, including added time, for letting your insurance lapse. Your local DMV can help you confirm your time is up, and from there you can contact your provider and cancel your plan.
Bottom line
Alaska may require you to obtain SR-22 insurance even if you don't own a vehicle. Avoid causing yourself additional frustration by keeping on top of your payments and coverage.
It's possible to get insurance even with a mark on your record. Compare your options before you settle on any one insurer to secure coverage that fully meets your needs.
Get instant SR-22 quotes online
Compare SR-22 car insurance from companies near you.
Your information is secure.
Need help? Call (877) 959-5072 toll-free to speak to an SR-22 specialist.
Read more on this topic