Acura RLX insurance rates
Shedding light on car insurance prices
Compare car insurance quotes
Enter your ZIP code below and click Compare to see the cheapest rates in your area.
Average Acura RLX insurance rates
On average, insuring a 2017 Acura RLX will run you about $152 a month – or $1,824 per year. This is roughly $500 more than the $1,318 national average, but less than California and Montana's averages of $1,962 and $2,013, respectively. If you were to reside in New Hampshire, for example, you could expect to pay closer to $983 per year. Your location, along with a handful of other factors, greatly influence the price you pay for car insurance, which is why it's important to shop around when insuring your Acura RLX.
Companies that offer coverage for Acura RLX
Allstate. Allstate is one of the most popular auto insurance providers in the country, known for its wide range of coverage options. This provider offers a number of policies and additional extras to cover the Acura RLX.
Progressive. Progressive's innovative approach to auto insurance makes it one of the largest providers in the US. Its range of policy options, responsive website, and auto insurance discounts make it a great choice for the Acura RLX.
Geico. Best known for its gecko mascot and catchy commercials, Geico claims to be able to save you 15% or more on auto insurance. Like many other providers of its size, Geico has a number of options that could cover your Acura RLX.
Compare insurance providers that cover Acura RLX
Find the cheapest rates
Compare the best car insurance companies near you.
Your information is secure.
How to compare insurance for the Acura RLX
Trying to find the right auto insurance policy for your Acura RLX can be overwhelming; Many providers seem to offer similar policies and coverage, making it harder to narrow down your options. While price might seem like the most important consideration, there are a number of other factors you should also look into when shopping around.
Price.

Once you've determined how much coverage you need, you can use price to compare similar policies and decide on a provider.

Deductible.

Your deductible can affect the price you pay for auto insurance. Be sure to choose an amount that fits your budget.

Minimum coverage.

Every state has its own set of mandatory minimum coverage. Above all else, make sure these minimums are met.

Additional coverage.

Make sure your desired provider offers any additional coverage options you need. This could include personal injury coverage, roadside assistance, or any other options.

Extras.

Make sure to choose a provider that offers the extras you need. This could include tire & rim coverage, accident forgiveness, or a number of other extras.

Restrictions. Always

Make sure you're aware of any restrictions or limitations by your provider to avoid situations that could lead to denied claims.

Manufacturer offer or loyalty discount.

Check with Acura to see if it offers any partnerships or special offers with specific insurance providers.

Warranty. Make sure you're not paying extra for coverage that your manufacturer warranty might already cover.
What factors affect car insurance rates for Acura RLX?
While your driving history, location, and other variables can all influence your rates, the type of vehicle you insure also plays a major role. Here are a few factors that affect car insurance rates for the Acura RLX:
Body type. The type of vehicle you drive can significantly affect your auto insurance rates. Sedans like the Acura RLX are generally cheaper to insure than SUVs.
Type of car.

The Acura RLX is considered a luxury sedan, which is likely more expensive to insure compared to a compact car like a Volkswagen Golf.

Theft.

Sedans are one of the most frequently stolen types of vehicles, which could be a factor when determining your premiums.

Repairs.

The RLX is produced both domestically and abroad, meaning service shops and replacement parts shouldn't be too hard to find. However, given that is a luxury vehicle, you may pay a premium since repairing the body could be expensive.

Safety ratings.

The RLX has great safety ratings, which could translate to lower premiums.

Engine type.

Hybrid cars are generally more expensive to insure. If you choose the tech package that includes an electric front motor, you may end up paying more for auto insurance.
How do trim packages and extra build options affect insurance cost?
Providers consider multiple factors when determining your premiums. Some of these factors include the value of your vehicle, what you'll be using it for, safety features, and more. The packages and accessories you choose can change the price, power, safety, and more. When buying a new Acura RLX, you may want to consider how the build options might affect your auto insurance premiums.
Packages
Tech. This package includes a front electric motor, AcuraLink system, and more. These features might increase the cost of insurance because hybrid vehicles are generally more expensive to repair and therefore insure.
Elite. Front and rear parking sensors, auto-dimming side mirrors and a surround camera system can all help to increase visibility, which could translate to lower auto insurance premiums.
Accessories
Alloy wheels. Upgrading your wheels can be expensive and may increase chances of theft. Adding this accessory could increase the cost of car insurance, but you'll need to speak with your provider to be sure.
Wheel locks. Wheel locks make it much harder to steal your wheels. Many insurance providers recognize that and are willing to offer a discount for having them installed.
Acura RLX money-saving safety features
You could save money on car insurance for your Acura RLX if it comes equipped with these safety features.
Airbags
Daytime running lights
Anti-lock brakes
Anti-theft device
Does the Acura RLX qualify for auto insurance discounts?
Your vehicle may be eligible for various auto insurance discounts depending on which provider you choose. However, the exact discounts you receive may vary depending on location, provider, options, and other factors. Here are a few that should apply to the Acura RLX:
New car discount

Anti-lock brake discount

Anti-theft discount

Passive restraint discount (Airbags, motorized seat belts, etc.)

Usage or low mileage discount

Emergency roadside assistance discount
How reliable is the Acura RLX?
While Acura is generally highly regarded for its reliable vehicles, the RLX seems to fall short. U.S. News and J.D. Power give it a below-average rating of 2.5/5 stars and rank it #9 out of 9 in luxury large cars. Ratings from previous model years are a bit better, but with an average of 3/5 stars between 2015 and 2017, there's not much of an improvement.
According to J.D. Power, which maintains a database of recalls backed by industry updates, about 20,000 Acura RLX models have been affected by recalls:
2015:

Roughly 10,000 vehicles were affected by an issue where the Collision Mitigation Braking System (CMBS) incorrectly and unexpectedly applied the brakes in certain driving conditions.

2014:

Around 10,000 vehicles were recalled due to driver and front passenger seat belts not extending or retracting properly in low temperatures.
There aren't a whole lot of issues or complaints about the RLX, but of all model years, 2014 seems to have had the most problems. Complaints often refer to suspension issues, malfunctioning infotainment system, and poor mileage.
Acura RLX maintenance
Routine maintenance can help extend the life of your vehicle. Between oil change prices and mileage, here's what to expect from the Acura RLX.
Oil changes should be done every 5,000 miles or four months.

An oil change for an Acura RLX generally costs about $80 from a mechanic or $100 from an Acura dealership.

The 2018 Acura RLX Hybrid gets an average of 28 miles per gallon, with 28 in the city and 29 on the highway.

The 2018 Acura RLX Elite gets an average of 23 miles per gallon, with 20 in the city and 29 on the highway.

Acura recommends that customers have their vehicle serviced at an official Acura dealer, but your warranty will remain in effect if you decide to have it serviced elsewhere.

The 2018 Acura RLX comes with Acura's standard four-year/50,000-mile basic warranty and six-year/70,000-mile powertrain warranty. However, Acura also offers multiple extended warranty options.
Is an extended warranty worth it for the Acura RLX?
While Acura has a reputation for reliable vehicles, the RLX seems to fall behind other models. It comes with a standard four-year/50,000-mile basic warranty and six-year/70,000-mile powertrain warranty, but you may want to consider one of the extended warranty options just in case. Here are Acura's extended warranty options: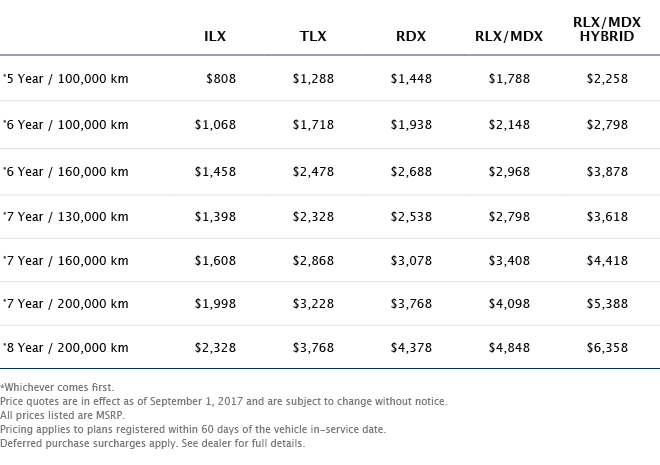 How safe is the Acura RLX?
Despite the RLX's lackluster reliability ratings, this vehicle boasts some incredible safety ratings, like most other Acura vehicles. According to J.D. Power and U.S. News, the 2018 Acura RLX gets a perfect 10 in terms of safety. Frontal, side, and rollover crash tests resulted in perfect scores as well, making the Acura RLX the 2018 top safety pick as reported by the IIHS.
About the Acura RLX
The Acura RLX has been around since 2013. The 2017 Acura RLX model is one of the top ten luxury large car models in America, according to the U.S. News & World Report. The Acura RLX is known for its long list of standard safety features, reliability and fuel efficiency.
Insurance companies determine the insurance cost for an Acura RLX based on safety ratings, theft rates, replacement costs and overall damage susceptibility. Insurance rates can change based on a driver's history and location. If you're considering an Acura RLX, grab quotes from several insurance companies to find the lowest premium possible before you commit. Do your research to see if you qualify for insurance discounts.
Random Acura facts
Founded in 1986 and the premiere models were the Legend and Integra.
Prices start at $28,000 and can be as high as $156,000.
The first luxury car brand to be awarded top safety ratings throughout the entire model line.
Cars that were manufactured from 1990 to 2000 are always on the top of the list of the most stolen cars in America.
Approximately 161,360 Acura cars were sold in 2016.
Acura RLX car insurance rates
A 2017 Acura RLX starts at a base price of $54,450. With the average insurance rate at $1,824 per year, the annual insurance cost–to–base car price ratio is 3.3%.
| Model | Monthly insurance rate | Base car price |
| --- | --- | --- |
| ILX | $160 | $27,990 |
| MDX | $191 | $44,050 |
| NSX | $191 | $156,000 |
| RDX | $153 | $35,670 |
| RLX | $152 | $54,450 |
| TLX | $152 | $32,000 |
Which car insurance provider is best for me?
Looking to save on car insurance? Answer these three questions to find a provider that best fits your needs and budget.
Based on your answers, check out:
Bottom line
For New York drivers, auto insurance on a 2017 Acura RLX costs about $500 above the national average. However, the price you'll pay for insurance depends on a number of factors, making it important to compare your options to find out exactly how much you'll pay. The RLX has an assortment of safety features that may help you get auto insurance discounts. Its perfect crash test scores and incredible safety ratings will likely help reduce your rates, but you'll never know until you get a quote.
Find the cheapest rates
Compare the best car insurance companies near you.
Your information is secure.
Frequently asked questions about the Acura RLX
Compare Acura competitors
Looking for similar options? Find out what else Acura has to offer or explore other manufacturers to find a model that fits your needs.