Acura MDX insurance rates
Shedding light on car insurance prices
Compare car insurance quotes
Enter your ZIP code below and click Compare to see the cheapest rates in your area.
Average Acura MDX insurance rates
Auto insurance for an Acura MDX costs an average of $191 a month, which works out to $2,292 per year. This is almost $1,000 higher than the national average of $1,318, but still lower than Michigan's steep average of $2,551. However, the actual price you'll pay depends on your driving record, annual mileage, state of residence, and a number of other factors.
Find the cheapest rates
Compare the best car insurance companies near you.
Your information is secure.
Companies that provide coverage for Acura MDX
Allstate. Allstate is one of the largest auto insurance providers in the country. It holds an impressive lineup of coverage options for the Acura MDX, ranging from state minimums to comprehensive coverage and more. It offers great rates for vehicles with high safety ratings, making it a great auto insurance option for the Acura MDX.
Progressive. Progressive is best known for its competitively priced coverage that's available from coast to coast. Its innovative approach to auto insurance makes it a great choice for newer vehicles like the Acura MDX.
Geico. Geico has some of the highest customer satisfaction ratings in the industry along with a range of discounts that may apply to the Acura MDX. Compare your options to find out if this provider can really save you 15% on auto insurance.
Compare insurance providers that cover Acura MDX
How to compare insurance for the Acura MDX
Auto insurance coverage can vary depending on your insurance provider and policy options, as car insurance is never one-size-fits-all. You should always compare your options to find out what coverage is best for your Acura MDX, but you might be wondering how to do so. Here are a few things that you should consider when comparing car insurance for your Acura MDX:
Price.

Though price is an extremely important consideration, above all else you should make sure that you're getting the coverage you need.

Deductible.

Some providers may allow you to adjust your deductible amount to influence your premiums. It's important to find a number that works for your situation, taking into account factors like the most likely part to need replacement and how much they would cost out of pocket vs. deductible.

Minimum coverage.

Minimum coverage varies between states. Make sure your coverage meets your state's requirement.

Additional coverage.

Many providers offer additional coverage like personal injury or

uninsured motorist

coverage.

Extras.

Are there any specific coverage options you need for your Acura MDX? This includes things like tire and rim coverage or

modified car insurance

, among others.

Restrictions.

When choosing a provider and policy, make sure to be aware of any restrictions such as where you're driving, ridesharing, and more.

Manufacturer offer or loyalty discount.

Some manufacturers may have partnerships with insurance providers for discounts or special offers. Check with Acura and any potential providers to see if any offers apply to you.

Warranty.

Check with your manufacturer and provider to make sure there's no overlap between manufacturer coverage or warranty and extended coverage options from your provider. For example, there's no point paying for gap insurance if your MDX comes with new car coverage.
What factors affect car insurance for Acura MDX?
Auto insurance providers calculate premiums based on a number of factors. While your location, driving history, and policy options all play a huge role, the actual vehicle you choose to insure can significantly affect the amount you'll pay for car insurance. Here are a few vehicle-specific factors that influence your rate:
Body type.

The Acura MDX is a medium sized SUV that would hold up well in the event of an accident. However, it may be more expensive to repair than a sedan, so you may end up paying more than if you were to insure an

Acura ILX

, for example.

Type of car.

The Acura MDX is considered a luxury SUV. It's generally cheaper to insure compared to a sports car, but more expensive than a sedan. Though SUVs might be safer in the event of an accident, they could cost more to repair.

Theft.

SUVs are stolen less frequently than sedans, for example, which may make them more affordable to insure.

Repairs.

The Acura MDX is a newer vehicle produced both in the US and abroad, making replacement parts and service options abundant. However, it's also a luxury SUV, which might be expensive to repair.

Safety ratings.

Like most Acura vehicles, the MDX has great safety ratings, which may reduce the overall cost of auto insurance.
How do trim packages and extra build options affect insurance cost?
Just like vehicle-specific factors, the trim and packages on your Acura MDX can also influence the price you pay for auto insurance. Here are a few of the available options on the 2018 Acura MDX and how they might affect your premiums compared to the standard model.
Packages
Navi.

Additional safety and navigational features might make the Acura MDX safer on the roads, which could save you money on car insurance.

Tech.

Most features in this package are designed for comfort and convenience, which shouldn't directly impact the price of car insurance.

Elite.

Parking sensors, fog lights, and the surround view camera system could help to prevent accidents, potentially reducing your premiums.

Elite 6 passenger.

This package is designed to provide a more comfortable interior, but the surround view camera system may help to reduce the price of car insurance.

Sport Hybrid.

While this package includes multiple safety features, it also provides an increase in horsepower, which could increase premiums. With that being said, it's also a hybrid, which many providers offer discounts for.
Options
MDX Canadian ultimate or platinum package.

Both of these packages are mostly aesthetic, which shouldn't have too much of an impact on your premiums. However, both packages significantly increase the value of your vehicle, which may have an effect.

Sport luxury package.

Once again, this package includes features that add aesthetic value, which shouldn't affect your premiums much.

20" alloy wheels.

This packages provides a sportier look and increases the value of your vehicle, which could increase the price of car insurance.

LED fog lights.

Fog lights can help increase your visibility, making for a safer driving experience. This feature could reduce your premiums.

Parking sensors.

Parking sensors could increase visibility possibly prevent accidents, in turn reducing your premiums.

Rear back up sensors.

Just like parking sensors, rear backup sensors could help prevent accidents, therefore reducing premiums.

Wheel locks.

Wheel locks drastically reduce the risk of having your wheels stolen, and many providers offer discounts for having them installed.
Acura MDX money-saving safety features
You could save money on car insurance for your Acura MDX if it comes equipped with these safety features.
Adaptive cruise control

Lane-departure warning systems

Collision-avoidance systems

Anti-lock brakes

Air bags

Daytime running lights
Does the Acura MDX qualify for auto insurance discounts?
Many providers offer auto insurance discounts based on the vehicle you choose to insure. Discounts may vary depending on location, provider, vehicle, and other factors, but there are a few that should apply to the Acura MDX:
New car discount

Anti-lock brake discount

Anti-theft discount

Passive restraint discount (Airbags, motorized seat belts, etc.)

Usage or low mileage discount

Emergency roadside assistance discount
How reliable is the Acura MDX?
Acura has a reputation for reliable vehicles, but the 2017 MDX falls a bit short according to JD power. It holds a predicted reliability score of ⅗, which is about average for other luxury SUVs in its price range.
There have been a number of recalls for the Acura MDX, affecting many model years. Here are a few of the most recent recalls:
2016:

A limited number of vehicles had leaks from the fuel tank.

2015: Broken air conditioning compressor clutch, brakes unexpectedly applying, fuel tank leaks.

2014: Limited function of front seatbelts in cold weather.

2013: Driveshaft detaching from the drivetrain.

2012: Fuel leaks from the gas tank.

2010: Bolt missing from interior trim.
If you own any of those model years or suspect that your vehicle may be a part of a recall, contact Acura as soon as possible to resolve the situation.
The 2003 Acura MDX is considered to have the most issues of all model years, even at low mileage. Most complaints are due to transmission problems that cost drivers up to $5,000 to repair. However, there have also been issues with newer model years. Owners of 2014 models report stalls and lurching upon slow acceleration, paint defects, unusual noises, and more.
Acura MDX maintenance
In order to prolong the life of your Acura MDX, it's important that you perform routine maintenance to ensure that everything runs smoothly.
An oil change for an Acura ILX costs about $90 from a mechanic and around $130 from an Acura dealership.

The 2018 Acura MDX gets about 18 MPG city and 26 on the highway. Older models, such as the 2007 MDX, for example, get close to 15 city and 20 highway.

While Acura recommends that customers bring their MDX to a dealership for service, your warranty will NOT be voided if you have it serviced elsewhere.

The 2018 Acura MDX comes with a four-year/50,000-mile basic warranty and a six-year/70,000-mile powertrain warranty. However, Acura also offers multiple extended warranty options.
Is an extended warranty worth it for the Acura MDX?
Acura has a reputation for reliable vehicles but if you plan on owning your vehicle for a long period of time, parts may break after your warranty is up. If you choose to get an extended warranty, Acura offers a number of options that are available at time of purchase, or at a later date for an added fee. The rates below are offered to customers who purchase an extended warranty within 60 days of vehicle purchase.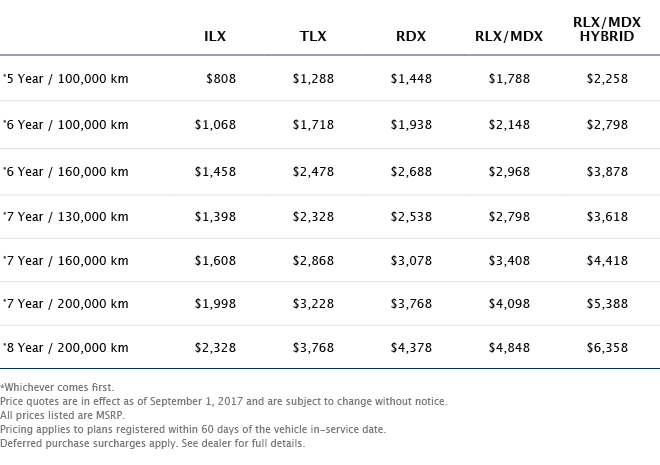 How safe is the Acura MDX?
The Acura MDX has great safety ratings along with multiple safety features that could help you save on car insurance. After all, a lower risk of filing personal injury claims often translates to lower auto insurance premiums. The 2018 Acura MDX gets a 2018 top safety pick with the Insurance Institute for Highway Safety. According to the National Highway Traffic Safety Administration, the MDX received a perfect 5-star rating for 2013-2018 models.
About the Acura MDX
The Acura MDX has been around since 2000. The car is one of the best selling three-row luxury crossovers. The 2017 Acura MDX model features a hybrid option for higher fuel efficiency. Insurance companies determine the insurance cost for an Acura MDX based on safety ratings, theft rates, replacement costs and overall damage susceptibility. Insurance rates can change based on a driver's history and location. If you're considering an Acura MDX, grab quotes from several insurance companies to find the lowest premium possible before you commit. Do your research to see if you qualify for insurance discounts.
Acura facts
Founded in 1986 with premiere models Legend and Integra.
Prices start at $28,000 and can be as high as $156,000.
The first luxury car brand to be awarded top safety ratings throughout the entire model line.
Cars that were manufactured from 1990 to 2000 are always on the top of the list of the most stolen cars in America.
Approximately 161,360 Acura cars were sold in 2016.
Acura MDX car insurance rates
A 2017 Acura MDX starts at a base price of $44,050. With the average insurance rate at $2,292 per year, the annual insurance cost–to–base car price ratio is 5.2%.
| Model | Monthly insurance rate | Base car price |
| --- | --- | --- |
| ILX | $160 | $27,990 |
| MDX | $191 | $44,050 |
| NSX | $191 | $156,000 |
| RDX | $153 | $35,670 |
| RLX | $152 | $54,450 |
| TLX | $152 | $32,000 |
Find the cheapest rates
Compare the best car insurance companies near you.
Your information is secure.
Compare Acura competitors
Looking for similar options? Find other car manufacturers that offer vehicles like the MDX, or compare makes that are completely different.
Compare all car makes & models
Frequently asked questions about the Acura MDX
Which car insurance provider is best for me?
Looking to save on car insurance? Answer these three questions to find a provider that best fits your needs and budget.
Based on your answers, check out: