Finder is committed to editorial independence. While we receive compensation when you click links to partners, they do not influence our opinions or reviews. Learn how we make money.
Compare car insurance rates in San Francisco, California
How to get the best deal on car insurance in San Francisco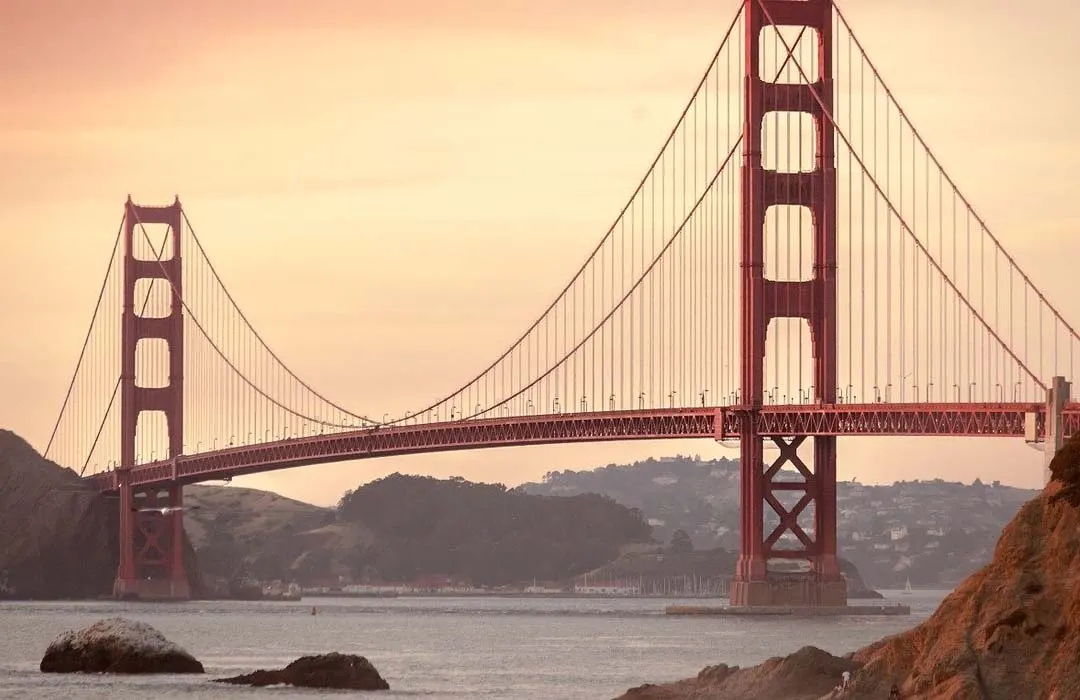 While San Francisco residents enjoy spectacular ocean views and one of the highest average incomes in major US cities, it is unfortunately also one of the most costly cities to call home. So it might not come as a surprise that car insurance rates here soar well above both the state and national averages. The good news is that with a little research, you may be able to trim down your monthly car insurance premium. Compare the average car insurance costs in San Francisco and get tips for driving in this city.
Average car insurance costs in San Francisco
San Francisco drivers can expect to pay higher car insurance premiums than drivers in many other parts of the state, with an average yearly premium of $2,502. Compare that to California's state average of $1,968 and the national average of around $1,300, and it's easy to see that the cost of car ownership is pricier in San Fran.
Why is car insurance so expensive in San Francisco?
There are a few things that factor into why auto insurance rates in San Francisco are so high.
👶
Large population.
San Francisco County is the fifth most densely populated county in the US.
📈
High crime rate
Property crime is 113% higher in San Francisco than the California average.
🌨️
Weather conditions
The Bay Area is known for its dense fog, which can up the rate of car accidents throughout the city.
Although you're going to pay more for car insurance in San Francisco than you probably would in a small town in the Midwest, it's still worth your while to compare providers. To help you in your search, we've done some of the legwork for you.
Discover coverage that's broader than competitors, valuable discounts up to 30% off and perks like shrinking deductibles that reward no claims.
Broad coverage, including for custom car parts or ridesharing
Transparent pricing tools that help you buy within budget
Accident forgiveness on small claims or for staying claim-free
Stack a variety of discounts for multiple cars, autopay or homeownership
Compare car insurance in San Francisco
Cheapest car insurance in San Francisco
| Company | Average annual rate | Read review |
| --- | --- | --- |
| Wawanesa | $1,374 | |
| USAA | $1,547 | Read review |
| California Capital | $1,581 | |
| Geico | $1,592 | Read review |
| United | $1,653 | |
| Esurance | $1,903 | Read review |
| Progressive | $2,009 | Read review |
| Metropolitan | $2,097 | Read review |
| State Farm | $2,236 | Read review |
| Mercury | $2,352 | Read review |
How to get cheap car insurance in San Francisco

Drive a modest car. Surprisingly enough, most drivers in San Francisco opt for a more economical car over a flashy sports car. One perk of going with a Honda over a Ferrari is the money you'll save insuring it.
Compare your options. Some of the nation's largest and most well-known insurance companies don't necessarily offer the best rates in cities like San Francisco. Compare larger companies with local insurers to make sure you're getting the best deal.
Be a safe driver. Drivers with fewer accidents and traffic tickets are likely to get a better rate than those with a not-so-perfect driving record.
Use anti-theft devices. Cars with devices that deter theft, such as alarms and steering wheel locks, are sometimes insured at a cheaper rate, especially in cities like San Francisco with soaring crime rates.
Choose a higher deductible. Although you'll have to pay more out of pocket if you do have an accident, taking a higher deductible can help you save on your monthly or yearly premium.

Who pays more for car insurance, drivers in San Francisco or Los Angeles?

San Francisco and Los Angeles are two of the most congested cities in California, so it stands to reason that they're also home to two of the highest car insurance rates in the state. According to our data, drivers in San Francisco will generally pay an average of $264 less than Los Angeles drivers, but this can vary based on your exact location within each city.

Get the cheapest quotes

Compare car insurance companies near you.

Your information is secure.

Car insurance coverage costs in San Francisco

One way to cut down on your car insurance premium is to trim down your coverage. However, getting only the state minimum requirements could end up costing you a lot more out of pocket later on if you get in an accident.

You'll pay considerably more for a low coverage policy compared to just the state minimum coverage. However, if you're already paying for low coverage, it'll only cost you about $300 more per year to bump up to medium coverage. Here, we compare various coverage options and the average rates for each in San Francisco.

State minimum requirements in San Francisco

To legally drive in California, you'll need auto insurance that includes at least:

Bodily injury liability. $15,000 per person, $30,000 per accident
Property damage liability. $5,000 per accident

You may see this written as 15/30/5 when shopping around for car insurance.

When it comes to Uninsured Motorist (UM) and Underinsured Motorist (UIM) coverage, which protects you in the event of an accident with someone who doesn't have insurance or doesn't have enough insurance, California is an opt-out state. This means that California insurance companies are required to offer you UM/UIM insurance, but you can opt out by signing a waiver.

What additional coverage should I get in San Francisco?

Although these coverage options are optional in the state of California, you might want to add them to your policy if you have a regular commute in San Francisco.

Collision coverage. Driving in a densely populated area like San Francisco automatically ups your risk of being in a car accident, so having collision coverage could really come in handy if you have a regular commute.
Comprehensive coverage. Property crime in San Francisco has been on the rise, particularly those associated with vehicle break-ins. For this reason, it's not a bad idea to add comprehensive coverage to your insurance policy, which will cover things like theft and vandalism.

How can I get the California Good Driver Discount?

If you live in the state of California, you could save 20% on car insurance if you qualify for its state-mandated Good Driver Discount. To qualify, you'll need to have:

Had a license for at least three years
No more than one point on your driving record in the past three years
Not been found at fault for a car accident that caused a death or more than $1,000 in property damage over the past three years

Get the cheapest quotes

Compare car insurance companies near you.

Your information is secure.

What should I know about driving in San Francisco?

Driving in San Francisco is similar to driving in other parts of the state, except for the fact that there's going to be significantly more traffic here than in rural areas. When driving through San Francisco, keep these tips in mind.

Don't drive with your cellphone in your hand for any reason. A new law was recently passed in California that prohibits drivers from using their cellphones in their hands for any reason, including using their GPS. If you need to use your phone for navigation, you must mount it on your dashboard or in the lower right- or left-hand corner of your windshield. It cannot obstruct your view, and you're only allowed to use one finger to swipe your screen while driving.
Motorcycle lane splitting is now legal, but there are some rules. Bikers can now legally drive between lanes of slow-moving or standing traffic, but they must do so at no more than 30 mph or no more than 10 mph faster than moving traffic. Note that lane splitting, also called lane sharing, is not legal across double yellow lines.
Keep your eyes peeled for delivery trucks in the mornings. If you're driving downtown in morning traffic, you'll quickly notice that the right-hand lane is pretty popular for delivery trucks. Before moving over and speeding up in the mysteriously clear right lane, look up a couple of blocks to see if there are any stopped trucks blocking the lane.
Always watch for pedestrians. Foot traffic can be just as busy on San Francisco's congested streets, so be on the lookout for pedestrians. Pedestrians always have the right of way in San Francisco.
Slow down in foggy conditions. The Bay Area is known for its foggy weather. Turn on your lights and use caution when driving in low-visibility conditions to avoid accidents.

Which cars are popular in San Francisco?

You might think that flashy sports cars would be the most popular choices among San Francisco residents, but many drivers here prefer more practical and wallet-friendly vehicles. The most popular makes of cars driven in San Francisco include:

Car insurance in San Francisco

Want local service from a nearby insurance agent? Find a local agent near you.

Bottom line

With its characteristically foggy weather, dense population and high crime rates, San Francisco unfortunately has some of the steepest car insurance rates in the state. But the good news is that there are ways to trim your bill without sacrificing much-needed coverage options.

A great place to start is by comparing car insurance policies with your current rates and coverage level to see if you can find a better deal.

Get the cheapest quotes

Compare car insurance companies near you.

Your information is secure.

Frequently asked questions about car insurance in San Francisco