Finder makes money from featured partners, but editorial opinions are our own.

Advertiser disclosure
How your credit score affects your car insurance rates
Raising your credit score by 100 points could save you $1,000 a year.
Most of us know that an accident or DUI can increase your car insurance rates. But did you know a bad credit score can also affect how much you'll pay in most states?
When you apply for a car insurance policy, most insurers check your credit-based insurance score, as opposed to a traditional credit score, and use it to set your premiums. Drivers with poor credit may pay as much as 42% more for car insurance than drivers with stronger credit to the tune of $2,377 more each year.
What is my credit-based insurance score?
Insurers analyze certain aspects of your credit history to create a credit-based insurance score. Your score is weighted on the information that relates to potential car insurance losses. Here's whats measured:
Payment history, including late payments and delinquencies
Length of credit history
Number and types of credit accounts, such as credit cards and loans
Outstanding debt
Credit utilization
Applications for new credit
Unlike lenders and financial institutions — who look at your FICO score or VantageScore — insurers aren't concerned with your income, though both aim to determine your level of risk.
How your insurance-based credit score affects car insurance rates
The higher your credit score, the better your rates. Raising your credit score by 100 points could potentially save you up to $1,000 a year on your car insurance. Just how much you can save varies based on your score and insurance company.
But, as an example, those with poor credit often pay over 40% more on car insurance than those with higher scores. In comparison, drivers with average insurance scores may pay 24% more.
Even an increase from fair to good credit can save you around 17% with big-name insurers. That means you might be paying $1,820 per year for car insurance with fair credit. But if you improve your score by just one level, you could instead pay $1,510 per year — a savings of $310.
Car insurance cost by credit score
| Credit | Average annual premium |
| --- | --- |
| Good | $3,275 |
| Fair | $3,945 |
| Poor | $5,652 |
| All | $4,284 |
Car insurance guides by credit score
Do all states let car insurance providers use credit scores to determine rates?
No. In California, Hawaii and Massachusetts, car insurance providers aren't allowed to consider your credit score when determining your premium. Instead, your rates are based on your age, marital status, driving record and the number of miles you drive each year, among other factors.
A few other states restrict the use of credit information for renewals and cancellations. For instance, in Pennsylvania, insurers can only check your credit when you're renewing your policy, and can only use it if it results in a lower rate. In Texas, Georgia, Utah and Washington, insurers can't legally use a customer's credit score as the sole reason for denying or not renewing coverage.
New York, Illinois, Florida and Texas stipulate that insurers must disclose if and when they used credit information in their decision to deny, cancel or not renew a policy.
How do I check my credit-based insurance score?
You can purchase access to your credit-based insurance score created by LexisNexis and FICO through each of their sites. However, to obtain your TransUnion score, you'll have to ask your insurance provider for access.
For your general credit score, you can request your credit report from the three major credit reporting agencies — Equifax, Experian and TransUnion — once a year. Your score may also appear on your credit card or loan statement.
Can I get car insurance without a credit check?
You can get car insurance without a credit check by opting for a company that offers usage-based car insurance and telematics. A telematics device in your car or an app monitor your driving behavior like your acceleration, mileage and braking habits. These driving habits affect your rate more than your personal details like age, gender and location.
It's a good option if you're not able to get coverage from traditional car insurance companies or you're paying more for insurance because of your credit history.
How do I improve my credit-based insurance score?
To boost your credit-based insurance score, start by requesting it. In the report, you'll see a list of factors that go into the calculation of the score. Improving and rebuilding your credit score takes time, but these steps will put you on the right track.
Order and review your credit report. Check it for accuracy. If you find any errors, file a dispute with the appropriate credit bureau.
Focus on significant factors first. The first two factors listed in the report have the most significant effect. Focus on these areas of improvement first.
Pay your bills on time. This proves to lenders that you're reliable and can manage your finances. It also helps you avoid late fees, which can really add up over time. If you have trouble remembering to pay your bills, try a budgeting app with reminders.
Fix late payments. If you have a legitimate reason for missing a payment, consider writing a goodwill letter to your creditor.
Be conservative with your credit. Aim to utilize 30% or less of your available credit. For instance, if your credit limit is $1,000, keep your balance below $300. This shows lenders that you're only spending money you can quickly pay back.
Don't open too many new accounts. Every time you apply for a credit card or loan, it's listed on your credit report and may drag down your score. For now, avoid applying for unnecessary lines of credit.
Pay down any debt you may have. The more aggressively you pay off debt, the better.
7 ways to save on car insurance without perfect credit
When purchasing car insurance with not-so-great credit, these tactics can help you save money:
Build credit. You can work toward a score of 670 or higher by keeping credit card balances low, paying bills on time and not opening or closing accounts frequently.
Maintain a clean driving record. A clean record proves you're a responsible driver, even without a great credit score to back you up.
Get every discount possible. Find helpful savings such as discounts for completing a safe driving course, student discounts, bundling policies or automatic payments.
Lower coverage. Strip away additional coverage you might not need, such as better car replacement or original manufacturer parts coverage.
Raise the deductible. You pay more if you're in an accident, but raising your deductible can lower your premium. Consider whether the savings is worth the risk of paying for damage yourself after an accident.
Stay claims free.

Consider not making an accident claim when the damage doesn't go above your deductible and the incident doesn't involve another person or their property.
Compare providers. Getting multiple quotes ensures that you'll get the best rate possible based on your current credit score and driving needs.
Why do insurers check credit scores?
Insurers check your credit-based insurance score to predict whether you'll file claims. Insurance is all about balancing risk, so they use that information to decide if they'll offer you coverage and to set your premium. They aren't willing to take on more risk than they need to, even though the use of credit-based insurance scores is controversial.
But what does your credit history have to do with your risk as a driver? According to data from the Insurance Information Institute, FICO and the Federal Trade Commision, there's a correlation between credit and insurance claims.
Statistics show that drivers with low insurance scores are more likely to file claims, and those claims tend to be more frequent, costly and sometimes exaggerated. In other words, if you're careful with credit, experts argue that you'll be more careful on the road.
Why is credit scoring considered unfair?
Although they're widely used, credit-based insurance scores are hotly contested. Its opponents say that they unfairly punish those who are dealing with financial factors out of their control, such as medical debt or layoffs. These situations can really hurt your credit, even if you're a responsible spender.
Some compare it to redlining and argue that it discriminates against minorities and low-income applicants. They say credit scoring drives up insurance costs for those groups who are least able to pay.
For other consumer advocates, credit scores simply aren't relevant to driver risk. They argue that there's no connection between driving skills and spending habits, and that driving records and claims histories are much better indicators of risk. That's why some states are banning this practice.
When do insurers check my credit?
When you apply for a policy, around 90% of insurers will ask for your permission to check your credit score. Companies will request personal information to check the score, such as your address or Social Security number.
They'll then pull your credit report from one of the three major credit bureaus and use that to calculate your insurance score.
Insurance companies do a soft pull, which appears on your credit report but typically won't harm your score.
Does my current insurer check my credit?
It depends on your insurance company and where you live. In the following states, insurers must recalculate credit scores every three years, which means that you could score a cheaper rate if your credit history has improved.
Arkansas
Colorado
Florida
Georgia
Iowa
Louisiana
Montana
Nevada
New Mexico
New York
North Dakota
Oklahoma
Tennessee
Virginia
Outside of these states, your current insurer doesn't have to factor your new-and-improved credit score into your renewal rates. And in Alaska, insurers can only use your credit score when you first buy a policy.
Bottom line
Over 90% of insurers check your credit score to establish your eligibility and determine your rates, along with other factors. It's a common, though controversial, practice in most states.
If you have a high credit-based insurance score, a clean driving history and zero claims on your record, you'll typically qualify for cheaper rates. And while it's possible to get a policy without a credit check, you'll probably pay a higher premium.
Each insurer has its own algorithm, so be sure to shop around for the best rate.
Frequently asked questions about credit and car insurance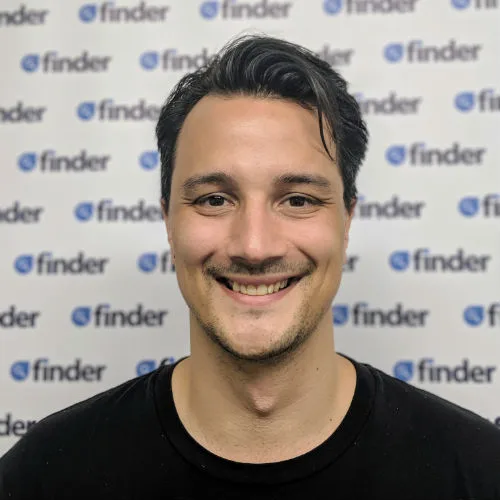 For all media inquiries, please contact:
Richard Laycock, Senior content manager & insights editor