Finder is committed to editorial independence. While we receive compensation when you click links to partners, they do not influence our opinions or reviews. Learn how we make money.
Can Burger King's Whopper Loans cancel your student debt?
You don't have to be a customer to win up to $100,000 in forgiveness — but you have to be lucky.
Yes, it's real. At the end of May 2019, Burger King launched a sweepstakes that rewards winners with forgiveness for all or part of their student loans. The chances of winning are likely impossible — but you have other options for student loan forgiveness beyond the burger.
What is the Whopper Loans Sweepstakes?
Whopper Loans is a two-week contest that culminates in Burger King paying off a total $250,000 in student debt across the promotion's winners. Prizes range from up to $500 for weekly contest winners and a grand prize of $100,000.
You can enter without a purchase, though the easiest way to get in on the action is to buy an item through the Burger King app. Burger King partners with student loan provider and servicer Earnest to manage this contest.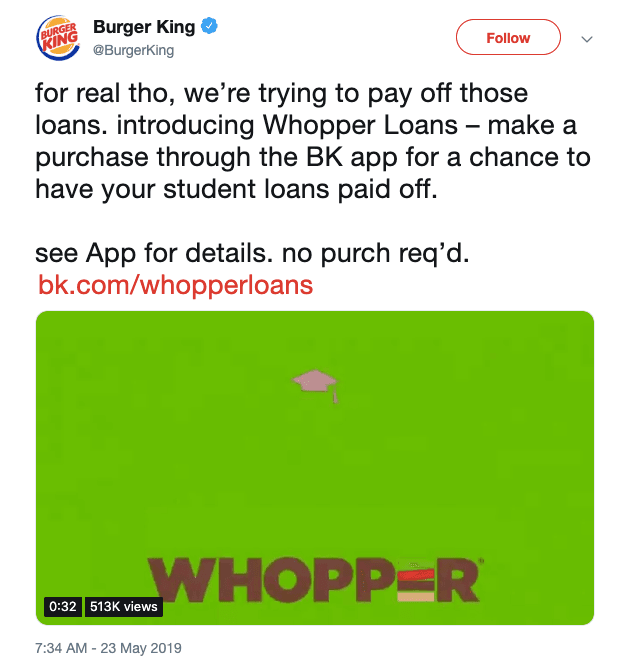 What are the prizes?
The Whopper Loans Sweepstakes awards an array of weekly prizes with its king-size grand prize to one lucky winner.
Weekly prizes
Burger King offers up to $500 to 150 winners each week — for a total of 300 winners.
This prize goes toward your monthly student loan repayment. Burger King pays your winnings directly to the company that handles your repayments.
If your repayment is less than $500, you won't receive the difference in cash. And if the repayment is more than $500, you're responsible for covering the difference.
Grand prize
The jewel in the sweepstakes' crown is a grand prize of up to $100,000 for one winner to put toward their student debt load. Like with the weekly prizes, you won't receive the difference in cash if your payoff amount is less than $100,000. And Burger King hasn't announced how it will distribute this prize.
Winners might not get as much as they expected
Like many other debt forgiveness programs, the IRS considers your Whopper Loans Sweepstakes winnings taxable income.
The grand prize winner might fall into the 24% tax bracket without any other income this year — or the 22% bracket if married or filing jointly with no income. With income, you're shot into a higher tax bracket just for winning the grand prize.
All sweepstakes prize winners are required to submit a W-9 and 1099 tax form, which Burger King issues for the grand prize but not weekly winnings.
Who can qualify?
Enter with or without a purchase by meeting the following criteria:
Eligible student loans. Winnings go toward loans from a postsecondary degree only.
At least 18 years old. You must of age on the day you enter, not on the day that prizes are announced.
Legal resident. You must be in the US legally to participate in this contest, though you don't have to be a citizen.
No affiliation with BK. If you work for Burger King or another company involved in these sweepstakes, you can't enter. You also can't participate if you live with or are an immediate family member of an ineligible company employee.
How long does the Whopper Loans Sweepstakes last?
The Whopper Sweepstakes started on May 23, 2019 and ends at 11:59 p.m. ET on Thursday, June 6, 2019.
How do I find out if I won?
Burger King will email or call you within three business days of being selected. If you win, you have up to 10 days to respond. Wait any longer, and Burger King bestows your prize to someone else.
Expect to provide documents to verify your student loans before getting your prize.
How to enter the Whopper Loans Sweepstakes
Despite what the advertisements might have you believe, you have two ways to enter the sweepstakes: through the app or by mail. You must buy something from Burger King to enter through the app, but you're off the hook if you mail in your entry.
How to enter using the Burger King app
Enter the sweepstakes through the app in five steps:
Download the app. The app is available through the iTunes App Store or Google Play.
Order an item. There are no restrictions on what you can order. You can even buy the cheapest thing on the menu.
Create an account. If this is your first time using the app, set up an account and add your credit or debit card information.
Complete the purchase. You must pay for your food before you can enter the contest.
Submit the registration form. After you buy your food, complete the email registration form with your email address and monthly student loan repayment amount.
How to enter by mail
Snail mail into the sweepstakes is a two-step process:
Write a letter by hand. Print your full name, mailing address, email address, phone number, monthly student loan repayment amount and total student loan balance on a 3 x 5–inch piece of paper.
Mail it in. Hand-address your hand-stamped envelope to Realtime Media at the address below:
Realtime Media
Attn: Whopper Loans
200 Four Falls Corporate Center, Suite 130
Conshohocken, PA 19428
Your letter must arrive before the end of the contest. Give yourself at least seven to 10 business days for letter delivery.
Can I enter more than once?
Yes. You can enter up to two times — once per week.
Didn't win? Here are 5 more ways to get your loans forgiven
Student loan forgiveness isn't available only through sweepstakes from fast-food joints. Look to other ways to get your loans forgiven — some tame and some equally outlandish.
1. Public Service Loan Forgiveness
Through Public Service Loan Forgiveness (PSLF), the Department of Education (DoE) forgives your total federal loan balance after 120 on-time repayments while you work at an eligible public service job.
It's a wildly popular program, though nearly all first-round applicants are rejected due to incomplete documentation or applications. You're eligible to reapply, however.
2. Income-driven repayment plans
The DoE also forgives the remaining balance of anyone who pays off their loans through an income-driven repayment plan after 20 or 25 years of repayments. How long it takes to qualify for forgiveness depends on the plan you sign up for and the type of federal loans you have.
3. Loan repayment assistance programs
Eligible loans: Federal and private
Many schools and private organizations offer student loan repayment assistance programs (LRAPs) available to members of select professions.
Healthcare workers, members of the military, lawyers and teachers tend to see the most LRAP options. These programs often act as incentives to bring professionals to underserved areas, so you might have to move or switch jobs to qualify.
4. Employer repayment assistance
Eligible loans: Federal and private
More and more companies offer student loan repayment assistance as an employee perk — especially media and tech companies. Depending on the company, you could get up to $100 a month or $10,000 a year in forgiveness. Many limit how much it will forgive over your lifetime.
5. Student loan game show
Eligible loans: Federal and private
That's right. The student loan repayment game show Paid Off launched its second season on May 13, 2019. Through this show, contestants answer questions about their major and related topics to have some or all of their student debt canceled. Sign up by showing up at an open casting call in your area.
Bottom line
Burger King's Whopper Loans Sweepstakes isn't the most practical way of getting out of student debt. But it's an option — at least until Thursday, June 6, 2019. If burgers and fries ain't your thing, learn tips to getting out of from under your debt in our guide to student loans.
Frequently asked questions
More guides on Finder