California passes bill of rights to protect students against predatory loan servicers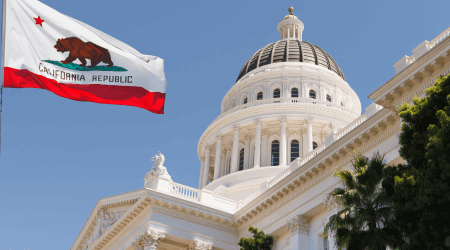 The bill requires student loan servicers to act in the borrower's best financial interest — or risk being sued.
California's state legislature passed a bill on Tuesday that protects borrowers against abusive practices by student loan servicers.
The Student Borrower Bill of Rights requires servicers to work in the best financial interest of the student loan borrowers with both federal and private loans.
It also sets standards for any company involved in the business of handling student loan repayments. And it opens up servicers to lawsuits if they act illegally.
How the bill protects student loan borrowers in California
The Student Borrower Bill of Rights prohibits servicers from abusive practices that prevent borrowers from making an informed decision about their student loan repayments.
Generally, this means that servicers must give borrowers — and credit bureaus — accurate information about their loans and their repayments. Servicers can't do anything that would make it difficult for borrowers to understand any crucial details — like hiding it in fine print or legalese.
But more importantly, they aren't allowed to misrepresent or hold back information that would be financially beneficial to the borrower.
What would this look like in practice? Borrowers frequently complain to the Consumer Financial Protection Bureau that servicers pushed them to enroll in forbearance and failed to mention less expensive options.
Forbearance is profitable for servicers because interest continues to add up on student loans while repayments are on hold. After forbearance is over, the servicer adds the accumulated interest to the balance. Since interest is a percentage of your balance, this means the borrower will pay interest on that interest.
Under the bill of rights, this would be illegal. So say you're struggling with repayments because you've switched to a lower-paying field. In this case, a servicer would be required to inform you about income-driven repayments — and not push you into deferment.
Protections for service members and public service workers
Service members and people who work in public service are eligible for student loan forgiveness programs. But servicers have misled borrowers about the requirements of these programs, causing many to be disqualified.
Some 99% of the first round of applicants to the Public Service Loan Forgiveness (PSLF) program were rejected. This was partly because many borrowers didn't realize they had to sign up for income-driven repayments to qualify for the program. In some cases, their servicers had even told them that any repayment program was eligible.
Under the bill of rights, student loan borrowers would be able to sue a servicer if they received misinformation about these programs.
Protections for borrowers with disabilities
Borrowers with disabilities may be eligible to have their loans fully discharged if they meet certain criteria. Under this bill, a student loan servicer would be required to tell disabled borrowers about this if they are able to qualify.
And like with all borrowers, servicers are required to work with an authorized representative of that borrower, if the authorization is in writing.
Clearer rules for servicers
The Student Borrower Bill of Rights also sets clear guidelines for how servicers are required to act. These include considering payments as on time based on when the servicer gets the payment — instead of when the servicer gets around to processing it.
If a borrower pays more than required, servicers are required to reach out and make sure that this wasn't an accident. If they aren't able to receive a response, the servicer must use this extra repayment in a way that is the most beneficial to the borrower.
In most cases, this means applying the payment toward the loan principal on the account with the highest interest rate. This allows borrowers to get out of debt faster. It also reduces the total cost of the loan. Currently, most servicers automatically apply extra repayments toward interest, unless the borrower otherwise specifies.
Other rules restrict the types of late fees servicers can charge, and how and when servicers can punish borrowers over disputed repayments. It also sets standards for customer service training — especially when it comes to making sure older borrowers remain informed.
What can I do if my servicer breaks the law?
If a servicer acts illegally, this bill allows you to file a lawsuit against the servicer. This could result in hefty fines for the servicer — including a minimum of $500 per borrower, plus legal fees and other expenses.
Not ready for a lawsuit? The bill also establishes a California Student Loan Ombudsman. Borrowers can submit complaints against servicers to the ombudsman, which the ombudsman will use to make sure servicers are following federal and sate laws.
The state will also use complaint information to inform additional regulations to protect student loan borrowers.
And if you'd rather work with another company as soon as possible, you can switch servicers by consolidating your federal loans or refinancing with a private lender.
Are there any federal protections against predatory servicers?
Other states like New York have protections against student loan servicers. But on a federal level, protections are relatively thin. In some cases, it even protects servicers at the expense of the borrower. For example, federal law prohibits student loan borrowers from suing servicers.
It's possible the Department of Education (DoE) will challenge California's new bill of rights. In 2018, the DoE issued guidance against Massachusetts' student loan borrower protections, saying that violated federal law.
But even if it faces a lawsuit, that might not be the end of these protections. Courts have also ruled in favor of the states. And even the DoE favored state laws over federal law up until 2016.
Photo: Getty Images