Valentine's Day: Which streaming service has the most romance movies?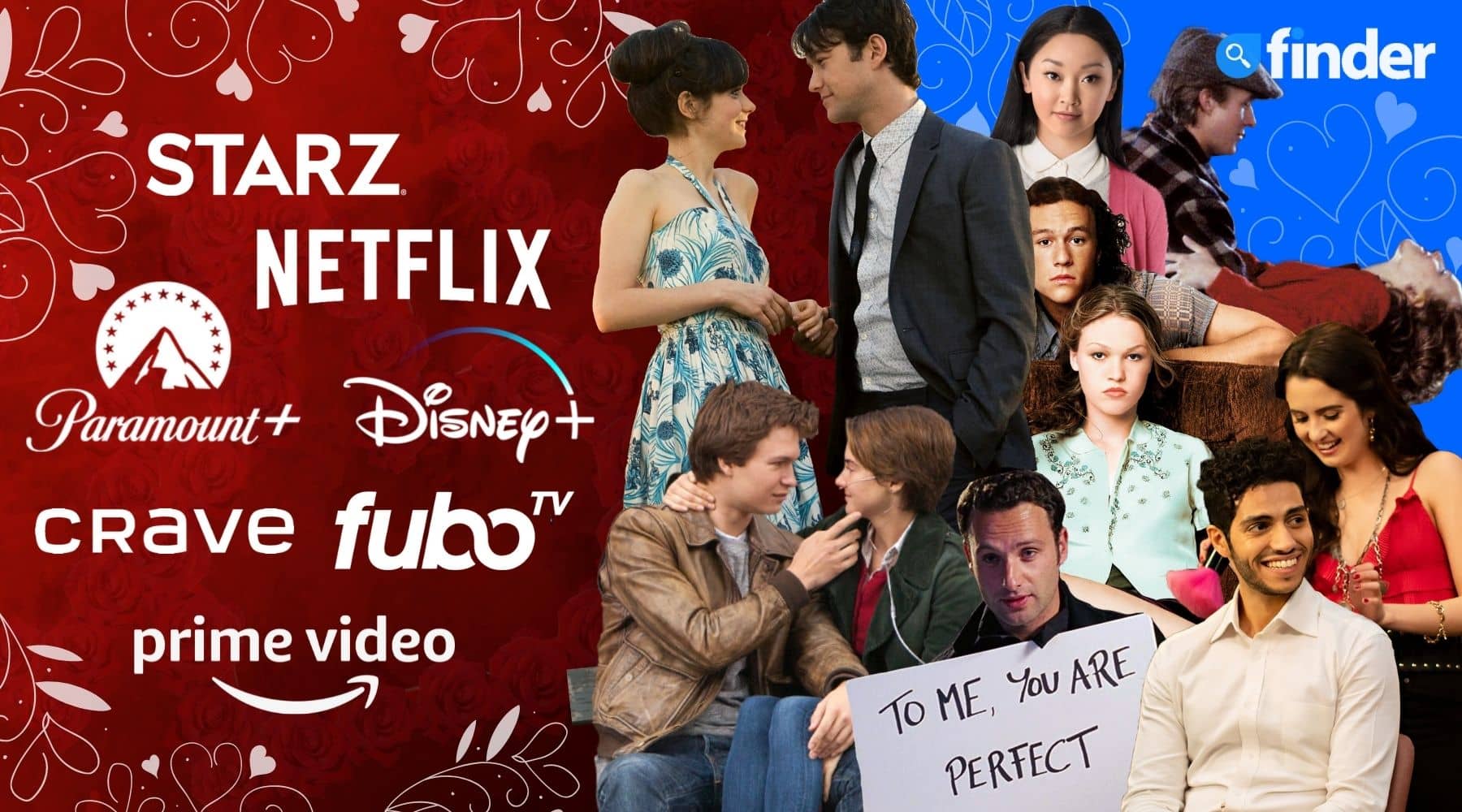 Settle in with a glass of wine and a movie marathon… inviting a date is purely optional.
When it comes to romance, quality usually trumps quantity. However, if you're looking to update your romance watchlist in time for Valentine's Day, it's a good idea to make sure you have enough choice.
Whether you're after a funny rom-com, an epic romantic drama or an action movie with just a dash of romance, there's something out there to fit your preferences.
In fact, there are hundreds of romance-related movies available on streaming services in Canada. Each service hosts at least a few titles suitable for Valentine's Day, while some spoil subscribers with a plethora of options. We've gathered them all below.
Finder collected genre data for movies from all available streaming services in Canada on 9 February. For our methodology, anything listed under the genres romance, romantic comedies or romantic movies made the list.
We didn't break down the 294 secret Netflix genre codes containing love, such as British forbidden-love movies based on books. But you'll be glad to know all those secret codes still fall under the wider Netflix umbrella of romance, romantic comedies and romantic movies.
Granted, this isn't an exact science. Titles come and go from online platforms every day. Also, some of these titles will prove more romantic than others. It all comes down to what you like to watch.
For instance, Prime Video is the clear winner in the romance department with over 1,000 entries, but a big chunk of their collection consists of Hindi productions. As long as those are your thing, you're golden.
Our list includes Christmas titles as well. Is it too soon for another holiday-related rom-com marathon? If you prefer to watch French productions, Club Illico has a solid selection.
In short, we hope this list gives you a clear picture of what's streaming where, so you can sort your Valentine's Day entertainment accordingly. Check out the full list below and search by title or provider. We're sure you'll stumble upon something that catches your eye.
Try before you buy with these
free trials
Romance movies by streaming service
| Title | Type | Where to watch |
| --- | --- | --- |
| The J Team | Movie | Paramount Plus |
| Clueless | Movie | Paramount Plus, Netflix |
| The Addams Family | Movie | Paramount Plus |
| American Beauty | Movie | Paramount Plus |
| Amy Winehouse & Me: Dionne's Story | Movie | Paramount Plus |
| Anchorman: The Legend of Ron Burgundy | Movie | Paramount Plus |
| Beverly Hills Cop | Movie | Paramount Plus |
| Catch Me If You Can | Movie | Paramount Plus |
| Chinatown | Movie | Paramount Plus |
| Collateral | Movie | Paramount Plus |
| Crocodile Dundee | Movie | Paramount Plus |
| Days Of Thunder | Movie | Paramount Plus |
| Death On The Nile | Movie | Paramount Plus |
| Deep Impact | Movie | Paramount Plus |
| Dreamgirls | Movie | Paramount Plus |
| Face/Off | Movie | Paramount Plus |
| Fatal Attraction | Movie | Paramount Plus |
| Ferris Bueller's Day Off | Movie | Paramount Plus |
| The Firm | Movie | Paramount Plus |
| Flashdance | Movie | Paramount Plus |
| Footloose | Movie | Paramount Plus |
| Forrest Gump | Movie | Paramount Plus, Netflix |
| G.I. Joe Snake Eyes | Movie | Paramount Plus |
| G.I. Joe: Retaliation | Movie | Paramount Plus |
| G.I. Joe: The Rise Of Cobra | Movie | Paramount Plus |
| Ghost | Movie | Paramount Plus |
| Gladiator | Movie | Paramount Plus |
| Grease | Movie | Paramount Plus, Crave, STARZ, Netflix |
| Grease 2 | Movie | Paramount Plus |
| Infinite | Movie | Paramount Plus |
| Jack Reacher | Movie | Paramount Plus |
| Jack Ryan: Shadow Recruit | Movie | Paramount Plus |
| Madame X | Movie | Paramount Plus |
| Madame X Presents: Madame Xtra Q&A | Movie | Paramount Plus |
| Mean Girls | Movie | Paramount Plus |
| Minority Report | Movie | Paramount Plus |
| Mission: Impossible | Movie | Paramount Plus |
| Mission: Impossible – Ghost Protocol | Movie | Paramount Plus |
| Mission: Impossible – Rogue Nation | Movie | Paramount Plus |
| Mission: Impossible II | Movie | Paramount Plus |
| Mission: Impossible III | Movie | Paramount Plus |
| Oasis Knebworth 1996 | Movie | Paramount Plus |
| One Last Time: An Evening With Tony Bennett and Lady Gaga | Movie | Paramount Plus |
| PAW Patrol: The Movie | Movie | Paramount Plus |
| Paranormal Activity: Next of Kin | Movie | Paramount Plus |
| Pretty In Pink | Movie | Paramount Plus, Paramount+ |
| RENO 911!: The Hunt for QAnon | Movie | Paramount Plus |
| Rumble | Movie | Paramount Plus |
| Some Kind Of Wonderful | Movie | Paramount Plus |
| South Park Post COVID | Movie | Paramount Plus |
| South Park: Post Covid: The Return of Covid | Movie | Paramount Plus |
| Star-Crossed | Movie | Paramount Plus |
| The Talented Mr. Ripley | Movie | Paramount Plus |
| The Marfa Tapes – Jack Ingram, Miranda Lamber, Jon Randall | Movie | Paramount Plus |
| The School Of Rock | Movie | Paramount Plus |
| Titanic | Movie | Paramount Plus, STARZ, Crave |
| Top Gun | Movie | Paramount Plus |
| Wayne's World | Movie | Paramount Plus |
| Zoolander | Movie | Paramount Plus |
| Aladdin | Movie | Disney Plus |
| Australia | Movie | Disney Plus |
| Grosse Pointe Blank | Movie | Disney Plus |
| Herbie Goes to Monte Carlo | Movie | Disney Plus |
| The Hunchback of Notre Dame II | Movie | Disney Plus |
| The Hunchback of Notre Dame | Movie | Disney Plus, Prime Video |
| Jewel of the Nile | Movie | Disney Plus |
| Jungle Cruise | Movie | Disney Plus |
| Lady and the Tramp | Movie | Disney Plus |
| Lady and the Tramp II: Scamp's Adventure | Movie | Disney Plus |
| The Lion King 2: Simba's Pride | Movie | Disney Plus |
| Miraculous World: New York, United Heroez | Movie | Disney Plus |
| Mulan II | Movie | Disney Plus |
| Muppet Treasure Island | Movie | Disney Plus |
| Pearl Harbor | Movie | Disney Plus |
| Pocahontas | Movie | Disney Plus |
| Pocahontas II: Journey to a New World | Movie | Disney Plus |
| The Princess Bride | Movie | Disney Plus |
| Robin Hood | Movie | Disney Plus |
| Robin Hood: Men in Tights | Movie | Disney Plus |
| Romancing the Stone | Movie | Disney Plus, Crave |
| Six Days, Seven Nights | Movie | Disney Plus |
| Strange Magic | Movie | Disney Plus |
| This Means War | Movie | Disney Plus |
| The Three Musketeers | Movie | Disney Plus |
| Tristan & Isolde | Movie | Disney Plus |
| Beauty and the Beast | Movie | Disney Plus |
| Beauty and the Beast: The Enchanted Christmas | Movie | Disney Plus |
| Cinderella III: A Twist in Time | Movie | Disney Plus |
| The Little Mermaid | Movie | Disney Plus |
| Sleeping Beauty | Movie | Disney Plus |
| Thumbelina | Movie | Disney Plus |
| 10 Things I Hate About You | Movie | Disney Plus |
| 12 Dates of Christmas | Movie | Disney Plus |
| 27 Dresses | Movie | Disney Plus |
| 500 Days of Summer | Movie | Disney Plus |
| Adam | Movie | Disney Plus |
| Aquamarine | Movie | Disney Plus, STARZ |
| Baggage Claim | Movie | Disney Plus, STARZ, Crave |
| The Best Exotic Marigold Hotel | Movie | Disney Plus, STARZ, Crave |
| Broadcast News | Movie | Disney Plus, STARZ |
| Brown Sugar | Movie | Disney Plus, Crave |
| Can't Buy Me Love | Movie | Disney Plus |
| Casanova | Movie | Disney Plus |
| The Closer You Get | Movie | Disney Plus |
| Cocktail | Movie | Disney Plus |
| Confessions of a Shopaholic | Movie | Disney Plus |
| Confetti | Movie | Disney Plus |
| Coyote Ugly | Movie | Disney Plus |
| Dan in Real Life | Movie | Disney Plus |
| Date Night | Movie | Disney Plus |
| Drive Me Crazy | Movie | Disney Plus |
| Edward Scissorhands | Movie | Disney Plus |
| Enchanted | Movie | Disney Plus |
| Enough Said | Movie | Disney Plus, STARZ, Crave |
| The Family Stone | Movie | Disney Plus |
| Father of the Bride | Movie | Disney Plus |
| Fever Pitch | Movie | Disney Plus |
| Garden State | Movie | Disney Plus, STARZ, Crave |
| Geek Charming | Movie | Disney Plus |
| Green Card | Movie | Disney Plus |
| Hello, Dolly! | Movie | Disney Plus |
| High Fidelity | Movie | Disney Plus |
| Holiday in Handcuffs | Movie | Disney Plus |
| Holy Man | Movie | Disney Plus |
| Hope Springs | Movie | Disney Plus |
| I Love You, Beth Cooper | Movie | Disney Plus |
| I Think I Love My Wife | Movie | Disney Plus, STARZ, Crave |
| In Her Shoes | Movie | Disney Plus |
| John Tucker Must Die | Movie | Disney Plus |
| Just Married | Movie | Disney Plus |
| Just Wright | Movie | Disney Plus |
| Kiss Me Goodbye | Movie | Disney Plus |
| Kissing Jessica Stein | Movie | Disney Plus |
| Le Divorce | Movie | Disney Plus |
| The Lizzie McGuire Movie | Movie | Disney Plus |
| Love, Simon | Movie | Disney Plus |
| The Marrying Man | Movie | Disney Plus |
| Me, Myself and Irene | Movie | Disney Plus |
| Miami Rhapsody | Movie | Disney Plus |
| Never Been Kissed | Movie | Disney Plus |
| No Sleep 'til Christmas | Movie | Disney Plus |
| The Other Sister | Movie | Disney Plus |
| The Other Woman | Movie | Disney Plus |
| Our Family Wedding | Movie | Disney Plus |
| Out to Sea | Movie | Disney Plus |
| Paper Towns | Movie | Disney Plus |
| The Parent Trap | Movie | Disney Plus |
| Phat Girlz | Movie | Disney Plus |
| Picture Perfect | Movie | Disney Plus |
| Post Grad | Movie | Disney Plus |
| The Princess Diaries 2: Royal Engagement | Movie | Disney Plus |
| The Proposal | Movie | Disney Plus |
| Rodgers & Hammerstein's Cinderella | Movie | Disney Plus |
| Ruby Sparks | Movie | Disney Plus |
| Say Anything | Movie | Disney Plus |
| Say It Isn't So | Movie | Disney Plus |
| The Second Best Exotic Marigold Hotel | Movie | Disney Plus, STARZ, Crave |
| Shallow Hal | Movie | Disney Plus |
| Shopgirl | Movie | Disney Plus |
| Silver Streak | Movie | Disney Plus |
| Snowglobe | Movie | Disney Plus |
| Animal Attraction | Movie | Disney Plus |
| Splash | Movie | Disney Plus |
| Starstruck | Movie | Disney Plus |
| Sweet Home Alabama | Movie | Disney Plus |
| There's Something About Mary | Movie | Disney Plus, Crave, STARZ |
| Three Men and a Little Lady | Movie | Disney Plus |
| Waitress | Movie | Disney Plus |
| Welcome to Mooseport | Movie | Disney Plus |
| While You Were Sleeping | Movie | Disney Plus |
| Woman on Top | Movie | Disney Plus |
| Working Girl | Movie | Disney Plus |
| A Good Year | Movie | Disney Plus |
| A Ring of Endless Light | Movie | Disney Plus |
| The Aftermath | Movie | Disney Plus |
| An Affair to Remember | Movie | Disney Plus |
| Anna and the King | Movie | Disney Plus |
| The Art Of Getting By | Movie | Disney Plus |
| Belle | Movie | Disney Plus, Crave |
| Come See the Paradise | Movie | Disney Plus |
| crazy/beautiful | Movie | Disney Plus |
| Dreaming of Joseph Lees | Movie | Disney Plus |
| Ever After: A Cinderella Story | Movie | Disney Plus, Crave, STARZ |
| Far From the Madding Crowd | Movie | Disney Plus |
| The Fault in Our Stars | Movie | Disney Plus |
| Firelight | Movie | Disney Plus |
| Hitchcock | Movie | Disney Plus |
| Hope Floats | Movie | Disney Plus |
| I Origins | Movie | Disney Plus |
| Inventing the Abbotts | Movie | Disney Plus |
| The Last Song | Movie | Disney Plus |
| The Longest Ride | Movie | Disney Plus, Crave, STARZ |
| Mad Love | Movie | Disney Plus |
| The Man From Snowy River | Movie | Disney Plus |
| The Moon-Spinners | Movie | Disney Plus |
| Moonlight Mile | Movie | Disney Plus |
| The Mountain Between Us | Movie | Disney Plus |
| My Cousin Rachel | Movie | Disney Plus |
| Never Let Me Go | Movie | Disney Plus |
| Oscar and Lucinda | Movie | Disney Plus |
| Phenomenon | Movie | Disney Plus |
| Same Time, Next Christmas | Movie | Disney Plus |
| The Scarlet Letter | Movie | Disney Plus |
| Separate Lies | Movie | Disney Plus |
| The Shape Of Water | Movie | Disney Plus |
| Solaris | Movie | Disney Plus, Crave |
| Stargirl | Movie | Disney Plus |
| Tuck Everlasting | Movie | Disney Plus |
| Under the Tuscan Sun | Movie | Disney Plus |
| Up Close & Personal | Movie | Disney Plus |
| Waiting to Exhale | Movie | Disney Plus |
| Walk the Line | Movie | Disney Plus |
| Water for Elephants | Movie | Disney Plus |
| When a Man Loves a Woman | Movie | Disney Plus |
| William Shakespeare's Romeo + Juliet | Movie | Disney Plus, Crave |
| The Happiest Millionaire | Movie | Disney Plus |
| Pretty Woman | Movie | Disney Plus |
| High School Musical | Movie | Disney Plus |
| The Blue Umbrella | Movie | Disney Plus |
| Destino | Movie | Disney Plus |
| Feast | Movie | Disney Plus |
| Flowers and Trees | Movie | Disney Plus |
| Lava | Movie | Disney Plus |
| Mickey's Delayed Date | Movie | Disney Plus |
| Mickey's Rival | Movie | Disney Plus |
| Mr. Duck Steps Out | Movie | Disney Plus |
| Paperman | Movie | Disney Plus |
| Us Again | Movie | Disney Plus |
| Shining Through | Movie | Disney Plus |
| Oklahoma! | Movie | Disney Plus |
| Cinderella | Movie | Disney Plus |
| Moulin Rouge! | Movie | Disney Plus |
| The Wonderful World of Disney Presents The Little Mermaid Live! | Movie | Disney Plus |
| Step Up | Movie | Disney Plus |
| Step Up 3 | Movie | Disney Plus |
| Disney's Fairy Tale Weddings: Holiday Magic | Movie | Disney Plus |
| Here on Earth | Movie | Disney Plus |
| Sneakerella | Movie | Disney Plus |
| A Warrior's Heart | Movie | Prime Video |
| Poor Greg Drowning | Movie | Prime Video |
| Sandeep Aur Pinky Faraar | Movie | Prime Video |
| Mann | Movie | Prime Video |
| Bunty Aur Babli | Movie | Prime Video |
| Jalebi – The Taste of Everlasting Love | Movie | Prime Video |
| The Forbidden Dance | Movie | Prime Video |
| Back in the Day | Movie | Prime Video |
| Triple Seat | Movie | Prime Video |
| A Fall City Christmas | Movie | Prime Video |
| The Marriage Fool | Movie | Prime Video |
| La femme canon | Movie | Prime Video |
| The Standoff | Movie | Prime Video |
| Viyyalavari Kayyalu | Movie | Prime Video |
| Gounder Vettu Mappillai | Movie | Prime Video |
| Jaanu | Movie | Prime Video |
| Dangereuse Innocence | Movie | Prime Video |
| Rocky (Hindi) | Movie | Prime Video |
| This love is from another planet | Movie | Prime Video |
| My Foolish Heart | Movie | Prime Video |
| The Crime Of Padre Amaro | Movie | Prime Video |
| Violets Are Blue | Movie | Prime Video |
| The Wedding Trip | Movie | Prime Video |
| Priyasakhi | Movie | Prime Video |
| Thooral Ninnu Pochchu | Movie | Prime Video |
| Once Upon a Prince | Movie | Prime Video |
| Bad Manners | Movie | Prime Video |
| Committed | Movie | Prime Video |
| Humpty Sharma Ki Dulhania | Movie | Prime Video, Netflix |
| Allure | Movie | Prime Video |
| Ardab Mutiyaran | Movie | Prime Video |
| Devarakondalo Vijay Prema Katha | Movie | Prime Video |
| All That Matters | Movie | Prime Video |
| The Peacock Spring | Movie | Prime Video |
| Varuthapadatha Valibar Sangam | Movie | Prime Video |
| Dripping In Chocolate | Movie | Prime Video |
| How To Make Love like an Englishman | Movie | Prime Video |
| Elizabeth Taylor in Last Time I Saw Paris – The Unedited Original | Movie | Prime Video |
| Complete Strangers | Movie | Prime Video |
| The Angel Inn | Movie | Prime Video |
| Inji Murappa | Movie | Prime Video |
| Cheliya | Movie | Prime Video |
| Jayadev | Movie | Prime Video |
| Sindhooram | Movie | Prime Video |
| Forget Me Not | Movie | Prime Video |
| Angrezi Mein Kehte Hain | Movie | Prime Video |
| Personals | Movie | Prime Video |
| Kalavaani Mappillai (Hindi) | Movie | Prime Video |
| Christmas Festival of Ice | Movie | Prime Video |
| Love Finds You In Charm | Movie | Prime Video |
| Mon amour, mon obsession (A Friend's Obsession) | Movie | Prime Video |
| The Pride of The Yankees | Movie | Prime Video |
| Sufna | Movie | Prime Video |
| Desperately Seeking Santa | Movie | Prime Video |
| Christmas Recipe for Romance | Movie | Prime Video |
| Roobha | Movie | Prime Video |
| Gulabi | Movie | Prime Video |
| Une amitié malsaine (The Perfect Soulmate) | Movie | Prime Video |
| Tej I Love You | Movie | Prime Video |
| Neal n Nikki | Movie | Prime Video |
| The Voyeurs | Movie | Prime Video |
| Ghar Pe Bataao | Movie | Prime Video |
| Rendu Rellu Aaru | Movie | Prime Video |
| Someone Marry Barry | Movie | Prime Video |
| Ta Ra Rum Pum | Movie | Prime Video |
| The Dandelion | Movie | Prime Video |
| Cuckoo | Movie | Prime Video |
| Holidaze | Movie | Prime Video |
| Bangalore Days | Movie | Prime Video |
| Amour à vendre | Movie | Prime Video |
| Arya Surya | Movie | Prime Video |
| Oorantha Anukuntunnaru | Movie | Prime Video |
| Stella Dallas (1937) | Movie | Prime Video |
| Vadhayiyaan Ji Vadhayiyaan | Movie | Prime Video |
| Bachna Ae Haseeno | Movie | Prime Video |
| Saathiya | Movie | Prime Video |
| Sankashta Kara Ganapathi | Movie | Prime Video |
| Yaanaa | Movie | Prime Video |
| Rocky (Marathi) | Movie | Prime Video |
| Evadu Thakkuva Kadu | Movie | Prime Video |
| Aa Okkati Adakku | Movie | Prime Video |
| Love Blossoms | Movie | Prime Video |
| Eternity | Movie | Prime Video |
| Muklawa | Movie | Prime Video |
| Dog Years | Movie | Prime Video |
| The Princess and The Pirate | Movie | Prime Video |
| My Bossy Girl | Movie | Prime Video |
| A Rose For Christmas | Movie | Prime Video |
| Love And Time Travel | Movie | Prime Video |
| That Burning Feeling | Movie | Prime Video, Hollywood Suite |
| The Real Glory | Movie | Prime Video |
| Oru Naal Koothu | Movie | Prime Video |
| Lover | Movie | Prime Video |
| Sasirekha Parinayam | Movie | Prime Video |
| Links of Life | Movie | Prime Video |
| My Best Friend's Wedding | Movie | Prime Video, Hollywood Suite, Netflix |
| Being the Ricardos | Movie | Prime Video |
| Sweet Mahogany 2: Pure Indulgence | Movie | Prime Video |
| Love at First Dance | Movie | Prime Video |
| Takatak | Movie | Prime Video |
| RX100 | Movie | Prime Video |
| Bombay | Movie | Prime Video, Netflix |
| Little Manhattan | Movie | Prime Video |
| Rust and Bone | Movie | Prime Video |
| Srinivasa Kalyanam | Movie | Prime Video |
| Rajavin Parvaiyiele | Movie | Prime Video |
| Laaga Chunari Mein Daag | Movie | Prime Video |
| Two Night Stand | Movie | Prime Video |
| Welcome to the Men's Group | Movie | Prime Video |
| Marjaavaan | Movie | Prime Video |
| The Best Years of Our Lives | Movie | Prime Video |
| The Rebound | Movie | Prime Video |
| Entangled | Movie | Prime Video |
| Romeo & Juliet | Movie | Prime Video |
| Emma | Movie | Prime Video |
| A Royal Night Out | Movie | Prime Video |
| In My Dreams | Movie | Prime Video |
| Sleeping Dogs Lie | Movie | Prime Video |
| A Case of You | Movie | Prime Video |
| The Snow Walker | Movie | Prime Video |
| Tohfa | Movie | Prime Video |
| Thoda Pyaar Thoda Magic | Movie | Prime Video |
| October | Movie | Prime Video |
| About Hope | Movie | Prime Video |
| Thiraipada Nagaram | Movie | Prime Video |
| My Prince Edward | Movie | Prime Video |
| Abhiyum Anuvum | Movie | Prime Video |
| The Vow | Movie | Prime Video |
| Love, Rosie | Movie | Prime Video |
| Eat, Play, Love | Movie | Prime Video |
| Already Tomorrow in Hong Kong | Movie | Prime Video |
| The Aeronauts | Movie | Prime Video |
| Yaare Neenu Cheluve | Movie | Prime Video |
| Sylvie's Love | Movie | Prime Video |
| Grant St. Shaving Co. | Movie | Prime Video |
| Over The Moon In Love | Movie | Prime Video |
| Vinodam | Movie | Prime Video |
| Your Home Planet | Movie | Prime Video |
| 5 fantômes en terminale | Movie | Prime Video |
| Cliffs of Freedom | Movie | Prime Video |
| Patient 001 | Movie | Prime Video |
| Before the Dawn | Movie | Prime Video |
| The DUFF | Movie | Prime Video |
| Mountains May Depart | Movie | Prime Video |
| Love Life & Pakodi | Movie | Prime Video |
| F2 – Fun and Frustration | Movie | Prime Video |
| Nanna Nenu Naa Boyfriends | Movie | Prime Video |
| Nunnunarvu | Movie | Prime Video |
| Jhoom Barabar Jhoom | Movie | Prime Video |
| Kal Ho Naa Ho | Movie | Prime Video |
| The Cowboy and The Lady | Movie | Prime Video |
| Kizhakku Kadarkkari Salai | Movie | Prime Video |
| The Cannonball Woman | Movie | Prime Video |
| The Perfect Stalker | Movie | Prime Video |
| Lazy Susan | Movie | Prime Video |
| Starfish | Movie | Prime Video |
| Kadhal Paravaigal | Movie | Prime Video |
| Chutney Popcorn | Movie | Prime Video |
| Thiru Thiru Thuru Thuru | Movie | Prime Video |
| Iddari Lokam Okate | Movie | Prime Video |
| Family For Christmas | Movie | Prime Video |
| Cafe Society | Movie | Prime Video |
| Life or Something Like It | Movie | Prime Video |
| Yes I Do | Movie | Prime Video |
| Mad at the Moon (Restored) | Movie | Prime Video |
| Mr and Miss | Movie | Prime Video |
| Barbary Coast | Movie | Prime Video |
| Pressure Cooker | Movie | Prime Video |
| Not That Funny | Movie | Prime Video |
| Nawabzaade | Movie | Prime Video |
| Betting On The Bride | Movie | Prime Video |
| The Wedding Stalker | Movie | Prime Video |
| The Most Fun You Can Have Dying | Movie | Prime Video |
| On the Horizon | Movie | Prime Video |
| First Love | Movie | Prime Video |
| Dhoolpet | Movie | Prime Video |
| Bliss | Movie | Prime Video |
| Chidambaram Railway Gate | Movie | Prime Video |
| A Beauty & the Beast Christmas | Movie | Prime Video |
| Ami Sudhu Cheyechhi Tomay | Movie | Prime Video |
| First Daughter | Movie | Prime Video |
| Welcome to Christmas | Movie | Prime Video |
| Oru Adaar Love | Movie | Prime Video |
| Govindudu Andarivadele | Movie | Prime Video |
| Knocked Up | Movie | Prime Video, STARZ, Netflix |
| Oohalu Gusagusalade | Movie | Prime Video |
| Bearry | Movie | Prime Video |
| A Christmas Wedding Date | Movie | Prime Video |
| Yaariyan | Movie | Prime Video |
| Maara | Movie | Prime Video |
| Hathat Neerar Jonyo | Movie | Prime Video |
| Preetam | Movie | Prime Video |
| Suburban Gothic | Movie | Prime Video |
| Generation Um | Movie | Prime Video |
| Guvva Gorinka | Movie | Prime Video |
| Chocolat | Movie | Prime Video, Netflix |
| Jodi | Movie | Prime Video |
| Ave Kallu | Movie | Prime Video |
| The Second Time Around | Movie | Prime Video |
| Bad Cupid | Movie | Prime Video |
| Premaanuraagam | Movie | Prime Video |
| Fetching | Movie | Prime Video |
| Magic in the Moonlight | Movie | Prime Video |
| Vaanam Vasappadum | Movie | Prime Video |
| The Switch | Movie | Prime Video |
| Dodsworth | Movie | Prime Video |
| Seeking a Friend For the End of the World | Movie | Prime Video |
| Tu m'épouseras (Girlfriend Killer) | Movie | Prime Video |
| Foreign Flame | Movie | Prime Video |
| Khiladi | Movie | Prime Video |
| The Perfect Mate | Movie | Prime Video |
| Taana | Movie | Prime Video |
| Jack and Jill vs. The World | Movie | Prime Video |
| Christmas Matchmakers | Movie | Prime Video |
| Geetha | Movie | Prime Video |
| Girlfriend Killer | Movie | Prime Video |
| Tuvalu | Movie | Prime Video |
| A Wish Come True | Movie | Prime Video |
| Love is not what it used to be | Movie | Prime Video |
| Honesty Weekend | Movie | Prime Video |
| Kabhi Kabhie | Movie | Prime Video |
| Maara (Telugu) | Movie | Prime Video |
| Lockdowners | Movie | Prime Video |
| Foolproof | Movie | Prime Video |
| Man From Elysian Fields | Movie | Prime Video |
| Belle and the Beast | Movie | Prime Video |
| Rojulu Marayi (New) | Movie | Prime Video |
| Not Another Happy Ending | Movie | Prime Video |
| Katheyondu Shuruvagide | Movie | Prime Video |
| Ahare Mon | Movie | Prime Video |
| I Was a Mail Order Bride | Movie | Prime Video |
| Vathikuchi | Movie | Prime Video |
| Aria di Primavera | Movie | Prime Video |
| Time Machine | Movie | Prime Video |
| For Better or For Worse | Movie | Prime Video |
| Wuthering Heights | Movie | Prime Video |
| Dongaata | Movie | Prime Video |
| the RETURN | Movie | Prime Video |
| Tum Bin II | Movie | Prime Video |
| Desert Saints | Movie | Prime Video |
| The 40 Year-Old Virgin | Movie | Prime Video |
| Chandigarh Amritsar Chandigarh | Movie | Prime Video |
| Upside Down | Movie | Prime Video |
| Varappogum 24 Manikkul | Movie | Prime Video |
| Dilwale Dulhania Le Jayenge | Movie | Prime Video |
| Kuch Tum Kaho Kuch Hum Kahein | Movie | Prime Video |
| After Everything | Movie | Prime Video |
| Flower Drum Song | Movie | Prime Video |
| Kalyana Subhamasthu | Movie | Prime Video |
| Daawat e Ishq | Movie | Prime Video |
| Christmas with a Prince | Movie | Prime Video |
| Playing for keeps | Movie | Prime Video |
| Paarthale Paravasam | Movie | Prime Video |
| Making Babies | Movie | Prime Video |
| Maggie Shayne's Embrace the Twilight | Movie | Prime Video |
| Beta | Movie | Prime Video |
| Burning Ghost | Movie | Prime Video |
| The Heartthrob | Movie | Prime Video |
| The Little Foxes | Movie | Prime Video |
| Bhairava Geetha (Kannada) | Movie | Prime Video |
| Sashi | Movie | Prime Video |
| Beautiful | Movie | Prime Video |
| I Don't Know How She Does It | Movie | Prime Video |
| Kadhalil Sodhappuvadhu Yeppadi | Movie | Prime Video |
| Snowbound for Christmas | Movie | Prime Video |
| A Match Made At Christmas | Movie | Prime Video |
| Charade | Movie | Prime Video |
| Ghar | Movie | Prime Video |
| Made in Belfast | Movie | Prime Video |
| Ek Tha Tiger | Movie | Prime Video |
| Vajra Kavachadhara Govinda | Movie | Prime Video |
| The Symphony of Love | Movie | Prime Video |
| Words and Pictures | Movie | Prime Video |
| Un Noël Pour se Retrouver | Movie | Prime Video |
| Kaatru Veliyidai | Movie | Prime Video |
| Skin Deep | Movie | Prime Video |
| That Day We Sang | Movie | Prime Video |
| Maayanadhi | Movie | Prime Video |
| A Perfect Christmas | Movie | Prime Video |
| Blue State | Movie | Prime Video |
| Bride And Prejudice | Movie | Prime Video |
| Breaking & Exiting | Movie | Prime Video |
| Pelli Pustakam | Movie | Prime Video |
| Moone Moonu Varthai | Movie | Prime Video |
| The Extraordinary Journey of the Fakir | Movie | Prime Video |
| I Am Dragon | Movie | Prime Video |
| Kadhal Kasakuthaiya | Movie | Prime Video |
| Befikre | Movie | Prime Video |
| Goko Mako | Movie | Prime Video |
| Musical Chairs | Movie | Prime Video |
| End of Eden | Movie | Prime Video |
| Strangers | Movie | Prime Video |
| A Holiday Boyfriend | Movie | Prime Video |
| Osthe | Movie | Prime Video |
| Girls Vs Gangsters | Movie | Prime Video |
| An Evening in Paris | Movie | Prime Video |
| Priyuralu Pilichindi | Movie | Prime Video |
| Enchantment | Movie | Prime Video |
| Vicky Cristina Barcelona | Movie | Prime Video |
| Lesa Lesa | Movie | Prime Video |
| Raja Rani | Movie | Prime Video |
| Kanni Raasi | Movie | Prime Video |
| Opération Love | Movie | Prime Video |
| Sold Out | Movie | Prime Video |
| The Habit of Beauty | Movie | Prime Video |
| Raabta | Movie | Prime Video |
| Jerry Maguire | Movie | Prime Video |
| Sawan Ki Ghata | Movie | Prime Video |
| Quit | Movie | Prime Video |
| The Face of Love | Movie | Prime Video |
| Ishtam | Movie | Prime Video |
| Shakespeare in Love | Movie | Prime Video |
| Love in The Vinyard | Movie | Prime Video |
| Andaaz | Movie | Prime Video |
| One Small Hitch | Movie | Prime Video |
| Stone, Scissors, Paper | Movie | Prime Video |
| The Big Sick | Movie | Prime Video |
| My Old Lady | Movie | Prime Video |
| Deceitful Passions | Movie | Prime Video |
| A Cookie Cutter Christmas | Movie | Prime Video |
| My Girlfriend's Boyfriend | Movie | Prime Video |
| Rent an Elf | Movie | Prime Video |
| Manadhai Thirudivittai | Movie | Prime Video |
| Last Night | Movie | Prime Video |
| Kaka Ji – Son of Royal Sardar | Movie | Prime Video |
| The Jane Austen Book Club | Movie | Prime Video |
| The Wedding Night | Movie | Prime Video |
| Christmas in Carolina | Movie | Prime Video |
| Notting Hill | Movie | Prime Video, Crave, STARZ, Netflix |
| Thiraipada Nagaram | Movie | Prime Video |
| Bewakoofiyaan | Movie | Prime Video |
| These Three | Movie | Prime Video |
| The Lift | Movie | Prime Video |
| I Could Never Be Your Woman | Movie | Prime Video |
| Alaigal Oivathillai | Movie | Prime Video |
| The Pier | Movie | Prime Video |
| Wrong Side Raju | Movie | Prime Video |
| Road | Movie | Prime Video |
| Marry Us For Christmas | Movie | Prime Video |
| Frances Ha | Movie | Prime Video |
| Azhaggiye Thee | Movie | Prime Video |
| Traci Townsend | Movie | Prime Video |
| My Ex-Ex | Movie | Prime Video |
| Lakshya | Movie | Prime Video |
| Intern | Movie | Prime Video |
| Mahler On The Couch | Movie | Prime Video |
| Vaayai Moodi Pesavum | Movie | Prime Video |
| The Widowing of Mrs Holroyd | Movie | Prime Video |
| Becoming Jane | Movie | Prime Video |
| Milan Talkies | Movie | Prime Video |
| Despite The Falling Snow | Movie | Prime Video |
| The Spectacular Now | Movie | Prime Video |
| Miss Pettigrew Lives For a Day | Movie | Prime Video |
| Finding Joy | Movie | Prime Video |
| That Night | Movie | Prime Video |
| Celeste and Jesse Forever | Movie | Prime Video |
| Kotha Bangaru Lokam | Movie | Prime Video |
| Sita | Movie | Prime Video |
| A Pistol For Django | Movie | Prime Video |
| Love, Repeat | Movie | Prime Video |
| Meri Pyaari Bindu | Movie | Prime Video |
| Mounam Pesiyadhe | Movie | Prime Video |
| Nigahen | Movie | Prime Video |
| A Year and Change | Movie | Prime Video |
| It Had to Be You | Movie | Prime Video |
| Gowdru Hotel | Movie | Prime Video |
| Tula Kalnnaar Nahi | Movie | Prime Video |
| Gori Tere Pyar Mein | Movie | Prime Video |
| Looking for an Angel | Movie | Prime Video |
| It's Kind of a Funny Story | Movie | Prime Video |
| Princess in Love | Movie | Prime Video |
| Adithya Varma | Movie | Prime Video |
| Hello Guru Prema Kosame | Movie | Prime Video |
| Hideous Kinky | Movie | Prime Video |
| Idle Thoughts | Movie | Prime Video |
| Abhiyude Katha Anuvinteyum | Movie | Prime Video |
| The Ex | Movie | Prime Video |
| Gantumoote | Movie | Prime Video |
| À Noël Mon Prince Viendra | Movie | Prime Video |
| Greenfingers | Movie | Prime Video |
| Ghajinikanth | Movie | Prime Video |
| Deya Neya | Movie | Prime Video |
| Human Stain | Movie | Prime Video |
| All About Love | Movie | Prime Video |
| Dia | Movie | Prime Video |
| Hands Up Dead Man | Movie | Prime Video |
| Krishnarao Supermarket | Movie | Prime Video |
| L'art De Tomber Amoureux | Movie | Prime Video |
| Sri Rajeswari Vilas Coffee Club | Movie | Prime Video |
| A Ghost Story | Movie | Prime Video |
| Birds of Paradise | Movie | Prime Video |
| A Walk On The Moon | Movie | Prime Video |
| En Jeevan Paduthu | Movie | Prime Video |
| London | Movie | Prime Video |
| Duplicity | Movie | Prime Video |
| A Song For Christmas | Movie | Prime Video |
| How Long Will I Love U | Movie | Prime Video |
| Thammudu | Movie | Prime Video |
| Luv Ni Love Storys | Movie | Prime Video |
| Two If By Sea | Movie | Prime Video |
| Dasara Bullodu | Movie | Prime Video |
| Jatha Kalise | Movie | Prime Video |
| Redneck Roots | Movie | Prime Video |
| Doosara Aadmi | Movie | Prime Video |
| Rab Ne Bana Di Jodi | Movie | Prime Video |
| Trois | Movie | Prime Video |
| Fanaa | Movie | Prime Video |
| All Summers End | Movie | Prime Video |
| Brindavanam | Movie | Prime Video |
| Prematho | Movie | Prime Video |
| Marry Me At Christmas | Movie | Prime Video |
| Diljale | Movie | Prime Video |
| Bharaate | Movie | Prime Video |
| Whale Caller | Movie | Prime Video |
| 3rd Class | Movie | Prime Video |
| Unishe April | Movie | Prime Video |
| Imprisoned | Laurence Fishburne | Movie | Prime Video |
| Christmas Catch | Movie | Prime Video |
| Mundaasupatti | Movie | Prime Video |
| Dongala Mutha | Movie | Prime Video |
| Blonde | Movie | Prime Video |
| Veera | Movie | Prime Video |
| Elephant Shoes | Movie | Prime Video |
| Dreamland | Movie | Prime Video |
| Simply Irresistible | Movie | Prime Video |
| Christmas in Vienna | Movie | Prime Video |
| Naane Raja Naane Mandhiri | Movie | Prime Video |
| Dil Tera Aashiq | Movie | Prime Video |
| Basil | Movie | Prime Video |
| She's All That | Movie | Prime Video |
| Sonu Ke Titu Ki Sweety | Movie | Prime Video |
| Jab Tak Hai Jaan | Movie | Prime Video |
| Maara (Kannada) | Movie | Prime Video |
| See You Soon | Movie | Prime Video |
| You deserve a lover | Movie | Prime Video |
| Dosar | Movie | Prime Video |
| Namadhu | Movie | Prime Video |
| About Time | Movie | Prime Video |
| Forgetting Sarah Marshall | Movie | Prime Video, STARZ |
| Check Inn to Christmas | Movie | Prime Video |
| Sriramudinta Srikrishnudanta | Movie | Prime Video |
| Three Silver Dollars | Movie | Prime Video |
| An Education | Movie | Prime Video |
| Eight Hours from Paris | Movie | Prime Video |
| He Loves Me He Loves Me Not | Movie | Prime Video |
| The Time Traveler's Wife | Movie | Prime Video, Crave, STARZ |
| We'll Take Manhattan | Movie | Prime Video |
| The Kid From Spain | Movie | Prime Video |
| Paying Guest | Movie | Prime Video |
| Framed | Movie | Prime Video |
| Keith | Movie | Prime Video |
| Carol | Movie | Prime Video, Crave, STARZ |
| Diwan | Movie | Prime Video |
| Photograph | Movie | Prime Video |
| Love Alaska | Movie | Prime Video |
| AIR | Movie | Prime Video |
| Ice Sculpture Christmas | Movie | Prime Video |
| The Magnificent Texan | Movie | Prime Video |
| Nuvvu Thopu Raa | Movie | Prime Video |
| Book Of Love | Movie | Prime Video |
| Antony Firingee | Movie | Prime Video |
| Aaha Kalyanam | Movie | Prime Video |
| Assamiyin America Payanam | Movie | Prime Video |
| Rules of Love | Movie | Prime Video |
| Uyirile Kalanthathu | Movie | Prime Video |
| 37-Teen | Movie | Prime Video |
| Storyjester | Movie | Prime Video |
| Pas Depuis Toi | Movie | Prime Video |
| Memory Book | Movie | Prime Video |
| Out of Body | Movie | Prime Video |
| Aatagallu | Movie | Prime Video |
| Ishaqzaade | Movie | Prime Video |
| Scenes of a Sexual Nature | Movie | Prime Video |
| Temptation | Movie | Prime Video |
| Teraa Surroor | Movie | Prime Video |
| Ee Maya Peremito | Movie | Prime Video |
| Naanum Single Thaan | Movie | Prime Video |
| Passion Orageuse | Movie | Prime Video |
| Christmas On The Carousel | Movie | Prime Video |
| Raja Hindustani | Movie | Prime Video |
| Dil To Pagal Hai | Movie | Prime Video |
| The Hurricane | Movie | Prime Video |
| Jaguar (Kannada) | Movie | Prime Video |
| Chalet Girl | Movie | Prime Video |
| Hushaaru | Movie | Prime Video |
| When I'm 64 | Movie | Prime Video |
| Shubh Mangal Zyada Saavdhan | Movie | Prime Video |
| Aftersun | Movie | Prime Video |
| Fidaa | Movie | Prime Video |
| E Ee | Movie | Prime Video |
| The Meddler | Movie | Prime Video |
| Wicked Minds | Movie | Prime Video |
| Chaudhvin Ka Chand | Movie | Prime Video |
| Vellipomakey | Movie | Prime Video |
| A Frosty Affair | Movie | Prime Video |
| Ratham | Movie | Prime Video |
| Cold Mountain | Movie | Prime Video |
| Admission | Movie | Prime Video |
| Non-Transferable | Movie | Prime Video |
| Un Regalo Esencial | Movie | Prime Video |
| The Perfect Soulmate | Movie | Prime Video |
| Trois 2: Pandora's Box TV-MA | Movie | Prime Video |
| The Sunlit Night | Movie | Prime Video |
| Fairfield Road | Movie | Prime Video |
| Baghban | Movie | Prime Video |
| Farm to Fork to Love | Movie | Prime Video |
| The Sand Dune | Movie | Prime Video |
| The View From The Top | Movie | Prime Video |
| Aasaiyil Oru Kaditham | Movie | Prime Video |
| People Hold On | Movie | Prime Video |
| Saravana | Movie | Prime Video |
| Lilies | Movie | Prime Video |
| Dil Chahta Hai | Movie | Prime Video |
| Veerathirumagan | Movie | Prime Video |
| Sixer | Movie | Prime Video |
| Serena | Movie | Prime Video |
| Hum Tum | Movie | Prime Video |
| Love aaj Kal Porshu | Movie | Prime Video |
| Floating City | Movie | Prime Video |
| Dear Comrade | Movie | Prime Video |
| Aalo Chhaya | Movie | Prime Video |
| Japanese Story | Movie | Prime Video |
| Leap Year | Movie | Prime Video |
| Kalyana Parisu | Movie | Prime Video |
| The Secret Life of Walter Mitty | Movie | Prime Video |
| Lady Macbeth | Movie | Prime Video |
| Maha Maha | Movie | Prime Video |
| Out of Africa | Movie | Prime Video |
| Kathmandu Lullaby | Movie | Prime Video |
| Mosakutty | Movie | Prime Video |
| Waiting for You | Movie | Prime Video |
| On the Line | Movie | Prime Video |
| Art Ache | Movie | Prime Video |
| Shotgun | Movie | Prime Video |
| His Girl Friday | Movie | Prime Video |
| Dum Laga Ke Haisha | Movie | Prime Video |
| Under the Greenwood Tree | Movie | Prime Video |
| Vivaaha Shamsakal | Movie | Prime Video |
| Shuddh Desi Romance | Movie | Prime Video |
| Eat Your Heart Out | Movie | Prime Video |
| Rahm | Movie | Prime Video |
| La Vengeance est un Plat qui se Mange Froid | Movie | Prime Video |
| Vishwa Thulasi | Movie | Prime Video |
| Software Sudheer | Movie | Prime Video |
| Adventureland | Movie | Prime Video |
| Paper Angels | Movie | Prime Video |
| Nenorakam | Movie | Prime Video |
| Nene Raju Nene Mantri | Movie | Prime Video |
| Friends and Crocodiles | Movie | Prime Video |
| Savitri | Movie | Prime Video |
| Because I Said So | Movie | Prime Video |
| New Life | Movie | Prime Video |
| Gumm | Movie | Prime Video |
| The Tempest | Movie | Prime Video |
| One Night | Movie | Prime Video |
| Ishtangaaa | Movie | Prime Video |
| Un Mariage Rock N Roll | Movie | Prime Video |
| It's a Wonderful Afterlife | Movie | Prime Video |
| Meet the Parents | Movie | Prime Video, Crave, STARZ |
| Hard to Get | Movie | Prime Video |
| Merise Merise | Movie | Prime Video |
| Gracie! | Movie | Prime Video |
| Let Karma | Movie | Prime Video |
| Kanave Kalaiyadhe | Movie | Prime Video |
| The Last Station | Movie | Prime Video |
| The Greatest | Movie | Prime Video |
| Pudhukottaiyilirundhu Saravanan | Movie | Prime Video |
| My Secret Billionaire | Movie | Prime Video |
| Mrs. Dalloway | Movie | Prime Video |
| THE SECRET: DARE TO DREAM | Movie | Prime Video |
| Kaul Manacha | Movie | Prime Video |
| Doli Saja Ke Rakhna | Movie | Prime Video |
| Vetrivel | Movie | Prime Video |
| Sunset Over the Killing Fields | Movie | Prime Video |
| Chocolate Covered Christmas | Movie | Prime Video |
| Jakkanna | Movie | Prime Video |
| Laggies | Movie | Prime Video |
| I Capture The Castle | Movie | Prime Video |
| Majili | Movie | Prime Video |
| In Tranzit | Movie | Prime Video |
| Kevvu Keka | Movie | Prime Video |
| Palm Springs | Movie | Prime Video |
| Junooniyat | Movie | Prime Video |
| Carmen | Movie | Prime Video |
| Jersey Girl | Movie | Prime Video |
| Kill Shot | Movie | Prime Video |
| Bawal | Movie | Prime Video |
| The Prankster | Movie | Prime Video |
| Ishqeria | Movie | Prime Video |
| Finding Ophelia | Movie | Prime Video |
| Indha Nilai Maarum | Movie | Prime Video |
| Honsla Rakh | Movie | Prime Video |
| The Go-Between | Movie | Prime Video |
| Kadalora Kavithaikal | Movie | Prime Video |
| Kalank | Movie | Prime Video |
| Chalte Chalte | Movie | Prime Video, Netflix |
| Thoota | Movie | Prime Video |
| Dabangg 3 (Kannada) | Movie | Prime Video |
| Dhadak | Movie | Prime Video |
| All Things Valentine | Movie | Prime Video |
| The Marriage Fool (Restored) | Movie | Prime Video |
| Sufiyum Sujatayum | Movie | Prime Video |
| The Last Right | Movie | Prime Video |
| The Noise In Music | Movie | Prime Video |
| Bala | Movie | Prime Video |
| Kaagaz Ke Phool | Movie | Prime Video |
| Final Draft | Movie | Prime Video |
| Princess Grace | Movie | Prime Video |
| Priceless | Movie | Prime Video |
| Running Water | Movie | Prime Video |
| JayJay | Movie | Prime Video |
| The Wake Up Call | Movie | Prime Video |
| Dikkulu Chudaku Ramayya | Movie | Prime Video |
| Star | Movie | Prime Video |
| The Outdoorsman | Movie | Prime Video |
| Beaten | Movie | Prime Video |
| Savaari | Movie | Prime Video |
| Udhayam NH4 | Movie | Prime Video |
| The Test | Movie | Prime Video |
| Din Dehade Lai Jaange | Movie | Prime Video |
| Weekenders | Movie | Prime Video |
| Half Ticket | Movie | Prime Video |
| Mumbai Pune Mumbai 3 | Movie | Prime Video |
| Sex and the City | Movie | Prime Video |
| Nootrenbadhu | Movie | Prime Video |
| Katha Nayagan | Movie | Prime Video |
| Grimm (2003) | Movie | Prime Video |
| Thanks for Sharing | Movie | Prime Video |
| Baabul | Movie | Prime Video |
| 99 | Movie | Prime Video |
| Barcelona 1714 | Movie | Prime Video |
| Young & Beautiful | Movie | Prime Video |
| Being Rose | Movie | Prime Video |
| Catching Up | Movie | Prime Video |
| Valentine Ever After | Movie | Prime Video |
| Doctor Lanre | Movie | Prime Video |
| Shadaa | Movie | Prime Video |
| Tuck Jagadish (Malayalam) | Movie | Prime Video |
| Brothel | Movie | Prime Video |
| Pyaar Impossible | Movie | Prime Video |
| The Giant Mechanical Man | Movie | Prime Video |
| Mujhse Fraaandship Karoge | Movie | Prime Video |
| Secrets | Movie | Prime Video |
| The Road Home for Christmas | Movie | Prime Video |
| OK Jaanu | Movie | Prime Video |
| Amma Cheppindhi | Movie | Prime Video |
| Adavi | Movie | Prime Video |
| A Landing on the Sun | Movie | Prime Video |
| Stolen Innocence | Movie | Prime Video |
| Madhagaja | Movie | Prime Video |
| The Opposite Sex | Movie | Prime Video |
| Yemaali | Movie | Prime Video |
| In Between | Movie | Prime Video |
| Kadavul Irukaan Kumaru | Movie | Prime Video |
| A Bitter Harvest | Movie | Prime Video |
| Fighter, Marbo Noy Morbo | Movie | Prime Video |
| A Handful of Dust | Movie | Prime Video |
| Colossal Youth | Movie | Prime Video |
| Where Hands Touch | Movie | Prime Video |
| Not Since You | Movie | Prime Video |
| Zindagi | Movie | Prime Video |
| Silsila | Movie | Prime Video |
| Play the Game | Movie | Prime Video |
| Prem Qaidi | Movie | Prime Video |
| The Dance | Movie | Prime Video |
| Wild Mountain Thyme | Movie | Prime Video |
| Ninnu Kori | Movie | Prime Video |
| Bombay Summer | Movie | Prime Video |
| Khokababu | Movie | Prime Video |
| Clapham Junction | Movie | Prime Video |
| Pyaasa | Movie | Prime Video |
| Red Rover | Movie | Prime Video |
| The Christmas Doodle | Movie | Prime Video |
| Faasle | Movie | Prime Video |
| Halal Love Story | Movie | Prime Video |
| Lost at Christmas | Movie | Prime Video |
| Lamhe | Movie | Prime Video |
| Happy Birthday (Kannada) | Movie | Prime Video |
| Beastly | Movie | Prime Video |
| The Lords of Flatbush | Movie | Prime Video |
| Beware of Dog | Movie | Prime Video |
| Creditors | Movie | Prime Video |
| I Love Us | Movie | Prime Video |
| Un Mundo Secreto | Movie | Prime Video |
| Dil Hai Tumhara | Movie | Prime Video |
| Inji iduppazhagi | Movie | Prime Video |
| 30 Rojullo Preminchadam Ela | Movie | Prime Video |
| Switzerland | Movie | Prime Video |
| Leave of Absence | Movie | Prime Video |
| Deadly Betrayal | Movie | Prime Video |
| Choosi Choodangaane | Movie | Prime Video |
| Aakali Rajyam | Movie | Prime Video |
| The Great Debaters | Movie | Prime Video |
| Vinara Sodara Veera Kumara | Movie | Prime Video |
| Tungabhadra | Movie | Prime Video |
| Erotic Fire of The Unattainable | Movie | Prime Video |
| The Mistletoe Promise | Movie | Prime Video |
| Naam | Movie | Prime Video |
| Sundari | Movie | Prime Video |
| George and Rosemary | Movie | Prime Video |
| Zaki Chan | Movie | Prime Video, Netflix |
| Ye Maya Chesave | Movie | Prime Video |
| What Men Want | Movie | Prime Video |
| Sister Code | Movie | Prime Video |
| Mohabbatein | Movie | Prime Video |
| Wonder Wheel | Movie | Prime Video |
| Nomu | Movie | Prime Video |
| Hidden Moon | Movie | Prime Video |
| Chemical Hearts | Movie | Prime Video |
| Prem Nagar | Movie | Prime Video |
| Honeymoon Travels Pvt Ltd | Movie | Prime Video |
| Hearts of Spring | Movie | Prime Video |
| I Me Wed | Movie | Prime Video |
| Love's Kitchen | Movie | Prime Video |
| Namma Oorukku Ennadhan Achu | Movie | Prime Video |
| Veer Zaara | Movie | Prime Video |
| Kavacham | Movie | Prime Video |
| Kattumarakaran | Movie | Prime Video |
| Express Journey | Movie | Prime Video |
| Love Of Fate: Amore Fati | Movie | Prime Video |
| Happiest Season | Movie | Prime Video |
| Into Invisible Light | Movie | Prime Video |
| After The Storm | Movie | Prime Video |
| Letters From the Heart | Movie | Prime Video |
| Age of Reason | Movie | Prime Video |
| Chor Machaye Shor | Movie | Prime Video |
| Last Resort | Movie | Prime Video |
| Isi Life Mein | Movie | Prime Video |
| Bazaar | Movie | Prime Video |
| Psychobitch | Movie | Prime Video |
| Empire M | Movie | Prime Video |
| The Devil To Pay! | Movie | Prime Video |
| Aaina | Movie | Prime Video |
| Marry Me For Christmas | Movie | Prime Video |
| Urban Turban | Movie | Prime Video |
| Thanga Magan | Movie | Prime Video |
| Jilka | Movie | Prime Video |
| Aaha Kalyanam (Telugu Dubbed) | Movie | Prime Video |
| In-Lawfully Yours | Movie | Prime Video |
| Marathi Tigers | Movie | Prime Video |
| IKKAT | Movie | Prime Video |
| Before Midnight | Movie | Prime Video |
| Le Bonheur En Cadeau | Movie | Prime Video |
| Miss You Already | Movie | Prime Video |
| Pen Puthi Mun Puthi | Movie | Prime Video |
| Love In The Time of Cholera | Movie | Prime Video |
| Dil Dhadakne Do | Movie | Prime Video, Netflix |
| A Gift of Miracles | Movie | Prime Video |
| Anari | Movie | Prime Video |
| Midnight in Paris | Movie | Prime Video |
| Boynton Beach Club | Movie | Prime Video |
| O Pitta Katha | Movie | Prime Video |
| The Love Letter | Movie | Prime Video |
| Beautiful Girls | Movie | Prime Video |
| Aashiqui | Movie | Prime Video |
| Unfinished Sky | Movie | Prime Video |
| A Baby For Christmas | Movie | Prime Video |
| Christmas on the Bayou | Movie | Prime Video |
| A Simple Wedding | Movie | Prime Video |
| The Accompanist | Movie | Prime Video |
| Fukrey | Movie | Prime Video |
| Kuch Kuch Hota Hai | Movie | Prime Video, Netflix |
| You Will Meet a Tall Dark Stranger | Movie | Prime Video |
| Roja (Telugu) | Movie | Prime Video |
| Prema Katha Chitram 2 | Movie | Prime Video |
| Sardaar ji (Hindi) | Movie | Prime Video |
| Christmas Jars | Movie | Prime Video |
| Band Baaja Baaraat | Movie | Prime Video |
| A Mothers Testimony | Movie | Prime Video |
| A Very Country Christmas | Movie | Prime Video, Netflix |
| Ninna Sanihake | Movie | Prime Video |
| A Christmas Wish | Movie | Prime Video |
| The Accidental Husband | Movie | Prime Video |
| Andala Rakshasi | Movie | Prime Video |
| Ru-Ba-Ru | Movie | Prime Video |
| Gary Cooper in "Return To Paradise" – The South Pacific Adventure Classic! | Movie | Prime Video |
| Charged: The Eduardo Garcia Story | Movie | Prime Video |
| Pride and Prejudice and Zombies | Movie | Prime Video |
| Shaandaar | Movie | Prime Video, Netflix |
| Tortilla Soup | Movie | Prime Video |
| The Lightkeepers | Movie | Prime Video |
| You're My Boss | Movie | Prime Video, Netflix |
| The Matchbreaker | Movie | Prime Video |
| Wild Honey | Movie | Prime Video |
| Hard Knox | Movie | Prime Video |
| Rummy | Movie | Prime Video |
| Pretend We're Kissing | Movie | Prime Video |
| Punnagai Poove | Movie | Prime Video |
| The Map of Tiny Perfect Things | Movie | Prime Video |
| Entanglement | Movie | Prime Video |
| Orange | Movie | Prime Video |
| Aa Gaye Munde UK De | Movie | Prime Video |
| Ladies vs Ricky Bahl | Movie | Prime Video |
| Ik Sandhu Hunda Si | Movie | Prime Video |
| All Roads Lead to Rome | Movie | Prime Video |
| Imtihaan | Movie | Prime Video |
| 52 Words for Love | Movie | Prime Video |
| Come and Get It | Movie | Prime Video |
| Raasi | Movie | Prime Video |
| Loving | Movie | Prime Video |
| June Falling Down | Movie | Prime Video |
| Billie and the Real Belle Bare All | Movie | Prime Video |
| Sengottai | Movie | Prime Video |
| All You Ever Wished For | Movie | Prime Video |
| Kasak | Movie | Prime Video |
| Meet Joe Black | Movie | Prime Video, Netflix |
| Alienated | Movie | Prime Video |
| Old Gringo | Movie | Prime Video |
| Chocolate Kiss | Movie | Prime Video |
| Bella | Movie | Prime Video |
| Coimbatore Mappillai | Movie | Prime Video |
| Khiladi | Movie | Prime Video |
| Paagal | Movie | Prime Video |
| Hasee Toh Phasee | Movie | Prime Video, Netflix |
| Bunty Aur Babli 2 | Movie | Prime Video |
| Baby In A Manger | Movie | Prime Video |
| Love on the Slopes | Movie | Prime Video, TV Favourites |
| Retrocausality | Movie | Prime Video |
| The Girl Next Door | Movie | Prime Video, Superchannel, Netflix |
| Gaali Sampath | Movie | Prime Video |
| A Spark in Nothing | Movie | Prime Video |
| Darr | Movie | Prime Video |
| Acquainted | Movie | Prime Video |
| The Santa Trap | Movie | Prime Video |
| Love and Hostages | Movie | Prime Video |
| Ragala 24 Gantallo | Movie | Prime Video |
| Trouble Will Find Us | Movie | Prime Video |
| Big Stone Gap | Movie | Prime Video |
| Barsaat Ki Ek Raat | Movie | Prime Video |
| Boss – I love you | Movie | Prime Video |
| The Song of Lunch | Movie | Prime Video |
| A Shoe Addict's Christmas | Movie | Prime Video |
| Mere Jeevan Saathi | Movie | Prime Video |
| Cinderella (2021) | Movie | Prime Video |
| Elle: A Modern Cinderella Tale | Movie | Prime Video |
| Au Bonheur des Hommes | Movie | Prime Video |
| Pinky Moge Wali 2 | Movie | Prime Video |
| Frozen In Love | Movie | Prime Video |
| Meelo Evaru Koteswarudu | Movie | Prime Video |
| Go Now | Movie | Prime Video |
| Merupu Kalalu | Movie | Prime Video |
| Watermelon | Movie | Prime Video |
| Varmaa | Movie | Prime Video |
| Hara Hara Mahadevaki | Movie | Prime Video |
| Art of Falling in Love | Movie | Prime Video |
| One Way Ticket | Movie | Prime Video |
| Hum Aapke Dil Mein Rehte Hain | Movie | Prime Video |
| Sugarbaby | Movie | Prime Video |
| Other People's Children | Movie | Prime Video |
| Definitely, Maybe | Movie | Prime Video |
| Personally Yours | Movie | Prime Video |
| 5:55 (five fifty five) | Movie | Prime Video |
| Nomads | Movie | Prime Video |
| The Student Prince | Movie | Prime Video |
| Lafangey Parindey | Movie | Prime Video |
| The Convenient Groom | Movie | Prime Video |
| What Other Couples Do | Movie | Prime Video |
| The Competition | Movie | Prime Video, Hollywood Suite |
| Kevin James Doyle: The 30 Year Old Virgin | Movie | Prime Video |
| Ashes in the Snow | Movie | Prime Video |
| Just My Luck | Movie | Prime Video, Netflix |
| Pati Patni Aur Woh | Movie | Prime Video |
| Bottoms Up | Movie | Prime Video |
| Yedu Chepala Kadha | Movie | Prime Video |
| Bakery in Brooklyn | Movie | Prime Video |
| Padi Padi Leche Manasu | Movie | Prime Video |
| Kanna Laddu Thinna Aasaiya | Movie | Prime Video |
| Jawaan | Movie | Prime Video |
| Theatre: A Love Story | Movie | Prime Video |
| Love Of Fate: The Law | Movie | Prime Video |
| Banjara – The Truck Driver | Movie | Prime Video |
| Mujhse Dosti Karoge | Movie | Prime Video |
| Padmaavat | Movie | Prime Video |
| The Christmas Candle | Movie | Prime Video |
| Badrinath Ki Dulhania | Movie | Prime Video |
| Chocolate City | Movie | Prime Video |
| Coming & Going | Movie | Prime Video |
| I don't love you either | Movie | Prime Video |
| Anaganaga O Premakatha | Movie | Prime Video |
| A Christmas Hero | Movie | Prime Video |
| Luckunnodu | Movie | Prime Video |
| The O'Briens | Movie | Prime Video |
| Hippi | Movie | Prime Video |
| The Last Days of Capitalism | Movie | Prime Video |
| Best Friend From Heaven | Movie | Prime Video |
| Love Mocktail | Movie | Prime Video |
| 1921 | Movie | Prime Video |
| The Lifeguard | Movie | Prime Video |
| Kartha Karma Kriya | Movie | Prime Video |
| Stranded in Paradise | Movie | Prime Video |
| Kundanapu Bomma | Movie | Prime Video |
| All Between Us | Movie | Prime Video |
| The F Word | Movie | Prime Video, Crave, STARZ |
| Divorce et je te tuerai (Ex-Wife Killer) | Movie | Prime Video |
| Arjun Reddy | Movie | Prime Video |
| A Love That Hurts | Movie | Prime Video |
| Sign of the Gladiator | Movie | Prime Video |
| A Little Help | Movie | Prime Video |
| Within the Whirlwind | Movie | Prime Video |
| Paparazzi Princess: The Paris Hilton Story | Movie | Prime Video |
| The Wedding Guest | Movie | Prime Video, Netflix |
| Bhalobasar Onek Naam | Movie | Prime Video |
| Les Sentiers de l'oubli | Movie | Prime Video |
| Chronology | Movie | Prime Video |
| Anna Karenina – Vronsky's Story | Movie | Prime Video |
| Mrs. Scooter | Movie | Prime Video |
| Nartanasala | Movie | Prime Video |
| Ardha Shathabdham | Movie | Prime Video |
| Jana | Movie | Prime Video |
| The Big Divorce | Movie | Prime Video |
| Bridesmaids | Movie | Prime Video, STARZ |
| Kabhi Alvida Naa Kehna | Movie | Prime Video, Netflix |
| Shall We Dance? | Movie | Prime Video |
| Mere Brother Ki Dulhan | Movie | Prime Video |
| Hard Sun | Movie | Prime Video |
| A Christmas Princess | Movie | Prime Video |
| Chandni | Movie | Prime Video |
| Hello Memsaheb | Movie | Prime Video |
| Rumba Love | Movie | Prime Video |
| Baby of the Bride | Movie | Prime Video |
| Out in the Dark (English Subtitled) | Movie | Prime Video |
| Sinna Mapplai | Movie | Prime Video |
| Catch and Release | Movie | Prime Video |
| Kadathal Kaaran | Movie | Prime Video |
| Portrait of an Animal Behavior | Movie | Prime Video |
| High Strung | Movie | Prime Video |
| Thaimel Aanai | Movie | Prime Video |
| Lovely | Movie | Prime Video |
| This Beautiful Fantastic | Movie | Prime Video, Superchannel |
| 10 Endrathukulla | Movie | Prime Video |
| Love's Complicated | Movie | Prime Video |
| Gold Digger | Movie | Prime Video |
| Roseanna McCoy | Movie | Prime Video |
| Bazodee | Movie | Prime Video |
| Athaiyum Thaandi Punithamaanathu | Movie | Prime Video |
| The Way We Weren't | Movie | Prime Video |
| Bhairava Geetha (Telugu) | Movie | Prime Video |
| Kaashi in Search of Ganga | Movie | Prime Video |
| Convict | Movie | Prime Video |
| Dostana | Movie | Prime Video, Netflix |
| Even Django Has His Price | Movie | Prime Video |
| TIME IS UP | Movie | Prime Video |
| A Christmas Proposal | Movie | Prime Video |
| Love and Love Only | Movie | Prime Video |
| Christmas in Mississippi | Movie | Prime Video |
| Dabangg 3 (Telugu) | Movie | Prime Video |
| Dear Viola | Movie | Prime Video |
| Message From A Mistress | Movie | Prime Video |
| Love Stinks | Movie | Prime Video |
| Notebook | Movie | Prime Video |
| Loveyatri – The Journey of Love | Movie | Prime Video |
| Kate and Leopold | Movie | Prime Video, Superchannel |
| Babu Baga Busy | Movie | Prime Video |
| Sex and Chocolate | Movie | Prime Video |
| #Roxy | Movie | Prime Video |
| The Goal | Movie | Prime Video |
| Salaam Namaste | Movie | Prime Video |
| Shirin in Love | Movie | Prime Video |
| Cake (2005) | Movie | Prime Video, Superchannel |
| Annette | Movie | Prime Video |
| Shava Ni Girdhari Lal | Movie | Prime Video |
| Fugay | Movie | |