Finder is committed to editorial independence. While we receive compensation when you click links to partners, they do not influence our content.
What are charge cards?
Charge cards are similar to standard credit cards with one major exception.
Many people hearing the term charge card will say, "Charge what?". That's because you don't see charge cards much anymore, with most providers sticking to regular credit cards. Today, the only major provider still offering them is American Express – and they still have a few excellent ones.
Compare charge cards below and discover how they differ from your typical credit card.
What is a charge card?
What's the biggest difference between a credit card and a charge card?
You can carry a balance month to month on a credit card.
With a charge card, you have to pay your balance in full each month.
An easy way to tell if you're looking at a charge card is by checking a card's terms and conditions. For instance, here's the pricing information for a credit card:

You can see the interest rates under the "Purchase Annual Percentage Rate," "Balance Transfer APR" and "Cash Advance APR" sections. You'll also find information about an interest-free grace period and the minimum interest charge. This is a clear indication that you're looking at a credit card.
Now let's look at the pricing information for a charge card: the Platinum Card from American Express.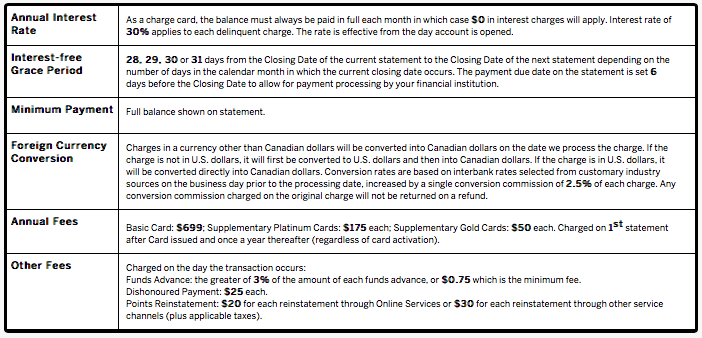 It specifically states under the "Annual Interest Rate" section that this card is a charge card.
Did you know?
Charge cards trace their roots back to the late 1800s, when companies issued metallic "charge plates" and "charge coins." These were used to imprint customer information onto sales slips.
Can I apply for a charge card?
You'll need to be at least 18 years of age, or the age of majority in your province or territory.
You will need to be a Canadian citizen or a permanent resident.
Card providers typically require good to excellent credit scores of 650 or higher for charge cards. This is because you pay your balance in full each month and the provider wants to know that you're likely to repay your debt.
Compare charge cards
How charge cards work
A charge card is slightly different from a credit card. You can use one just like you use any other card — simply swipe, tap or insert your card.
When your monthly card bill arrives, you have one choice: Pay the whole thing. A charge card can be convenient in that sense, because it forces you to clear your slate each month. It also means that you won't pay interest on your purchases.
Credit limits vs. preset spending limits
When you're approved for a credit card, your approval will include a credit limit — that is, an amount over which you can't spend. A charge card, meanwhile, may advertise "no preset spending limit."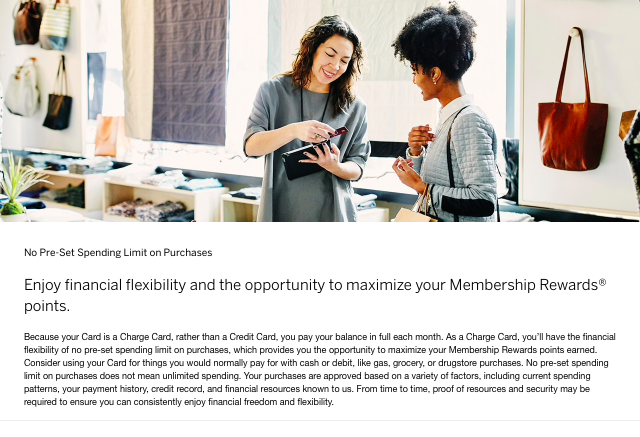 No preset spending limit means that your card doesn't allot a specific credit limit. But this doesn't mean that you can spend as much as you want. Instead, your card provider will set a spending limit based on factors like your income, your credit report and previous spending habits.
With a credit card, you'll know what your credit limit is. With a charge card, you might not know this amount. You could unwittingly exceed your spending limit, at which point your card would be declined when you attempt to make another purchase. To avoid hitting your spending limit, contact your card provider to confirm what your limit is. Alternatively, slowly test the boundaries of your spending limit: Spend a little at first, and notify your card provider if you plan on making purchases that may put you over your limit.
As a rule of thumb, assume your limit is two to three times your average balance over the last few months.
Why use charge cards?
Credit cards have a few advantages over charge cards. However, you may find a charge card worth picking up for a few key benefits:
It has a built-in automatic debt prevention. People can get in trouble with credit cards when interest sneaks up on them. This situation is less likely with a charge card, because you must pay your balance in full each month.
No preset spending limit. Unlike a static credit limit, your spending limit can vary. This means that you can ask your card provider to approve purchases that go over your spending limit. You can also request an increase in your spending limit.
Forgetting to pay can cost you
If you rack up a big balance on a typical credit card and you're not prepared to pay it off, you can make the minimum payment and start accruing interest. But that's not usually an option with a charge card — it's all or nothing.
That said, watch your balance carefully if you're using a charge card. If you can't pay when your bill is due, you'll be hit with high interest rates that usually sit around 30%. In addition to paying a high interest rate on any delinquent charges, your credit score may also take a hit if you pay late – which could lead to longer-term financial trouble.
Keep your balances in check and keep track of your due dates, and it'll be smooth sailing with your charge card.
Will a charge card affect my credit score?
Your credit score will dip slightly when you apply for a charge card, since the card provider will initiate a hard pull on your credit report. This means they're checking your credit history to decide whether to take you on as a cardholder. A hard pull causes your credit score to drop a few points, but this isn't any different from the dip you'd see when applying for a credit card.
Your credit score may drop a bit further overall, because getting a new card lowers your average account age. Again, this drop is typical for all credit cards.
Making timely repayments will increase your credit score again.
Do charge cards affect your credit utilization ratio?
If you have credit cards, you'll know what your credit limits are, which makes it easy to calculate your credit utilization ratio. It's a different story with charge cards, because they don't have credit limits.
Without a credit limit to work with, some card providers may report the highest balance you've had on your charge card within a certain amount of time. This could serve as your card's effective credit limit.
For example, say you typically spend a few hundred dollars a month on your card. If your highest balance is $500, your credit utilization ratio may look high if your card provider reports that as your credit limit. But if your highest balance is $5,000, your credit utilization ratio may seem low.
This doesn't mean you have to start worrying about your highest balances – as usually the "highest balance" model isn't used to calculate your credit score. So, your charge card won't affect your credit utilization or credit score — at least where it matters.
Charge cards vs. credit cards
Charge cards
You can't carry a balance on a charge card, so you won't pay any interest.
Your charge card doesn't have preset spending limits — but like a credit card, you're not entitled to unlimited spending.
Charge card spending won't affect your credit utilization ratio.
Charge cards tend to come with higher annual fees than credit cards. Late and returned fee charges are usually similar to credit cards.
You'll find some benefits with a charge card, including travel coverage, points per dollar spent, cash back or other options.
Compare credit cards
If you're not sure a charge card is right for you, consider a traditional credit card. Below are many options. Compare cards to find the one that best meets your needs.
Back to top
Frequently asked questions
Images: Shutterstock & Getty Images