Western Union money transfer review
Minimum Transfer Amount

$1

Fastest Transfer Speed

Within minutes

Receiving Options

Cash pickup location, Bank account

Available Currencies

AED, AFN, ALL, ANG, AOA, ARS, AUD, AWG, AZN, BAM, BBD, BDT, BGN, BHD, BIF, BMD, BND, BOB, BRL, BSD, BTN, BWP, BZD, CHF, CLP, CNY, CRC, CVE, CZK, DJF, DKK, DOP, DZD, EGP, ERN, ETB, EUR, FJD, FKP, GBP, GEL, GHS, GIP, GMD, GNF, GTQ, GYD, HKD, HNL, HUF, IDR, ILS, IQD, ISK, JOD, JPY, KES, KGS, KHR, KMF, KRW, KWD, KYD, KZT, LAK, LBP, LKR, LRD, LSL, MAD, MDL, MGA, MKD, MMK, MNT, MOP, MUR, MVR, MWK, MYR, MZN, NAD, NGN, NIO, NOK, NPR, NZD, OMR, PEN, PGK, PLN, PYG, QAR, RON, RSD, RWF, SAR, SBD, SCR, SDG, SEK, SGD, SRD, THB, TJS, TMT, TND, TOP, TRY, TTD, TWD, TZS, UAH, UGX, USD, UYU, UZS, VES, VND, VUV, WST, XAF, XCD, XOF, YER, ZAR, ZMW, SLE
Our verdict
This money transfer giant boasts a huge global network and support for both online and in-person transfers.
Western Union is a strong choice if you're looking for quick cash transfers and zero fees on international transfers. However, look elsewhere if you want to avoid expensive exchange rates and high fees for cash and domestic transfers.
Pros
User-friendly app

Fast cash transfers

$0 international bank transfer fees

Options for cash pickup in most countries
Cons
Higher fees for cash pickups

Expensive for domestic transfers

Not possible to send more than $7,500 online
| | |
| --- | --- |
| Product Name | Western Union |
| Pay By | Cash, Credit card, Debit card, Bank transfer |
| Receiving Options | Cash pickup location, Bank account |
| Customer Service | Phone, Live chat, Email, In person |
| Available Currencies | AED, AFN, ALL, ANG, AOA, ARS, AUD, AWG, AZN, BAM, BBD, BDT, BGN, BHD, BIF, BMD, BND, BOB, BRL, BSD, BTN, BWP, BZD, CHF, CLP, CNY, CRC, CVE, CZK, DJF, DKK, DOP, DZD, EGP, ERN, ETB, EUR, FJD, FKP, GBP, GEL, GHS, GIP, GMD, GNF, GTQ, GYD, HKD, HNL, HUF, IDR, ILS, IQD, ISK, JOD, JPY, KES, KGS, KHR, KMF, KRW, KWD, KYD, KZT, LAK, LBP, LKR, LRD, LSL, MAD, MDL, MGA, MKD, MMK, MNT, MOP, MUR, MVR, MWK, MYR, MZN, NAD, NGN, NIO, NOK, NPR, NZD, OMR, PEN, PGK, PLN, PYG, QAR, RON, RSD, RWF, SAR, SBD, SCR, SDG, SEK, SGD, SRD, THB, TJS, TMT, TND, TOP, TRY, TTD, TWD, TZS, UAH, UGX, USD, UYU, UZS, VES, VND, VUV, WST, XAF, XCD, XOF, YER, ZAR, ZMW, SLE |
What is Western Union?
Western Union is an international and domestic money transfer company that offers digital and in-person services. The company has a wide reach with an online platform, mobile app and over 2,500 agent locations across Canada and thousands across the globe. This means you can use Western Union to send money to just about anyone, anywhere – even if they don't have a bank account.
Western Union fees
Western Union fees vary based on how you pay for your transaction and whether you send an international or domestic money transfer.
Western Union fees (international)
Western Union fees are typically broken down as follows though you may get higher or lower fees depending on where you send money.
| Payment type | Send to international bank account | Send internationally for cash pickup |
| --- | --- | --- |
| Online bank account payment | $0 | $7 |
| Online debit card payment | $0 | $15 |
| Online credit card payment | $0 (but expect credit card fees) | $15 (and expect credit card fees) |
| In-store payment | Varies | $7 |
Western Union fees (domestic)
You'll pay fees to send money domestically regardless of whether you send money to a bank account or for cash pickup.
| Payment type | Send to domestic bank account | Send domestically for cash pickup |
| --- | --- | --- |
| Online bank account payment | $12 | $7 |
| Online debit card payment | $12 | $15 |
| Online credit card payment | $12 (and expect credit card fees) | $15 (and expect credit card fees) |
| In-store payment | Varies | $7 |
Western Union exchange rates
Western Union's rates will vary based on where you're sending money, with most rates being similar to other providers (as long as they're charged as advertised). Some users complain that the Western Union rates they get charged are higher than the rates they agreed to pay before finalizing the transaction.
When comparing exchange rates among companies, you'll want to choose the highest rate to make sure you get the most money on the other end.
Sample currency exchange rates from multiple providers
Compare Western Union rates vs what's on offer from other providers in the table below:
Currency pair
Western Union rates
Wise rates
Remitly rates
Royal Bank of Canada rates
CAD TO USD
0.786
0.788
0.770
0.771
CAD to INR
58.518
58.937
58.339
N/A
CAD TO MXN
16.010
16.197
15.896
N/A
CAD to EUR
0.694
0.700
0.690
0.677

Rates change regularly – this is an illustrative example of rates on 01 February 2022.
Results: Wise has the best exchange rates in all categories while Western Union has the second-best rates. Canada's Big Banks will typically offer the worst rates (and highest fees!) in most scenarios. These results may vary as you compare more and different providers.
How to send money with a Western Union money transfer
To send a transfer, you'll need the following:
Western Union account. You can set up a free account in less than 2 minutes.
Valid payment method. Pay by debit, credit, cash or bank transfer.
Recipient's contact information. Your recipient's full name (as it appears on formal ID), address, phone number, email and banking information as needed.
Payment options
Bank transfer. Pay with your bank account using a third-party payment partner.
Credit card payment. Use your credit card but expect to pay cash advance fees.
Debit card payment. Pay online with a Visa/Mastercard debit or a regular debit in-store.
Cash in-store. Put down cash when you go into a store location.
Receiving options
Bank transfer. Your recipient will receive the transfer directly into their bank account.
Cash in-store. You'll need to arrange for your recipient to pick up cash in-store.
Mobile wallet. Your recipient can hold their funds in a wallet until they want to withdraw them to a bank account.
Sending a Western Union money transfer online
Follow these steps to sign up for online Western Union money transfers:
Sign up for an account. Create your free account by inputting personal details such as your name and contact information
Start transfer. Start your transfer by choosing "Send money" and selecting your transfer type (cash or bank transfer) and payment method.
Input recipient details. Input your recipient's full name, phone number and bank account information (if needed).
Input payment information. Verify your bank account or input debit/credit card details to finalize your transfer.
Track your transfer. Easily track your transfer using your tracking number (MTCN) and get notified when your money is delivered.
Check if there are any Western Union promo codes available
Sending a transfer in person
You can also send a Western Union money transfer in person at over 2,500 locations across Canada. All you need to do is find a location near you and go in with the following information:
Piece of ID and cash or another payment method
Your recipient's contact information and bank details (as needed)
How long does a Western Union money transfer take?
The amount of time it takes to send a transfer will depend on whether you send a bank transfer or cash as well as how you pay and where you send money.
Cash transfers are usually faster while bank transfers take longer due to processing times. The transfer times outlined below are the average times for most transfer destinations.
International bank transfers
| Payment type | Transfer time |
| --- | --- |
| Bank account payment | 0-4 business days |
| Debit/credit card payment | Usually 1 business day |
| In-store payment | Usually 1 business day |
International and domestic cash transfers (for pickup)
| Payment type | Transfer time |
| --- | --- |
| Bank account payment | 0-3 business days |
| Debit/credit card payment | In minutes |
| In-store payment | In minutes |
Domestic bank transfers
| Payment type | Transfer time |
| --- | --- |
| Bank account payment | 0-7 business days |
| Debit/credit card payment | 0-4 business days |
| In-store payment | Not available |
How to track a Western Union money transfer
You can easily track your transfer on the Western Union web portal or app using your tracking number (MTCN). Your MTCN should be sent to you via email or you can look it up in your transaction history. You'll also be notified via the app or email when your recipient collects the funds.
How much can you send in a Western Union money transfer?
You can send a maximum of $7,500 to most countries that Western Union services. However, there are a few exceptions based on limits on incoming transfers imposed by certain countries. For example, in a Western Union CAD to INR transaction, India will only allow you to send $5,000 per transaction.
Example: Reegan sends money to India
Reegan wants to find out how much money she can send in a Western Union CAD to INR transaction. She visits the "Send money" page on westernunion.com/ca and inputs her destination country as India. She can then see the allowable limit displayed under the "Send amount" box (as shown in the graphic below).
How does Western Union money transfer compare to other services?
Our table below lets you compare services you can use to send money abroad. Compare fees, exchange rates and discounts from different money transfer services, and when you have made your choice, click Go to site.
Is Western Union safe?
Western Union is a safe service if you use it to send money to a trusted source. It becomes much less safe if you're sending money to an unknown person or entity.
| Safe to use | Not safe to use |
| --- | --- |
| Western Union is safe to use if you're sending money to a person you know. Just make sure you properly input your recipient's banking and contact information before you send money to make sure it gets deposited to the right place. | Western Union isn't safe to use if you send money to a person or organization that you don't personally know. This is because Western Union requests very little information from its recipients, which makes it very difficult to track fraudulent transactions. |
Western Union and dealing with fraud
Learn more about some of the resources and activities Western Union has put in place to help counter fraud in its operations.
Western Union compliance interviews
Western Union has started to conduct compliance interviews with frequent customers. These interviews are designed to gather information about the purpose and source of transfers as well as the relationship between senders and recipients.
Western Union fraud-awareness measures
Western Union is making it more difficult for people to send money through its services without providing additional information. It also operates a consumer information program to help users identify and watch out for potentially fraudulent activities.
Western Union communications
Western Union will never send you an email asking for your user ID, password or credit card details. Avoid providing any personal information via email and reach out directly to Western Union via its customer service hotline to make sure requests for information are legitimate.
Reporting fraud with Western Union
You can contact your local police or the Canadian Anti-Fraud Centre if you feel you've been a victim of fraud. You can also report suspicious activity to Western Union using the company's dedicated fraud hotline and online claims service. A special email address also exists for receiving reports of spam emails that mention Western Union. Visit the Fraud Awareness section of Western Union's website to learn more.
More on money transfer scams and how to avoid them
Lawsuits against Western Union
After a long investigation, in January 2017 Western Union agreed to forfeit more than USD$550 million and enter into anti-fraud agreements with many state and federal agencies in the US. These lawsuits focused on Western Union's aiding and abetting of wire fraud by failing to maintain an effective anti-money laundering program.
The outcome of the lawsuits led Western Union to agree to:
Provide clear fraud warnings.
Increase its websites and telephone numbers to handle customer fraud.
Block any and all money transfers sent to a person who is the subject of a fraud report until it is cleared up.
Refund a money transfer if Western Union fails to comply with its anti-fraud procedures and the sender is the target of fraud.
How do I contact Western Union?
You can contact Western Union in a number of different ways.
Phone. Call Western Union's customer hotline for support on the go.
Online chat. Use the WU Assistant on the Western Union website for online information.
In person. Visit over 2,500 Western Union locations in person to ask questions.
Does Western Union have an app?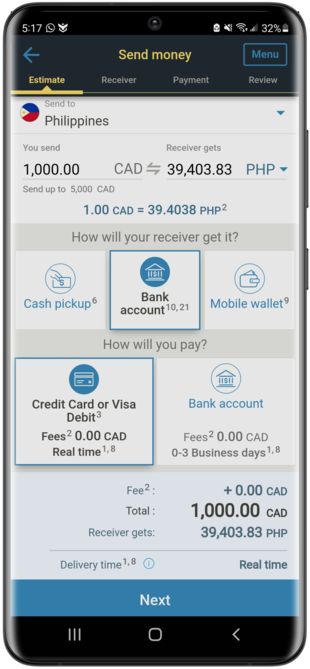 Western Union has an app to send money and track transfers. The app has mixed reviews on both Google Play and the Apple Store. (App ratings current as of February 14, 2022)
Service
Rating
Top praise
Top complaints
Google Play
4.4 out of 5

(12,847 reviews)

Simple and reliable
Long transfer times, unexplained errors
Apple Store
4.6 out of 5

(12,742 reviews)

Easy, fast and convenient
Poor customer service, glitchy app
You can carry out the following activities using the Western Union app:
Log in quickly and easily with Touch ID
Click "Send money" to send a transfer at any time of day or night
Check the Western Union currency exchange rate and fees
Look up nearby agent locations
Track transfers and search pending or past transactions
Set up bill payments or repeat transfers for family and friends
Scan your credit cards or debit cards for quick payment
My WU: Western Union's reward program
You can sign up for Western Union's "My WU" loyalty membership program for free. The program lets you earn points for making and receiving transfers. You can also earn cashback for making purchases in the WU online shop.
Earn points. Earn 30 points for sending Western Union money transfers and 10 points for receiving transfers. Redeem your points for discounts on transfer fees.
Earn cashback. Use the WU shop to earn cashback (typically ranging from 1% to 6%) on purchases with Western Union partners or pay an annual fee to earn more with a VIP membership. Pick up cash at a WU store location once you have $30 or more.
Western Union shopping partners
Western Union works with over 12,000 stores in Canada and around the world to help you earn cashback. Examples of partners include the following:
Travel
Fashion
Homewares
Entertainment

Hotels.com
Expedia.ca
Booking.com

Macy's
Bench
Michael Kors
Gap
Old Navy

The Home Depot
Bed Bath & Beyond
Bottom line
Choose this platform for quick and easy cash transfers and zero-fee international bank transfers.
Watch out for expensive Western Union rates and high fees for cash and domestic transfers.
Look elsewhere if you want to save money or you don't need to make a fast transfer.
Only send money to people or organizations you know and trust.
Frequently asked questions