TripAdvisor promo codes and deals
TripAdvisor is known for it's reviews, but did you know it also compares hotels for the best deal?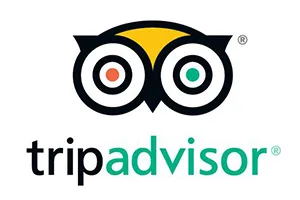 Let's get one thing straight: TripAdvisor isn't just a destination review website. While they offer a great peer-based advise on what to do and where to stay, they also offer the ability to book your flights, hotels and holidays, through third-party sites, making the holiday organising planning process so much easier.
Latest TripAdivor promo codes and deals for July 2020
---
Pros and cons of TripAdvisor
Pros
Tips and travel information. The fact that you can get travel reviews on almost any destination, attraction, and hotel in the world is advantageous to any traveller. The reviews are helpful in giving you information and tips on what to expect.
Multitude of reviews. The site has over 150 million reviews – which is a good thing because there is safety in numbers. You can easily identify good accommodation based on the number of positive reviews. There are reviews on hotels, flights, restaurants, destinations, and more.
Find hotels. This is not just a review site; you can use TripAdvisor to find hotels in a specific destination or region.
Cons
Fake reviews. With 150 million plus reviews, there are bound to be reviews that are not accurate or genuine. Members of the travel industry have complained numerous times about the site and it was in fact forced to remove the statement 'reviews you can trust' because of this.
---
Booking guide for TripAdvisor
TripAdvisor allows you to easily find hotels, flights, holiday rentals, and other holiday necessities online. If, for example, you're looking for a hotel, simply go to the 'plan your perfect trip' tab on the homepage and click on hotels. Key in the hotel name or city, select your stay dates, and click 'find hotels'. You'll be redirected to a review page of the hotel where you can view the ranking and read other customer's feedback regarding their experience staying at the hotel.
TripAdvisor is a travel site and it only facilitates bookings through other booking sites. You can select the booking site provided that offers the best rate and with your booking with them.
---
Refunds, exchanges and returns for TripAdvisor
Due to the fact that TripAdvisor does not directly provide bookings, requests for refunds and exchanges are only facilitated by TripAdvisor. If your refund or exchange is accepted, it will be issued by the booking website, not TripAdvisor.
If you wish to cancel or change your booking, you'll first need to read through the terms and conditions offered through the booking site. If you made a deposit for a reservation, you might be forced to forfeit the deposit when cancelling, unless your agreement stated otherwise.
Refunds can be facilitated by TripAdvisor if you paid for the booking through their site. All refunds are made using the original means of payment.
---
About TripAdvisor and its history
TripAdvisor is a travel community website that is designed to help travellers by providing information and reviews about their holiday destination. With close to 260 million visitors every month, it's considered one of the largest travel websites in the world. The best thing about TripAdvisor – and perhaps what it's most famous for – is the fact that it's based on reviews by genuine travellers. Everything from attractions and restaurants to hotels and transport is discussed, which means you'll know exactly what to expect while on holiday.
To date, over 150 million reviews have been published on the site. These reviews cover over four million attractions, restaurants and accommodations.
TripAdvisor currently operates in 42 countries.
Ask an Expert
You must be logged in to post a comment.