Finder makes money from featured partners, but editorial opinions are our own.
The 10 most exclusive credit cards in the world
These ultra-premium cards offer access to extraordinary privileges.
There's a credit card for everyone out there — which means there are cards that are explicitly not for everyone. We gather the 10 most exclusive credit cards in the world to give you an idea of perks and financial needs your typical millionaire might need. (If you're a millionaire, then maybe you'll find a card here to add to your wish list.)
We looked at a card's luxury factors, including high cost, exclusive membership, construction from precious metals, luxury perks and high credit limits. Of course, a high net worth is a prerequisite for these 10 exclusive cards. And in many cases, membership is extended by invitation only.
Or if you want status without the actual gold and diamonds in your credit card, check out our list of the most prestigious credit cards in Canada.
The world's top 10 most exclusive credit cards
1. American Express Centurion
Also known as the Black Card, the American Express Centurion is an elusive and exclusive card issued by invitation only. To be invited, you must be an existing American Express cardholder who spends more than US$250,000 a year (or likely the Canadian equivalent). This card is available to Canadian American Express credit card holders, as well as Americans.Apart from having no credit limit on your card and a rumoured 24/7 dedicated concierge who will get you practically anything you want, this card offers perks so exclusive that they've never been advertised. Premium travel and hotel privileges, rare dining and entertainment experiences, as well as excess insurance for top-of-the-line luxury car rentals – we can only imagine what other doors this card opens.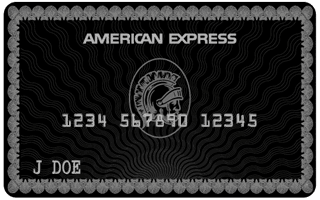 2. JPMorgan Chase Palladium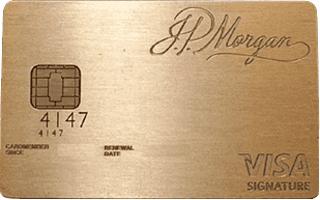 Made of metal and literally minted with palladium and 24K gold, this is one card you can't take with you through the metal detectors. Although previously available by application, this card is now only offered by invitation to clients of JPMorgan's private banking wealth management or investment banking arms. This means you'd have to have at least US$250,000 privately managed by them.For US$450 a year, this card offers travel perks including a full United Club membership, unlimited lounge access and Priority Pass, a strong suit of travel insurance coverage and access to private jets if you should prefer to fly that way. You'll also earn 2 points per $1 spent on travel, 1 point on all other eligible purchases and 35,000 bonus points if you spend more than US$100,000 a year.
3. Dubai First Royale Mastercard
Embedded with a white .235-carat solitaire diamond and trimmed with gold, this elaborate card is the Dubai Group's exclusive offering to UAE royalty and the region's top millionaires.The qualification and fee details of this card are almost as elusive as the card itself. Rumour has it the fee alone is nearly $2,000. But if you had the honour of being offered one, you could enjoy no pre-set credit limit, your own dedicated relationship manager and "Royale Lifestyle Management" services. Based on what we've read about this card, it seems you can get anything you want with it.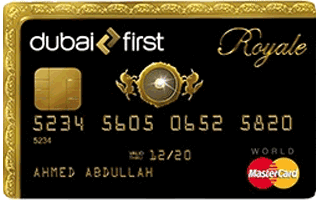 4. Coutts World Silk Card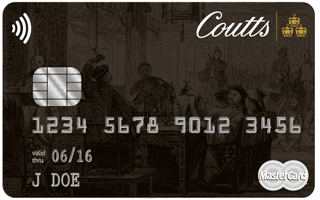 The prestigious Silk Card offered by Coutts, a private bank and wealth management division of the Royal Bank of Scotland, is available to Coutts clients only – which includes the Queen. The card starts with about a $26,000 monthly credit limit, although this may differ depending on the bank's personal assessment of your finances.
The Silk Card has an annual fee of over $450 that's waived if you spend more than around $65,000 in your card membership year. With this card, you can expect a host of insurance, travel lounge and Priority Pass perks, luxury brand offers, concierge services and exclusive memberships with hotels, airlines, jet and cruise companies.
5. Sberbank Visa Infinite Gold Card
If being crafted from solid gold isn't quite enough, throw in .17 carats worth of diamonds (totalling 26 stones to be precise) and some mother-of-pearl. Issued by Kazakhstani outfit Sberbank to only 100 of its top clients, this Visa Infinite Gold card reportedly costs around $100,000 upfront. Of this money, about $65,000 is an account fee, and around $35,000 goes to the account's opening credit.Aside from the pleasure of owning a solid gold status symbol, cardholders enjoy above $250,000 life insurance coverage, exclusive concierge services, VIP access at some of the world's finest golf courses, luxury vacations and fast-track immigration treatment in hundreds of airports globally.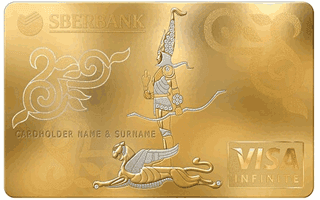 6. Eurasian Diamond Card (Visa Infinite)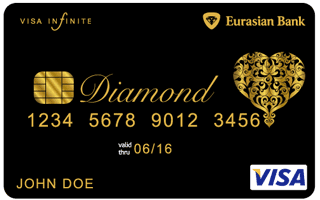 Another Kazakhstani offering, the Eurasian Bank Diamond Card is an elite Visa card for invitation-only clients. This striking black card features a pure gold inlaid heart with a .02-carat diamond centrepiece, and can only be obtained by recommendation of the bank's management board, or upon referral of two existing Diamond cardholders. You must also make more than $300,000 a year to qualify.
Annual card fees range between $460 and $1400, depending on the size of your current bank balance. Perks include personalized concierge services, VIP airport lounge and Priority Pass access, as well as super-charged Visa exclusives such as hotel discounts, ticket pre-sales, luxury dining, spa offers and purchase protection from loss and theft.
7. Stratus Rewards Visa
Fondly called the White Card, the Stratus Rewards Visa is often seen as the definitive card for ultra elite jetsetters. To get this card, you need a referral from an existing cardmember or a Stratus Rewards partner company before you'll even be considered for an exclusive invitation.As far as features go, this is the card for those who want to fly in privacy and style, with a rewards program that offers private jet flight-time as a redeemable reward. If you like, you could also trade your reward points in for a personal consultation with a famed lifestyle expert. At US$1,500, this card will give you access to personal concierge services, discounted charter flights, complimentary car services and luxury hotel upgrades, special events and exclusive gift bags.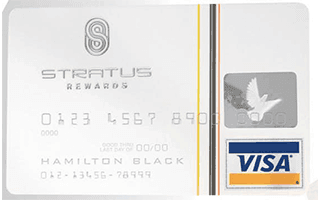 8. The Merrill Lynch Octave Black Card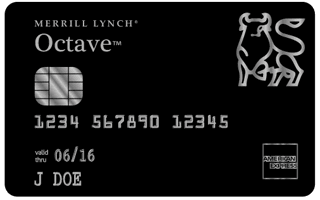 Made of black metal and sporting an American Express logo on its front, the Merrill Lynch Octave Black Card is an invitation-only card that caters to the American bank's highest-net-worth clients. To qualify, you must have over US$10 million sitting in a Merrill Lynch account and also be a Merrill Lynch Private Wealth Management or US Trust client.Lucky cardholders pay US$950 in annual fees and enjoy perks including no pre-set credit limit, 2.5 rewards points per $1 spent on all eligible purchases, an annual $350 worth of travel credit or a Delta SkyClub Executive membership, select airline and private jet flight discounts and premium concierge services.
9. Santander Unlimited Black Card
This understated Black Card represents the "unlimited credit" that Brazilian Santander Group offers to its elite private banking customers. Although eligibility details are undisclosed, only about 2,000 to 3,000 cards are in circulation.For approximately $275 annually, card perks include high, flexible spending limits, 24/7 concierge services, VIP airport lounge access, Priority Pass, private jet discounts and the usual suite of insurance coverage. You also earn 2.2 points for every $1 spent on the card.
10. Luxury Card Mastercard Gold Card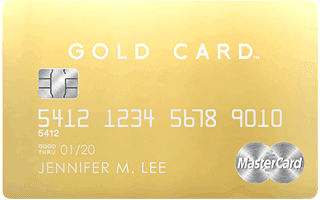 Plated with 24K gold, the Luxury Card Gold Card is a carbon Mastercard designed with rewards in mind. Unlike the others on this list, you can apply for this card without an invitation – but that doesn't mean it's not exclusive. With unpublished income requirements and a US$995 price tag, it's still considerably pricey for a card.The perks you can expect include 2% cash back or half-priced airfare redemptions when you spend above 50,000 points on flights, US$200 in airline credit yearly, a US$100 Global Entry application fee credit, VIP airport lounge access and Priority Pass, luxury concierge services and exclusive luxury gifts.
Compare metal credit cards in Canada
What makes a credit card exclusive?
Like the clients who carry them, exclusive credit cards share notable similarities. The following factors can elevate a card's status and barrier to entry.
High cost.

Some cards are issued at no cost to high net worth members. More commonly, exclusive cards come with high annual fees of $1,000 or more, and some require additional initiation fees. At the extreme, a card might cost an outrageous $100,000.

Available only to a select few.

Card providers make it more difficult to get exclusive cards by making their products invite only, requiring the backing of existing members or imposing minimum investment quotas. To join the club, you must have the ability to pull strings — or flash enough money to barrel your way in.

Made of rare materials.

An exclusive credit card should feel exclusive. That's why it's not made of mere plastic, instead boasting such precious metals as gold, titanium or palladium. It might even come with inlaid diamonds for good measure.
Dedicated concierge service.

You'll notice many of the cards on this list offer commonplace features. For example, you can get airport lounge access and travel credits with widely available credit cards.

What sets exclusive cards apart is personalized help. Concierge service is standard in premium travel cards, but dedicated concierge services — like account managers expressly assigned to you — are reserved for ultrapremium cards.

Unadvertised, exclusive perks.

One of the reasons we don't know much about superelite cards is because their issuers like it that way. If a premium card gets you access to a top-notch airport lounge, an ultrapremium card gets you a dedicated space inside that lounge. The less the public knows about these privileges, the more special they tend to be.

Sky-high credit limits.

Exclusive credit cards often come with extremely generous credit limits. Of course, your provider may cut you off if your spending appears to exceed what your net worth allows. But if your coffers sound truly endless, the bank may allow literally any purchase your heart desires.
Will you get one of these credit cards someday?
The cards on this list are crafted for exclusivity — but they're not impossible to obtain.
For the most part, getting one requires a high net worth. Building wealth starts with mastering financial principles like saving, investing and using credit responsibly, which anyone can do with focus and perseverance.
Regardless of where you are in your financial journey, Finder is here to support you. We're thrilled to share with you everything we know. And we can't wait to see you with an exclusive credit card of your own.
The most prestigious credit cards you can actually get
Let's be real: many of the most prestigious credit cards listed on this page are out of reach for most Canadian consumers. However, there are a number of "luxury" cards on the market that cardholders with a good credit score can obtain. These include cards such as the The Platinum Card from American Express, and the American Express Aeroplan Reserve Card.
These cards require a very strong credit score and demand a high annual fee — up to $599 in many cases. For the price however, you get a smorgasbord of features, including travel statement credits, airline lounge access, discounts or upgrades at luxury hotels and more. These perks are worth hundreds of dollars on their own, making these luxury cards a great deal if you take advantage of the card features.
Compare premium credit cards in Canada you can actually apply for
The following cards have premium benefits, and you can apply for them without an invite. As usual, consider your credit score and apply only for cards you have a good chance of being approved for.