Finder is committed to editorial independence. While we receive compensation when you click links to partners, they do not influence our content.
What is Stellar Lumens (XLM)? A beginner's guide
Learn everything you need to know about the Stellar network and its native cryptocurrency, Stellar Lumens.
Stellar is both a distributed payments network focused on fast and affordable cross-border transactions and a platform for hosting ICOs. Founded in 2014, the Stellar network also has its own digital currency unit, the Lumen (XLM), which is essential for making international payments and conducting quick transactions between different currencies.
If you want to know how Stellar works, the benefits it offers to users and why Lumens have become one of the world's top 10 cryptocurrencies by market cap at the time of writing, this guide will run you through everything you need to know.
Disclaimer: This information should not be interpreted as an endorsement of cryptocurrency or any specific provider, service or offering. It is not a recommendation to trade. Cryptocurrencies are speculative, complex and involve significant risks – they are highly volatile and sensitive to secondary activity. Performance is unpredictable and past performance is no guarantee of future performance. Consider your own circumstances, and obtain your own advice, before relying on this information. You should also verify the nature of any product or service (including its legal status and relevant regulatory requirements) and consult the relevant Regulators' websites before making any decision. Finder, or the author, may have holdings in the cryptocurrencies discussed.
What is Stellar (the network)?
Stellar is a decentralized platform designed to make it fast, easy and affordable for users to transfer assets all around the world. Designed to connect banks, payment systems and people, Stellar allows you to "move money across borders quickly, reliably, and for fractions of a penny." In short, it wants to make cross-border payments quicker, cheaper and more secure than they are using current banking and remittance systems.
However, the Stellar network also acts as a platform for the launch of ICOs. Mobius Network, Smartlands and SureRemit are a few of the projects that have either held or are planning to run ICOs on Stellar.
Where to buy Stellar Lumens (XLM)
A step-by-step guide to buying XLM with Coinbase
What are Stellar Lumens?
Lumens are the native asset of the Stellar network. When the network was launched in 2014, 100 billion lumens (originally called stellars) were created, with an annual inflation rate of 1%.
Lumens serve two purposes:
Preventing spam. Lumens are used to cover the cost of transaction fees on the Stellar network and also to ensure minimum account balances are kept. This is designed to prevent the network from being overwhelmed. Each transaction comes with a fee of 0.00001 Lumens.
Facilitating multi-currency transactions. Lumens also act as a bridge between currencies, facilitating trades between two separate currencies when there is not a large enough direct market.
What makes Stellar unique?
Stellar provides a wide range of services that you'd expect from your normal bank, but with a couple of key differences.
Transactions are carried out on a decentralized network, with much lower fees and faster processing times than you can get from a traditional bank. Payments can be processed within 2-5 seconds, exchanging one currency for another is fairly straightforward, and the network's fees are infinitesimally small – a single 600,000th of a cent per transaction.
All of these services are provided with a different approach to many other crypto projects. While a lot of popular projects are focused on corporate partnerships and profits, Stellar has the noble goal of achieving a more inclusive digital economy.
By connecting people around the world to low-cost financial services, Stellar says it plans to "fight poverty and maximize individual potential".
Lumen distribution
The Stellar Development Foundation, also known as stellar.org, is a non-profit corporation with a mission to promote global financial access, literacy and inclusion by expanding worldwide access to low-cost financial services.
In pursuit of its ambitious mission, stellar.org has the job of ensuring that 95% of all Lumens are distributed to the world. The foundation's operations are funded in part by 5% of the initially created Lumens, which are periodically auctioned off on various exchanges. The remaining 95% will be distributed as follows:
50% given away to individuals. Various amounts of XLM Lumens were originally given away to unique individuals who signed up to Stellar through an invitation link. Unfortunately, this program has been put on pause, with a new giveaway program set to replace it in the future.
25% given away to partners. Partners are businesses, governments, institutions or nonprofit organizations that contribute to the growth and adoption of the Stellar ecosystem.
20% given away to bitcoin (BTC) and Ripple (XRP) holders. Stellar.org distributed Lumens to holders of bitcoin and XRP (19% for bitcoin holders and 1% for XRP holders) during distribution rounds in October 2016 and August 2017.
As of May 2018, more than 8.1 billion Lumens had been given away.
Stellar vs Ripple
Any examination of Stellar inevitably draws comparisons to Ripple, the top five (by market cap) cryptocurrency and payment network that's widely seen as Stellar's main competitor. Jeb McCaleb founded both projects, and both projects share a number of similarities.
However, there are also some key differences between the two platforms. From a philosophical standpoint, while Ripple has largely focused on securing partnerships with major banks and financial institutions, Stellar has focused on global financial literacy and inclusion.
From a technical standpoint, while the two projects originally shared a decent amount of code, that's no longer the case. Stellar's payment protocol, Stellar Core, uses the Stellar Consensus Protocol algorithm, which relies on a consensus model called Federated Byzantine Agreement. Meanwhile, Ripple's protocol uses a proof-of-correctness consensus mechanism which, according to its white paper, "is applied every few seconds by all nodes, in order to maintain the correctness and agreement of the network".
Stellar
Ripple
Date established
30 July 2014
1 January 2012
Total supply
100 billion XLM initially

(approx. 103.9 billion XLM as of May 2018 due to inflation)

100 billion XRP
Inflationary?
Yes, increases at a rate of 1% per year
No, decreases based on variable burn rate
Consensus mechanism
Stellar Consensus Protocol (SCP)
Proof of Correctness (PoC)
Transaction time
2-5 seconds
4 seconds
Programming language
C/C++, JavaScript, GO
C/C++, JavaScript, Java, GO
Target market
Individuals
Financial institutions
The technology behind Stellar
Stellar's distributed network is comprised of servers running the Stellar Core software, each maintained by different people and organizations. Stellar Core maintains a local copy of the network ledger and communicates and syncs with other Stellar Core servers on the network.
While currencies like bitcoin are based on mining, Stellar is based on a consensus algorithm known as the Stellar Consensus Protocol (SCP). This protocol provides a way to reach consensus without relying on a closed system to accurately record financial transactions. According to Stellar, it's the "first provably safe consensus mechanism that simultaneously enjoys four key properties: decentralized control, low latency, flexible trust and asymptotic security".
How Stellar works
Before you can interact with the Stellar network, you will first need to create an account. Each account has a public key and a secret seed, and public key cryptography is used to ensure the security of transactions.
The next step is to upload funds to an anchor on the Stellar network. An anchor is an entity that you trust to hold your deposit and issue virtual credit into your account on the Stellar network. These anchors act as a bridge between existing currencies and the network, and most anchors are entities like banks, savings institutions and remittance companies.
Once you've uploaded your funds to an anchor, you can then send a near-instant transfer on the network.
The image below demonstrates how a request for currency "A" at one anchor is facilitated through the network of anchors, despite each anchor dealing in a different currency, and is settled in mere seconds.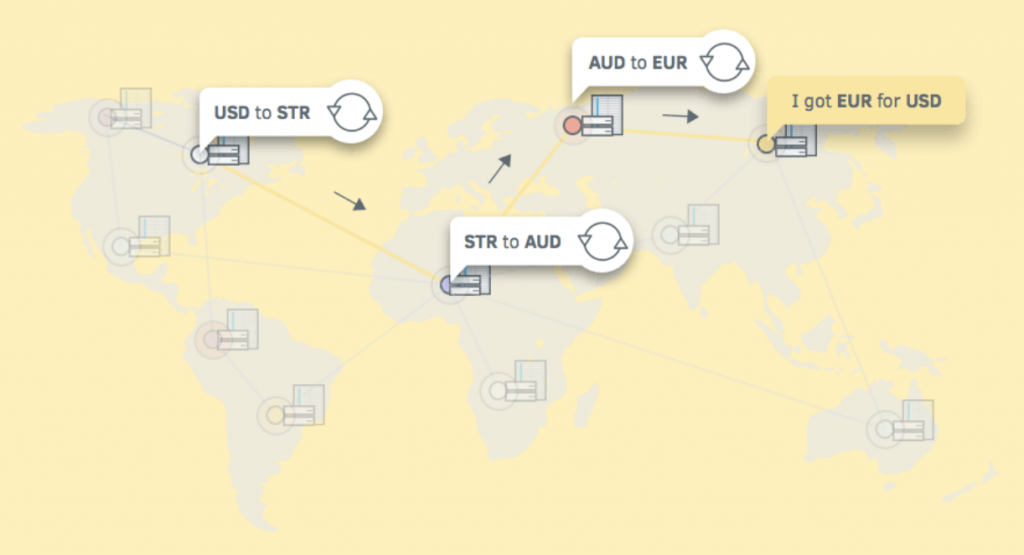 Stellar team and history
Jed McCaleb and Joyce Kim founded Stellar in 2014. McCaleb is a programmer credited with creating bitcoin exchange Mt Gox and the eDonkey file sharing network. He was also one of the co-founders of Ripple. However, due to a difference of opinion and philosophy with the rest of the Ripple team, McCaleb left Ripple to form Stellar.
Other key players on the Stellar team include chief scientist David Mazières, a professor of computer science at Stanford University, and CTO Nicolas Barry.
Notable partnerships
Establishing strategic partnerships is a key way that platforms like Stellar can encourage widespread adoption and growth. The following are some of Stellar's significant partnerships:
IBM. Stellar's partnership with IBM, announced in October 2017, sees Stellar helping the tech giant improve cross-border transactions. The partnership is fairly big news and has already delivered real-world results, as outlined by IBM's blockchain vice president Jesse Lund. This deal also includes a network of banks that will use Stellar to move money across borders. As of January 2018, IBM was running 8 Stellar nodes and had also set up 12 currency corridors in Australasia and Oceania.
Tempo. The France-based money transfer provider now serves as a Euro anchor on the Stellar network.
In a January 2018 blog post looking back at 2017, Stellar included the following table outlining the partnerships it had created in the previous 12 months:
| Region | Number of new partnerships | Notable partners |
| --- | --- | --- |
| Africa | 6 | SureRemit, Flutterwave |
| Asia Pacific | 8 | KlickEx, Novatti |
| Europe | 3 | TEMPO, SatoshiPay, EXCH.one |
| Persian Gulf | 5 | Bahrain Finance Company (BFC) |
| Americas | 4 | B&T Corredora, Remitr |
What's next for Stellar: the roadmap
Stellar's 2018 roadmap lists two main goals:
The Stellar Decentralized Exchange (SDEX). At the end of 2017, Stellar recruited a team to build the front end of its inherent decentralized exchange. This will enable on-chain, protocol-level trades for any Stellar token, and the Stellar team also indicated that it would create liquidity to minimize spreads and maximize choice of assets. Highlights of SDEX will include the following:

Day one trading for any Stellar ICO token
Atomic pathfinding to discover the cheapest rates between any two assets
Low trading fees
User control of secret keys

Lightning Network on Stellar. In response to market demand for private transactions, Stellar plans to implement Lightning Network in 2018. This should have scalability and security benefits for the platform.
What to watch out for
While there are plenty of opportunities for Stellar in the months and years ahead, there are also some key challenges that Stellar will need to overcome. One of those will be its competition with Ripple, which has a long list of big-name partners and significant financial backing. Although the two projects are based on different ideologies, they're still working in the same field.
As an ICO platform, Stellar will be going against Ethereum, which boasts the world's second-largest cryptocurrency, Ether (ETH), and has hosted an extensive list of ICOs. Whether Stellar can compete with its bigger rivals and achieve mainstream adoption remains to be seen.
Another issue to be aware of is simply the fact that Stellar is based on an altruistic ethos. With a goal of promoting financial inclusion and backed by a non-profit foundation, Stellar doesn't have the same focus on delivering maximum profits as some other projects. As a result, it may not deliver the same astronomical price rises that the buyers of some other coins and tokens have enjoyed.
Find out more about what the future might hold in our XLM price prediction.
The bottom line
Stellar is an interesting project that's attracting plenty of attention throughout the cryptosphere. While it does face stiff competition, it has a wide range of use cases and offers several impressive features. In particular, its relationship with IBM and its growing list of partners around the globe could lead to a bright future.
However, make sure you carry out your own balanced assessment of what the future holds for Stellar before deciding whether you should buy any XLM.
Stellar Lumens FAQs
---
Images: Shutterstock
Disclosure: At the time of writing, the author holds IOTA and XLM.