Finder makes money from featured partners, but editorial opinions are our own.
SharpShooter Funding review
Get fast approval and competitive rates on business loans up to $300,000.
SharpShooter Funding at a glance
Provides business loans to owners underserved by banks
Fast approvals
Available across Canada
Online only
Higher rates for bad credit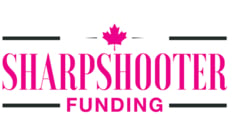 Fast approvals and funding
SharpShooter Funding
Fee based, prime starting at 6.33%
APR
$1,000 - $300,000
Loan amount
What is SharpShooter Funding?
SharpShooter Funding offers fast loans and high loan amounts to businesses that meet basic eligibility criteria. It serves all of Canada. You can borrow up to $300,000 with no need for collateral, and your loan decision will be based on your overall business health rather than your credit score. Most loans are approved in as little as 24 hours, with funding disbursed in 2 to 3 days.
Is SharpShooter legitimate?
It is. SharpShooter has been providing business loans in Canada since 2015 and has an office in Toronto, Ontario. It is a member of the Canadian Lenders Association and has been quoted in the news.
What we like about SharpShooter business loans
SharpShooter offers the following benefits:
Quick approval and funding. You can get approved in less than 24 hours, with the money you borrow typically deposited into your account in less than 3 days.
Easy application process. You can fill out a quick application, get pre-approved within minutes and provide less paperwork than what banks require.
Decent interest rates. You may be able to qualify for rates as low as 6.33%, depending on factors such as your credit score and how much you borrow.
No collateral required. You won't need to secure your loan against an asset such as your home or vehicle.
Different types of financing. SharpShooter offers various ways to finance your business, from term loans to lines of credit.
Bad credit is accepted. Your credit score won't factor in for most loans as long as your business is making enough revenue.
Available across Canada. You can apply for SharpShooter funding no matter what province or territory you live in.
What to watch out for
Keep an eye out for the following drawbacks when considering a SharpShooter business loan:
High rates for bad credit. You could pay more for a SharpShooter business loan if you have bad credit.
Stricter criteria for some loans. You may need to meet more stringent eligibility criteria to apply for certain types of loans (such as long-term loans or business lines of credit).
No in-person locations. You won't be able to go into an office location to negotiate your contract or deal with your loan if you're having issues.
NSF fee. If you miss a payment, SharpShooter may charge you can NSF fee.
Summary of SharpShooter reviews
SharpShooter reviews have been mostly positive. Many people have commented on SharpShooter's friendly, professional and supportive team. It received a couple of reviews about bad service in the last 12 months.
| Feature | Details |
| --- | --- |
| BBB accredited | No |
| BBB rating | Not available |
| BBB customer reviews | Not available |
| Trustpilot score | Not available |
| Google rating | 4.8 out of 5, based on 67 reviews |
| Customer reviews verified as of | October 19, 2022 |
What types of loans does SharpShooter Funding provide?
SharpShooter Funding offers a number of different loans based on the needs of your business. They include the following:
| Type | Best for | How it works |
| --- | --- | --- |
| Long term business loan | Covering a large, one-time expense | Borrow a lump sum and pay it back plus interest |
| Short term business loan | Covering small, irregular expenses | Borrow a smaller amount and pay it back plus interest |
| Bank only EFT program | Businesses that don't process credit cards | Access money and pay it back based on a portion of your revenue |
| Merchant cash advance | Funding daily expenses with future credit/debit sales income | Use a portion of your daily credit/debit card sales to pay back your loan |
| Working capital loans | Paying for smaller, short-term expenses | Get a short-term injection of cash and pay it back within 12 months |
| Business bridge funding | Paying for smaller, short-term expenses | Borrow money and pay it back within 12 months |
| Business expansion funding | Expenses related to growing your business | Use funding to expand your business and pay it back with business revenue over the long term |
| Business line of credit | Ongoing expenses or extra financing for seasonal lulls | Access revolving funds and only pay interest on what you use |
Do I qualify for a SharpShooter business loan?
You may be able to qualify for SharpShooter business loans if you meet the following eligibility criteria:
Personal age. Be at least 18 or 19 years of age in your province or territory of residence at the time of applying.
Operational requirements. Show that your business has been generating revenue for at least 100 days or 12-24 months for larger loan amounts.
Monthly revenue. Demonstrate that your business pulls in at least $9,666 /month.
Credit score. Have at least a 416+ credit score for some loans, depending on the health of your business and how much you want to borrow.
How do I apply?
If you think that a SharpShooter Funding loan could be a suitable fit for your business, it's easy to apply online in a couple of easy steps.
Complete the online application, which includes providing your name, email address, phone number, loan amount, loan purpose, province, average monthly sales and credit score.
Get pre-approval after a few minutes.
If you want to proceed with getting approval, provide 2 to 6 months of bank statements and merchant credit card processing statements (if available). You may need to provide other documents depending on the loan you're applying for. To get funded, you'll need to provide a copy of government-issued ID, a void cheque and your business licence or articles of incorporation.
Review and sign your contract.
Receive your funds.
I got a SharpShooter business loan. Now what?
Once you get a SharpShooter business loan, you'll need to start making repayments out of your business account based on the terms of your loan contract. For further information about your loan, you can contact SharpShooter Funding 7 days a week by sending an email to its business account or by calling its customer service line.
→ Didn't get approved? Compare other business financing options with our guide to business loans
Bottom line
SharpShooter Funding lets you borrow reasonably large amounts for your business with fewer eligibility criteria. You can apply for funding and get approved in less than 24 hours, all from the comfort of your own home. You don't need good credit to qualify for many types of business loans and you won't need to put up collateral to secure the money you borrow.
Compare business loans
Frequently asked questions