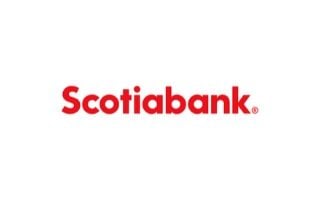 Interest Rate

Varies

Loan Amount

Varies

Loan Term

up to 96 months

Min. Credit Score

N/A
All information about Scotiabank Car Loans has been collected independently by Finder. Finder is not connected with Scotiabank products, and this page is not sponsored, endorsed or administered by, or associated with, Scotiabank. All product names, logos, and brands have been used for identification purposes only and are property of their respective owners.
Our verdict
Get up to $200,000 for your next vehicle and pay it off over up to 96 months with a Scotia auto loan.
If you've got good to excellent credit, a Scotia auto loan could be just what you need to finance your next set of wheels. With large loan amounts, flexible loan terms and customizable payment schedules, Scotiabank car loans are available from a nationwide network of dealerships. There are financing options for graduates and newcomers to Canada too, and it's easy to manage your loan online.
Best for: Borrowers with strong credit looking for convenient dealership financing.
Pros
Loans of up to $200,000 available

Tailor a payment plan to suit your budget

Available at over 4,000 dealerships nationwide

Pre-pay your loan without penalty
Cons
Can't apply online

Interest rates not listed online

Variable rate not available in Quebec

Not suitable for bad credit
What is Scotiabank?
Scotiabank is one of Canada's largest and oldest banks. It offers a wide range of banking products and services to its Canadian customers, including everything from chequing and savings accounts to mortgages, personal loans and investment accounts. If you're searching for a Scotia auto loan, financing is available through more than 4,000 car dealerships nationwide.
Is Scotiabank legit?
The Bank of Nova Scotia, which does business as Scotiabank, is one of Canada's "Big Six" banks. Founded in Halifax in 1832, it is now headquartered in Toronto.
Scotiabank serves over 10 million banking customers in Canada, operating over 940 branches and a network of more than 3,700 ABMs. The bank also trades on the Toronto and New York Stock Exchanges.
Features of a Scotia auto loan
| Feature | Details |
| --- | --- |
| Loan amount | Up to $200,000 |
| Loan term | Up to 96 months |
| APR | Varies |
| Serviced provinces | All provinces |
| Eligibility requirements | Must meet credit score and income requirements |
What are the interest rates of Scotia car loans?
Scotiabank car loan rates aren't listed online, so you'll need to apply at a dealership to find out what sort of rate you can qualify for. As a general guide, the interest rate you get will vary depending on factors such as:
Your credit score and history
Your income and employment details
Your loan term
How much you borrow
Whether you buy a new or used vehicle
Your down payment amount
In the current environment, new car loan rates are typically 0% - 7.5% and used car loan rates are 8% - 10%
What we like about Scotia auto loans
Flexible loan term. If you want, you can take up to 96 months to pay off your loan.
New or used car. You can buy a new or used car that's up to 7 years old.
Loan amount. Depending on your credit score and security, you can get a loan of up to $200,000.
Fixed or variable. You can choose between a fixed and variable interest rate. A fixed rate means your car loan interest rate will stay the same throughout the loan term, which will give you predictable payment amounts. A variable rate means your interest rate will fluctuate with the markets, which could increase or decrease your repayments.
Widely available. You can ask for Scotiabank car financing at over 4,000 dealerships across Canada.
Flexible payment schedule. Choose weekly, bi-weekly or monthly payments to suit your income. You can also change the frequency of your payments at any time.
Change your payment amount. You have the option to increase your payment amount by up to 200%.
Skip a payment. If you happen to run into some financial issues, you can postpone one payment each year.
Manage your car loan online. You can find out how much of your loan is left, make an extra payment, increase your payment amount or change your payment schedule online.
What to watch out for
You can't apply online. You'll need to visit a dealership that offers Scotiabank auto loans to get financing.
Rates are not listed online. You'll have to reach out to a dealership to find out what interest rate you qualify for.
Interest will accrue for a skipped payment. When you choose to skip a month, interest will still accrue on your loan.
Variable rate is not available in Quebec. If you're in Quebec, your only option is a fixed-rate Scotiabank car loan.
Varying special offers. Special offers and incentives may vary based on the dealership or manufacturer. You will need to contact a dealer directly to find out about special promotions.
Payments can be increased but not decreased. You can increase your payments to pay off your loan faster, but you cannot decrease them.
Alternatives to Scotia car financing
What do Scotia reviews have to say?
Like many other major banks, Scotiabank has picked up its fair share of negative reviews. Customers who left negative reviews commonly complained about factors such as account errors and poor customer service.
However, Google reviews for Scotiabank branch locations vary from one branch to another, while its mobile banking app has earned a high average rating from Android users.
Summary of Scotia reviews
| Feature | Details |
| --- | --- |
| BBB accredited | No |
| BBB rating | F |
| Google reviews | Varies from branch to branch |
| Trustpilot reviews | 1.2 out of 5 stars, based on 804 Scotiabank reviews |
| Facebook reviews | No Scotiabank reviews available |
| Customer reviews verified as of | 22 August 2023 |
What are the vehicle loans offered by Scotiabank?
Scotiabank auto loans are designed for the purchase of new or used vehicles. Financing is available straight from the dealership, you can choose from a fixed or variable rate, and you have up to 96 months to repay what you borrow.
While standard Scotia auto loans are designed for borrowers with good to excellent credit, the lender also offers loans for borrowers with limited or no credit history:
StartRight program. If you're a newcomer with no credit history in Canada, get up to $75,000 for a new car or a used car that's up to 4 years old. Take up to 5 years to pay off your Scotiabank auto loan. You must have Permanent Resident or Foreign Worker status. You can pay your car loan weekly, bi-weekly or monthly.
Graduate auto loans. If you've recently achieved a college diploma or university degree, or if you'll graduate in the next 90 days, you could qualify for a Scotiabank graduate auto loan. You can buy a new or used vehicle up to 3 years old, and 0% financing is available on approved credit. Choose from fixed or variable rates and you have up to 5 years to pay back your loan.
Scotiabank also offers marine and boat loans as well as RV loans.
How does borrowing from Scotia work?
Scotiabank auto loans are available through a network of 4,000 dealerships across the country. So while some other lenders allow you to apply online, you'll need to apply for Scotia car financing at the dealership.
Once you apply and get approved, you can easily manage your loan account via online banking. You can use Scotiabank's online portal to check how much you owe, view when your next payment is due, make extra payments or change your payment amount/frequency.
What are the eligibility requirements of a Scotia auto loan?
Scotiabank doesn't list any detailed eligibility requirements on its website. However, as a general guide, when borrowing from a bank you will need to:
Be the age of majority on your province or territory
Be a Canadian resident
Have a good to excellent credit score
Earn sufficient income to afford your loan repayments
Not have declared bankruptcy in the last several years
Not have been declined credit in the last several months
How to apply for a Scotia auto loan
You can't apply for a Scotia auto loan online. You must apply at a dealership that offers Scotiabank financing, and you have a large network of dealerships to choose from around the country. Once you've found the car you want, tell the dealer that you want to apply for Scotiabank car financing.
You'll need to provide the following:
Your name, date of birth and Social Insurance Number
Your address and contact details
Proof of ID
Proof of income and employment
Before applying at a dealership, you may want to get pre-approval from multiple lenders. With pre-approved car loans, you find out what interest rate you qualify for. By having this information ready before visiting the dealership, you have more negotiating power.
Bottom line
A Scotiabank auto loan offers a safe and reliable way to purchase a new or used car. As one of Canada's oldest and largest financial institutions, Scotiabank is trustworthy and reliable. It also offers flexible loan terms and repayment schedules.
However, it does not publish any rate or promotional information online, so you will have to visit a bank or dealership to learn more about the Scotiabank car loan features you can qualify for.
Frequently asked questions