Finder's choice: Slack + Zoom + Jira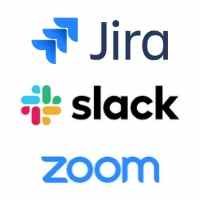 Here at Finder, we use a combination of Slack, Zoom and Jira to stay connected and get work done.
Slack is where company-wide communications unfold. Channels are organized by team and topic with the option to reach out to individual staff members through Slack's private direct messaging feature. We use Zoom for virtual meetings, from weekly company-wide sessions to one-on-one's with direct managers.
Jira functions as our online project-management solution. Jira lets us ticket up tasks, assign them to team members and organize individual and team workflows by priority level.
Together, these three core pieces of software are used by our in-office and remote workforce daily to stay in touch and on task.