Property Investment Guide
Whether you're a seasoned property investor looking to expand your existing portfolio or you're new to the property market, we've got you covered.
With housing prices at an all-time high, the property market in Canada is a hard one to crack – especially for first-time buyers who are struggling to not only save up for a deposit, but also get approved for a mortgage that's actually big enough to meet the cost of a house in todays market.
If you're thinking of entering the property market but don't know where to start, use this guide to better understand the process and considerations involved.
Your guide to investing in property
Before deciding to invest in property
Property investing can be a good way to build your wealth, but it carries a certain degree of risk. Before making a property investment purchase, you need to carefully evaluate the benefits and risks to decide whether or not it will be a viable investment for you. By consulting professionals or asking yourself questions, you can undertake a self-assessment to identify how much risk you're willing to endure.
Assess the risk
While property may be a less riskier asset compared to other options such as shares, you still need to evaluate the risk of the investment. When determining the degree of risk, you should conduct a cash-flow analysis with the help of an accountant or financial planner.
Benefits
Property prices have historically appreciated over time, increasing drastically in the last few years across Canada. Property prices move in a cycle, but the trend has always been up.
Rental yields represent a stable and consistent form of secondary income.
There are tax advantages and grants when you invest in property, like GST/HST rebates and first-time home buyers incentives.
Risks
Property is not a liquid investment. Your money is tied up if you invest in property.
If interest rates rise, your mortgage repayments will increase.
Although relatively stable, property is still subject to market factors which can affect demand, availability and the value of the asset.
Seek professional advice
It's important that you consult professionals regarding your intended purchase. Speak to accountants, property experts, lawyers, real estate agents, buying agents, financial planners and mortgage brokers to help you decide whether or not the property will represent a valuable investment.
An accountant and lawyer can help you assess your cashflow and manage the paperwork involved in the property purchase respectively, while a mortgage broker can compare different mortgages to ensure that you get a competitive deal to suit your borrowing and investment goals. A lawyer can help you interpret and prepare legal documents before you sign on the dotted line, as well as help you through the land transfer process, while local real estate agents and buying agents can provide you with advice on purchasing an investment property.
Doing your research
Immerse yourself within as much information and research as possible. You can leverage resources from places such as StatsCanada, CreaStats, MLS, CMHC and many other websites that provide property market and mortgage data and insights which can form the basis of your research during this initial phase.
Develop a property purchase plan and write down all the key decisions you'll have to make throughout the entire process- from identifying your investment strategy to accessing financing, signing the paperwork and screening potential tenants.
What's your investment strategy?
After speaking with an accountant or financial planner, you'll need to form an idea of how you will make profit from the investment.
The most common investment strategies are 'buy and hold' and 'renovating for profit', which are outlined below.
Buy and hold. Purchase the property, wait for the value to raise and then sell. Income from rent can cover the mortgage repayments until the property is sold.
Renovate. Purchase the property, renovate and then sell.
Finding the right property
Finding the right property is perhaps the most important step of all. You need to find a property that matches your investment strategy, appeals to renters and will retain value over time. You'll also need to make sure you're paying a fair price for the property and check that the property is structurally sound.
You will need to make decisions on the following questions:
Property type. Will you invest in: a condo unit, a freestanding house, a townhouse or a piece of land?
New or established. Some investors prefer buying brand new buildings, while others see more value in established dwellings.
Suburb. Your choice of suburb and location has a big impact on your investment. Be sure to look at suburb level data and hit the streets to see what it's like for yourself.
Getting an investment mortgage
Ready to get started? Make sure you've done the following:
Find out roughly how much you can borrow. Before you start comparing different mortgages, you need to know how much you can afford to borrow. Enter your details into a mortgage affordability calculator to work out roughly how much you can afford to borrow.
Compare mortgages. Find a suitable mortgage with a competitive interest rate. While rates are important, you'll want to watch out for additional fees too.
Mortgage pre-approval. Contact a lender and see if they offer mortgage pre-approval – preferably with a credit check – so you can shop around and compare competitive rates. Pre-approval gives you a price range to work with and is far more accurate than using a mortgage affordability calculator. It's crucial to know how much you can spend before you start looking at different properties and investments.
Final steps
Once you've found a property to purchase and you've started the mortgage application, you need to take these final steps:
Prepare mortgage documents. Speak to your lender to finalize the mortgage documents.
Hire an inspector. Getting a home inspected before you buy it can save you lots of trouble in the future. You can avoid taking on a home with serious issues, or at least be in the know before you sign on the dotted line.
Landlord responsibilities. If you want to put tenants in your investment property, read about your rights and responsibilities as a landlord and how to advertise correctly. You'll need to abide by local laws and bylaws when it comes to renting.
Appraisal. Get an independent appraisal of the property. This is often required by mortgage lenders so they know how much your property is worth before lending you money.
Minimizing your risks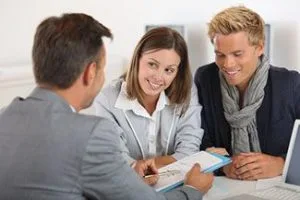 Savvy investors actively take steps to minimize their property investment risk, such as diversifying their property portfolio.
Here are some common ways to reduce your investment risk:
Cash buffer. Make sure you have a contingency buffer of funds to ensure that you can cover any unforeseen expenses that may arise in the future (e.g. during untenanted periods).
Hybrid or fixed rate loan. Since interest rate increases have been the talk of the town lately in Canada, you may want to consider splitting your mortgage (half variable, half fixed rate) or opting for a fixed rate mortgage so you have peace of mind in knowing exactly what your repayments will be each month for a set period of time.
Invest in different areas. As mentioned above, a good way to minimize your investment risk is not to 'put all your eggs in one basket.' If possible, invest in different property types across a number of different regions to ensure that if there is an economic downturn, you will not be adversely affected.
Market research. Another way to lessen your investment risk is to undertake extensive market research into the market you're investing in. For instance, you may want to consider the supply and demand factors for the market, the average rental yield for similar properties and check with your local council or municipal government to see whether any infrastructure projects are in the pipeline which could affect the demand and availability of property in the region.
Ready to invest? Compare financing options in Canada
*The products compared on this page are chosen from a range of offers available to us and are not representative of all the products available in the market. There is no perfect order or perfect ranking system for the products we list on our Site, so we provide you with the functionality to self-select, re-order and compare products. The initial display order is influenced by a range of factors including conversion rates, product costs and commercial arrangements, so please don't interpret the listing order as an endorsement or recommendation from us. We're happy to provide you with the tools you need to make better decisions, but we'd like you to make your own decisions and compare and assess products based on your own preferences, circumstances and needs.
Read more on this topic
TD mortgages review

TD offers mortgages at competitive rates with special offers including discounted rates and cash back incentives.

Cost of city living

How much can we really save by escaping the city? Finder calculates the price difference between a city and a suburban home in 92 countries.
Ask an Expert
You must be logged in to post a comment.