Plastk Secured Visa Card review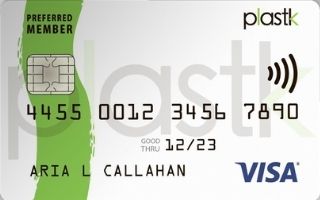 Welcome Offer

N/A

Rewards

Earn points
All information about Plastk Secured Visa Card has been collected independently by Finder. Finder is not connected with Plastk products, and this page is not sponsored, endorsed or administered by, or associated with, Plastk. All product names, logos, and brands have been used for identification purposes only and are property of their respective owners.
This secured card comes with both an annual fee as well as a monthly maintenance fee. You'll need to load funds onto your card in order to spend.
Plastk customer complaints
Plastk has a number of customer complaints against it and a very low rating on the BBB.org site. Our editorially-independent Plastk review is live so our readers are aware of these complaints and can make their own informed decisions. Finder does not endorse Plastk in any way.
The Plastk Secured Visa Card is a secured card, which means you have to place funds with Plastk to secure the limit you hold on your card. Although secured cards can help build your credit score, some customers using the Plastk Secured Visa Card report that their credit score does not increase over time because their payments are not being reported to the credit bureaus.
30-second take
Consider this card if you don't qualify for a regular credit card.
Choose something else if you're looking to improve your credit score with a secured card provider that consistently reports to the credit bureaus.
This card doesn't come with a minimum annual income requirement.
The basics
If you're stuck in a loop of bad credit and can't seem to qualify for a regular credit card, the Plastk Secured Visa Card could be a solution. Although, there are many downsides to take into account including a pricey annual fee, a host of customer complaints and the fact that you need funds to be able to load onto your card as security.
Annual fee. You'll pay an annual fee of $48.
Monthly maintenance fee. It will cost you a monthly fee of $6 to maintain your account (on top of your $48 annual fee).
Introductory zero-interest period. You won't have to pay interest on your balance in your first three months of card ownership.
Rewards program. Plastk claims you can earn rewards while you shop and that you'll get a bonus of 5,000 points when you sign up (worth about $20).
Lower interest rate. You'll pay a slightly lower interest rate on outstanding balances (17.99%) than you will with a regular credit card (which tends to sit around 19.99%).
The perks
Easy to qualify. You should be able to qualify with bad or no credit, as long as you have enough money in savings to secure your credit limit. Keep in mind that some users report seeing no improvement to their credit scores when they use this card.
Premium Rewards. Plastk is the only secured card in Canada which claims that it gives Premium Rewards to its cardmembers. These rewards include earning points per dollar spent.
What to watch out for
Customer complaints. Many customers of Plastk have lodged complaints mentioning that they have yet to see their credit score change. Users have mentioned that Plastk claims to still be in the process of implementing customer files with the credit bureaus. In addition, some customers report paying a security deposit of hundreds of dollars and then never receiving the card. Moreover, many customers report that they are charged a host of extra and unnecessary fees.
Poor customer service. Poor customer service is commonly reported by customers of Plastk. This includes complaints of being unable to get in touch with the company and complaints that their issues are never resolved.
Monthly maintenance fee. You'll pay a monthly fee of $6 to maintain your account (on top of your $48 annual fee).
Balance must be secured by cash. You'll have to e-transfer money to cover your Plastk balance once you're approved for a credit card. Also, security funds cannot be used for paying minimum payments, bringing your account current if its past due, or settlement of any outstanding fees.
No basic insurance. You won't get purchase protection, travel insurance, mobile device protection or roadside assistance or extended warranty coverage when you buy consumer goods.
High costs for missed payments. You'll have to pay a default interest rate of 29.99% if you miss two payments in a row, alongside a fee for each payment default.
High foreign transaction fees. You'll be required to pay a 3.5% currency conversion fee on any amount that you spend overseas.
Other fees. There's a laundry list of other fees associated with your account that could end up costing you more money each month.
Plastk Secured Visa Card interest rates
| Interest Type | Interest Rate |
| --- | --- |
| Purchase interest rate | 17.99% |
| Cash advance rate | 21.99% |
What should I know before I apply?
Eligibility requirements
To apply for a Plastk Secured Visa Card, you'll need to meet the following criteria:
Be a Canadian citizen or permanent resident who is at least 18 years old (19 in some provinces)
Have enough money saved away to cover the balance on your card
You'll also need to provide the following documents and information:
Your name, residential status and contact information
Your social insurance number and date of birth
Your email address and phone number
How to apply
Before you apply, keep in mind that there are many customer complaints about this company and secured card.
Fill out the online application form for the Plastk Secured Visa Card.
Provide information such as your name, email address, social insurance number (SIN) and birth date.
Review and submit your application.
Send funds to Plastk via e-transfer to secure the balance of your account.
Bottom line
The Plastk Secured Visa Card is a secured card designed primarily for people with no credit history, as well a those with a bad credit score. Although this card will let you earn rewards when you make purchases, there are a host of customer complaints that include poor customer service, no change in credit scores (not reporting to the credit bureaus), being charged pricey and unnecessary fees and much more.
---
In a recent survey, only 3% of respondents thought ATM accessibility was an important bank account feature. Unfortunately, not all debit cards are compatible with worldwide ATM networks. To find out more, check out our guide on ATMs or get tips on using a debit card overseas.
---
Frequently asked questions about the Plastk Secured Visa Card