Finder is committed to editorial independence. While we receive compensation when you click links to partners, they do not influence our content.
Plant vs Undead: How to play to earn
Learn how to play and earn with this NFT garden farming and tower defense game.
Disclaimer: This information should not be interpreted as an endorsement of cryptocurrency or any specific provider, service or offering. It is not a recommendation to trade.
What is Plant vs Undead?
Plant vs Undead (PVU) is a blockchain-based game where you have to protect a unique mother tree from attacks by the undead. Plants vs Undead is set on Planet Plants, a world where plants and animals lived in harmony until a meteor full of zombies struck and the "Undead" invaded. The game aims for you to harvest plants and build an undead- and weather-resistant farm.
For those that have played Plant vs Zombies, the game is very similar, although with an NFT twist.
The game is divided into several rounds of play, where you must protect your mother tree using 8 unique plants. The idea is for you to strategically position your plants in an effort to increase their power against the attackers. If you are successful in killing the undead, you are rewarded with energy points that you can use to reposition or upgrade your plants. These energy points are called Light Energy (LE) resources and you can exchange them for PVU, the game's native token or for newer tools to upgrade your plot of land.
At the moment, the PVU game is not complete, but it offers several interesting features if you are looking to play. You can experiment with the farming mode, in which you plant seeds, water plants and collect Light Energy resources. To earn LE, you can harvest seeds and perform daily tasks, such as watering other players' plants.
What Are NFTs?
To play Plant vs Undead, it's important to understand what non-fungible tokens (NFTs) are. Put simply, NFTs are a unique digital token that is used to represent ownership of a digital asset. They are not necessarily the item itself, given it can be quite expensive to store certain assets on-chain, so think of them as entities that imply ownership over those items.
Plant vs Undead leverages the technology behind NFTs allowing you to stay in complete control of your in-game assets, which you can then sell on the game's marketplace. In essence, you do not necessarily own the items in the game, but you own the keys to access those items. If you want to dive deeper into non-fungible token technology, read our in-depth guide.
At the moment, the game is in beta version and sees daily upgrades and changes to its rules, plant prices and other important aspects of the Plant vs Undead game. Keep that in mind when reading this guide. Certain things may have changed over the days and weeks as developers continue to make iterations.
Where can I buy PVU tokens?
To become a gardener, you first need to acquire 5 PVU tokens, which must be done on a decentralized exchange (DEX). Plant vs Undead is native to the Binance Smart Chain, so you may want to buy these on PancakeSwap. Read our in-depth guide to get better acquainted with the DEX.
Connect your MetaMask wallet and purchase some Binance tokens (BNB). Always remember to keep a certain amount of BNB tokens in your wallet to pay for fees both within the game and when swapping tokens. Then, go to PancakeSwap and trade BNB for PVU tokens.
How does play to earn work within Plant vs Undead?
Plant vs Undead is a play-to-earn blockchain game, in which you perform certain duties and receive credits in the form of Light Energy (LE) resources. You can swap these LE resources for PVU tokens, which you can sell on a DEX for any number of other cryptocurrencies.
However, it's important to remember that the PVU tokens you purchased will need to be swapped within the game for LE resources, given that all tools and seeds need Light Energy to be purchased.
What is the PVU token?
PVU is the Plant vs Undead game's native token. The token powers the play-to-earn aspect of the game. You earn the token by winning battles and other events. Each round comes with a different set of PVU rewards, and once the undead are defeated, new rewards appear.
Built on the Binance Smart Chain, there is a maximum supply of 300 million tokens, and these are used to buy in-game items such as seeds and plants. You can buy these on PancakeSwap, with 1 PVU token costing US$3.57 at the time of writing.
What is the LE token?
Light Energy resources are central to the game. You must exchange PVU tokens for LE tokens in order to purchase certain tools within the game. All players receive a free plot of land once inside the game, which comes with 1 mother tree and 5 plant slots. The aim is to first plant sunflowers, as these will give you LE tokens that can be used to purchase tools.
For example, buying a sunflower seed will cost you 100 LE tokens, but it will provide you with 250 LE after a few days. These can be used to buy water and pots, which you then use to water your sunflowers. Every tool has a cost, so be sure to use your LE sparingly.
Although still in beta testing, Plant vs Undead is working to become a multiplayer game. Once completed, you will be able to go on daily quests and tend to other players' plants. This will provide you with more LE resources that you can use to plant more plants, upgrade the tools you already own or even buy a scarecrow, which helps you farm more LE. And, if you're looking to make money, you can swap LE for PVU tokens and then sell them on any DEX that supports the token.
How to play Plant vs Undead
Once you have purchased PVU tokens, head to the Plant vs Undead official website. Click on Farm, and you will be prompted to connect your MetaMask wallet.
Upon entering, you will receive a free plot of land, a mother tree and 5 plant slots. This is to encourage you to get involved. Once inside, swap your PVU tokens for LE resources, as these are used inside the game to buy seeds, sunflowers and other farming tools.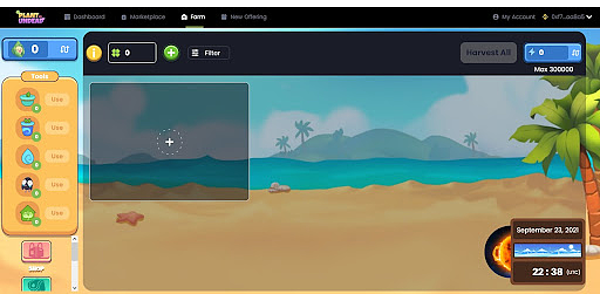 Click the + button to claim your land. Once it has been claimed, you will need to head to the Shop to buy some tools and/or sunflowers.
PVU tools
Tools are essential for your farm. To acquire them, visit the Shop (the pink button on the left of your screen) and purchase them. As we stated above, all tools cost LE, so plan ahead and don't blow it all in one go. However, you will need water, pots and/or a scarecrow to help you farm more LE every day. Farming LE will help you upgrade your plot and plants and better prepare your farm.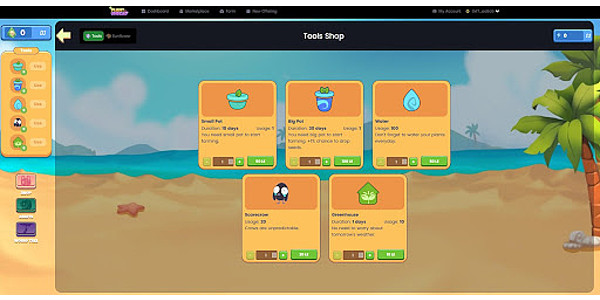 Sunflowers
Every sunflower will require one small pot and one set of water, so be sure to purchase those. If it fits your budget and strategy, a scarecrow can be a good idea since it keeps crows away and it helps farm LE every day.
Pick from a sunflower sapling, a sunflower mama and a sun box, which harnesses energy from the sun and holds valuable surprises inside. Each comes with its own set of pros and cons, so once again, create the best strategy for yourself and purchase accordingly.
Weather events
Weather events are among the most important issues in Plant vs Undead. They can destroy your farm if unprepared or bring you great benefits if you have strategically set up your plants. There are a total of 4 seasons and 25 events that can impact your farm. These events will occur on a daily basis and will increase or decrease the LE your plants produce.
Marketplace
The marketplace is where you can buy plants, upgraded trees or larger plots of land.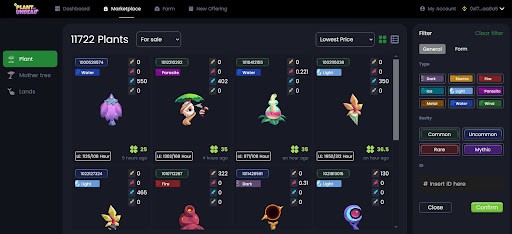 At the top of the screen, click on Marketplace, which will take you to where you purchase items and see the different features, benefits and uses of all your plants.
Once in the Marketplace, click on plants and you can find thousands of species. Plant position is important to surviving attacks from the undead, so purchase plants that share the same element. Focus on synergy, so place wind plants close to each other, which will leverage their power and provide extra protection.
Synergy is also important because it protects your plants against certain weather events and attacks from crows. It also improves your productivity, makes lands immune to specific insects and increases the productivity of other elements. Take your time and plan out your strategy since there are dozens of ways you can play.
Plant vs Undead overview
Once you have claimed your land, bought your sunflower and tools and begun to farm, time and luck are your greatest friend – or foe. Some plants will take time to sprout, some won't give you any seeds and sometimes a sun box will offer you untold rewards.
Farming mode is fairly straightforward. You have 6 spots on your land for 1 mother tree and 5 plants. If you wish to increase the size, you need to purchase more land. There are 4 seasons and weather events that can impact the productivity of your farm. However, tools will help to protect you from weather events, activate your agriculture and keep away bugs that might negatively affect your plants.
As we stated above, in-game conditions are changing daily, so it's important to be constantly monitoring what the team is upgrading and modifying.
Verdict
Plant vs Undead is an exciting game to discover. Although it is still in beta, and certain aspects of it are changing on a daily basis, you might find a fascinating new activity within the cryptocurrency world. Farm sunflowers, create strategies, combine plant synergies and get lost in the wild world of PVU. Leveraging the play-to-earn concept and NFT technology, this game might be worth checking out.
Disclaimer: Cryptocurrencies are speculative, complex and involve significant risks – they are highly volatile and sensitive to secondary activity. Performance is unpredictable and past performance is no guarantee of future performance. Consider your own circumstances, and obtain your own advice, before relying on this information. You should also verify the nature of any product or service (including its legal status and relevant regulatory requirements) and consult the relevant Regulators' websites before making any decision. Finder, or the author, may have holdings in the cryptocurrencies discussed.
More guides on Finder
Ask an Expert
You must be logged in to post a comment.