How to use a personal loan to pay for college
They can fill in the gaps, but be smart about rates and repayment terms before signing on.
If your student loans fall short, you may be able to take out a personal loan to help cover the extra costs of paying for school. However, not all personal loan providers allow you to use these funds for tuition and other college and university expenses, so you'll need to do your homework first.
And watch out for high interest rates and short repayment terms that can make these loans difficult to repay on a student's budget.
Why use a personal loan for college?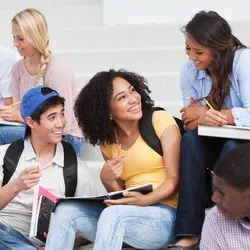 Personal loans allow students and parents to apply for amounts ranging from $2,000 to $35,000 or more. You repay what you borrow plus interest and fees over a period of time both you and the lender agree to.
Lenders typically express the cost of a personal loan as an APR, your annual percentage rate. APRs can range from 3% to up to 36%, but you might have a hard time qualifying for a 3% APR as a student.
Repayment terms can range from 1-5 years through monthly installments that begin shortly after you receive your funds.
Compare personal loan options
Am I eligible for a personal loan?
Many students haven't yet built a strong credit history, which often comes with steadier footing after graduation. Because they require steady employment, a minimum income and more, college students might want to bring on a parent as a cosigner. Or, parents might prefer taking out a personal loan in their name.
You'll need to meet common eligibility requirements that include:
Steady income
Good or excellent credit
A strong credit history
The age of majority in your province (18 or 19 years old)
Canadian citizen or permanent resident
Debt-to-income ratio (DTI) below 36% (a DTI between 37% and 42% may be acceptable)
4 types of personal loans available to pay for college
Your options for personal loans may be limited if you're still hitting the books and not bringing in much income. But many banks and lenders accept cosigners, which can help you qualify for stronger rates and better terms than you'd find on your own.
The best option for you will depend on your situation, budget and goals.
1. Unsecured personal loan in the student's name
Best for graduate and part-time students with steady jobs and a credit history.
If you're steadily paying off student loans or credit cards while supporting your studies, you might qualify for an unsecured personal loan on your own.
Some lenders may consider your academic merit when evaluating your application, while some offer free financial advising services or access to your credit score through an account with Equifax or TransUnion.
2. Unsecured personal loan in the parent's name
Best for undergrads who rely on their parents financially.
If you're not financially independent, you might have trouble qualifying for a personal loan even with a cosigner. Instead, you and your parents may want to consider taking out a personal loan in their name.
If one of your parents has a high income and long history of repaying debt on time, you'll find more competitive rates and terms than for someone who's still in school.
To show that you're committed to repaying your loved ones, consider drawing up an informal agreement that includes how much you'll pay monthly and by when. Check out online services that offer templates of legally-binding agreements outlining terms as well as consequences defaulting on the loan.
3. Unsecured personal loan with a cosigner
Best for students with expenses outside of tuition and other school costs.
It's tough to find a personal loan provider that allows you to both apply with a cosigner and put the funds toward school. But for expenses that aren't directly related to school — like paying your off-campus rent — a cosigner might help you qualify for competitive rates.
Review your lender's requirements for cosigners to make sure you can meet minimum income, credit scores and more.
4. Home equity loan
Best for parents who own equity in a home.
Home equity loans — sometimes called second mortgages — allow your parents to borrow against the equity of their home. Because their property acts as collateral for the loan, you'll see more competitive rates than for unsecured loans. People also sometimes use home equity loans to consolidate student debt.
You can typically borrow up to 65% of your home's equity, paying it off over a longer period than a traditional personal loan. Given competitive rates and longer repayment terms, home equity loans may provide a viable alternative to traditional student loans.
Personal loans vs. private student loans
It isn't surprising that providers limit borrowers from using personal loans for educational expenses: Students just don't have the same needs and ability to repay as your average borrower.
Key differences between personal loans and private student loans include:
Interest rates. Student loans often offer lower interest rates than personal loans — typically prime + 2-5%. On the other hand, personal loan interest rates may start at 9% and run as high as 36% or more.
Fees. Private student loans don't often come with application, origination or prepayment fees. Yet these fees are common with personal loans.
Terms. Student loan repayment terms can range from 5 to 25 years. Personal loans come with much shorter terms of 1-7 years.
Repayment. Student loans offer perks like waiting up to 6 months after graduation before you start repayments, deferment or interest-only payments while you're in school, as well as multiple deferment and forbearance options after. Personal loan repayments start right away and typically won't allow you to pause payments if you hit a financial snag.
Loan amounts. Student loans often start at $5,000 and top off at your school's total cost of attendance. Personal loans come in as low as $1,000 in some cases but rarely go above $100,000.
Cosigners. Almost all student loan providers allow you to apply with a cosigner, an option that isn't always available with a personal loan.
Eligibility. The rigid requirements of personal loans could prevent many students from finding financing. Still, you might not be eligible for a provincial or even private student loan if you don't attend an accredited institution and/or aren't enrolled in an eligible program.
Tax benefits. There aren't any tax advantages given specifically for paying back a personal loan. With a student loan, you might be able to deduct interest from your taxes. Not all types of student loans are eligible for this benefit, however, so you should check with the CRA to see which rules apply to your situation.
Should I take out a personal loan for college?
It depends on your circumstances and finances. Ask yourself the following questions to help you decide if a personal loan is right for you.
When to consider a personal loan
You're employed and have good to excellent credit.
You can afford immediate repayments.
You have limited educational expenses and a creditworthy cosigner.
You aren't eligible for public or private student loans.
When to look elsewhere
You're eligible for a private or federal student loan.
You're eligible for scholarships, grants or work-study.
You're not employed, have poor credit and don't have a cosigner.
You're looking to borrow $35,000 or more.
Personal loan alternatives to pay for college
Personal loans aren't the only option for students needing help with extra expenses before they graduate.
Income share agreement (ISA). An ISA allows students to pledge a percentage of their income for a set number of years in exchange for tuition. ISAs are largely new to Canada, but may be offered more widely in the future.
Crowdfunding. Got a particular project or goal you need to fund — like paying for study abroad? Consider setting up a campaign on Kickstarter or GoFundMe to raise money from your peers and social network.
Get a side gig. Making a little extra money on the side might be easier than you think. It can be as simple as selling your photos instead of posting them on Instagram or offering services you're already proficient at, like editing or furniture assembly.
Bottom line
Personal loans aren't designed for students. You generally need a job, strong credit and the ability to repay what you owe right away. Parents typically have an easier time qualifying if they have a steady job and strong credit. They can either apply on their own or cosign their children's loans.
But both options may not be ideal: you just might find other sources of financing by talking with your school's financial aid office. Learn more about how it all works with our detailed guide to student loans.
Frequently asked questions
Ask an Expert
You must be logged in to post a comment.