Finder is committed to editorial independence. While we receive compensation when you click links to partners, they do not influence our content.
oxio internet review
oxio internet is a no-fuss telecom company that offers transparent pricing, no fixed contracts and free cancellation.
Get stable speeds and affordable prices when you sign up, and enjoy a month free with every successful referral you make.
0 months
Minimum Contract
Please note: All information about Oxio Internet has been collected independently by Finder and this product is not available through this site.

Not available in all regions
oxio only offers its internet services in certain areas of Quebec, Ontario, BC, Alberta, Manitoba and Saskatchewan. The speeds you get will depend on where you live. The best way to figure out what plans you qualify for is to enter your address on the website under "Create my plan."
Product details
Speed. Ranges from 25 – 1,000Mbps.
Starting price. Starts from $40 per month for the lowest speed plan.
Minimum contract. There are no contracts, and cancellation is free.
Offers. Enjoy a 60-day money back guarantee and pay a small monthly fee to get a suite of security apps including 1password, Malwarebytes, encrypt.me and DDNS. You can also bundle your internet with your TV and home phone if you live in certain regions of Quebec.
What is oxio internet?
oxio is a new internet provider that offers unlimited internet at affordable prices. Sign-up is easy, and you'll pay no upfront costs (with free installation and a free modem/router). The company prides itself on offering stable speeds at all times and has a solid customer reputation.
There are no locked-in contracts with oxio, which means you can cancel at any time without penalty. You can also take advantage of a 60-day money back guarantee if you're not satisfied with the service.
Just be aware that the company doesn't service all provinces, and plan availability will vary based on where you're located.
Which provinces offer oxio internet services?
You can only sign up for oxio internet in certain parts of Quebec, Ontario, BC, Alberta, Manitoba and Saskatchewan. It's not currently available in other provinces, though it seems oxio is aiming to expand in the near future.
What oxio internet plans can I take advantage of?
oxio offers the following internet plans, though availability may vary based on where you live.
| Download speed | Upload speed | Monthly price |
| --- | --- | --- |
| 25Mbps | 2.5Mbps | $40 |
| 30Mbps | 5Mbps | $43 |
| 75Mbps | 7.5Mbps | $49 |
| 100Mbps | 10Mbps | $57 |
| 150Mbps | 10Mbps | $71 |
| 300Mbps | 15Mbps | $82 |
| 750Mbps | 100Mbps | $88 |
| 1,000Mbps | 100Mbps | $95 |
Upfront costs
Unlike with big telecom providers, there are no upfront costs for installation or for your first modem/router. That said, you'll need to pay an additional $6 per month to add a second router and $12 per month for a third.
Your first month needs to be paid upfront, and you may have to pay to ship your modem/router, though this isn't specified on the website.
Special features
At the time of purchase, you can also choose to pay an additional $8 per month to access a suite of security apps including 1password, Malwarebytes, encrypt.me and DDNS. More information about these apps can be found below.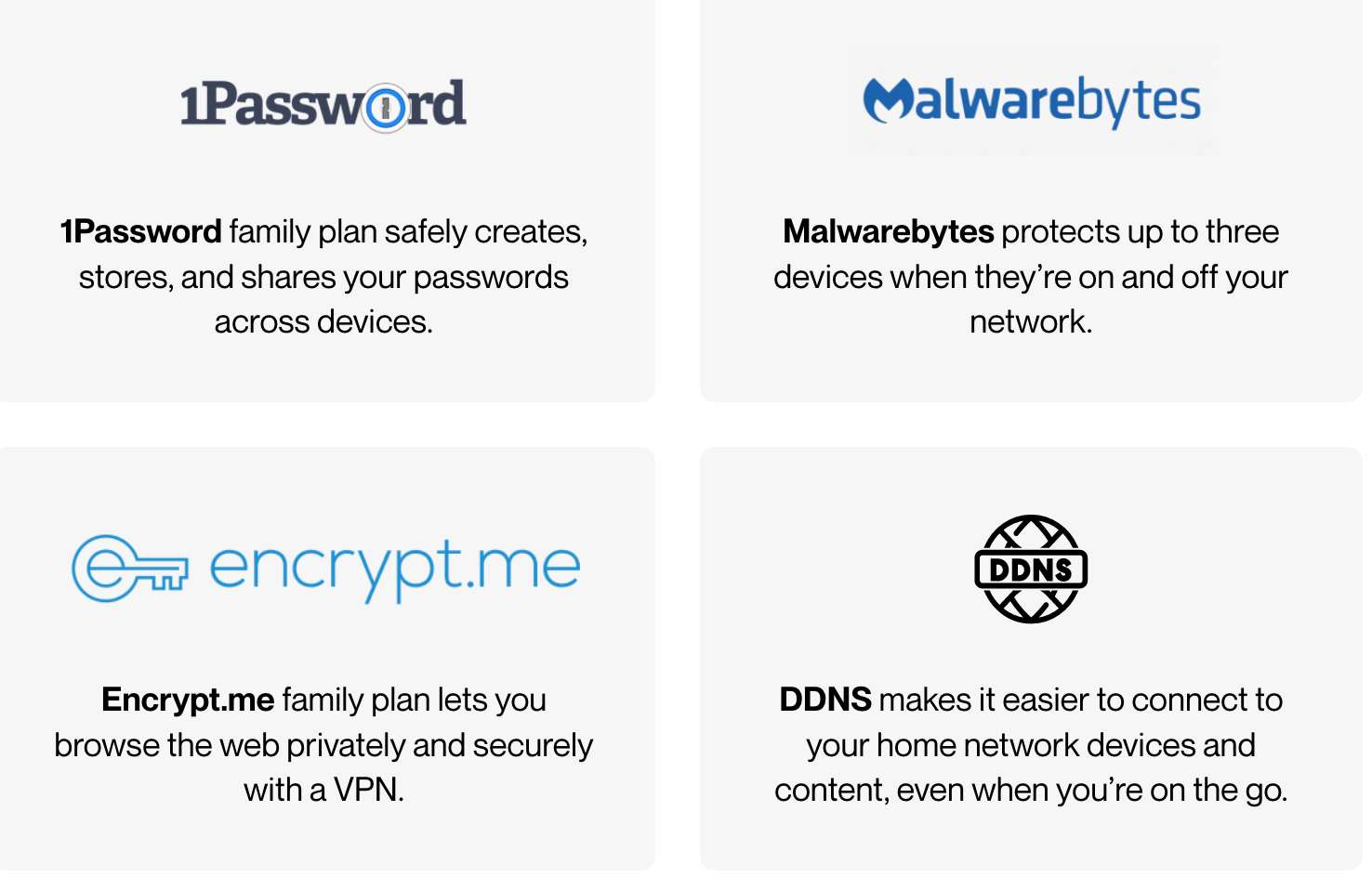 Does oxio allow bundling?
oxio only offers bundling services with TV and home phone in certain regions of Quebec. These services aren't offered in any of oxio's other serviced locations.
What other features should I know about?
You can take advantage of the following features with oxio internet:
No contract. Unlike many other internet providers, there's no contractual commitment – meaning you can cancel at any time.
Easy to sign up. All you need to do to sign up is fill in the online application and submit your payment information.
Transparent pricing. oxio provides a full breakdown of pricing – including its overhead costs – so you can see where your money is going.
60-day money back guarantee. If you don't like the service, you can get your money back within 60 days, no questions asked.
Free installation. oxio's services are easy to install yourself, but if a technician is required, this service is free.
Modem/router included. There's no additional monthly fee or one-time cost to rent or purchase a modem or router (unless you want additional units).
Stable speed. oxio promises the speed of your internet will remain constant, and many customer reviews support this claim.
Unlimited data. Every oxio internet plan comes with unlimited internet, so you'll never have to worry about overage charges.
Referral program. Referral programs change sometimes, but the current program gives you and the person you refer a month of free service each when they sign up.
What to watch out for
Credit card required. You have to put a credit card on file with your account, even if you choose to pay by bank transfer or automatic bank withdrawal.
Limited availability. oxio isn't available in all provinces, and even if you live in a serviced province, your address may not qualify for all oxio plans.
You may need a technician. Your home may not be wired to connect to oxio, so a technician may need to come in to install the service (which can cause delays).
Some negative reviews. Despite mostly positive reviews, some customers complain that it took days to get their service set up and it was difficult to reach customer service.
No bundling services. You won't be able to save money by bundling your internet with your home phone or TV plan unless you live in Quebec.
How do I sign up with oxio?
Click the green "Go to site" button to be securely redirected to oxio's website. Enter your address to find out what internet packages you qualify for.
Customize your internet by choosing the speed you want, how many routers you need and whether you want to pay an extra fee to include the security apps bundle.
Click "Next step" and input your personal information, including your contact details and shipping address.
Provide information about your current provider, if you have one, and be sure to cancel your service with that provider once you sign up with oxio.
Input your payment information and wait for your modem/router to arrive in the mail.
Bottom line
oxio is an online internet provider that offers affordable rates for reliable-speed internet. The lowest cost plan starts at $40 for 25Mbps and goes up to $95 for 1,000Mbps. All plans come with free installation, a free modem/router, no contracts and unlimited data. Just be aware that oxio only works in certain parts of Quebec, Ontario, BC, Alberta, Manitoba and Saskatchewan.
oxio internet FAQs