Finder is committed to editorial independence. While we receive compensation when you click links to partners, they do not influence our content.
Online installment loans
Installment loans can give you quick access to amounts up to $10,000 with longer repayment terms.
Often referred to as the more respectable cousin of payday loans, installment loans are designed to cover one-time expenses that need a quick fix. When you apply for an installment loan online, you can typically get money fast. What's more, you will have a longer time to repay the loan than you would have with a payday loan.
We'll explain how installment loans work, what you can use a loan for, the benefits and risks, and factors to consider when comparing loans. We also provide a list of other options you can consider if you don't want to use an installment loan.
Compare installment loans
What is an installment loan?
An installment loan is technically any loan that comes in a fixed amount, which you then repay plus interest and fees in regular payments. Payments are usually made once a month, however some lenders will allow you to pay bi-weekly or weekly. Personal loans, student loans and car loans are technically installment loans. However, most loans that lenders refer to as installment loans are a type of short-term loan, similar to a payday loan.
Installment loans come in much larger amounts and longer repayment terms than payday loans do, although they're generally smaller than your average personal loan. Installment loans also come with higher interest rates than personal loans. You can typically borrow up to $10,000 and take six months to five years to pay it off, depending on the terms.
Much like payday loans, some installment loans are designed to attract borrowers who have bad credit scores. This is because they tend to be less heavily regulated than payday loans. With this said, you should be careful that the installment loan you are interested in does not attract highly unfavourable terms.
What can I use an online installment loan for?
You can generally use an online installment loan for any legitimate purpose. However, it might be best to save this type of loan for emergencies only, since they typically attract higher interest rates than other types of personal financing. You can use installment loans for:
Building or car repairs. If you have a car that needs urgent repairs, an installment loan can help you cover the cost, no matter what your credit score looks like.
Overdue utility bills. An installment loan can help you keep your lights on, your water running and your phone line working when you don't have the funds to make your utility bill payments on time.
Building your credit. Taking out an installment loan can sometimes help you rebuild your credit if you make payments on time. If this is your primary goal, however, you might want to consider applying for a credit building loan at a local financial institution like a bank or a credit union. These credit building loans typically comes with lower interest rates and have low credit requirements, helping you build your credit much easier.
Medical expenses. An installment loan can help you pay off any medical bills that are not covered by your insurance.
What are the benefits of getting an installment loan?
Online installment loans come with various features. Here's what you should know if you're considering applying for one:
Convenient application process. You can conveniently apply for a loan online, which usually only takes a few minutes. Some lenders even have smartphone apps that you can use to apply for loans.
Quick funding. You can learn your application status in minutes with most lenders, and if approved, you can accept the loan contract immediately. Once you do this, you can expect the money in your bank account as early as the next business day.
Flexible eligibility criteria. Getting online installment loans with bad credit is possible, primarily because lending requirements are slightly more relaxed. "No credit check" online installment loans generally don't make hard inquiries on your credit score, but you'll need to demonstrate how you'll be able to repay the loan back.
Variable fees. The amount of money you borrow, the provider you choose and the province you reside in will likely have an effect on how much you will pay in fees.
Loan amount and terms. Both of these factors will likely depend on local laws, since loans are provincially/territorially regulated. Maximum loan amounts and terms of length will also likely depend on both the provider and those government laws.
Watch out for predatory lenders
Installment loans are not just for people with bad credit, although you wouldn't know that if you only did a quick Google search. That's because some subprime lenders repackage what they would have previously called a payday loan as an "installment loan" in an attempt to appear less risky.
Much like payday loans, installment loans tend to come with extremely high interest rates and have similar features that can act as debt traps. You can usually avoid them if you know what to look out for:
Loan renewal options. Does your lender allow you to renew or "rollover" your loan if you can't pay it off in time? You might want to look somewhere else, because this is how you can fall into a vicious cycle of debt.
Guaranteed approval. Lenders that guarantee you can get a loan through them before you apply are not looking out for your best interests. Most reputable lenders want to make sure you can pay off your loan first before telling you that you've been approved.
Upfront fees or payments. Reputable lenders that charge application or origination fees don't ask for payment until after your have received your loan. Anything else could be a scam.
Pressure to borrow more money than you need. Borrowing more money than you need means that you'll be liable to pay more interest. A lender that pressures you to take out more money than you actually need doesn't have your best interests in mind.
Insurance add-ons. Some lenders push insurance options that sound like they protect you, but really protect them in the event that something happens to you that affects your loan repayment (like death or other accidents). Lenders typically don't include this in their APR – even though it's technically a fee – and use it as a way to get around regulations on how much they can charge.
The lender approached you. If you receive texts, email or calls, it could be a scam. At most, legitimate lenders might send you a letter or two in the mail. Run away if you feel as though they're pressuring you into taking out a loan you don't really need.
How do I qualify for an installment loan?
To qualify for an installment loan with most lenders, you generally need to meet the following requirements:
Have proof of income. This doesn't mean you need to be employed full time, but you may need some sort of income, whether it is disability, welfare, a pension or a part-time job.
Have an active bank account. If you don't have a bank account, you can sometimes get a cash installment loan from a physical branch location.
Valid government-issued ID. Lenders might ask to see your driver's licence to verify that you meet the age requirements. You will typically need to be the age of majority in your province or territory, which is normally 18 years of age.
Canadian citizen or permanent resident. You'll typically need to be a Canadian citizen or a permanent resident to apply for a loan.
Applicants with good to excellent credit scores are more likely to get a good deal on online installment loans. That's because many lenders use underwriting software that rely heavily on your credit history when determining your eligibility.
6 tips for finding the right installment loan
Figure out what you care about most. Is speed most important to you? You might want to look at online lenders. Do you care more about the overall cost of the loan? You might want to check your local bank or credit union. Decide where your priorities sit with the loan as this can help you speed up your search by giving you something to go by.
Ask yourself: Does a credit card make more sense? Credit cards typically have higher interest rates than personal loans, but that's not always the case with online installment loans. There's a chance you could get money cheaper and with less risk by slapping the expense on your credit card, if it isn't over your credit limit already. Consider a balance transfer credit card if you're looking into a credit card to help with your debt. Some providers will give you a balance transfer card even if you have poor credit.
Pay attention to the APR, not just the interest. A loan's APR takes into account both interest rates and fees, giving you a better idea of the true cost of the loan.
Search for personal loans too. As we mentioned before, lenders that use the term "installment loan" can be predatory. You might have better luck finding a legitimate lender if you also look for personal loans.
Compare lenders. You might not be getting the best deal if you don't look at multiple lenders. Compare a variety of different lenders in order to find the best deal for your financial situation.
Don't be tricked by long terms. Some installment loan providers offer high-interest loans with long terms. While this might reduce your monthly payments significantly, you could end up paying double the amount you borrowed – or even more – if you take the entire time to pay it off.
What to look for when comparing loans
Loan amounts. Will you be able to take out exactly how much you need? Try to avoid unnecessarily large loans that can lead to extra debt and throw you into the vicious cycle of borrowing.
Interest rates. Be skeptical of lenders that won't give you an interest rate upfront. Try to get an estimate of your APR – your combined interest and fees – before you apply.
Fees. Check to see whether you have to pay a fee to apply for the loan. You should also consider any additional fees you may have to pay, such as late payments.
Loan terms. Your loan term will determine how long you will have to repay it. It'll also determine how much you pay in interest. A longer-term loan might seem more manageable, but it could end up being a lot more expensive since you will pay more in interest. Try going with the shortest loan term you can afford. The faster you pay back your loan, the more money you will save in interest payments.
Speed. Will you be able to get your funds by the time you need them? Fast loans can sometimes be more expensive, but low interest and fees aren't much help if you need cash right away.
Is an online installment loan right for me?
You may want to consider an installment loan for the following reasons:
Fast turnaround time. Providers of online installment loans tend to process your application very quickly, sometimes within just minutes. If you accept the loan contract, you can get your money as soon as the following business day.
Bad credit applicants are accepted. Conventional loans normally come with more strict lending criteria, but most employed people can consider applying for online installment loans even if they have bad credit, as long as they can show their ability to repay the loan.
More manageable repayments structure. Unlike short-term loans or cash advance loans that you have to repay by your next payday, you can take on a longer term to repay your installment loan. Most lenders even give you the ability to choose between making payments once or twice a month.
You may want to consider other options if you're concerned about:
Fees. Online installment loans normally charge higher fees especially in comparison with more conventional forms of credit.
Higher repayments due to higher loan amounts. Installment loans have higher loan amounts than standard payday loans. While you have lower ongoing repayments because you're paying it back over time, repayments can still be expensive and add up. Make sure it's manageable with your budget before you apply and accept the loan.
Total loan cost. The APR on online installment loans can still be quite high, resulting in a high total overall repayment.
What are my other options?
Most online installment loans are unsecured, meaning they don't require collateral, such as your car or house. It sounds great at first, right? You don't have to put anything on the line. However, unsecured installment loans that come with high interest rates can actually pose more of a risk to your financial health: You can end up in a vicious cycle of debt if you have trouble paying the loan off. If you want to look at other types of loans, here are some alternatives you can choose from:
Secured personal loan. If you have trouble getting approved for a personal loan, you can consider getting a secured loan. A secured loan means you have to use some collateral to back your loan, such as your car or house, which is used as leverage to make sure you pay back your loan. Securing your loans make you look like less of a risk to lenders and can offset a weak or poor credit history. You'll have a better chance at getting approved and getting a good deal on interest rates than you would with an unsecured loan.
Home equity loan. This is a special type of secured loan that uses the amount of equity you own in your home as collateral.
Credit union loans. Credit unions and other non-profit financial institutions typically offer lower rates than other lenders, even to people without good credit. You can typically get even lower rates by securing your loan with a chequings or savings account that you hold with them.
Crowdfunding. If you don't need those funds immediately, it might be worth it to reach out to your social network and start a crowdfunding campaign. You won't have to pay it back, though many platforms charge a fee based on how much money you raise.
Paying off an installment loan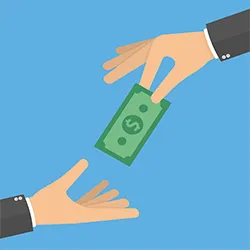 How you repay your installment loan will largely depend on the lender. Generally, you need to make monthly, semi-monthly or weekly repayments until your loan is completely paid off.
If your lender allows you to repay your loan ahead of time without charging a prepayment penalty, you could stand to save on interest. That is, as long as your loan repayments all go toward paying off interest and the amount you borrow.
It's not uncommon for installment loan providers to charge interest-only repayments in the beginning, meaning that you can't save on interest by paying it off early. Understand the terms and conditions of your loan before you apply for and accept it.
Are payday loans available in my province or territory?
Payday loans are available in all provinces and territories across Canada. You should be aware that payday loans are regulated by individual provinces, which means costs and fees can vary. Ensure that any lender you choose abides by the laws of the place you live.
At the time of writing in January 2019, the Yukon, Nunavut and the Northwest Territories do not have legislation regulating payday loans at the territorial level. Payday loans are regulated in these territories at the federal level only.
Find out how much lenders can charge across Canada
Frequently asked questions
More guides on Finder