Finder is committed to editorial independence. While we receive compensation when you click links to partners, they do not influence our content.
MyZone Health Rapid Antigen Test Review
Order affordable Health Canada-approved rapid antigen tests straight to your doorstep with this Canada-wide service.
MyZone Health is a specialized Vancouver-based distributor that sells Health Canada approved COVID-19 tests across Canada. This company gives you everything you need to conduct your test, along with detailed instructions to ensure you get an accurate result. Find out more about MyZone Health and learn how to order your COVID-19 test kit today.
What is MyZone Health?
MyZone Health is a Vancouver-based distributor that sells rapid antigen COVID-19 tests out of its online store. Currently, it only offers one type of test which is intended for use by trained laboratory or healthcare professionals.
However, it does seem possible for those without any type of medical certification to purchase the tests and use them at home.
Purchase Rapid Antigen Tests with MyZone Health
It looks like we don't have any coupons at the moment.
What types of COVID-19 tests can I get from MyZone Health?
MyZone Health currently only sells one type of COVID-19 test, which is the Boson Rapid SARS CoV-2 Antigen test kit.
| Name | Use | Collection method | Speed | Accuracy | Cost & minimum order | Shipping | |
| --- | --- | --- | --- | --- | --- | --- | --- |
| Boson Rapid SARS CoV-2 Antigen Test | Intended for medical (but you can order for home use as well) | Nasal swab | 20 minutes. | 97.48% accuracy | Box of 20 tests is $199.99 per box, $10 per test (sale price) or $249.99 per box, $12.50 per test (regular price) | Shipping costs are calculated at checkout but you'll get free shipping if you buy 2 or more boxes of 20. | Buy now |
Can MyZone Health tests be used for travel?
Rapid antigen tests are not accepted by border authorities in every country. To travel to or from Canada, you'll need one of the following types of tests:
Nucleic acid test (NAT) or Nucleic acid amplification test (NAATs)
Reverse transcription loop-mediated isothermal amplification (RT-LAMP)
Rapid antigen test administered or observed by a professional within 1 day of travel
If the rapid antigen test you get from MyZone is taken under the supervision of a medical professional, it may be valid for travel. Check the government of Canada website for the latest testing and vaccination requirements for travellers.
How do MyZone Health home tests work?
Follow these steps to get your sample and show your results:
1.Collect your sample. Blow your nose before sample collection. Be careful not to contaminate the nasal swab and collect a sample from the back of your nasal cavity.
2.Prepare the sample. Add 8 drops of the buffer liquid into the extraction tube and submerge your swab in the liquid for 1 minute (immediately after taking the sample).

3.Test your sample. Add 2 – 3 drops of the liquid from the tube onto your test card and read the results in 15 – 20 minutes. Only apply the drops of extraction solution into the sample well marked (S) on the test card.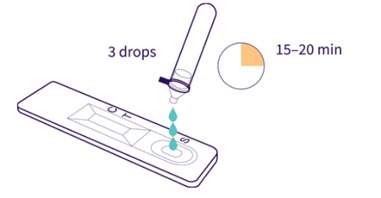 4.Interpret your results. Consult the test card panel to find out if your results are positive, negative or invalid according to the legend below.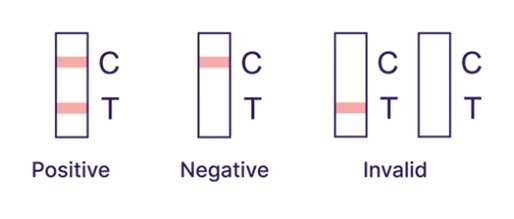 What will I get with my COVID-19 rapid antigen test kits?
You'll get the following supplies included with each of your MyZone Health COVID-19 test kits.
Instructions for use
Sterilized swab
Extraction tube and extraction tube tray
Sample extraction buffer
Test card
What is the MyZone Health refund policy?
No refunds or exchanges are allowed at any point once you've made your purchase. This means as soon as you buy your MyZone Health COVID-19 test kits, you won't be able to get your money back if you change your mind. This policy applies immediately after you make your purchase, even if the tests haven't shipped yet.
MyZone Health customer reviews
MyZone Health doesn't seem to have any online reviews other than the ones displayed on its website. These reviews praise the company for providing convenient at-home tests but they don't mention how MyZone Health performs as a company.
For this reason, it's difficult to gauge what customers think about features such as MyZone Health's client care or shipping services.
Is the MyZone Health rapid antigen COVID-19 test accurate?
MyZone Health sells Boson-brand Rapid SARS CoV-2 Antigen test kits. These tests claim to have a 97.48% accuracy rating, and Boson is ranked in the top 5 most accurate rapid antigen tests in the world.This means that 97.48% of the people who get a positive result from this test actually have COVID-19 (as opposed to getting a false positive).
For comparison, other Health Canada approved rapid antigen tests like the Bd Veritor Kit For Rapid Detection Of SARS-CoV-2 and the Princeton Biomeditech Corp Status COVID-19/flu device have true positive rates of 84% and 93.1% respectively.
How long does it take to get results from MyZone Health?
You'll usually be able to access your MyZone Health COVID-19 test results in 15 to 20 minutes. This is a typical time span for rapid antigen tests, and is much faster than standard PCR tests which can take up 3 days to show test results.
Pros and cons of MyZone Health
Pros
Approved by Health Canada. The company offers tests that are approved by Canada's Health Agency and have a high accuracy rating.
Competitive pricing. You'll only pay around $10 – $12.50 per test ($200 – $250 for 20 tests), which is cheaper than many other providers for similar test types.
User-friendly website. It's very easy to navigate the website and place orders online.
Canada-wide shipping. You can order tests from anywhere in Canada even though the company is Vancouver-based.
Free shipping for bulk orders. You'll get free shipping when you buy 2 or more boxes.
Cons
Shipping fees. You'll have to cover shipping fees to get your products delivered.
No refunds or exchanges. There are no returns or exchanges as soon as you buy.
Not ideal for travel. MyZone Health's rapid antigen tests can only be used for travel if administered or observed by a medical professional within 1 day of entering or exiting Canada.
Few customer reviews. There are very few customer reviews for MyZone Health online to help showcase how the company performs.
Our verdict: Is MyZone Health any good?
MyZone Health has a fairly small online presence so it's difficult to say how well it performs with customers. Find out how we think it matches up with other providers below:
Cost. MyZone Health seems to be cheaper than many other providers by around $3 to $5 per test.
Accuracy. Tests are between 2% and 13% more accurate than many other COVID-19 rapid antigen types.
Speed of results. Results show up in an average time frame compared to other tests.
Shipping. You'll need to pay for shipping, which is on par with other providers (though you may qualify for free shipping if you buy 2 or more boxes of 20 tests).
MyZone Health's performance compared to other providers indicates that it could be a good fit if you want to buy rapid antigen tests in bulk. Just watch out for the lack of customer reviews and do your homework before ordering with this company.