Finder makes money from featured partners, but editorial opinions are our own.
Monsta Infinite Review: How to play and earn
Learn how you can earn real money by pitting your Monstas against enemies and other players in Monsta Infinite, a strategic planning and logic NFT play-to-earn game.
Disclaimer: This information should not be interpreted as an endorsement of cryptocurrency or any specific provider, service or offering. It is not a recommendation to trade.
What is Monsta Infinite?
Monsta Infinite is an emerging massively multiplayer online role-playing game (MMORPG) gaming universe. It incorporates non-fungible tokens (NFTs) in its gameplay and aims to solve deep-rooted problems in today's play-to-earn (P2E) arena. The turn-based monster card game allows players to nurture digital creatures called "Monstas" that can accompany them in in-game quests or help them compete in player-vs-player (PvP) game modes for token rewards.
The game's economy is fueled by the Stamen Tellus (STT) token, which can be used in various in-game activities, such as breeding. Players can engage in Monsta creation and trading, which works similarly to the breeding mechanism in Axie Infinity, but is referred to as "Synthesis Cloning" in Monsta Infinite, where players are given tools to create a Monsta army. This mechanism can also combine Monstas to create more powerful Monstas.
The ultimate mission of the founders is to make digital finance and cryptocurrency more palatable and accessible to everyone by way of gamification. An ambitious part of their vision is to create a virtual world that enables people to attain a universal basic income through gaming and finance.
What are NFTs on Monsta Infinite?
The NFTs on Monsta Infinite consist of the Monstas that users play with in-game, as well as in-game items, which are all usable and tradable in the game's Monsta Infinite Market. Since NFTs are stored on a blockchain, players can claim absolute ownership over these virtual assets and can monetize them as they wish.
Each Monsta has its own class, set of attributes and body parts that contribute to its rarity. This determines its value in conjunction with supply and demand. While no two Monstas will be the same, players can create stronger and more valuable Monstas by combining two Monstas.
The ecosystem is capable of supporting a self-sufficient, sustainable and independent game economy through this framework.
To understand how an NFT works and why they have been called the next best thing in gaming, check out this guide on how NFTs function.
How does play to earn work within Monsta Infinite?
The game is free to play (F2P), meaning new users don't need to spend before they can participate in the game.
There are 3 primary ways you can earn in Monsta Infinite, which is very similar to how other F2P platforms work.
Accomplishing in-game quests – players can fight the villain of the game named "JILAKA".
PVP – enter the Dozo where players compete against each other's Monstas in exchange for actual in-game rewards.
NFT sales – as mentioned, Monstas can be sold on marketplaces, which offers players a different avenue to earn assets beyond playing against each other.
What are Monsta Infinite tokens?
The Monsta Infinite platform has issued 2 types of tokens: MONI, the governance token, and SST, the in-game economy token.
What is MONI?
MONI is Monsta Infinite's native governance token. It's a Binance Smart Chain token (BEP20) which has a total supply of 270,000,000 MONI. It can be bought on centralized exchanges such as Gate.io, AscendEX, BitMart and decentralized exchanges like PancakeSwap.
What is MONI used for?
MONI is a governance token that allows holders to participate in the platform's decision making, including gaming mechanics and future upgrades. MONI holders will be able to claim rewards by staking tokens and playing the game, and players can earn more MONI when they play various games within the Monsta Infinite Universe.
What is STT?
STT, or the Stamen Tellus Token, is the in-game currency token that can be earned by players through battling enemies and other players. It is used to participate in in-game activities such as cloning Monstas or purchasing game assets. STT is a BEP20 token like MONI and can be transferred to the Monsta Chain from the BSC or vice versa, and is available via PancakeSwap.
Monsta Infinite gameplay
Monsta Infinite follows card-based gameplay where players are given 5 cards from a draw pile, with each of them containing abilities and actions that can be used against opponents or allies. Then the cards are placed into a discard pile to be reshuffled and returned to the draw pile after all cards have been used.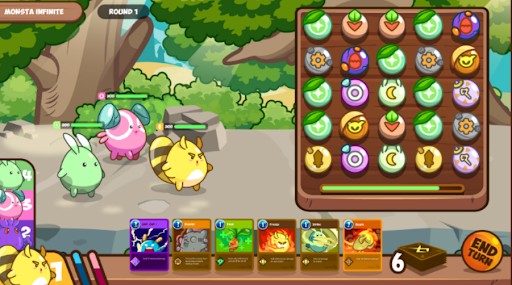 Each turn also offers players the chance to enhance the fighting capabilities of their Monstas through a match-three puzzle system, which also ensures that no bots can play the game.
Attributes
All the cards that players can utilize are based on the skills and attributes coming from each body part of their Monstas. These skills have different stamina or mana costs so players need to be strategic in selecting the best cards to play given their limited mana pools.
Strength (STR) – physical attacks, health point, health regeneration
Agility (AGI) – attack percentage, stamina point, stamina regeneration
Intelligence (INT) – elemental power, mana point, mana regeneration, initiation speed
Body parts
Monstas are composed of 6 different body parts, with each of them affecting the performance in battle, and can be upgraded using STT or Jilaka cores, which can be earned by beating Jilakas in the game's PvE mode. Body parts can also be augmented by sacrificing other Monsta, creating a new special skill card.
Head, which augments to Horns
Face, which augments to Mask
Body, which augments to Wings
Tail, which augments Back
Arms, which stay as Arms when augmented
Legs, which stay as Legs when augmented
Monsta Barter Presale 2
MONI can be bought by whitelisted members, except for those who have already made purchases in the first presale. Using the oversubscription method, the surplus proceeds of the sale will be refunded to the subscribers. There are a total of 7,560,000 MONI tokens for sale in the Barter Presale 2.
Race and class
There are different races and classes for Monstas in the game.
3 races
Cyborg – from the Titan Nation (classes: Primes, Terminators, Alchemists)
Elf – from the Rhea Nation (classes: Golems, Nightingales, Prophets)
Orc – from the Lapetus Nation (classes: Grognaks, Juggernauts, Bomoh)
Each race has its own set of classes, each having different capabilities that players can use in different ways, such as dealing damage against opponents more effectively, healing or empowering other Monstas, or farming resources.
Dozo
Players who want to compete against other players can enter the PvP mode in Dozo, which displays 5 ranking boards that players can enter depending on the level of the Monstas that they own. The top players for each rank will receive $MONI as a reward at the end of each season.
This set-up solves the problems that plague today's pay-to-win systems where only wealthy or long-time players can have strong upgrades for their in-game characters.
Expedition
Expedition supports the game's PvE mode, where players can go on a journey to fight against Jilaka. This mode allows gamers to carry up to 12 Monstas for each session.
Note that the 12 Monstas entered into the PvE mode can only be chosen once a day. You cannot re-enter the same Monstas in expedition sessions more than once. Therefore, owning more Monstas means that you can earn more rewards in this game mode each day.
Each battle in this game mode also has a single-day, permanent effect for Monstas. If a Monsta dies in a battle, it will last throughout the day and cannot be used for another expedition unless revived using STT.
Monsta Infinite frequently asked questions
Disclaimer: Cryptocurrencies are speculative, complex and involve significant risks – they are highly volatile and sensitive to secondary activity. Performance is unpredictable and past performance is no guarantee of future performance. Consider your own circumstances, and obtain your own advice, before relying on this information. You should also verify the nature of any product or service (including its legal status and relevant regulatory requirements) and consult the relevant Regulators' websites before making any decision. Finder, or the author, may have holdings in the cryptocurrencies discussed.
More guides on Finder
Ask an Expert
You must be logged in to post a comment.