Finder is committed to editorial independence. While we receive compensation when you click links to partners, they do not influence our content.
MegaCryptoPolis Guide
The largest decentralized city builder game based on NFTs.
Launched in 2018, MegaCryptoPolis is a decentralized city builder game where players buy land, develop it and earn resources. The game is similar to conventional simulation games like Cities XL and SimCity 4. However, unlike these conventional games, in MegaCryptoPolis players can earn as they play.
MegaCryptoPolis stands out as a blockchain game with its own microeconomics, corporations and token. It offers one of the many ways to learn about the crypto space while having fun and making money.
In this guide, we look at everything about MegaCryptoPolis including how to play the game.
Disclaimer: This information should not be interpreted as an endorsement of cryptocurrency or any specific provider, service or offering. It is not a recommendation to trade.
What is MegaCryptoPolis?
MegaCryptoPolis is a blockchain-based simulation city builder game that allows players to earn as they play. Every asset in MegaCryptoPolis is an ERC-721 token or NFT. These assets can then be bought and sold within the game or on secondary marketplaces. Alternatively, the virtual property can be rented out to other players. In effect, MegaCryptoPolis is a virtual city simulation with incentives and rewards for all who participate.
What are NFTs?
NFTs or non-fungible tokens are digital assets used to represent ownership of unique items like photos, videos, audios and in-game items. Like cryptocurrencies, the tokens can be bought and sold online. However, unlike cryptocurrencies they are non-fungible, meaning they cannot be traded or exchanged for one another. Each NFT is unique from the other.
How play to earn works in MegaCryptoPolis
MegaCryptoPolis offers several ways you can earn money while playing it.
Everything in the game including land, buildings, citizens and pets can be bought and sold. You can sell your land, pets or buildings for ETH.
With a piece of land you can build buildings that will enable you to earn ETH. You can rent your building for ETH. You can have a building producing the necessary materials needed by other players. You also have the option of selling your produced materials at the market.
You can earn ETH by controlling a municipal building. Municipal buildings include hospitals, fire stations and police stations. Natural disasters like storms trigger payouts to police, floods to hospitals, and fires to fire stations.
You can earn ETH when you bid and win a district. Owning a district enables you to earn some commission for every land purchased in your district. You also get a part of the tax collected from core actions like building, destroying or upgrading buildings.
You can earn ETH by buying materials needed by players in bulk from the market at a cheap price and selling them to players at a higher price for profit.
What is the MEGA token?
MEGA is the native token of MegaCryptoPolis. The token powers MegaCryptoPolis's macro and micro-economic system. It is an ERC-20 governance token that enables holders to get voting rights. Holders of the coin can vote for proposed game changes.
Where can I buy MEGA?
MEGA is listed in several crypto exchanges including Hotbit, ShibaSwap and Mooniswap. MEGA can't be bought directly with fiat so you will need other cryptocurrencies like BTC or ETH to buy it.
Besides buying MEGA from crypto exchanges you can get them by playing the MegaCryptoPolis game. There are several ways you can get the coins in the game.
You can get MEGA tokens by locking various virtual resources like wood, water and energy in the vault inside the MegaCryptoPolis game.
You can get MEGA tokens by owning or renting a building and appointing citizens to produce materials.
You can govern a district and collect taxes from corporations in MEGA. You can also manage a corporation to claim MEGA from the fund.
MEGA on Ethereum
There are 1 million MEGA tokens on the Ethereum network. The tokens can be used to play the MegaCryptoPolis game on the network. Holders of the tokens can also use them to buy materials needed to construct buildings and run business operations. The tokens enable holders to earn ETH.
MEGA on Tron
There are also 1 million MEGA tokens on the Tron Network. MEGA tokens have a fixed supply of 2 million tokens which have been equally distributed between the Tron and Ethereum blockchains. On the Tron network the tokens can be used as a store of value, to trade, and swap for any materials on the Ethereum network. The tokens enable holders to earn TRX.
MegaCryptoPolis gameplay mechanics
Here's what to expect when playing MegaCryptoPolis.
Land
Land is the most basic thing players can buy in MegaCryptoPolis. Land can be bought with ETH.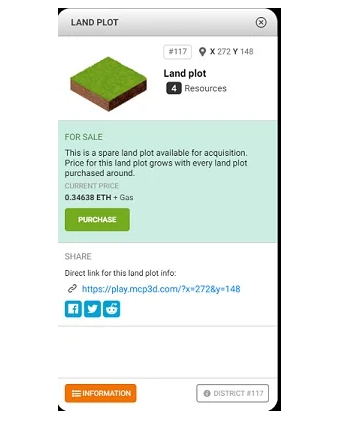 You have the option of buying new, unclaimed land or previously owned land from other players. If you do not wish to buy land and build your own structures you have the option of renting land from other players. When you choose to rent the ground the building is constructed on, the price to rent the land is included in the lease price of the building.
Structures
Once you have bought a piece of land you can build your preferred structures.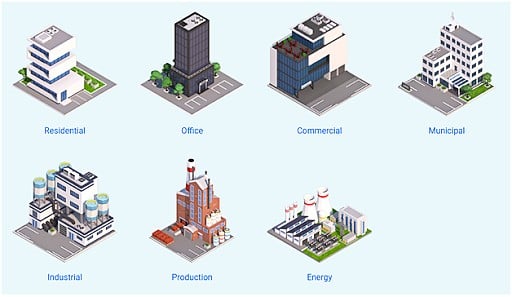 You have the option of building several types of structures. Each structure has its benefits. The structures include:
Residential structures: These types of structures are modern houses, villas and condominiums. With these buildings, you have a place to breed citizens.
Office buildings: Office buildings are business centers and office blocks. You can use office buildings to collect taxes from other players.
Municipal buildings: Hospitals, police stations and fire stations are all types of municipal buildings. These structures can earn you a portion of the district fund and global tax in the event a natural disaster occurs within its district.
Commercial buildings: These include supermarkets and trade centers. These enable you to earn by selling citizen stamina recovery services to other players.
Industrial buildings: Industrial buildings include smelter plants and mixing plants. You can use these buildings to produce structure building materials like wood, metal, sand and stone.
Production structures: Steelworks, glassworks, brickworks and factories are all production structures that turn basic materials into complex materials. With these buildings, you have a place to turn wood and stone into bricks, sand and metal into glass, or metal and stone into steel. All these are things you can sell to other players for ETH.
Energy structures: These include water plants and power plants. With these structures, you can produce electricity and water.
Note that each building begins with a level of 1. With enough resources, you can upgrade a building to a maximum level of 7.
Citizens
Citizens give life to buildings. This simply means no building can start operations without the required number of citizens. A level 1 building needs at least 2 citizens to start operations while a level 7 building will need up to 20 citizens.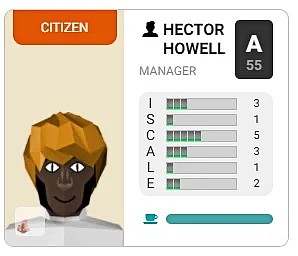 Each citizen has 7 qualifications: strength, endurance, charisma, intelligence, agility and luck. Each qualification defines the best work the citizen can do. For example, strength is used for industrial work while agility is used for energy work.
Citizens have titles that are based on their qualifications. A manager is a citizen with all qualifications below 7 points. A top manager is a citizen with at least one qualification with 7-8 points. A professional is a citizen with at least one qualification with 9 points. An executive is a citizen with at least one 10-point qualification. A top executive is a citizen with at least two 10-point qualifications.
Qualifications influence salaries in offices and prices of services for customers in commercial buildings. They also control the amount of materials to be produced in industrial, energy and production buildings. Furthermore, qualifications determine the share of the insurance fund to be received by municipal buildings in case of a natural disaster.
Pets
Pets include mastiff, whippet, bulldog, parrot, corgi and labrador. Their greatest benefit is that they give qualification bonuses to citizens they are paired with.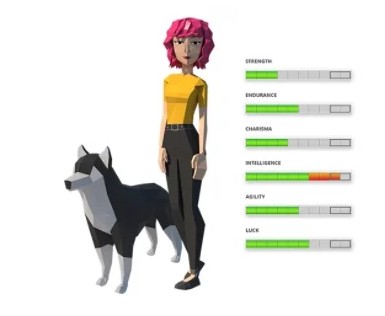 A citizen paired with a mastiff will get a strength bonus. A citizen paired with a whippet will get an endurance bonus. A citizen paired with a bulldog will get a charisma bonus. A citizen paired with a parrot will get an intelligence bonus while one paired with a corgi will get a luck bonus. A citizen paired with a labrador will get an agility bonus.
Appliances
Appliances include fire alarms, Wi-Fi routers, CCTV cameras, air conditioners and satellites. Appliances are worth buying because when installed inside a building they increase the building's influence points.

It is worth noting that the maximum number of appliances that can be installed in a building is 3. Also, upgrading or demolishing a building will destroy all the appliances installed.
What you need to play MegaCryptoPolis
You will need 2 things to play MegaCryptoPolis: a crypto wallet (Ethereum or Tron wallet) and some ETH or TRON. The most preferred crypto wallet is MetaMask. If you don't have a crypto wallet, you will have to get one, otherwise, you have no way of playing the game.
ETH is essential as MegaCryptoPolis is not a "free to play game". ETH will also enable you to purchase land and other digital assets in the game. All digital assets in the game are NFTs that can be bought and sold even in third-party marketplaces.
How to play MegaCryptoPolis
The first step to playing MegaCryptoPolis is to get a crypto wallet if you don't already have one. You will need an Ethereum-powered crypto wallet or Tron-powered crypto wallet. For an Ethereum wallet, MetaMask is a great option.
Once you have the MetaMask wallet, you will need to buy some Ether (ETH). Check out our Ethereum buying guide to figure out how to acquire enough ETH to play MegaCryptoPolis.
The next step is to connect your MetaMask account with MegaCryptoPolis. Then go to MyCryptoPolis's official site and click on the highlighted "Play" button.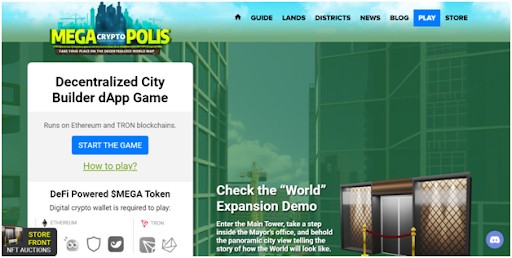 Once you sign in, the game will load and you will be presented with a large map showing undeveloped land, developed land and land with ongoing construction.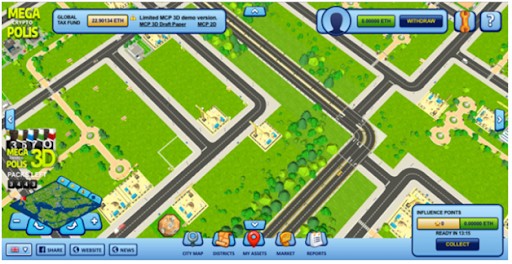 Developed land (land with buildings) and ongoing construction represent other players. You will have to browse around for undeveloped and unclaimed land to buy. You have a map on the lower-left side of your screen to help you navigate to different areas of the city.
Once you buy a piece of land you can build your desired structure. There are several structures to build including Residential, Office, Municipal, Commercial, Industrial, Production and Energy.
Besides buying undeveloped land you can also buy developed land. This option is a bit more expensive. You can click on a building you wish to buy and make an offer.
If buying undeveloped or developed land is too expensive, you can rent a building as you look for ways to get enough funds to buy land and materials needed to build your desired building or structure.
The point of the game is to develop a piece of land, increasing its value in the process. Increasing the value of your piece of land also increases the value of the land around it. Investors are attracted to high-value land. High-value land can help you turn a profit on your property.
MegaCryptoPolis overview
MegaCryptoPolis is an interesting game that echoes back to early city-building games like SimCity. The pay-to-play and play-to-earn aspects of MegaCryptoPolis add a unique monetary spin on the classic city-builder games from the past.
On the downside, the game is not cheap. How much you might spend playing the game is worth considering before playing it. The game has also gotten more complicated with all its upgrades over the years. Otherwise, it's still a great game to usher you into blockchain-based NFT games.
MegaCryptoPolis frequently asked questions
Disclaimer: Cryptocurrencies are speculative, complex and involve significant risks – they are highly volatile and sensitive to secondary activity. Performance is unpredictable and past performance is no guarantee of future performance. Consider your own circumstances, and obtain your own advice, before relying on this information. You should also verify the nature of any product or service (including its legal status and relevant regulatory requirements) and consult the relevant Regulators' websites before making any decision. Finder, or the author, may have holdings in the cryptocurrencies discussed.
More guides on Finder
Ask an Expert
You must be logged in to post a comment.