Finder is committed to editorial independence. While we receive compensation when you click links to partners, they do not influence our content.
KuCoin review
Learn about the KuCoin exchange including fees, features, registration, supported assets and more in our review.
KuCoin not available in Canada
On 21 June 2022, the Canadian Securities Administration banned KuCoin from operating in Canada. The ruling is based on a decision by the Ontario Securities Commission which has been upheld by all other provinces/territories.
Disclaimer: This information should not be interpreted as an endorsement of cryptocurrency or any specific provider, service or offering. It is not a recommendation to trade.
Alternatives to KuCoin exchange
Our take on
KuCoin
KuCoin is best known as a centralized crypto exchange that supports over 650 crypto assets, one of the widest selections of altcoins on any centralized exchange.
The exchange also enables you to trade crypto assets at low fees, which makes it great for crypto enthusiasts who like to trade a vast array of digital assets at low rates.
For advanced users, KuCoin offers investment products like derivatives, margin trading, staking, lending, automated trading bots and mining pools.
If you are new to crypto and are just looking to gain some exposure to blue chip crypto assets, then you might not need all that KuCoin has to offer. But if you're an advanced user or an "altcoin degen," then KuCoin is likely the exchange for you.
---
KuCoin pros and cons
Pros
Low fees
Very strong selection of cryptocurrencies for those looking to trade a diverse set of coins
Strong user base (10 million-plus)
Cons
User interface could be intimidating to the cryptocurrency beginner
You will not deposit fiat, you're purchasing coins directly using a third-party mechanism, not your bank account
KuCoin is banned from operating in Canada
About KuCoin – company history and background
KuCoin is a cryptocurrency exchange born of the ambitions of "two tech geeks" who were early blockchain adopters and who have been engaging with Bitcoin since 2012. KuCoin is marketed as the "Top Altcoin Exchange" and it lists over 500 cryptocurrencies and almost US$750 billion in daily trading volume. The exchange has more than 10 million users worldwide and ranks itself "Number 1 in Globalization".
KuCoin is a cryptocurrency exchange with more than 500 cryptocurrencies listed. The variety of altcoins present on KuCoin makes it one of the biggest cryptocurrency exchanges in the world. As a result, KuCoin markets itself as the "Top Altcoin Exchange". KuCoin launched its exchange (KuCoin) and its core token KuCoinShares (KCS) in September 2017. Over the course of the following 3 years, KuCoin rose to prominence as an innovator in novel trading products and a first-lister of niche altcoins.
Beyond the technical components of the KuCoin exchange is a social platform, allowing you to "interact with global crypto investors and gain access to timely and trusted crypto news". Across its 10 million active investors, there have been 1 million newsfeed posts about the industry.
KuCoin seems to be prioritizing access to the most cryptocurrencies possible while keeping fees low. The founders of the exchange had experienced the difficulty and poor user experience of the early days of cryptocurrency exchange, including trying to sell on the largest exchange at the time, Mt. Gox. In 2013, they wrote the first lines of code for what they described as a "People's Exchange" that would allow everyone to participate in what they saw as a transformative emerging market.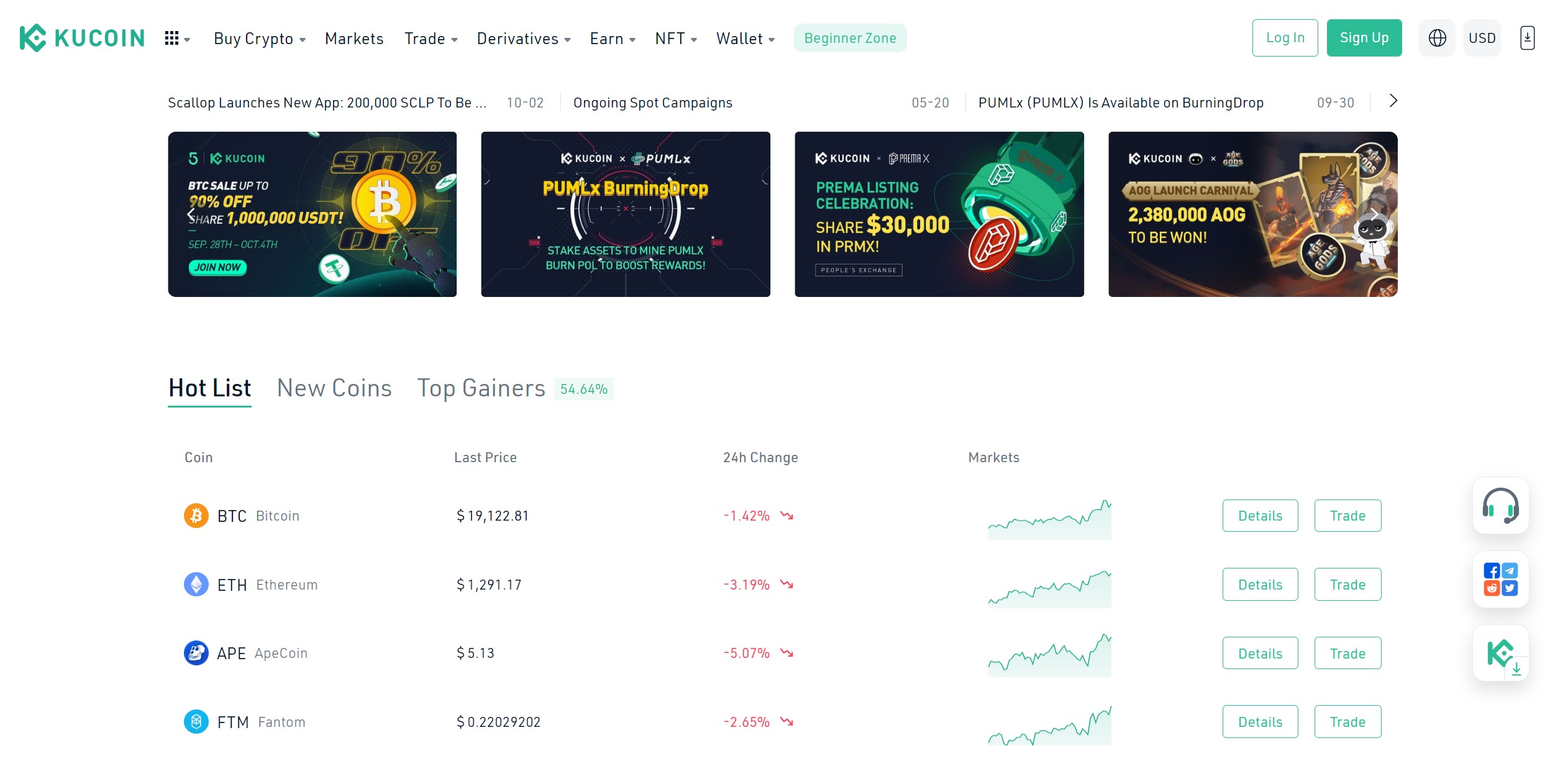 Listed KuCoin crypto exchange assets
KuCoin supports over 747 cryptocurrencies. In total, KuCoin carries 18 of the top 20 cryptos by market cap.
Popular assets on KuCoin
KuCoin supports
Avalanche (AVAX)
KuCoin supports
Binance USD (BUSD)
KuCoin supports
Bitcoin (BTC)
KuCoin supports
BNB (BNB)
KuCoin supports
Cardano (ADA)
KuCoin supports
Cosmos Hub (ATOM)
KuCoin supports
Dai (DAI)
KuCoin supports
Dogecoin (DOGE)
KuCoin supports
Ethereum (ETH)
KuCoin does not support
LEO Token (LEO)
KuCoin does not support
Lido Staked Ether (stETH)
KuCoin supports
Polkadot (DOT)
KuCoin supports
Polygon (MATIC)
KuCoin supports
Ripple (XRP)
KuCoin supports
Shiba Inu (SHIB)
KuCoin supports
Solana (SOL)
KuCoin supports
Tether (USDT)
KuCoin supports
TRON (TRX)
KuCoin supports
USD Coin (USDC)
KuCoin supports
Wrapped Bitcoin (WBTC)
Deposit methods
Bank transfer
Cryptocurrency
PayPal
KuCoin deposit and withdrawal fees
| Transaction type | Fee |
| --- | --- |
| Deposit funds | None |
| Withdraw funds | Cryptocurrency: Fees vary |
KuCoin trading fees
| Type | Fee |
| --- | --- |
| Maker | 0-0.1% |
| Taker | 0.025-0.1% |
Maker fee explained. A maker fee is the fee charged when you propose an order for other traders to take. In other words, this fee is charged when you place a limit order to sell an asset, but that order is not filled immediately.
Taker fee explained. A taker fee is a fee charged when a buy order is matched immediately with a sell order on the books. This is the fee charged when you place a market buy order.
How to sign up on KuCoin exchange
Visit KuCoin and then click Sign Up in the top right of the screen. You can use either an email address or phone number to start registration. Once an email or mobile number is added, you must send a code to that location and enter it in the box to sign up. Choose a password and click Sign up. This completes basic registration.
Know Your Customer (KYC)

It is not necessary to complete KYC in order to begin trading on KuCoin. However, if you wish to purchase crypto directly or increase your trading limit, it is required. In order to complete basic KYC simply enter your region, name and an ID (national, driver's or passport). Once you click Submit you will be verified.

Further verification

In order to access more features on KuCoin such as an increased withdrawal limit, trading limit or higher leverage for futures, further verification is required. Click Proceed to obtain more privileges to continue verification.

Download app or follow manual verification steps

To complete the final identity verification process users can either download the KuCoin app if not already done or scan the QR code provided. Manual verification can be done if necessary. Traders then must upload scans or photos of their ID. Finally, a selfie including the user's name, their unique KuCoin ID code and the date written on a piece of paper in frame. Once completed, full verification is done.
About the KuCoin app
KuCoin offers a mobile trading app, as well as the ability to trade via your desktop. It was one of the first cryptocurrency exchanges to offer a fully featured mobile application. The flexible options for accessing your cryptocurrency trading account enable KuCoin to create a diverse user experience.
Is KuCoin safe?
KuCoin has had a bumpy road with respect to the level of trust it attained with its user base. However, despite past hacks and reports of missing funds, KuCoin provides many opportunities to secure individual accounts which increases trust in the overall exchange.
Regardless of the shortcomings, KuCoin maintains and implements the latest security standards from an individual user account perspective. Users are encouraged and walked through the process of setting up 2-factor authentication (2FA), a safety phrase, a trading password, segregated accounts, whitelisted crypto addresses and whitelisted IP addresses. This adherence to the latest security standards improves KuCoin's overall trust rating.
KuCoin has released no official third-party security audits or insurance providers.
Past hacks The most notable hack on KuCoin occurred in September 2020 when hackers stole close to US$200 million worth of cryptocurrencies from KuCoin wallets. However, most of these tokens were able to be frozen, destroyed and reissued into KuCoin's possession. The ability to essentially reverse the hack through direct means calls into question whether or not KuCoin or these projects inhabit the quality of immutability present within cryptocurrencies such as Bitcoin.
Other cohorts of users report funds being missing or failing to be credited to their account after a deposit. While many of these stories are anecdotes, they have eroded trust in KuCoin enough to bring fault to their reputation as being a trusted cryptocurrency exchange.
KuCoin customer support
KuCoin has decent customer support due to its variety of support mechanisms. Users are typically able to find their own answers through KuCoin's comprehensive FAQ. However, if the query can only be solved using the help of KuCoin staff then users will need to submit a form, enter a live chat or ask a question on a forum with other users.
The contact form is designed to narrow down the support request, suggest an FAQ topic, and if need be, connect the user with the necessary support staff. Similarly, the instant chat mechanism begins with the user interacting with a support bot, only being connected with a human being in the event that the bot cannot solve the query.
While reports of customer service vary online, the general consensus is that KuCoin staff are supportive and generally able to solve issues faced by users. However, there are also a number of negative anecdotes from users stating that they've permanently lost funds due to transaction or technical errors.
| | |
| --- | --- |
| Google Play ratings and downloads | 116K ratings, 4.4 stars, 5M+ downloads |
| Apple Store ratings and downloads | 17.6K ratings, 4.6 stars |
How to reach KuCoin customer service
Contact us form
Email
Facebook page
Instagram
Telegram
Live chat
LinkedIn
Twitter
Discord
More guides on Finder
Ask an Expert
You must be logged in to post a comment.