Finder is committed to editorial independence. While we receive compensation when you click links to partners, they do not influence our content.
Kevin O'Leary's credit card tips
Looking for credit card tips from one of the top financial advisors in Canada? We've collected some of Kevin O'Leary's genius tips to help you manage your spending.
How many credit cards should I have? Should I collect travel rewards points or cash back? Should I even have a credit card at all? These are common questions many first-time and frequent credit card users ask themselves. Fortunately, we've collected some of the top tips from one of Canada's favourite Shark Tank investors: Kevin O'Leary.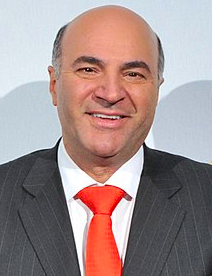 Kevin O'Leary
Kevin O'Leary is a Canadian businessman, TV personality and author.
Kevin has a B.A. in environmental studies and psychology and an MBA in entrepreneurship.
O'Leary is an investor on Shark Tank.
Have at least two credit cards.
Kevin O'Leary suggests having at least two credit cards. Have one credit card with a low limit that you only shop online with. That way, you can protect yourself from online fraud with a low limit card. The second credit card should have a higher credit limit and should be used for in-person purposes only. This way, you have one card you expose only to the online world and one that you use only to pay for purchases in person.
That said, O'Leary has approximately eight personal credit cards. He carries cards with no annual fees, cards that offer multiple currencies, cards that have no foreign transaction fees and more. He states that he simply dislikes credit card fees – especially foreign transaction fees.
If you travel often, get a card with no foreign transaction fees.
Kevin O'Leary is a frequent traveller and, as mentioned above, has around eight personal credit cards. Since his business endeavours take him through many different countries, he understands the importance of avoiding foreign transaction fees. Around 2.5% to 3%, this fee is charged on every transaction you make overseas. Although it doesn't sound like a lot, these fees can quickly add up – especially if you use your credit card a lot.
Collect cash back, not rewards points.
This might be a controversial topic since many financial experts would recommend the opposite, however let's hear O'Leary out. He suggests that you should always choose a cash back option over collecting rewards points. This is because cash back is more stable and will constantly be determined by the value of the Canadian dollar, while airline points are subject to more inflation and the value of the points tends to be less and less each year.
His reasoning is that you'll likely get more value from cash back than you would earn from collecting airline or rewards points. This is why it's essential to compare cash back to rewards points to determine your earning potential. Do this before you apply for a credit card.
If you're in debt, avoid using a credit card.
Kevin O'Leary is a massive advocate for avoiding debt. If you don't have the savings to pay off what you charge to your credit card, then he suggests to avoid using a credit card in the first place.
Paying on a credit card with money you have in a bank account, is different than paying on credit with money you don't have! Important distinction" – Kevin O'Leary
That said, he does suggest that you occasionally use a credit card in order to build up your credit score, but only if you have the savings on hand to pay off your balance in full. Responsibly using your credit card can help you to build up your credit score, which is an important step for your future – you'll ultimately get the most competitive rates for future forms of credit such as mortgages, car loans and more if you have a very good to excellent credit score.
Control emotional spending.
Kevin O'Leary says that mixing your emotions with shopping is a terrible combination – and should be avoided at all costs. While you might shop to make yourself feel better or to treat yourself after a difficult week at work, the feeling of debt on your shoulders will be a long lasting burden compared to the joy you feel when you bring home that new pair of shoes.
O'Leary suggests that when you're about to head out shopping, assess your mood and determine how you're feeling. Being mindful of your mood can help control impulse purchases and spending, which can ultimately fend off any debt you might bring home.
Don't put vacations on your credit card.
Rather than charging fun or enjoyable experiences to your credit card – such as vacations, weekend getaways or lunch dates – create a "fun fund" instead. Set aside a percentage of your wage each week in cash, which you can then use to treat yourself to lunch, a spa day or even a vacation. The key to using cash is to avoid using your credit card frivolously toward enjoyable experiences. You can avoid debt, while still treating yourself every so often.
Compare Canadian credit cards