Finder is committed to editorial independence. While we receive compensation when you click links to partners, they do not influence our content.
iRemit international money transfers review
Easy transfers to the Philippines but limited payment options for Canadian senders.
Good for sending money to the Philippines via online bank transfers, cash pickups and home deliveries
Not good for sending money in a currency other than Philippine peso
Details
| | |
| --- | --- |
| Product Name | iRemit |
| Pay By | Bank transfer |
| Receiving Options | Bank account |
| Customer Service | Live chat, Email, In person |
| Available Currencies | CAD, PHP |
Why should you consider iRemit?
Fast transfers. Your recipient can withdraw money from all local ATMs within minutes of loading the iRemit Visa Card.
Mobile-optimised. Download the iRemit app to easily transfer money on your device.
Global presence. iRemit is available in over 22 countries to send money to the Philippines.
What to watch out for
Limited payment options. If you're located in Canada, funds can only be sent using online bank transfers or deposited in-person at a branch.
Few currencies to send from. Less than 10 currencies can be converted into Philippine peso.
No transparency in fees. You won't see the full breakdown of fees until you confirm your transfer.
Limited transfer amount in app and online. You're limited to sending up to $9,999 unless you've set up your transfer at an office or with an agent.
iRemit's exchange rates and fees
A remittance fee of $8 is charged for each credit card to bank transfer, which is not clear from the payment calculator on iRemit's homepage. For cash pickups, this fee is $9. Your exchange rate will be locked in until 23:59:59 of the day that you confirm your transaction.
The breakdown of fees is shown right before you confirm the transaction. No other fees will be applied.
How long does an iRemit money transfer take?
iRemit money transfer times depend on what service you choose.
Loading funds onto the iRemit Visa Card: minutes
Online bank transfers: 4 Filipino working days
Door-to-door delivery: up to 14 days
Cash pickup: 24 hours
Is iRemit safe to use?
iRemit gives users tips on how to stay aware of security and fraud practices. It encourages customers to contact iRemit in the case of suspicious fraudulent activity.
iRemit may call customers to verify certain details regarding a transaction.
iRemit is regulated by Bangko Sentral ng Pilipinas and the Securities and Exchange Commission.
What iRemit's reviews say
iRemit has received a number of negative to average reviews on Trustpilot. General feedback included bad customer service and transaction delays. One reviewer talked about difficulties in sending less than $200 despite no minimum limit. As of August 19, 2021, it is rated 1.7 out of 5 stars based on 20 reviews.
What payment methods does iRemit accept?
iRemit accepts 2 payment methods:
Transfer from a bank account
Over-the-counter payment at a branch
What are the ways you can send money with iRemit?
Customers can make payments with iRemit in 4 methods.
Credit bank transfer. Funds can be transferred as credit into the recipient's bank account.
Cash pickup. The beneficiary can pick up the cash from an iRemit branch 24 hours after the deposit.
iRemit Visa Card. Recipients can withdraw the money from their Sterling Bank of Asia account using the iRemit Visa Card. The same can be done using a Chinatrust Visa Card.
What do you need to send money online through iRemit?
You'll need a few key pieces of identification before you can send money through iRemit:
An iRemit account. Creating an account is free.
Photo ID. Valid ID is required to transfer with iRemit. Acceptable forms are your passport or driver's license.
Beneficiary's name and contact information. You will need to enter your beneficiary's name, contact and payment details to confirm the transaction.
How to make your first transfer with iRemit
Log into your account and go to "Send Money".
Enter the amount you want to send.
Select the method of transfer.
Choose the source of transfer.
Enter recipient's information.
Enter payment information.
Send money.
Reviewer's experience with signing up
The first stage of signing up – inputting personal information – was straightforward. However, verifying my ID took longer than expected. There is no option to upload photo evidence. It can only be submitted by taking a photo with your device at the time of verification which lagged considerably.
Like many other reviewers, my app experienced delays and the website did not have an intuitive design. Apart from this, the rest of the app worked as I expected.
How to track an iRemit transfer
You can track the status of your transfer by contacting iRemit's customer service team and quoting the reference number. You can also do this online by checking the "My History" tab once you are logged into your account.
Is there an iRemit app?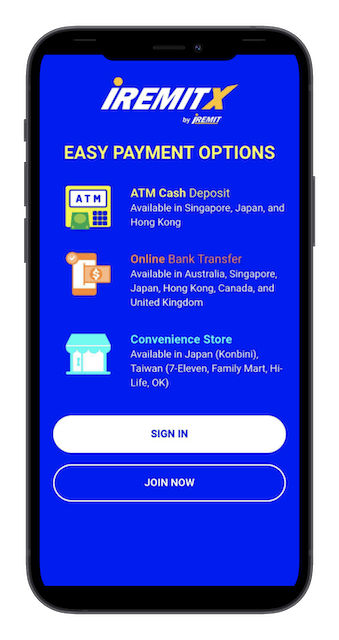 Yes, IREMITX is the company's app and is available on the App Store and Google Play. Through the app, you can:
Send money. Choose from different payment options for sending your money.
Make payments. Manage payments for Philippine government contributions, insurance premiums, real estate authorizations and more.
Shop. Make purchases from selected partners such as food stores and gift retailers.
View your history. Get a list of past transactions for your records.
The app has mixed reviews, with the latest posts complaining about slow load times. iRemit's customer service team has acknowledged this, claiming that it is caused by an ongoing system upgrade. There is no indication of when it will be completed at the time of writing.
| Ratings accurate as of August 19, 2021 | |
| --- | --- |
| Google Play | 4.2 out of 5 – based on 313 customer ratings |
| Apple App Store | 2.5 out of 5 – based on 62 customer ratings |
How does iRemit compare to other services?
Our table below lets you compare services you can use to send money abroad. Compare fees, exchange rates and discounts from different money transfer services, and when you have made your choice, click Go to site.
Bottom line
iRemit offers basic money transfer services to the Philippines. Once registered, you will be able to easily manage your transfers on the go through the app. But if you want greater flexibility and transparency to transfer larger amounts, check out what other services are available that meet your money needs.
Frequently asked questions
Does iRemit offer business transfers?
iRemit does not offer business transfers.
Check out our guide for other services that specialize in business transfers.
How do I contact customer support?
iRemit customer service can be reached by phone, email and social media channels via the website's chat feature. Visit the iRemit website for more information.
How can I cancel my iRemit transaction?
You must request a cancellation either within 48 hours from the time the transaction was made or before iRemit dispatches transaction instructions to the paying institution or intermediary bank – whichever comes first. Check the status of your transaction online or by contacting customer service.
The refund will only include the principal amount.