Send money to Zimbabwe
Save time and money when sending money to Zimbabwe from Canada.
As far as sending money to Zimbabwe goes, Canadians are spoiled for choice, but as a consumer, sometimes it can be challenging to discern which money transfer service is the best fit for you. Use our handy guide to gain a little insight into the available options. Maybe we'll even manage to give you a nudge in the right direction, so that you can both save money and capitalize on the little things (like 10 minute delivery or bank-to-bank transfers) that make one service stand a cut above the rest.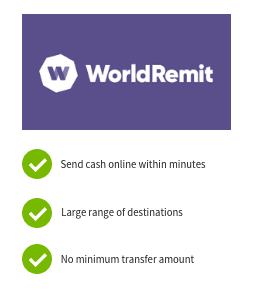 Send money to Zimbabwe with WorldRemit

WorldRemit can help you get your money where it needs to go in minutes, with upfront exchange rates and low fees.
Use promo code FINDERCA on your first transfer and pay zero fees. T&Cs apply.
Transfers to 150+ countries
Send to bank account, cash pickup, mobile money, airtime top up
Pay with card, Interac or Apple/Android Pay
---
The "Rate" and "Amount Received" displayed are indicative rates that have been supplied by each brand or gathered by Finder.

Exchange rates are volatile and change often. As a result, the exchange rate listed on Finder may vary to the actual exchange rate quoted for the brand. Please confirm the actual exchange rate and mention "Finder" before you commit to a brand.
Banks vs money transfer services
As far as banks go, they do a lot of things right, but international money transfers is not necessarily one of those things. How come? Banks may have less attractive exchange rates and charge high fees on transfers. However, dedicated money transfer services, as an alternative, offer unbeatable fees and exchange rates when compared to most banks. When it all boils down, the choice is crystal clear.
Case Study: Heath Sends Money to Zimbabwe
Heath is earning a living by working as a bartender in Vancouver and he tries to send $1,000 to his parents in Harare each month. His bank offers to take care of the transfer for him but Heath is not impressed with their high fees. He decides to compare the transfer options available from a money transfer provider with the fees his bank charges.
| | Bank | Money transfer company |
| --- | --- | --- |
| Exchange rate | 1 CAD = 0.79 USD | 1 CAD = 0.75 USD |
| Transfer fee | CAD$20 | CAD$4 |
| Transfer method | Bank account deposit | Bank account deposit |
| Processing time | 2-4 business days | 2-4 business days |
| Amount received (in USD) | US$790 | US$750 |
Heath realizes that he can save approximately CAD$50 (US$40) in the exchange rate alone, with an additional CAD$16 saving in fees, by selecting the money transfer service over his bank.
What currency is used in Zimbabwe?
Following a period of instability and hyperinflation, the Zimbabwean Dollar was phased out in 2015. In place of the dollar, currencies regularly used include the South African rand, Botswana pula, pound sterling, Indian rupee, euro, Japanese yen, Australian dollar, Chinese yuan, and the United States dollar. With such a large number of tradable currencies, it's easy to send money to Zimbabwe in a pinch. Some of the providers that allow you to send money from Canada to Zimbabwe include WorldRemit, Western Union and MoneyGram. You can also consult directly with your bank for more information about their transfer process.
Comparing transfer companies when transferring money to Zimbabwe
Heath's experience has given him some useful insight into his money transfer options. He recommends that you consider the following features before settling on a service:
Exchange rates. Even a marginal increase in the exchange rate (from 0.75 to 0.79 in Heath's case) can make a big difference to your bottom line, particularly when it comes to larger sums.
Fees. Transfer fees can be tricky business – it's best to try to stay out of the double-digits and look for a service that charges minimal and, in some cases, zero fees.
Transfer methods.

Transfer methods range from bank-to-bank transfers to cash pick-ups to mobile phone top-ups – look for the best option for you and your recipient.

Speed of transfers.

Figure out how much time you have to spare and pick a service accordingly, as some can complete transfers in a matter of minutes while others can take 2-3 days.

Minimum amount.

Some companies will ask that you transfer a minimum amount (which can be as high as $1,000) to use their services, so look for a company that matches your budget.

Customer service. Reputation is an important factor in making your final decision – make sure the service you choose offers top-notch customer service,

with both telephone and live chat support options available.
Back to top
Emergency cash transfers in Zimbabwe
If you find yourself or a loved one overseas with a lost wallet or a stolen backpack, investing your money into a cash pick-up option like MoneyGram or Western Union can be a real life saver. If you do need to go about making an emergency transfer, double check the exact exchange rate on offer and make sure to familiarize yourself with any fees that may apply. End result? You will know what you're getting into before parting with your hard-earned cash.
Cash pickup locations in Zimbabwe
If you do have a need for speed, and are willing to part with a bit of extra money to make your transfer happen in little more than a blink of an eye, then check out the following list of cash pick-up options in Zimbabwe. To collect cash, you'll just need to provide a reference number, transfer details and some identification.
WorldRemit
Pick up at any branch of Steward Bank, Kaah Zimbabwe, Zimpost & CBZ.
Western Union
MoneyGram
Back to top
Tips for picking up cash in Zimbabwe
If you do plan to visit Zimbabwe, the Government of Canada recommends that you exercise a high degree of caution (as of 29 January 2018) since the security situation has the potential to deteriorate rapidly as a result of the uncertain political situation. Crime, which is exacerbated by a very difficult economic situation, remains a serious problem for foreign visitors and residents alike. When picking up cash, be extra careful around bank machines, stay away from deserted areas and try not to walk alone at night.
How to send money to Zimbabwe
As you can see above, you have ample options to consider when you need to send money to Zimbabwe. You may have to satisfy different eligibility requirements depending on which service you opt to use, such as supplying your contact details and proof of identification. Some companies offer instant money transfers. However, if the process is going to take a few days, you will typically be given some sort of tracking number so that you can monitor the progress of your transaction. Transferring money to Zimbabwe need not be overly complicated or expensive. In fact, the process is quite simple and hassle-free. Just make sure to compare the services offered by different money transfer services to discover which company will be the best fit for your particular circumstances.
Back to top
Background for Zimbabwe
A landlocked country in southern Africa known for its dramatic landscape and diverse wildlife, Zimbabwe is renowned for its natural beauty and old-world charm. While not a mainstream tourist destination for Canadians due to the longstanding political turmoil in the country, new hope is burgeoning for travelers with the forced resignation of former president, Robert Mugabe, in 2017. Zimbabwe is now focused on attracting foreign investors and building up its capacity to host visitors from abroad. Aside from tourism to Zimbabwe, there are also thousands of native Zimbabweans living in Canada, meaning there is a near constant exchange of money between residents of both countries.
Ask an Expert
You must be logged in to post a comment.