Send money to Singapore
Learn how to send money to Singapore with an international money transfer service.
Do you need to send money to Singapore, but feel overwhelmed by the plethora of options available? Don't worry – you're not alone – so we've got you covered. Compare your options using this handy guide, and if you still have questions, feel free to leave us a comment at the bottom of the page.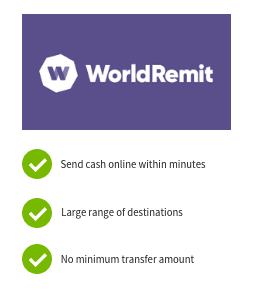 WorldRemit International Money Transfers

WorldRemit can help you get your money where it needs to go in minutes, with upfront exchange rates and low fees.
Use promo code FINDERCA on your first transfer and pay zero fees. T&Cs apply.
Transfers to 150+ countries
Send to bank account, cash pickup, mobile money, airtime top up
Pay with card, Interac or Apple/Android Pay
International money transfer services which allow you to send money to Singapore
Take a look at the table below to compare transfer services. Bonus tip: you can use the table headings to sort service providers by categories of difference, like transfer amount, method and speed.

Disclaimer: Exchange rates change often. Confirm the total cost with the provider before transferring money.
Banks vs money transfer companies or services
While it makes sense for you, as a consumer, to trust that your bank is doing business with your best interest in mind, when it comes international transfers, it can be well-worth your time and energy to compare your options. Banks have a tendency to bite off a little more than you'd probably like them to chew.
What do we mean by this? Banks sometimes charge high exchange rates and transfer fees. For this reason, many savvy consumers opt to send money through online transfer services specializing in safe and affordable transfers overseas. Because these companies send money back and forth between countries every day, they can offer more competitive rates with lower fees than the bank.
Case Study: Tim compares transfer services to send money to Singapore
Tim is organizing a long-overdue vacation travelling through parts of South East Asia with his sister, Chelsey, who is currently living in Singapore. Tim plans to meet Chelsey in Thailand in early June, but she calls their trip off one month before his imminent arrival because she can't afford it. Since Tim hasn't seen his sister in a couple of years, he decides to send her $1,000 to help her buy her plane ticket. While Tim's bank offers to help him complete the transfer, he's less than impressed with its rates, and decides to compare them against a well-known international money transfer service.
| | Canadian Bank | Money Transfer Service |
| --- | --- | --- |
| Exchange rate | CAD$1 = SGD$1.01 | $1CAD = SGD$1.04 |
| Transfer fee | $22 | $15 |
| Amount received for $1,000 | SGD$1,010 | SGD$1,040 |
| Transfer time | 2 – 5 business days. | 2 – 5 business days. |
| Transfer options | Bank transfer | Cash pick-up |
| Difference (excluding fees) | | + SGD$30 |
Tim realizes that he can save approximately SGD$30 (around $29) on the exchange rate with the money transfer option, with an additional saving of $7 in fees.
How to compare service companies when transferring money to Singapore
While Tim still has a lot to learn about money transfers, he did have a couple of epiphanies on what features and rates to look for when comparing services.
Competitive exchange rates. More competitive exchange rates can make a big difference to your bottom line.
Minimal fees.

Lower fees are a no-brainer if you're looking to put more money in your pocket.

Various transfer methods. Money transfer services offer plenty of options, including mobile wallet top-ups and cash pick-ups, in addition to bank-to-bank transfers.
Fast transfer times. Money transfer services can get money to your recipient in a matter of minutes, while banks typically take between 1 and 3 days.
Reliable customer service. Some services have a better reputation than others, so it's best to do your homework if you want someone to help you on the other end if you happen to run into a snag with pick-up.
Back to top
Compare Money Transfer Services
| | | | |
| --- | --- | --- | --- |
| Money Transfer Service | Transfer Fee (CAD) | Exchange Rate Markup | Total in SGD minus fees (from $1000.00) |
| TransferWise | $10 | $1.0439 | 1,033 |
| Canadian Forex | $15 | $1.0438 | 1,029 |
| XE Money Transfer | $0 | $1.0436 | 1,044 |
| Currency Solutions | $0 | $1.0438 | 1,044 |
| WorldFirst | $10 | $1.0440 | 1,034 |
Rates as of 25 February 2018
Emergency cash transfers to Singapore
So you need to send money to Singapore as soon as possible? The best thing to do is search for a cash pick-up service like Western Union or MoneyGram. While these services are often more expensive than the bank, with higher transaction fees and exchange rates, they typically take only a matter of minutes to process, and can be a real lifesaver in the event of an emergency. Once your money is on its merry way, your recipient will just need to go to the appropriate location with some form of identification and the details of the transaction.
Back to top
Cash pick-up locations in Singapore
Both Canada and Singapore don't fall short when it comes to the number of Western Union and Moneygram locations, which offer swift cash transfers between countries.
Western Union
Find a pick-up location with the Western Union

Agent Location tool.
Moneygram
Back to top
Picking up cash in Singapore
If you're aiming to visit this financial and technological hub in the near future, the Government of Canada recommends that you exercise a normal degree of caution (as of 25 February 2018). Petty crime, such as pick-pocketing and purse snatching are fairly rare, but do occur in airports and hotels as well as on public transportation and in areas frequented by tourists. Keep an eye on your valuables when travelling through crowds and use common sense when carrying large amounts of cash through busy streets.
Background for Singapore
An island city-state off southern Malaysia, Singapore is a global financial hub with a tropical climate and multicultural population. As a major Asian gateway, Singapore is well-placed for Canadian companies intending to do business with Southeast Asia, China and India. Being Canada's third largest export market in the Association of Southeast Asian Nations (ASEAN), Singapore is also an important regional trade partner for Canada. Recent records show there is a small community of Singaporeans living in Canada, consisting largely of expatriate professionals and students, and around 5,000 Canadians living in Singapore.
Back to top
Ask an Expert
You must be logged in to post a comment.