Send money to Senegal
Shop around for the best money transfer service for sending money to Senegal.
If you're aiming to send money to Senegal, for travel or to pay bills, but aren't exactly sure where to start, then look no further! We've compiled a handy guide to help you get the most out of your hard-earned dollars.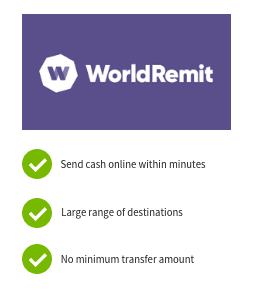 Send money to Senegal with WorldRemit

WorldRemit can help you get your money where it needs to go in minutes, with upfront exchange rates and low fees.
Use promo code FINDERCA on your first transfer and pay zero fees. T&Cs apply.
Transfers to 150+ countries
Send to bank account, cash pickup, mobile money, airtime top up
Pay with card, Interac or Apple/Android Pay
Compare international money transfers to Senegal
The table below displays some of the options that you can take advantage of to send international money transfers to Senegal. Feel free to use the table headings to help sort products by fees, features and more.
Disclaimer: Exchange rates change often. Confirm the total cost with the provider before transferring money.
Banks versus money transfer companies/services
So why should you choose a dedicated money transfer option over the bank? Money transfer services, unlike banks, are specialists in currency exchange, meaning they turn a profit by charging a lower margin on a larger number of transactions. Not sure what we mean? Let's do some simple math.
If a bank completes two international transfers per day while a money transfer service carries out 16, then the bank will need to charge more to account for the decrease in sales. How does this translate to real-life? Banks are known for offering less-than-optimum exchange rates along with higher fees, while money transfer services usually offer bank-beating prices. As an added bonus, money transfer services are also much more accessible, allowing potential clients to create an account in a matter of minutes (while a bank typically takes an in-person appointment and a significant amount of paperwork).
Case study: Ken sends money to Senegal
Ken wants to send $1,000 to his daughter Vanessa, who has missed her flight home from Senegal, and needs to purchase another ticket back to Halifax. Ken feels like his banks will charge unreasonable exchange rates, not to mention take several days to complete the transfer, so he decides to compare two reputable cash pick-up transfer companies to see if he can find a better deal.
| | Money transfer service 1 | Money transfer service 2 |
| --- | --- | --- |
| Exchange rate | $1 = XOF413.18 | $1 = XOF419.40 |
| Transfer fee | $20 | $0 |
| Amount received for $1,000 | XOF413,180 | XOF419,400 |
| Transfer time | Instantly | 1-3 days |
| Transfer options | Cash pick-up | Bank account |
| Difference of | | + XOF6,220 |
Ken is pleased to find that he can gain approximately XOF6,220 (around $15) with the exchange rate in the second option, and save $20 in fees. However, since his daughter can't wait several days for the money, he decides to use the first service with its instant transfer, even though it will cost a little more.
Back to top
How do I compare service companies when transferring money to Senegal?
Ken acquired a great deal of pertinent knowledge from his inquiry into his money transfer options, and recommends that, in your hunt for a suitable service, you keep the following features in mind:
Competitive exchange rates. Look for a company that matches (as closely as possible) to the mid-market rates that you can find by conducting a simple Google search.
Minimal fees.

Aim to bank with a company that offers low to no fees, particularly in the event that exchange rates are less competitive.

Various transfer methods.

Look for a company that offers the type of transfer method that works for both you and your recipient, whether that be bank-to-bank, cash pick-up or even a mobile phone transfer.

Fast transfer times. Find a company that suits your timeline, as some transactions can take days to process while others take only a few minutes from start to finish.
Reliable customer service.

Don't settle for anything less than a reputable company armed with a top-notch customer service department.
Back to top
Compare Money Transfer Services
| | | | |
| --- | --- | --- | --- |
| Money Transfer Service | Transfer Fee (CAD) | Exchange Rate Markup | Total in XOF minus fees (from $1,000.00) |
| TransferWise | $10 | $419.5194 | XOF415,325 |
| Canadian Forex | $15 | $407.4852 | XOF401,194 |
| XE Money Transfer | $0 | $419.5620 | XOF419,562 |
| WorldFirst | $10 | $419.2670 | XOF415,072 |
Sample rates as of 26 February 2018
Emergency cash transfers in Senegal
If you're in a bit of a pickle and you need to send money to Senegal in no time flat then consider an in-person cash pick-up option like Western Union to complete transactions (and get money into the hands of your recipient) in as little as 10 minutes. While this type of service is typically more expensive than an online bank-to-bank service, it can be well worth the extra cost in an emergency. Once your money is sent, the person on the other end will just need to present their passport at an onsite location (with some popular agents listed below) to collect the funds.
Western Union
Find a pick-up location with the Western Union

Agent Location tool.
Moneygram
Tips for picking up cash in Senegal
If you do plan to visit Senegal, the Government of Canada suggests that you exercise a high degree of caution. Petty crime like pickpocketing and purse snatching are sometimes committed by thieves on motorcycles, particularly at The Gorée pier. Remain vigilant when travelling and make sure your personal effects, including your passport, are secure. If you need to visit an agent location to pick up cash that has been transferred to you, then try to do so during the day, preferably with a companion.
Back to top
Background for Senegal
Situated on Africa's west coast with a rich French colonial heritage, Senegal is one of the most stable democracies in Africa. Senegal is one of the Government of Canada's 25 countries of focus for international development efforts, and Canada and Senegal work in close collaboration to promote peace and security in the region. Canada is also a major investor in Senegal's mining industry, expending over $500 million USD annually. Both Canada and Senegal are French speaking countries, and enjoy strong bilateral relations.
Ask an Expert
You must be logged in to post a comment.