How to send money to Rwanda
The safest and most cost-effective ways of sending money to friends and family in Rwanda from Canada.
Rwanda is a country that has suffered huge losses, especially during the political and economic turmoil of the 1990's. Since those turbulent years, Rwanda has won itself a position on the top 10 list of fastest growing economies in the world.
If you need to send money to Rwanda, you have a few options available to you. While some Canadian banks will allow transfers to the African nation, banks tend to charge high transfer fees and give poor exchange rates, not to mention transfers generally take between three to five days to arrive.
Specialist money transfer companies are dedicated to sending funds around the world. This means they can offer more affordable transfer fees, more competitive exchange rates and faster transfer speeds.
Read our guide to find out how you can send money between Canada and Rwanda.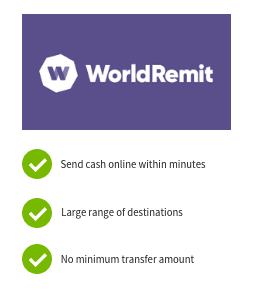 Send money to Rwanda with WorldRemit

WorldRemit can help you get your money where it needs to go in minutes, with upfront exchange rates and low fees.
Use promo code FINDERCA on your first transfer and pay zero fees. T&Cs apply.
Transfers to 150+ countries
Send to bank account, cash pickup, mobile money, airtime top up
Pay with card, Interac or Apple/Android Pay
Compare money transfer services in the table below
---
The "Rate" and "Amount Received" displayed are indicative rates that have been supplied by each brand or gathered by Finder.

Exchange rates are volatile and change often. As a result, the exchange rate listed on Finder may vary to the actual exchange rate quoted for the brand. Please confirm the actual exchange rate and mention "Finder" before you commit to a brand.
Case study: Celia sends money to Rwanda
Celia and her family immigrated to Canada from Rwanda in the early 1990's. She was a young girl at the time and finished her education in Canada, but has now been working for a few years. After yearning to return to Rwanda, Celia has gotten in touch with an uncle who will be able to help her with her transition back to Rwanda. Not knowing if she will return back to Canada, she wants to find easy ways to send money between Canada and Rwanda. You can see the results of her comparison below.
| | Money transfer company A | Money transfer company B |
| --- | --- | --- |
| Exchange rate | CAD$1 = 640.75 RWF | CAD$1 = 638.30 RWF |
| Transfer fee | CAD$13.99 | CAD$40 |
| Amount of RWF received for CAD$1,000 | 640,750 RWF | 638,303 RWF |
| Transfer time | One to two days | Minutes |
| Transfer options | Online and available as cash pick up | Online, phone or in person for cash pick up |
| Difference in RWF | +2,447 RWF | |
As you can see from the table above, Celia will save over CAD$25 in fees if she chooses the first transfer company. Furthermore, she will be able to send over 2,400 RWF more. She does note that the first company takes a couple of days to transfer the funds while the second company takes just minutes. Since she won't ever need to send funds in a hurry, she decides the first option is the best for her situation.
What factors should I consider when comparing transfer companies?
Exchange rates. Although comparing exchange rates is incredibly important, you should also take transfer fees into account. Some companies will hide high transfer fees inside a competitive exchange rate, while others may take the opposite approach and offer lower fees but less competitive rates. The best way to compare both is to see how much money your recipient stands to receive.
Pickup methods. Money can be received in a supported bank account or be picked up as cash at a branch location. Cash pickups, especially emergency or quick transfers, tend to incur higher transfer fees.
Fees. Fees tend to differ greatly between different companies. If you are sending a lot of money overseas, look into companies that waive their fees for sending large sums of money.
Turnaround time. The turnaround time ranges from minutes to days and usually has minimal transfer fee differences. Companies that send the funds in just minutes tend to incur higher fees, while companies taking between one to five days generally cost less.
Transfer methods. The transfer methods will vary between companies. Methods include mobile app transfers, phone transfers, online transfers and in person transfers.
Transfer options. Depending on the service used, your transfer options may include recurring payments, spot contracts, market orders, one-off payments and booked rates.
Minimum/maximum transfer amounts. Minimum and maximum transfer amounts are important, not only on the sending end but also on the receiving end. Minimum amounts can be as low as $10 or over $10,000. Maximum amounts can be around $250 or much higher, over $250,000 or more. If you are picking up a large sum of money, call the branch location to make sure they have enough cash on hand.
Customer service. Customer service is extremely important and can be the deciding factor between two service providers. Always use a reputable company to handle your money. Use email support as much as possible so that you have a record of your queries. Other methods of contact may include phone, in person, online chat and email.
How will you send and receive money between Rwanda and Canada?
Money transfer services. Some specialist money transfer companies can send the funds between Rwanda and Canada. WorldRemit and WorldFirst offer this service alongside cash pick up options like Western Union and MoneyGram. You must visit a MoneyGram location in Canada to send money, while you can either send the money in person or online using Western Union.
Banks. Your Canadian bank may allow transfers to Rwanda. Keep in mind the transfer fees will be high and you may not be offered the best exchange rate.
PayPal. You can send and receive money in countries around the world using the online services of PayPal. Both you and your recipient must have PayPal accounts to use the service. Accounts are free and easy to set up online.
Emergency cash transfers are possible within minutes to Rwanda
In the case of an emergency, you can send money to Rwanda using companies like Moneygram, Western Union and Xpress Money. Some of the agent locations are listed below.
Cash pickup locations in Rwanda using Western Union, MoneyGram and Xpress Money
Western Union
Kigali
Banque Commerciale Du Rwanda
Bp 354 Boulevard De La RevolutionKigali, Kigali City 250
+250-788302927
8am to 9pm Thursday to Monday, 8am to 11:59pm Tuesday
24 hours on Wednesday
Agaseke Bank Town
Kigali, Nyarugenge 265
+250-252593154
7:30am to 5:30pm Monday to Friday, 9am to 1pm Saturday
Closed on Sunday
Gisenyi
BK Rubavu Main Branch
B.p 171Gisenyi
+250-593154
8am to 8pm Monday to Friday
8am to 4pm Saturday, 8am to 7pm Sunday
MoneyGram
Kigali
Bravia Forex Bureau – Kigali
Remera, Kigali, 28833
788909597
7am to 9pm Monday to Sunday
Kigali
Equity Bank Rwanda – #4002 – Kigali
494, Grand Pension Plaza Building, Kigali
784111280
8am to 6pm Monday to Friday, 8am to 1pm Saturday
24 hours on Sunday
Xpress Money
Kigali
Bank of Kigali – Nyamata Br
611, Avenue de la Paix, Kigali, Bugesera, Eastern, Rwanda
P:P. +250-25-25593100
8am to 8pm, Monday to Sunday
Gisenyi
Bank of Kigali – Mahoko Br
611, Avenue de la Paix, Kigali, Rubavu, Gisenyi, Rwanda
P:P. +250-2525
8am to 8pm, Monday to Sunday
Tips for picking up cash in Rwanda
When picking up cash in a foreign country, always have a valid Government issued photo ID. Have the tracking or reference number handy as well as the receipt for the original transaction. It also helps if you have the details of the transaction, including the amount sent and the type of currency you are picking up.
The Government of Canada recommend that Canadians exercise a high degree of caution when travelling to Rwanda. With that said, you should travel in groups and avoid travelling at night. Much like its neighbouring country Burundi, Rwanda is prone to severe civil unrest. Crime and violence are currently at high rates, and public demonstrations should be avoided at all costs. When picking up cash, try to take someone with you, avoid public transportation and store your money in a safe place as soon as possible.
What is the process to send money to Rwanda?
If you want to send money to Rwanda using Moneygram, Western Union or Xpress Money with one of their agent locations as a pickup option, make sure you have the following information on hand:
Details of your recipient, including their name and contact details.
Details of the specific agent location.
The amount and type of currency you would like to send.
A registered account with the service you will be using.
When sending money to a supported bank account in Rwanda, make sure you have the following information:
Details of the bank and bank account number, including the SWIFT/BIC number, the bank name and address and the bank account number.
Correct amounts in the supported currency.
Details of your recipient, including their name, address, email and phone number.
Make sure to send a tracking or reference number and a copy of the receipt to your recipient. This information, along with a valid photo ID will be required to pick up the transferred funds.
Ask an Expert
You must be logged in to post a comment.