Send money to Oman
Save time and money when sending money to Oman from Canada.
In the last few years, exports and immigration to Canada from Oman have increased greatly. With this increase in business and immigration, there is a need for affordable and fast ways to send money between Canada and the Middle Eastern nation of Oman.
Read our comprehensive guide to learn more about sending money between Canada and Oman.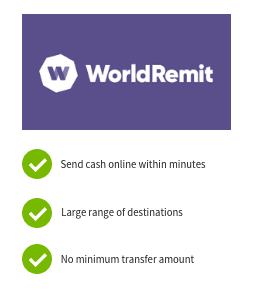 WorldRemit International Money Transfers

WorldRemit can help you get your money where it needs to go in minutes, with upfront exchange rates and low fees.
Use promo code FINDERCA on your first transfer and pay zero fees. T&Cs apply.
Transfers to 150+ countries
Send to bank account, cash pickup, mobile money, airtime top up
Pay with card, Interac or Apple/Android Pay
Compare money transfer companies in the table below
---
The "Rate" and "Amount Received" displayed are indicative rates that have been supplied by each brand or gathered by Finder.

Exchange rates are volatile and change often. As a result, the exchange rate listed on Finder may vary to the actual exchange rate quoted for the brand. Please confirm the actual exchange rate and mention "Finder" before you commit to a brand.
Some Canadian banks will allow money transfers to Oman, however some banks do not due to regulations and security concerns. The banks that do allow transfers tend to charge high transfer fees and give poor exchange rates. Furthermore, transfers from banks take between three to five business days, and in some cases, even longer.
On the other hand, specialist money transfer services like OFX and WorldRemit offer competitive exchange rates, affordable transfer fees and faster turnaround times than the banks. Companies like MoneyGram and Western Union offer even faster transfers, however their fees tend to be higher for the incredibly quick service.
Case study: Banks versus money transfer companies
Faheem arrived in Canada as a student. After the successful completion of his education at university, he managed to get a job in Toronto. He has now decided to start sending some money back home to his parents, and would like to send around $1,000 Canadian dollars each month.
Although Faheem's Canadian bank allows international money transfers to Oman, he decides to compare his banks offer to that of a specialist money transfer service. You can see the results of his comparison in the table below, which uses the exchange rate from the spring of 2018. Remember to check the current rate before making your decision.
| | Canadian bank | Money transfer service |
| --- | --- | --- |
| Exchange rate | CAD$1 = OMR0.289 OMR | CAD$1 = OMR0.306 |
| Transfer fee | CAD$25 | CAD$15 |
| Amount received for CAD$1,000 | OMR289.10 | OMR306.41 |
| Transfer time | Three to five days | One to three days |
| Transfer options | Bank account only | Bank account only |
| Difference of | | + OMR17.31 |
Faheem has an easy decision and decides to send his money via the specialist money transfer provider. Not only will he save CAD$10 in transfer fees each month, but he will also be able to send over OMR17 every time. This means over the course of just one year, he will save CAD$120 in transfer fees and OMR204 with the exchange rate.
How do I compare service companies when transferring money between Canada and Oman?
When you're using the services of a money transfer company, several factors require your attention including:
Exchange rate and fees. A seemingly great exchange rate does not necessarily translate into a good deal, especially if you end up paying high transfer fees. Similarly, opting for a service provider that does not charge any fees may not work well if you get an unfavourable exchange rate. Looking at the total money your recipient stands to receive should give you a clear picture of which service provider to choose. Keep in mind that some companies will waive transfer fees if you send over a certain amount of money.
Ways to send money. Canadian banks that perform money transfers to Oman let you do so in person at a branch, online or over the phone. Some money transfer companies have stores and kiosks where you can send the money in person, and some companies function solely online. A number of businesses may let you process a transaction over the phone or via a mobile app as well.
Ways to receive money. Your recipient may be able to receive money directly into their Omani bank account. Another option is to collect cash by visiting a cash pick-up centre.
Additional options. People who wish to send money to Oman periodically can deal with companies that let them schedule regular payments. This takes away the need to go through the entire transaction process every time. Some money transfer companies let you purchase forward contracts and market orders as well.
Turnaround time. Transfers to bank accounts can take 1 to 10 or more business days, depending on the service provider you choose. Money transfer companies tend to process transfers quicker than the banks. If you're sending money to a cash pick-up centre through a company like MoneyGram or Western Union, the transfer can take place immediately and the cash can become available within just minutes.
Customer service. Find out how you can contact a company representative, should the need arise. Ideally, you should be able to get in touch with the customer service team over the phone, via online chat and via email. Additionally, make sure the hours of operation work for your schedule.
How do I send money to Oman from Canada?
When sending money to Oman, you can choose from a few different methods. These methods include:
Banks. Some Canadian banks allow international money transfers to Oman. Visit a branch or log in to your online banking to find out if you can send money to Oman. Keep in mind the receiving bank in Oman may charge an additional fee to receive the money, meaning your recipient would not receive as much money as anticipated.
Western Union. You can send funds online or in person at a branch. With higher transfer fees than other companies, Western Union is one of the most popular cash transfer companies and has a reputable customer service team. Your money can be sent from Canada and received in Oman within minutes.
MoneyGram. You must send money in person from a MoneyGram outlet in Canada. Much like Western Union, your funds can be sent within just minutes.
OFX. You can send money online using the services of OFX. A flat CAD$15 transfer fee is charged for any transfers under CAD$10,000, while the fee is waived for transfers over that amount.
WorldRemit. This company is an online only service that allows transfers from Canada to Oman.
International money order or cheque. You can visit your bank and get a draft money order or cheque and mail it to Oman. Also known as "snail mail", this is the slowest way to send money overseas, since you are relying on the post office delivery system.
PayPal. As long as both you and your recipient have PayPal accounts, you can send and receive money using the online service. You can create a PayPal account online for free and it only takes minutes.
How do I receive money from Oman in Canada?
If you need to receive money from Oman in Canada, you have a few different options available to you, including:
Banks. One way is to provide the sender your bank account details and receive the money directly into your Canadian bank account. This can happen through an Omani bank or a money transfer company. You can also receive money orders and cheques via mail.
Alternatives to Banks. Money transfer companies such as Western Union and MoneyGram have hundreds of cash pick-up centres across Canada. You can have the sender transfer funds to any of these centres and you can then collect the money in person. Additionally, you may be able to send money from other specialist transfer providers like WorldRemit.
PayPal. You can use the online services of PayPal to transfer funds from Oman to Canada. Both you and the sender will need to have PayPal accounts.
Emergency cash transfers in Oman
If you're in Oman and end up losing your money or have been robbed, report your debit and credit cards as lost or stolen immediately. You can also attempt to get a police report. Next, you can think about getting some emergency money in the following ways:
Cash pick-up. Locate a suitable cash pick-up centre and pass the details on to a friend or family member in Canada who is willing to send you some money through a money transfer company. You can use the services of MoneyGram or Western Union for a transaction like this.
Credit card cash advance. If you are an existing Visa, Mastercard or American Express credit card member, you may be able to get an emergency cash advance by visiting a local participating bank. Keep in mind any money you receive will be added to your credit card balance.
Travel insurance. The right kind of travel insurance can provide emergency money to deal with unexpected medical expenses, flight delays and cancellations, as well as lost and misplaced luggage. You will likely have to provide a police report to your insurance company if you have been robbed.
Western Union/MoneyGram branches in Oman
Western Union and MoneyGram have cash pick-up centres across various locations in Oman. To collect cash from any of these centres, you'll have to provide an acceptable form of ID, such as your passport or driver's licence, as well as the reference number for the transaction. If you plan to collect a large sum of money, you may want to call ahead of time to verify availability of the funds. We have listed some cash pick-up centres in Oman below.
Western Union
Muscat
Grand Central Mall
Al Farsi Complex, Barkha Main Road
Plot No 354, P.O Box No. 1821
Barkha, Muscat
+968-26884430
Open 10am to 10pm, Monday to Sunday
Laxmidas Tharia Ved Exchange G
Shop No Gf 24 Muscat Grand M
Al Khuwair
Muscat, Muscat
+968-24399938
Open 10am to 11:59pm, Monday to Sunday
Seeb
Asia Express Exchange Co
Lulu Hyper Market Al Burj
Seeb
+968-24422120
Open 8am to 11:30pm, Monday to Sunday
Oman UAE Exchange Centre And Co LLC
Lulu Hypermarket Al Burj
Seeb
+968-22424623
Open 8:30am to 10:30pm, Monday to Sunday
MoneyGram
Muscat
Majan Exchange LLC – Muscat – Al Thiqah
Building No A4981 Plot No 51 Block No: 307 Al Jifnine
Muscat
+968-24150068
Open 9am to 9pm, Monday to Sunday
Asia Express Company
Al Bandar Complex Malewah
Muscat
+968-24284412
Open 9am to 9pm, Monday to Sunday
Seeb
Purshottam Kanji Exchange Company
Near Seeb Souk
Seeb,
+968-224421401
Open 8:30am to 9:30am, Monday to Sunday
Oman & UAE Exchange
Near Seeb International Airport
Athaiba
+968-24796533
Open 8:30am to 10pm, Monday to Sunday
Tips for picking up cash in Oman
Crime levels in Oman are low. However, tourists can become victims of petty crimes such as theft and burglaries. Due to violent demonstrations and the threat of terrorist attacks, the Government of Canada recommends that all travellers to Oman should exercise a high degree of caution. When you collect money from a cash pick-up centre, be vigilant.
Furthermore, the Government of Canada advises Canadians against travelling to areas bordering Yemen because of ongoing conflict in the region. Avoid demonstrations and protests as they can turn violent.
When in Oman, carry your passport with you at all times for verification purposes. Keep it in a safe place.
What are the steps to send money to Oman?
The steps involved in sending money to Oman from Canada will vary depending on the method you choose to send your funds.
Transferring money to a bank account. You'll have to provide your recipient's name, account number, name of the bank and the bank's transit code. If you're sending money using the services of a money transfer company, you'll have to provide your bank account and debit card or credit card details as well in order to pay for you transfer. Once you initiate the transfer, you should get a reference number, which you can use to track the transaction's progress at any time.
Transferring money to a cash pick-up location. When sending money in person, you'll need to provide your recipient's name and a desired cash pick-up centre. If you're doing this online or over the phone, you'll also have to provide details of your bank account, debit card or credit card in order to pay for your transaction. Pass the reference number you receive onto your recipient so they can access the funds.
Ask an Expert
You must be logged in to post a comment.