Send money to the Netherlands
Here's how to send a quick, affordable and secure money transfer to the Netherlands.
Sending money between Canada and the Netherlands can be cheap and easy with the right transfer company. While Canadian banks allow transfers to the Netherlands, they tend to charge high transfer fees and give poor exchange rates. Look into a money transfer specialised instead to send money to the Netherlands, following these steps:
Compare services that let you send CAD to EUR to find.
Go to the website and register for an account. This may include verifying yourself.
Add the details of your transfer, including how much you want to send and to who.
Confirm and pay.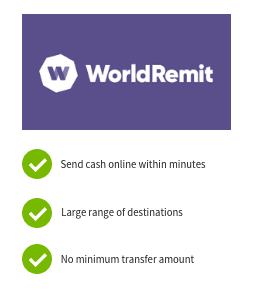 Send money to the Netherlands with WorldRemit

WorldRemit can help you get your money where it needs to go in minutes, with upfront exchange rates and low fees.
Use promo code FINDERCA on your first transfer and pay zero fees. T&Cs apply.
Transfers to 150+ countries
Send to bank account, cash pickup, mobile money, airtime top up
Pay with card, Interac or Apple/Android Pay
Compare international money transfer services below
Disclaimer: Exchange rates change often. Confirm the total cost with the provider before transferring money.
Case study: Banks versus money transfer companies
Heidi just moved from Amsterdam to Manitoba with her husband and her twin daughters. Her extended family still live in the Netherlands, and they often send money back home for birthdays and other special occasions. Heidi is always on the look-out for cheaper, quicker ways to send money between the Netherlands and Canada. She decides to compare two money transfer services. You can see the results of her comparison in the table below, using exchange rates at the time of writing in the spring of 2018. Check current exchange rates before making your decision.
| | Money transfer service 1 | Money transfer service 2 |
| --- | --- | --- |
| Exchange rate | CAD$1 = EUR€0.62 | CAD$1 = EUR€0.62 |
| Transfer fee | CAD$3.99 | CAD$9.90 |
| Amount received for CAD$1,000 | EUR€622.90 | EUR€622.23 |
| Transfer time | One to three days | One to three days |
| Transfer options | Online transfer to bank account | Online transfer to bank account |
| Difference | + €0.67 | |
Heidi saves around CAD$6 each time she sends money to the Netherlands if she uses the first money transfer service. Since she took the time to compare different online transfer services, she knows she has found the best deal possible for her situation.
How do I compare services to find the best for me?
Comparing fees, exchange rates and delivery times is important when considering money transfer options. You should consider the following factors when comparing companies:
Exchange rates. The aim is to find a service that will transfer your money at the most competitive exchange rate and charge minimal transfer fees. Some transfer services offer lower or waived fees when you send larger amounts of money, while still maintaining a competitive exchange rate. Avoid comparing the exchange rate or the fees alone, instead, compare these two factors together to determine how much money your recipient will receive and how much the transaction will cost you.
Pick-up methods. Depending on the service, money can either be delivered via courier, collected in person at an agency or deposited directly into your recipient's bank account.
Transfer methods. Money can be transferred online, between bank accounts, via a mobile app or via a direct cash deposit at the transfer service's agency. Choose a method that suits both you and your recipient. Not all companies offer every type of transfer method, so shop around.
Fees. The fees depend on the service and how you send the money. Some services charge a flat fee irrespective of the amount of money you send, while others vary the fee according to how much money you send.
Turnaround time. Depending on the transfer service and method you choose, delivery time can be anywhere between a few minutes and three to five days. Services that take just a few minutes to transfer the money tend to charge much higher transfer fees.
Minimum transfer amounts. Most transfer services start with minimum amounts that range between $1 and $10. Watch out for minimum amounts that can be as high as $500 or $1,000 if you are trying to send small amounts only.
Customer service. While money transfer websites are usually user-friendly, it's important that they have an effective and competent customer service team. Always choose a reputable company that offers a couple of different ways to contact them, whether that be email, phone, in person or via online chat.
What services can send money to the Netherlands from Canada?
You can send money to the Netherlands in the following ways:
Bank to bank. Send money between bank accounts. This can be an expensive way to send money since banks typically charge much higher fees.
PayPal. Use the services of PayPal to send money online almost anywhere in the world. You and your recipient must both have PayPal accounts in order to send and receive money. Accounts are free and only take a few minutes to setup.
TransferWise. Send funds cheaply to the Netherlands by using this online service. Funds are sent directly to your recipient's bank account.
WorldRemit. Offering some of the lowest fees, WorldRemit can send the funds directly to your recipient's bank account.
Western Union. With hundreds of pick-up locations across Canada and the Netherlands, Western Union allows you to send money online and have it picked up as cash in just minutes.
MoneyGram. You can visit a MoneyGram outlet in Canada to send money overseas. Much like Western Union, MoneyGram can send money overseas in just minutes.
Other specialist money transfer companies will allow transfers between Canada and the Netherlands. These companies may include TorFX, FairFX, Currencies Direct, WorldFirst, OFX and others.
Emergency cash transfers to the Netherlands
If you've lost your wallet or purse or had cash stolen and need money sent to the Netherlands in a hurry, there are a few transfer methods that guarantee quick, or sometimes almost instant delivery.
Cash pick-up. You can use a service like MoneyGram or Western Union to receive cash sent by friends or family. You can collect this cash within minutes, which can be extremely helpful in emergency situations.
Credit card. If you have an existing credit card with American Express, Visa or Mastercard, you may be able to receive funds from them. Contact your bank or credit card provider to find out how. Keep in mind that the money you withdraw will be added to your credit card balance.
Insurance company. Your travel insurance may cover lost or stolen goods, alongside other events like flight delays, cancellations, medical expenses and lost or stolen luggage. You will need a police report if you have been robbed in order to file a report with your insurance company.
Cash pickup locations in the Netherlands
Below are a few pick-up locations for money sent via Western Union and MoneyGram. Consider calling ahead to double check the opening hours and the address of the location.
Western Union
Amsterdam
Aboudi Korte
Leidsedwarsstraat 74 Links Amsterdam,
North Holland 1017RD
+31-808-2344572
Open Monday to Sunday 10am to 10pm
GWK Travellex
Leidseplein 31a Amsterdam,
1017PS
+31-20-9000056
Open Monday to Sunday 10:15am to 5:45pm
Rotterdam
SSS Mobile
Jonker Fransstraat 88a Rotterdam,
South Holland 3031AX
+31-800-20010001
Open Monday to Saturday 8:30 am to 6pm, Sunday 12pm to 5pm
C and Go Shop
Rotterdam,
Zuid Holland 3031AN
+31-6-17919148
Open Monday to Saturday 8am to 6pm, Sunday 10am to 5pm
MoneyGram
Amsterdam
Sunro Change BV
DAMRAK 17
Amsterdam, 1012 LH
+31 20 4270260
Open Monday to Sunday 8:20am to 10:15pm
Rotterdam
Kaah Express
Beijerlandselaan 169
Rotterdam, 3074 EH
+31 10 4861555
Open Monday to Saturday 10am to 6pm
MoneyGram Agent Shop
Weena 697
Rotterdam, 3013 AM
104140917
Open Monday to 8:45am to 7:30pm
Tips for picking up cash in the Netherlands
The Government of Canada advises Canadian travellers to take normal safety precautions while visiting the Netherlands. While crime is relatively low, as of the time of writing in 2018, there is a heightened threat of terrorism. If you're going to collect cash at a money transfer agency, try and take someone with you. Be sure to get there during office hours so you don't have to wait around by yourself until they open. Avoid using public transportation with large sums of money and immediately deposit your cash or put your money into a safe place.
What are the steps to send money to the Netherlands?
Depending on the service you choose, you'll need to provide some, or all, of the following information:
Valid identification
Your email address
Your recipient's name, address and bank account details
The amount you'd like to send
The bank or transfer service will send you a confirmation email or give you a receipt if you've made the transfer in person.
Thanks to a variety of money-transfer agencies facilitating international transfers to the Netherlands, you have several options at your disposal.
Ask an Expert
You must be logged in to post a comment.