How to send money to Moldova
Take advantage of low fees and competitive exchange rates when sending money to Moldova.
While some Canadian banks will allow money transfers to Moldova, many of them will send the money in US dollars, meaning your recipient will have to face another exchange rate from USD to Moldovan leu. The leu is a rare currency, and therefore many banks will either not allow transfers to the country or will have you face a double exchange rate, from CAD to USD to MDL.
Although in recent years specialist money transfer services have emerged, many of these companies do not offer transfers between Canada and Moldova. A company like WorldRemit offers the service, however much like the banks, will send the money to be picked up as cash in USD. This means your recipient will have to exchange the money into the local currency. On the other hand, Western Union can send the cash in MDL or euro, however the transfer fees tend to be much higher.
Read on to discover the factors you need to take into consideration when sending money to Moldova.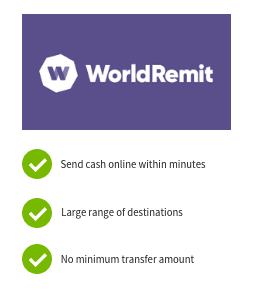 WorldRemit International Money Transfers

WorldRemit can help you get your money where it needs to go in minutes, with upfront exchange rates and low fees.
Use promo code FINDERCA on your first transfer and pay zero fees. T&Cs apply.
Transfers to 150+ countries
Send to bank account, cash pickup, mobile money, airtime top up
Pay with card, Interac or Apple/Android Pay
---
The "Rate" and "Amount Received" displayed are indicative rates that have been supplied by each brand or gathered by Finder.

Exchange rates are volatile and change often. As a result, the exchange rate listed on Finder may vary to the actual exchange rate quoted for the brand. Please confirm the actual exchange rate and mention "Finder" before you commit to a brand.
Speak to an FX Expert

Save money on your personal or business international money transfer today. Fill in the form and you'll be contacted by a foreign exchange expert to have an obligation-free discussion about your options. Our foreign exchange experts offer a best rate guarantee, are ASIC authorised and never charge transfer fees.
They can help you with all your needs including:
Buying property abroad
Emigrating
Regular overseas payments
Risk management
Forecasting
Case study: Victoria sends money to Moldova
Victoria is a Canadian resident of Moldovan ancestry and she wants to send $1,000 Canadian dollars as a gift to her aunt in Moldova. As a big bargain hunter, Victoria decides to compare the services of specialist money transfer companies to determine which one will deliver the highest amount of money to her much-loved relative. You can see the results of her comparison in the table below.
| | Money Transfer Company 1 | Money Transfer Company 2 |
| --- | --- | --- |
| Exchange rate | CAD$1 = 0.75 USD | CAD$1 = 12.34 MDL |
| Transfer fee | CAD$19.99 | CAD$40 |
| Transfer time | One to two days | Just minutes |
| Transfer options | Send online and available for cash pickup only | Send money in person, by phone or online for cash pickup only |
| Amount received for CAD$1,000 | US$751.67 | 12,349.25 MDL |
As a result of carefully comparing her options, Victoria notes that the first transfer company charges a much lower fee, however they don't allow her to send the money in MDL. On the other hand, the second company charges a higher fee, but allow her to send the money in the local currency. Although her Aunt will face an exchange rate with the first company when she exchanges the money from USD to MDL, she may still receive around the same amount of money that she would with the second transfer company. Victoria decides to send the money with transfer company one, even though it takes a couple of days to transfer the funds. She will save herself CAD$20 in fees, and her aunt will still receive around the same amount of money.
What things should you consider when comparing money transfer services to Moldova?
It's important to compare the services offered by money transfer companies before deciding on the right provider for you. Take the following factors into consideration:
Currency exchange rates. You might be surprised how much exchange rates can differ between companies. Look for the company that offers the best exchange rate, but keep in mind that some companies may offer a more competitive rate but also charge higher fees. On the other hand, some companies may charge lower fees but offer a less competitive exchange rate.
Transfer fee. You'll typically have to pay a fee when you send money overseas, so compare the figures charged by different companies. You may also be able to avoid the fee altogether when you transfer more than a certain amount of money.
Pickup methods. Is your recipient able to pick up cash at an agent location or is the entire transaction handled electronically? Most transfers from Canada to Moldova will be available for cash pick up.
Transfer methods. Check whether you can send transfers online, over the phone, via a mobile app and/or by visiting a branch location in person. Select a service that offers the option you are looking for.
Transfer options. If you wish to set up regular scheduled payments with your provider, can you do so? Are forward contracts and limit orders available to allow you to take advantage of fluctuating market rates?
Transfer time. While some companies will ensure that your cash is available for pickup within minutes, others may require you to wait for days until the funds arrive in your account. Keep in mind that faster transfers generally incur higher fees.
Minimum transfer amounts. You may find that some providers will require you to transfer a certain minimum amount of funds. If you don't meet this lower limit, you should look for a different provider.
Customer service. It's important that the company you choose provides customer service whenever you need help with a transaction. Look for customer service options such as online help centres, call centres and live online chat, and double check the hours during which they are available. Always choose a reputable company to handle your money.
How to send money to Moldova from Canada
If you're looking to transfer funds from Canada to Moldova, you could consider using the following providers and transfer options.
Bank transfers. Some Canadian banks will allow you to send money to Moldova, however they will likely charge high fees.
WorldRemit. This online service provider allows you to send funds that can be picked up as cash by your recipient. This company will send the money in USD, which can then be exchange for MDL on arrival.
Western Union. A well-known cash pickup service, Western Union can send the funds in the local currency of MDL. You can send the money online or in person from Canada.
MoneyGram. You can send money via MoneyGram to Moldova, however it will be sent as USD or EUR. You can only send funds in person at a MoneyGram branch in Canada.
PayPal. PayPal facilitates the transfer of funds between Canada and Moldova, as long as both you and your recipient have PayPal accounts. Accounts are free and easy to setup online.
International money order. Another money transfer option is to go into your bank and get an international guaranteed cheque, which you can then post overseas. Also known as "snail mail", this is the slowest way to send money overseas.
Emergency cash transfers in Moldova
If you find yourself in a situation where you need to conduct an emergency money transfer to Moldova, you have a couple of options. Both MoneyGram and Western Union can transfer the funds in just minutes to Moldova from Canada. As mentioned above, only Western Union can send the funds in the local currency of Moldovan leu. MoneyGram can send the money in EUR or USD. Both of these companies have thousands of locations worldwide.
Branches of Western Union and MoneyGram in Moldova
MoneyGram and Western Union are two popular money transfer providers with a number of cash pickup locations across Moldova. Some of the more popular pickup locations are detailed below. Remember that when you are picking up cash you will need to provide a valid ID and the details of your transfer, including the reference number and the amount sent. It may also be necessary to confirm in advance whether your agent location of choice has sufficient funds to complete your transfer.
Western Union
Chisinau

Banca Sociala

Benelesku Bodoni Ul

61 Chisinau, 2006

Phone. +373-22-221423

Open 9am to 4pm Monday to Friday
Banca Sociala

Dachiya Ul 46

Chisinau, 2062

Phone. +373-22-571329

Open 8:30am to 4pm Monday to Friday
Tiraspol

Prisbank Gvardeyskaya Ul

13 Tiraspol, 3300

Phone. +373-533-70110

Open 9:40am to 4:30pm Monday to Friday
Prisbank

Kosmonavtov Ul

61 Tiraspol, 3300

Phone. +373-533-35107

Open 9:25am to 4:30pm Monday to Friday
MoneyGram
Chisinau

Moldova-Agroindbank – Chisinau

Str. Varnita 6 Chisinau,

MD-2023

Phone. 22478290

Open Monday to Friday 8:30am to 9pm, Saturday 11am to 7pm
Victoria Bank

Str. Burebista 108 Chisinau, 0

Phone. 37322576246

Open 8:30am to 4:30pm Monday to Friday
Tiraspol

Eximbank

Korolenko Str.

2 Tiraspol, MD-3300

Phone. 53355057

Open 9am to 3pm Tuesday to Sunday
Agroprombank

Lenina 44 Tiraspol,

MD-3300

Phone. 53379920

Open 9am to 4pm Monday to Friday
Tips for picking up cash in Moldova
Moldova is not listed as a dangerous country by the Government of Canada, with travellers only recommended to "exercise normal safety precautions". As of March 2018, the Government of Canada do not advise any travel to the northeastern region of Transnistria. You still need to be careful when picking up cash in Moldova. Take a friend with you for added security and keep your cash as well hidden as possible. Avoid using public transportation with large sums of cash and head directly to a bank to deposit your funds or put them in a safe place. If you're looking for more travel safety tips for Moldova, research the advice offered by other travellers in blogs and online forums.
Transferring money to Moldova
With multiple options listed above for sending money to Moldova, it's easier than ever before to send your international money transfer. While the process of sending money differs between providers, you'll typically need to provide information such as your name, date of birth, contact details, proof of identity and the details of your cash recipient. Once you've sent a transfer with your chosen provider, you'll then receive a receipt or tracking number so that you can remain informed as to when your transaction has reached its destination.
---
Whenever you do need to send money to Moldova, make sure to compare all of your available options. This will guarantee that you end up using the services of a company that offers fast, safe and affordable international money transfers.
Ask an Expert
You must be logged in to post a comment.