How to send money to Madagascar
Understand what your options are when transferring funds to Madagascar.
So you want to send money to Madagascar but are not entirely sure where to start? Look no further! This handy guide will help you to choose the right service for you, by comparing the perks and drawbacks of banks against online and in-store specialized money transfer options.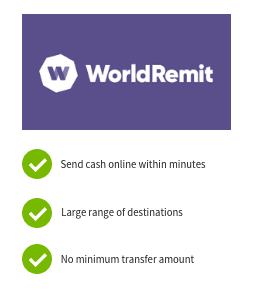 WorldRemit International Money Transfers

WorldRemit can help you get your money where it needs to go in minutes, with upfront exchange rates and low fees.
Use promo code FINDERCA on your first transfer and pay zero fees. T&Cs apply.
Transfers to 150+ countries
Send to bank account, cash pickup, mobile money, airtime top up
Pay with card, Interac or Apple/Android Pay
Compare Money Transfer Services

---
The "Rate" and "Amount Received" displayed are indicative rates that have been supplied by each brand or gathered by Finder.

Exchange rates are volatile and change often. As a result, the exchange rate listed on Finder may vary to the actual exchange rate quoted for the brand. Please confirm the actual exchange rate and mention "Finder" before you commit to a brand.
Banks vs money transfer companies or services
Whether you're aiming to make regular international payments, or simply need to make a one-off transfer, exchange rates and transfer fees can take a big chunk out of the money you collect on the other end. While banks can help you send money from Canada to Madagascar, they are often synonymous with low exchange rates and high fees, meaning less money in your pocket. For this reason, it can really pay off to compare your money transfer options, or at least allow us to!
When it comes to transferring funds overseas, more and more Canadians are opting to use online transfer services specialized in offering safe and affordable international transfers. These companies are often in the best position to offer bank-beating exchange rates and fees because they trade in high volumes of currency each day, meaning they don't need to cut corners in order to make ends meet.
Case Study: Chad compares transfer services to send money to Madagascar
Chad has wanted to visit Madagascar ever since watching the escapades of Alex the Lion and Marty the Zebra in the 2005 Dreamworks Animation hit, Madagascar. Chad is going to meet his girlfriend in the the nation's capital, Antananarivo, but he wants to send her some funds in advance of his arrival, so he consults with his bank to arrange a transfer. Since the Malagasy Ariary is not a common currency, his bank doesn't have a suitable option for cash pick-up in-country, so he decides to compare the cost of sending $1,000 with two well-known money transfer companies.
| | Money transfer service 1 | Money transfer service 2 |
| --- | --- | --- |
| Exchange rate | CAD$1 = MGA2,497 | CAD$1 = MGA2,430 |
| Transfer fee | CAD$25 | CAD$60 |
| Amount received for $1000 | MGA2,497,000 | MGA2,430,000 |
| Transfer time | Minutes | Minutes |
| Transfer options | Online, agent, phone | Online, agent, phone |
| Difference in MGA | | +67,000 |
Chad realizes that he can save approximately MGA67,000 (around $26) in the exchange rate with the second option, but will lose $35 in transfer fees. For this reason, he decides to use the first option, for a savings of $9.
Back to top
How to compare transfer companies when transferring money to Madagascar
Chad learned a lot from comparing his money transfer options, and recommends placing an emphasis on the following features to find the service that offers the most value for you.
Competitive exchange rates.

As noted above, exchange rates can make or break the bank – try to compare three to four options to get a good feel for which service can offer the lowest rates for the highest return.

Minimal fees.

The bank tends to charge an inflexible fee on all transfers regardless of the amount while money transfer services are a bit more lenient. They will often offer options based on how much money you're sending, and some services will waive the fee entirely at set amounts.
Various transfer methods. Depending on where you stand, you might prefer a bank-to-bank transfer over a cash pick-up or vice-versa. Determine how you would prefer to send (or receive) funds before selecting a service.
Fast transfer times.

Money transfer services are renowned for faster processing times, particularly those that specialize in offering a cash pick-up option (like Western Union and MoneyGram), so keep this in mind when booking a transaction.
Suitable transfer amounts. Some services set a minimum amount before allowing transfers, which can, in some cases, be as high as $1,000. Make sure you have the right amount of cash on hand to transfer before setting your heart on a particular provider.
Reliable customer service. Reputation is hugely important when it comes to transferring money overseas. Go with a transfer service that is sizable, well-known, and held in high regard by clients.
Back to top
Compare money transfer services
| | | | |
| --- | --- | --- | --- |
| Money Transfer Service | Transfer Fee (CAD) | Exchange Rate Markup | Total in MGA with fees deducted (from $1000.00) |
| Canadian Forex | $15 | $2,464 | 2,426,851 |
| XE Money Transfer | $0 | $2,497 | 2,497,400 |
| WorldFirst | $10 | $2,481 | 2,454,733 |
Rates current as of 19 February 2018
Emergency cash transfers in Madagascar
If you're visiting and manage to lose your wallet, you can explore the following options to recover or, at the very least attempt to replace, your hard-earned cash:
Travel insurance.

Depending on your policy, you may be able to get emergency cash, provided you fulfill the pre-requisites.
Cash transfer services.

So long as you are in possession of your passport, companies such as Western Union and

MoneyGram

can be used to send money from Canada to Madagascar for cash pickup.
Credit card company.

Many platinum credit cards now offer forms of complimentary traveller protection, which may come in handy if you need a quick fix.
Cash pickup locations in Madagascar
With branches all over Madagascar, Western Union and MoneyGram can help you get your hands on a stack of cash when you really need it. Below are some details for each company's pick-up locations. Don't forget to bring some form of ID, along with a reference number and transfer details when collecting your money.
Western Union
MoneyGram
Tips for picking up cash in Madagascar
If you've purchased your tickets to Madagascar, the Government of Canada recommends that you exercise a high degree of caution (as of 19 February 2018) when travelling in the region. Foreign tourists are most commonly affected by theft, including pick pocketing and muggings. It's important to be cautious of strategies to distract your attention and avoid showing signs of affluence (eg. electronic devices, jewels and expensive sunglasses). When picking up cash, be mindful of your surroundings: stay in crowded areas and avoid walking alone at night.
Back to top
How to send money to Madagascar
When you send money to Madagascar, you'll need to keep a few details on hand to facilitate collection.
Name.

Know the exact name of the recipient (the one on their ID) and make sure to check that it's spelled correctly on paperwork given to you post-transaction.
Transfer number.

Pass on the transfer number provided to you by the customer service agent on-location to your recipient.

Amount. Make sure your recipient is able to clarify how much money was sent, along with your full name and contact information.
Put your transaction information in a safe place (including all receipts and correspondence) so that you have everything you need should there be a problem with the processing of the transfer.
Background for Madagascar
A huge island nation off the southeast coast of Africa, Madagascar is celebrated for the rich diversity of its flora and fauna (with 5% of all known animal and plant species endemic to the island), all supported by a wide diversity of ecosystems, from sandstone canyons to limestone karsts to forests teeming with the distinctively shaped baobabs. Although two-way trade remains moderate, the trade relationship between Canada and Madagascar is becoming increasingly important, with Madagascar identified as an "emerging market with specific opportunities for Canadian business" in Canada's 2013 Global Markets Action Plan.
Ask an Expert
You must be logged in to post a comment.