How to send money to French Polynesia
Find out how you can save money and enjoy fast transfers when you send money to French Polynesia from Canada.
With a reputation as one of the most spectacular holiday destinations, the islands of French Polynesia attract hundreds of Canadians each year. This has created a need for affordable and fast ways to send money between Canada and the French Polynesian islands.
Not many Canadian banks will allow transfers to French Polynesia since the CPF Franc is an exotic currency. The banks that do allow the transfers tend to charge high transfer fees, give poor exchange rates and take three to five days to transfer the money.
Specialist money transfer services, like OFX, will allow transfers between Canada and French Polynesia. Charging low transfer fees alongside more competitive exchange rates and faster transfer speeds than the banks, these companies offer more attractive money transfer deals.
Read on to find out more about sending money to French Polynesia.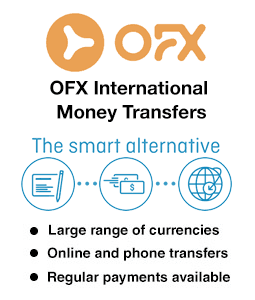 OFX International Money Transfers
Exclusive offer: OFX is currently offering exclusive exchange rates to Finder readers.
$0 transfer fees. Send fee-free transfers to a large selection of countries worldwide.
Transfers in 50+ currencies. OFX supports major, minor and exotic currencies.
Flexible options. Choose from forward contracts to scheduled transfers for convenience and flexibility.
Compare money transfer services in the table below
---
The "Rate" and "Amount Received" displayed are indicative rates that have been supplied by each brand or gathered by Finder.

Exchange rates are volatile and change often. As a result, the exchange rate listed on Finder may vary to the actual exchange rate quoted for the brand. Please confirm the actual exchange rate and mention "Finder" before you commit to a brand.
Case study: Banks vs money transfer companies
Vera worked hard in high school and won a full scholarship to a prominent university in Canada. She found a part-time job in a library, which allowed her to save some money and work on her English. Back in her hometown, Vera's parents bought a friend's flower shop. They asked whether Vera could assist with a contribution for the grand re-opening.
Vera has the choice between two money transfer companies since her Canadian bank doesn't support the CFP franc. One transfer company charges higher fees but can get the money there in just minutes, while the other charges more reasonable fees but delivers the money slower. You can see the full results of her comparison in the table below.
| | Money transfer service 1 | Money transfer service 2 |
| --- | --- | --- |
| Exchange rate | CAD$1 = 75.01 XPF | CAD$1 = 74.18 XPF |
| Transfer fee | CAD$15 | CAD$40 |
| Amount received for CAD$1,000 | 75,019 XPF | 74,178 XPF |
| Transfer time | Two days | Minutes |
| Transfer options | Online only sent directly to bank account | Online or in person for cash pick up only |
| Difference | + 841 XPF | |
How do I compare transfer companies when transferring and receiving money via French Polynesia?
Here's how to make sure you get the best value for your Canadian dollars when sending money to French Polynesia.
Exchange rates. Some services offer quicker delivery for a higher transfer fee, as seen in the case study above, while others offer a slower transfer process but with low, or even zero, fees. The idea is to find a happy medium so that you save on transfer fees while ensuring your recipient gets the maximum amount in exchange for your Canadian dollars.
Pick-up methods. Methods will vary between different companies, however you may have the option to send money directly to your recipient's bank account or have them pick up cash in person. Some companies offer courier services, which can deliver cash right to your recipient's door.
Fees. How much you will pay in transfer fees depends on the service provider. Some services charge a transfer fee as well as a fee to convert your dollars into the local currency. If you're paying a lot in fees, at least make sure that the delivery is fast. If you are sending a large sum of money, look into companies that waive their fees.
Turnaround time. Transfer time differs from service to service, but most guarantee delivery within two business days. A slower turnaround time will likely be cheaper, so decide based on your needs and the urgency of the transfer. Transfers that are sent within minutes can incur high transfer fees, but are great in emergency situations.
Transfer methods. Most services facilitate transfers online, via phone or in person at a branch. Additionally, some services allow for mobile app transfers.
Transfer options. Depending on the service, you may be able to set up regular payments to your recipient or initiate market orders for investments.
Minimum transfer amounts. Some companies put minimum and maximum transfer limits in place. Check to make sure transfer limits work for you and whether you have daily, weekly or monthly limits too.
Customer service. The money transfer service you choose should have a reliable and reputable customer service department. Contact methods may include via email, phone, online chat or in person at a branch. Ensure the contact hours work for your schedule.
How do I send money to French Polynesia from Canada?
Not all money transfer companies and banks allow for international money transfers to French Polynesia. This is likely due to the currency being exotic.
Consider the following for transfers to French Polynesia:
OFX. This online transfer company allows for bank-to-bank transfers and charges a flat $15 fee for transfers under $10,000. Fees are waived for transfers over $10,000.
PayPal. You can send money around the world using this online service. Both you and your recipient must have PayPal accounts to use the service. Accounts are free, easy and quick to set up online.
Banks. Some Canadian banks may allow transfers to the island nation. Contact your bank or head online to your online banking to see if you are able to send a wire transfer to French Polynesia.
MoneyGram. Visit a branch or kiosk in person in Canada to send money overseas to French Polynesia. Your recipient will be able to pick up cash just minutes after you have lodged the transfer.
Western Union. You can send money overseas in person or online using the services of Western Union. With thousands of locations worldwide, Western Union is a reputable service that offers cash pick up just minutes after the transfer was lodged.
International money order. You can visit your bank and get a draft cheque and physically send it overseas. Also known as "snail mail", this is the slowest way to send money overseas.
How do I receive money in Canada from French Polynesia?
If you need to send money to Canada from French Polynesia, the best option is a money transfer service like MoneyGram or Western Union rather than a bank. Since they offer services from Canada, chances are that they can do transfers in the opposite direction too.
Try one of the following online transfer services:
MoneyGram. You can likely send money online or in person from a MoneyGram branch in French Polynesia.
Western Union. This is probably the most popular and widely available online transfer service. You may be able to receive money directly into your Canadian bank account or collect it in person at a Western Union office.
PayPal. As long as both you and your recipient have PayPal accounts, you can send and receive money using the online service.
Banks. Your local French Polynesian bank may allow you to transfer money to Canada. Be wary of poor exchange rates, slow transfer speeds and high transfer fees.
Specialist transfer services. Do some research to see which transfer companies allow you to send money to Canada.
Emergency cash transfers in French Polynesia
If you have a financial emergency while in French Polynesia, the easiest and quickest way to access funds is via an online money transfer or a bank-to-bank transfer. Your choice depends on the nature of your emergency and how quickly you need the money, alongside how much you are willing to pay in fees.
Keep in mind that exchange rates, turnaround time and fees will differ from service to service. One company may charge for the service but deliver quickly, while another may offer a free or cheap service for a slow delivery.
Here are a few methods to have money delivered quickly during an emergency:
Transfer service with pick-up locations. One way to quickly access money is to have a friend or family member send you money through MoneyGram or Western Union. Cash can be picked up within minutes of the transfer being lodged from Canada.
Travel insurance. Depending on the type of emergency, you can make a claim on your travel insurance policy. However, there's no guarantee on how long it will take to process your claim. Be sure to check the policy disclosure statement before filing a claim. If you have been robbed, you will likely need a police report.
Credit cards. If you are an existing Visa, MasterCard or American Express customer, you will be able to pick up cash at a participating institute. Keep in mind the emergency money you receive will be added to your credit card balance.
Western Union cash pick up locations in French Polynesia
If you've decided to go with Western Union, here are a few locations from which you can collect your money.
Western Union
Papeete
Banque de Polynésie
355 Boulevard PomareP.o Box 530 Papeete, Tahiti +689-466699Open 7:45am to 3:30pm, Monday to Thursday, 7:45am to 2:30pm on Friday
Banque de Polynésie
2 Place De La CathedraleCathedrale 06744 Papeete, 98713 +689-467771Open 7:45am to 3:30pm,Monday to Thursday, 7:45am to 2:30pm on Friday
Punaauia
Banque de Polynésia
Centre Commercial TamanuTamanu 06748 Punaauia, 98718 +689-502991Open 7:45am to 4:15pm, Monday to Thursday, 7:45am to 3:15pm on Friday
Punaauia Plaine
Pk 10,900 Cote Mer Punaauia Punaauia, French Polynesia 98718 +689-544021Open 8:30am to 3pm, Monday to Thursday, 8:30am to 11am on Friday
Tips for picking up cash in French Polynesia
The Government of Canada recommends that Canadians visiting French Polynesia exercise a normal degree of caution. With that said, you should be vigilant wherever you go, even on tropical islands. Although the more populous centres are relatively safe, it still pays to keep an eye out for suspicious behaviour when collecting any money. Go with a friend or ask your hotel to arrange someone to accompany you. Check the opening hours before you go so that you're not left waiting outside.
What are the steps to send money to French Polynesia?
You can send money from Canada to French Polynesia via an online money transfer, an in-person transfer or a bank-to-bank transfer. Each method comes with varied transfer speeds, fees and exchange rates, so your choice will depend on how urgently your recipient needs the money and the cost you are willing to pay.
If you're a first-time sender, you will have to set up an account with your chosen company before the transfer can take place. Information required includes:
Your name and address
Contact information
Credit card or bank account number (to pay for fees)
Your recipient's contact and bank information
Once you've requested the transfer, the company usually gives you a tracking number. You will need to keep this number handy in case any problems arise. The customer service department should be able to assist if you have questions or if there's a problem with your transaction.
Ask an Expert
You must be logged in to post a comment.