How to send money to Europe cheaply
Find the most affordable and convenient way to send an international money transfer from Canada to Europe.
Need to send money from Canada to Europe? If you don't know what you're doing, poor exchange rates and high fees can make sending an international money transfer an expensive exercise. Compare your options and shop around for an affordable transfer provider to find the best value for money when transferring funds to Europe.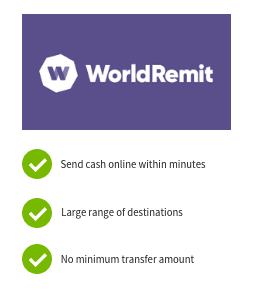 WorldRemit International Money Transfers

WorldRemit can help you get your money where it needs to go in minutes, with upfront exchange rates and low fees.
Use promo code FINDERCA on your first transfer and pay zero fees. T&Cs apply.
Transfers to 150+ countries
Send to bank account, cash pickup, mobile money, airtime top up
Pay with card, Interac or Apple/Android Pay
Compare easy money transfer options between Canada and Europe below
---
The "Rate" and "Amount Received" displayed are indicative rates that have been supplied by each brand or gathered by Finder.

Exchange rates are volatile and change often. As a result, the exchange rate listed on Finder may vary to the actual exchange rate quoted for the brand. Please confirm the actual exchange rate and mention "Finder" before you commit to a brand.
How to send money to Europe
There are a few options to consider when you want to send Euros overseas:
Banks. You can send an international transfer straight from your bank account to your recipient's account overseas. However, you'll likely pay a much higher exchange rate and a transfer fee between $15 – $60.
Online money transfer companies. Recent years have seen the emergence of online providers that specialize in international money transfers and foreign exchange. These providers, such as TorFX and OFX, tend to offer superior exchange rates and lower transfer fees when compared to the banks.
Cash transfer companies. If you need to send a fast cash transfer overseas, providers like Western Union and Worldremit are probably your best bet. They operate vast international transfer networks, allowing you to send cash overseas within minutes.
While exchange rates and transfer fees vary according to a wide range of factors, as a general rule, if you're looking for the cheapest way to send money to Europe, specialist online transfer companies will usually come out on top.
Banks vs money transfer companies
How much money can you save if you use an online transfer company instead of a bank to send money to Europe? Let's look at a quick example.
Let's assume you want to send CAD$2,000 to your aunt in France. You could send the funds with your Canadian bank via wire transfer, but you decide to shop around and see if a couple of online transfer companies can offer a better deal.
As you can see in the table below, you can send an extra EUR 71.20 simply by using an online transfer company instead of your bank, not to mention CAD$18 in transfer fees;. This makes the transfer company a much more cost-effective option than your bank.
| | Bank | Online transfer company |
| --- | --- | --- |
| Exchange rate | 1 CAD = EUR 0.60 | 1 CAD = EUR 0.63 |
| Transfer fee | $22 | $4 |
| Transfer time | Two to four business days | One to four business days |
| Amount sent (in CAD) | $2,000 | $2,000 |
| Amount received (in EUR) | €1,200 | €1,271 |
| Difference in amount received (in EUR) | | €71.20 |
*The rates and figures quoted in this example were correct as of 4 December 2017. Always request a quote from a provider to receive up-to-date exchange rates and fees.
How to compare money transfer providers
Okay, so you've decided to find an online transfer company to help you send money to Europe, but how can you choose a provider from the several available? Make sure to weigh up the pros and cons of each company and consider the following factors:
Exchange rates. The case study above shows how even a minor variation in the exchange rate can make a big difference to the overall transaction cost. Shop around to find out which company regularly offers the best rates for your regular transfer destinations.
Transfer fees. Always remember to compare exchange rates alongside the fee that applies to each transaction, as some providers that suck you in with a great rate may also charge a high fee.
Transfer time. How long will it take until the money you send is available for your recipient to collect? If you need to send funds as quickly as possible, you may need to consider using a company that offers instant cash transfers.
Special features. Check to see whether the provider offers forward contracts, limit orders or recurring payments. These services allow you to lock in favorable exchange rates for the future or schedule regular transfers.
Customer service. If you ever need help with a transaction or have a question about your account, how can you get in touch with the provider? Does it have an online help centre? During what hours can you contact the customer service team?
Emergency cash transfers to Europe
Need to send an emergency cash transfer to Europe? Maybe your teenage son or daughter is travelling across the continent and has run out of money or you need to pay an overdue bill.
When you need to get money overseas quickly, consider using a company like Western Union or MoneyGram to send an instant cash transfer. These providers have hundreds of thousands of agent locations around the world where your recipient can pick up the cash you send within minutes of you sending the transfer.
However, there are also a couple of other options for Canadians overseas who need access to emergency cash:
Your bank. Many Canadian banks offer emergency services to help you access cash or a replacement card if you lose it overseas or have your wallet stolen.
Travel insurance. If you have travel insurance, your insurer may provide an emergency cash allowance if your wallet is stolen overseas.
Cash pickup locations in Europe
If you're sending an emergency cash transfer from Canada to Europe, both Western Union and MoneyGram offer multiple cash pickup locations throughout the Eurozone. The details on some easily-accessible locations can be found below:
Tips for picking up cash in Europe
If you're picking up a cash transfer from an agent location anywhere in Europe, make sure to remember a few simple safety tips:
Take a friend along for extra security
Keep your cash concealed while in public
Avoid carrying large sums of money on your person for any longer than necessary – deposit the cash in a safe place as soon as possible
Remain aware of your surroundings at all times
How to send an international money transfer to Europe
While the exact process for sending an online transfer varies depending on the provider you choose, you'll generally need to follow a few simple steps:
Sign up for an account. This is typically free to do online and you'll need to provide your personal details, proof of ID and bank account information.
Enter your transfer details. Specify the amount you need to transfer, where you're sending it and the recipient's bank account details.
Review your transfer. You'll be given a chance to review the full details of the transaction, including the exchange rate and any fees that will apply.
Send the funds. If you're satisfied with the transaction details, the next step is to pay for the transfer and send the funds.
Track your transfer. You may be given a tracking number you can use to monitor your transfer status, while some providers also provide email and SMS notifications once the transfer has been completed.
Read more on this topic
Ask an Expert
You must be logged in to post a comment.