Send money to Estonia
Safe, secure and cost-effective transfer options when you need to send money to Estonia.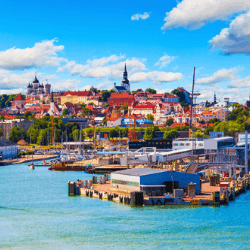 Bordering the Baltic Sea and Gulf of Finland, Estonia is a culturally diverse nation known for its rocky beaches, old-growth forests and hilltop fortresses. Since thousands of Canadian tourists visit Estonia each year and over 24,000 Estonians have made their homes in Canada, there's a growing need for money transfer services between the two countries. Check out our handy money transfer guide to find the most competitive exchange rates and lowest fees on your next money transfer to Estonia.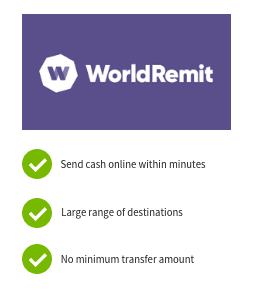 WorldRemit International Money Transfers

WorldRemit can help you get your money where it needs to go in minutes, with upfront exchange rates and low fees.
Use promo code FINDERCA on your first transfer and pay zero fees. T&Cs apply.
Transfers to 150+ countries
Send to bank account, cash pickup, mobile money, airtime top up
Pay with card, Interac or Apple/Android Pay
Compare money transfer services below
Disclaimer: Exchange rates change often. Confirm the total cost with the provider before transferring money.
Banks versus money transfer companies
Banks can be a convenient solution for sending money overseas, but they're typically the most expensive option. Wire transfers typically cost between $20 and $100 and exchange rates are often much less competitive than dedicated money transfer companies. Money transfer services like TorFX and TransferWise tend to charge less expensive fees and offer more competitive exchange rates on international transfers, meaning that you get a better overall deal and save a ton of money in the long run, especially if you carry out regular transactions.
Case study: Sofia sends money to Estonia
Sofia has just finished her nursing degree in Canada, and has begun working at the Toronto General Hospital. When Sofia's grandmother falls ill, she feels inclined to send money home to her parents to help pay for her grandmother's expenses. Sofia decides to compare the cost of sending money with her bank versus an online money transfer providers to find the best deal. The comparison below is based on exchange rates in the spring of 2018, so check current rates before making your choice.
Canadian Bank
Money Transfer Service

Exchange rates

CAD$1 = EUR 0.63


CAD$1 = EUR 0.65


Transfer fees

Amount received (for $1,000)

EUR 630

EUR 650

Transfer speed

2 – 5 days

1 – 2 days

Options available

Bank-to-bank transfer

Bank-to-bank tranfer
or cash pick-up
Sofia realizes that she can save EUR 20 (around $30) in the exchange rate with the money transfer option, with an additional $15 in fees. If Sofia sends money every month, this amounts to almost $540 over the course of one year.
How do I compare transfer companies when sending money to Estonia?
When you're comparing money transfer companies to send money from Canada to Estonia, you should pay attention to the following features if you're looking to find the best deal.
Exchange rates and fees. Compare 3 – 4 quotes from reputable money transfer companies to make sure that you receive the actual total cost of transfer with fees and exchange rates combined.
Transfer methods.

If your recipient has a bank account, you can send a bank-to-bank transfer with minimal fees. If your recipient needs cash delivered in minutes, it's best to use a cash transfer service. Keep in mind that cash transfers may be unfeasible for recipients who can't travel to a branch or agent location to collect cash.
Transfer speed. Choose a cash transfer service like Western Union or MoneyGram if you're on a tight timeline but aim for a dedicated money transfer service like TransferWise or World First if you want to save money on exchange rates and fees.
Bonus features. Some companies specialize in providing one-off transfers only, but others can offer flexible features such as forward contracts and limit orders which allow you to book a lower exchange rate in advance of your transfer.
Customer service. Make sure you can easily access a 24/7 customer support team if you have questions about your transfer.
How do I send money to Estonia from Canada?
If you want to send money to Estonia you can choose from the following options.
Bank transfers.

Canadian banks can easily organize wire transfers to Estonia but are typically the most expensive option with the slowest turnaround time. Alternatively, you may be able to order an international cheque or draft from your bank and send overseas using snail mail.
Money transfer companies. Money transfer providers like TorFX and XE Money Transfer can offer convenient and affordable international transfers to Estonia.
Cash transfer providers.

Cash transfer providers like

MoneyGram

and

WorldRemit

allow you to transfer cash to multiple agent locations across Estonia within minutes.
PayPal.

Send money from Canada to Estonia with PayPal, provided both you and your recipient are account holders.
Emergency cash transfers in Estonia
In the event of an emergency, cash pickup options like MoneyGram and Western Union have the capacity to send your money overseas in as little as 10 minutes. Cash pickup locations for both services are highlighted below.
FOR PICKING UP CASH
The Government of Canada recommends that Canadian visitors to Estonia exercise a normal degree of caution (as of 09 September 2018). Petty crime such as pickpocketing and purse snatching also occurs, particularly in Tallinn's Old Town and during the summer tourist season. Thieves often work in small groups and target tourists in airports, train stations and other public areas. If you do need to collect cash, look for an agent location in a safe neighborhood and call ahead to make sure they'll have cash on hand. Visit during daylight hours in the company of a good friend and return to your hotel to stow your cash in a safe place as quickly as possible.
What are the steps to send money to Estonia?
The steps involved in sending money to Estonia depend on how you plan to transfer the funds:
Transferring to a bank account. You'll have to provide the recipient's name, his or her bank account number, the name of their bank as well as the transfer codes. If you're sending money using the services of a dedicated online money transfer company, you'll need to provide details from your bank account, debit card or credit card.
Cash pick-up. If you're visiting a physical location to go through with the transfer, you'll need to provide an acceptable form of ID to verify your identity like a passport or driver's licence. You'll then need to submit your recipient's name along with a desired cash pick-up location. If you're initiating the process online, you should provide details of the account from where the money should be debited. This can be a bank account or a credit card account, depending on the service provider you choose.
You may also be interested in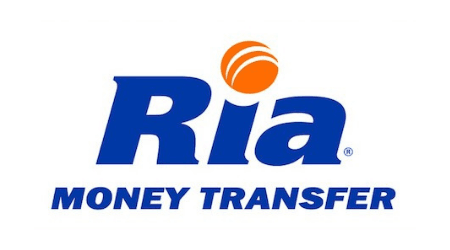 With 240,000+ locations in 130 countries, Ria is the third-largest provider of international money transfers in the world. It offers great exchange rates, minimal fees and fast, secure transactions when you need to send funds overseas. Read more…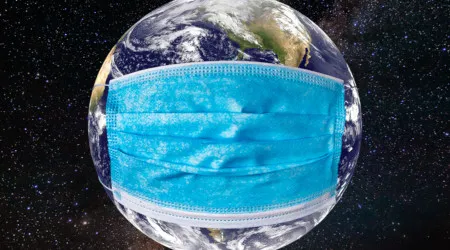 Learn about how COVID-19 may affect the ways you transfer cash around the world. Read more…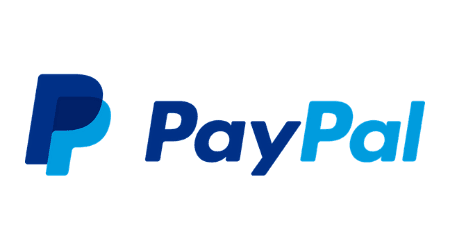 Learn about the pros and cons of using PayPal to convert your online seller profits into Canadian dollars in this detailed review. Read more…
Read more on this topic
Ask an Expert
You must be logged in to post a comment.