Send money to Bulgaria
Shop around for the best money transfer service for sending money to Bulgaria.
Although Bulgaria is still classified as one of Europe's poorest nations, it is not without its growth potential. With that said, there is a growing need for affordable money transfer options between Canada and Bulgaria.
Few Canadian banks will allow transfers to Bulgaria, however the ones that do allow it tend to charge expensive transfer fees and give poor exchange rates. On the other hand, specialist transfer services offer customers competitive rates, low fees and faster transfer speeds than the banks.
Read our guide to find out how you can save money when sending funds overseas to Bulgaria.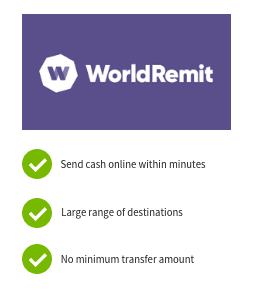 WorldRemit International Money Transfers

WorldRemit can help you get your money where it needs to go in minutes, with upfront exchange rates and low fees.
Use promo code FINDERCA on your first transfer and pay zero fees. T&Cs apply.
Transfers to 150+ countries
Send to bank account, cash pickup, mobile money, airtime top up
Pay with card, Interac or Apple/Android Pay
Compare money transfer services below
Disclaimer: Exchange rates change often. Confirm the total cost with the provider before transferring money.
Which are the best options to send money?
Andrei has recently immigrated to Canada. He is a fairly successful businessman from Bulgaria. He has decided it is time to not only expand his own business in Canada, but to also bring business into his own native country and help in boosting the economy.
Andrei has had to do a lot of research to determine the options that are available to him for sending money to his family in Sofia, Bulgaria. He has created the following table using CAD$1,000 to get a more accurate idea of his options with regards to cost, affordability and convenience for his family.
He compares two international money transfer companies since his Canadian bank doesn't support the Bulgarian Lev. You can see the results of his comparison below.
| | Money Transfer Company A | Money Transfer Company B |
| --- | --- | --- |
| Exchange Rate | CAD$1 = 1.22 BGN | CAD$1 = 1.21 BGN |
| Transfer Fee | $10 | $4 |
| Amount received for CAD$1,000 | 1,211.80 BGN | 1,208.80 BGN |
| Transfer Time | Two days | One to three days |
| Transfer Options | Online directly to bank account | Online directly to bank account |
| Difference | +3 BGN | |
Factors to compare when sending money overseas
Exchange rates – Comparing exchange rates offered by different companies is an essential factor. Even the difference in a cent can make a massive impact on the amount of money that makes it to your recipient.
Fees – Much like the exchange rate, fees are essential to compare. Some companies will hide high fees inside competitive exchange rates, so be careful. A few companies will also completely waive transfer fees if you send over a certain amount of money. However, this is generally over the $5,000 or $10,000 mark.
Pickup methods – Pickup methods generally include direct to bank account and cash pickup.
Turnaround time – Standard money transfer companies generally offer transfer speeds of one to three working days. Both Western Union and MoneyGram can send money that will be available for pickup within minutes, however these companies tend to charge higher fees for the quick turnaround time.
Transfer methods – Depending on the service that you use, you can generally transfer online, in person at a branch, on the phone or through a mobile app.
Transfer options – Many services offer mobile money transfers, regular payments and standard international transfers.
Minimum transfer amounts – Minimums can vary from $0 to $3,000, but it is more common to find maximum transfer limit amounts, which tend to be around $1,000 at the low end and up into the thousands for other companies.
Customer service – Always choose a reputable company to send your money overseas. Make sure they offer appropriate hours for you to contact them if you run into any problems.
Three ways you can send money to Bulgaria from Canada
There are a couple of ways to send money to Bulgaria, including:
Banks – Your Canadian bank may allow you to send money to Bulgaria. Contact them to find out.
Money transfer services – You can use money transfer companies that support the Bulgarian lev like WorldRemit, OFX, FairFX, TransferWise, Western Union and Moneygram.
PayPal – You can send and receive money using the services of PayPal. Both you and your recipient must have PayPal accounts.
Two ways you can receive money in Canada from Bulgaria
Money transfer services – You can use money transfer companies that support the Bulgarian lev and the Canadian dollar.
PayPal – You can send and receive money between PayPal accounts.
When an emergency calls: How to do emergency money transfers to Bulgaria?
Emergencies happen and can be especially uncomfortable when money is needed in a foreign country. If you need money quickly, you can use a wire transfer service like MoneyGram or Western Union. Be aware that to get these money transfers and have your money in your pocket within 10 minutes, commissions of 5-10% can be expected.
Cash pickup locations in Bulgaria when using Moneygram and Western Union
Moneygram
Sofia
DSK Bank
Stamboliiski blvd 101 Sofiya, 0
359029391651
Open Monday to Saturday 8am to 5pm and Sundays 24 hours
Raiffeisenbank Bulgaria EAD – #43 – Sofi
Grag Ignatiev str 41, Sofia, 1000
28102212
Open Monday to Friday 8:30am to 5pm, Saturdays and Sundays 24 hours
Varna
Raiffeisenbank Bulgaria EAD – Piccadilly
Primorski park 482, Varna, 0
0035952391220
Open Monday to Friday 8:30am to 7pm, Saturdays and Sundays 24 hours
Western Union
Sofia
Eurobank EFG
Sofia 260 Okolovrasten Pat, bui, Sofia,
+359-02-8116341
Open Monday to Saturday 8:30am to 5pm, Sundays closed
UBB Head office
47 Maria Louisa Blvd, Sofia
+359-2-8118704
Open Monday to Saturday 8:30am to 5pm, Sundays closed
Varna
Central Cooperative Bank PLC
Tzar Osvoboditel Str 76g, Varna, 9000
+359-52-600365
Open Monday to Saturday 8:30am to 5pm, Sundays closed
Handy tips for picking up money in Bulgaria
Most of the bigger cities in Bulgaria offer pickup agents for Moneygram and Western Union. Double check that you can receive or send money to the city you'll be visiting before taking a stroll and hoping for the best! Avoid unsafe places to pick up money and stay away from public transportation with large amounts of cash. When picking up cash, be on the lookout for pickpockets as this tends to be a bigger problem in dense tourist destinations like Bulgaria.
What will you need to send money to Bulgaria?
Using a bank:
The amount and currency you wish to transfer.
The BIC (Bank Identifier Code)/SWIFT Number (Code) and IBAN (International Bank Account Number in a European country) of the account you are transferring funds to. You will need to ask your recipient for this information.
Recipient's bank account number and bank address.
Full name and contact details of your recipient.
Using a service like Western Union:
You'll need your recipient's full name (as it appears on their valid ID) and address, and a Visa or MasterCard credit, debit or prepaid card issued by a Canadian bank. You also must be over 18.
When you first register with Western Union, they will need certain information so they can confirm your identity and create an online account. You'll need proof of ID for this.
In some cases, you may also be required to call a branch if they need additional information, of which they will let you know.
Ask an Expert
You must be logged in to post a comment.