Send money to Brazil
Compare fees and exchange rates to get the best deal on your next money transfer to Brazil.
Looking to send money to Brazil but not sure where to start? Luckily for you, Canadians have a number of suitable options to transfer funds across the water. But what makes a transfer service stand head and tails above the rest? For starters, look for a service that offers the most return on your dollar, with the most competitive exchange rates and lower transaction fees.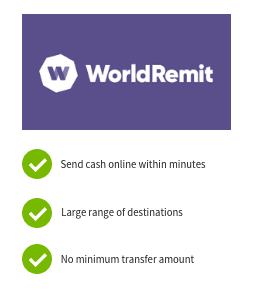 WorldRemit International Money Transfers

WorldRemit can help you get your money where it needs to go in minutes, with upfront exchange rates and low fees.
Use promo code FINDERCA on your first transfer and pay zero fees. T&Cs apply.
Transfers to 150+ countries
Send to bank account, cash pickup, mobile money, airtime top up
Pay with card, Interac or Apple/Android Pay
Compare international money transfers to Brazil
The table below outlines some of the available options for transferring funds to Brazil. Feel free to use the table headings to sort products by fees, features and more.

Disclaimer: Exchange rates change often. Confirm the total cost with the provider before transferring money.
Banks vs money transfer companies
Banks are great for a lot of things, but when it comes to international money transfers, they don't quite take the cake. For one, they may charge higher exchange rates and tack on extra transfer fees. For this reason, it's often worth your time and energy to compare your options. When it comes to transferring money overseas, it pays to invest in a dedicated transfer service, since they transfer large volumes of currency, and can often offer better exchange rates with lower fees than the bank.
Case Study: Miguel sends money home to Brazil
Miguel, born in Rio de Janeiro, has recently moved to Vancouver to study architecture at the University of British Columbia. Once he's settled in, he accepts a work-study position with his Faculty, and decides to send part of his paycheck home to his family in Brazil. Although Miguel has just opened a Canadian bank account, he is hesitant to use their money transfer services after his friends advise him of the hidden costs and fees. He decides, to be on the safe side, to do a comparison to see how much it will cost to transfer $1,000 with both his bank and an online international money transfer company.
| | Canadian Bank | Money transfer service |
| --- | --- | --- |
| Exchange rate. | 1 CAD is equal to BRL2.04 | 1 CAD is equal to BRL2.55 |
| Transfer Fee. | CAD$22 | CAD$15 |
| Amount received for CAD$1,000. | BRL2,040.00 | BRL2,572.99 |
| Turnaround time. | 1 – 3 days | 24 hours |
| Transfer options. | Bank Account | Cash pick-up |
Miguel realizes, after making a quick comparison, that he can save approximately BRL533 (which is around CAD$207) in the exchange rate alone, with an additional CAD$7 savings in fees by selecting the online money transfer service over his bank.
Back to top
How to compare transfer companies when sending money to Brazil
Miguel learned a lot from his inquiry into his money transfer options. If you are comparing services, look for the following features and rates to find the one that offers the most value.
Competitive exchange rates. Find the service that offers the most competitive exchange rates, using the mid-market rate (the rate you can find by conducting a simple Google search) as your point of departure.
Minimal fees. Many transfer services offer zero-fee transactions, which can mean big savings, so long as they don't make up the difference by increasing the exchange rate.
Various transfer methods. Some companies specialize in direct bank-to-bank transfers while others are all about the cash pick-up. Figure out what works best for you and your recipient and plan accordingly.
Fast transfer times. Depending on your circumstances, you may need cash in hand as quickly as possible, so don't forget to compare wait times before settling on a service.
Suitable transfer amounts. Make sure that the service you select doesn't operate within the confines of minimum and maximum amounts if you want to send either a fairly small or relatively large sum of money overseas.
Reliable customer service. When it all boils down, the reputation of the transfer service you choose can be a huge determinant, since you want to make sure there will be a real live person on board to help you should you run into any snags.
Back to top
Compare money transfer services
| | | | |
| --- | --- | --- | --- |
| Money Transfer Service | Transfer Fee (CAD) | Exchange Rate Markup | Total in BRL with fees deducted (from $1000.00) |
| TransferWise | $10 | $2.5744 | 2,548 |
| Canadian Forex | $15 | $2.5039 | 2,465 |
| XE Money Transfer | $0 | $2.5739 | 2,574 |
| Currency Solutions | $0 | $2.5731 | 2,573 |
| WorldFirst | $10 | $2.5728 | 2,547 |
Rates current as of 18 February 2018
Emergency cash transfers in Brazil
If you're visiting Brazil and manage to misplace or lose your wallet, you can look into a couple of different options to replace or recover your hard-earned dollars.
Travel insurance. If you had the good sense to purchase travel insurance prior to your departure, you may be able to get your hands on some emergency cash, depending on your policy.
Cash transfer services. So long as you have your passport in hand, you can take advantage of companies like Western Union and MoneyGram to send money from Canada to Brazil for cash pickup.
Credit card company. If you happen to have a freshly-minted platinum card in your possession, you might have access to complimentary traveller's protection, which could come in handy.
Back to top
Cash pickup locations in Brazil
Western Union and MoneyGram are located throughout Brazil, and offer a convenient and accessible way to get cash in hand, which can be particularly useful in an emergency. Make sure you have some form of ID, as well as a reference number and transfer details when you go to claim your money.
Western Union
MoneyGram
Tips for picking up cash in Brazil
If you're going to visit Brazil, the Government of Canada recommends that you exercise a high degree of caution (as of 18 February 2018). Foreign tourists are vulnerable to theft, including pick pocketing and muggings, so it's important to be cautious of strategies that are intended to divert your attention. When you go to retrieve your cash, whether from a bank machine or a cash pick-up location, avoid showing signs of affluence and be aware of your surroundings at all times, particularly at night.
Back to top
How to send money to Brazil
Before sending money to Brazil, you'll need to provide some information to your recipient:
Name. Make sure you know the exact name on the recipient's ID. Check the paperwork given to you to complete the transaction and make sure all of the spelling is correct.
Transfer number. When your transaction is complete, you'll receive a transfer number which you should pass on to your recipient.
Amount. Provide the amount of the transfer and your contact details to your recipient, just in case the provider requests this information.
Save any documentation issued to you after you complete the transaction, as you may need to reference it should any problems arise.
Background for Brazil
As the largest country in South and Latin America, Brazil is a hot spot for Canadian tourists, boasting coral-fringed tropical islands, pristine white sand beaches and bustling metropolises, along with the largest street festival in the world, Rio Carnival. In terms of trade relations, Brazil is a priority for the Canadian government and is featured in the national Strategy for Engagement in the Americas as well as the Global Markets Action Plan.
Back to top
Ask an Expert
You must be logged in to post a comment.