Send money to Bolivia
Understand what your options are when transferring funds to Bolivia.
The South American nation of Bolivia has an amazingly varied selection of landscapes, including the Atacama Desert, the Uyuni Salt Flats, the Andes Mountains and the Amazon jungle. Understandably, these are just a few of the unique features that make Bolivia a popular destination for Canadian tourists.
Many Canadians also head to Bolivia each year to volunteer with different government organizations. Whether you are travelling through Bolivia or need to send emergency cash to family or friends, there are a couple of specialist money transfer services that can help you send funds to Bolivia. By doing some research, you can ensure you get the best exchange rate and transfer fees on offer.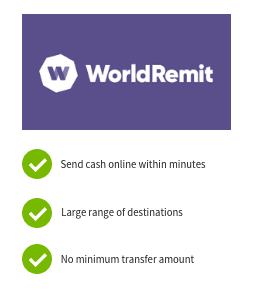 WorldRemit International Money Transfers

WorldRemit can help you get your money where it needs to go in minutes, with upfront exchange rates and low fees.
Use promo code FINDERCA on your first transfer and pay zero fees. T&Cs apply.
Transfers to 150+ countries
Send to bank account, cash pickup, mobile money, airtime top up
Pay with card, Interac or Apple/Android Pay
Compare money transfer services below
---
The "Rate" and "Amount Received" displayed are indicative rates that have been supplied by each brand or gathered by Finder.

Exchange rates are volatile and change often. As a result, the exchange rate listed on Finder may vary to the actual exchange rate quoted for the brand. Please confirm the actual exchange rate and mention "Finder" before you commit to a brand.
Banks versus money transfer companies
When you need to send money to Bolivia from Canada, banks offer an easy and convenient option. What they usually don't do, however, is offer a cheap option. The exchange rates banks offer on international transfers are often low. Just compare their exchange rates with those of any specialist transfer company to see just how poor they can be.
For a more cost-effective transfer solution, check out the services offered by specialist money transfer companies. These providers, such as TransferWise and WorldRemit, offer better exchange rates than the banks because they trade large volumes of foreign currency every day. They also charge lower fees than the banks most of the time, so you can save yourself a lot of money if you're willing to shop around for a more affordable deal.
Case Study: Josh Sends Money to Bolivia
Josh's best friend Daniel is backpacking around South America and has just been robbed in Bolivia. He emails Josh and asks for a transfer of $1,000 Canadian dollars to help him pay for accommodation and transport until he can receive new bank cards. Since his Canadian bank doesn't support any exotic currencies, Josh contacts two specialist transfer providers to see if there might be a more affordable option available to him.
As the table below shows, money transfer company 1 offers a better exchange rate, however they charge a higher fee by $10. Since the receiving difference between the two companies is only around $2.50, it makes more sense to choose money transfer company 2 since their fees are significantly cheaper.
| | Money transfer company 1 | Money transfer company 2 |
| --- | --- | --- |
| Exchange rate | $1 CAD = 5.37 BOB | $1 CAD = 5.36 BOB |
| Transfer fee | CAD$50 | CAD$40 |
| Transfer method | Online transfer for cash pick-up | Online transfer for cash pick-up |
| Processing time | Minutes | Minutes |
| Amount received (in BOB) | BOB5,365.03 | BOB5,351.43 |
How do I compare service companies when transferring and receiving money via Bolivia?
Exchange rates. Compare exchange rates offered by different companies to see which will give you more bang for your buck. Some companies will hide high fees inside competitive exchange rates, so compare both factors carefully to understand just how much money will reach your recipient.
Fees. Most money transfer companies charge some kind of fee. This fee is generally anywhere from $4 to $50 or more. Some companies will waive fees completely if you send over a certain amount of money with them, however this is generally around the $5,000 or $10,000 mark.
Transfer options. Does the provider offer forward contracts and limit orders? Do they offer a convenient way to schedule future repayments?
Minimum and maximum limits. Some providers impose minimum and maximum limits on each transaction. Will those limits affect your transfers?
Processing times. How long will it take from the moment you pay for your transfer to the time your recipient can access the funds you send? Some companies can send funds in a matter of minutes while others may take three to five business days, or sometimes even longer.
Pick-up options. Does the company offer bank transfers, cash pick-up transfers or another option?
Customer service. How will you be able to access help if you ever have a question about a transaction? Some companies will offer 24/7 support, while others may only be available a few hours a day. Check to make sure the hours are suitable for your schedule, as well as the contact methods. Methods may include over the phone, in person assistance, online chat or email.
How do I send money to Bolivia from Canada?
Specialist transfer providers. No specialist transfer providers can send money to Bolivia in the local currency. Providers like WorldRemit can send money from Canada, however it will arrive in USD and face another exchange rate.
Cash pick-up transfer companies. MoneyGram and Western Union both have a number of locations across big cities in Bolivia.
Bank transfers. Compare your bank's fees and exchange rates with those of other providers.
International cheques. Mailing an international cheque overseas is another option, but it takes a lot longer and also attracts high fees.
PayPal. If you and your recipient both have PayPal accounts, you can send and receive money easily using its online services.
How do I receive money from Bolivia in Canada?
Specialist transfer providers. Research online to see which providers offer transfers between Bolivia and Canada.
Cash pick-up transfer companies. Look for the nearest Western Union or MoneyGram branches. You can send or receive cash to a specific location.
Bank transfers. You should be able to send money from a Bolivian bank account to Canada.
International cheques. International cheques are a slow transfer method and also incur bank fees.
PayPal. As long as both you and your recipient have PayPal accounts, you will be able to send money anywhere in the world via the online service.
Emergency cash transfers in Bolivia
While it's possible to send an emergency cash transfer from Canada to Bolivia in a matter of minutes, it's always important to check out the details of your transaction before you send any funds. Urgent transfers tend to attract higher fees and lower exchange rates, so if you don't check the full cost of a transaction first, you could end up paying a whole lot more money than you might expect.
Cash pick-up locations in Bolivia/Western Union/MoneyGram branches in Bolivia
Western Union and MoneyGram operate the two largest money transfer networks in the world, including hundreds of locations in both Bolivia and Canada. A selection of cash pick-up locations in Bolivia are listed below, but make sure to call ahead to confirm addresses and opening hours before visiting. Photo ID will also be required when collecting cash, and it's always a good idea to know the tracking or ID number. It's also best to know the amount of money that has been sent as well as the sender's full name.
Western Union
La Paz
Agente Copybol
Arce Entre No 2355 Edif Cobija Pb La Paz,
La Paz
+591-2-2175216
Open 9am to 4pm Monday to Friday, 9am to 1pm Saturday
Banco Union S A
Ag Plaza Isabel La Catolica
Plaza Isabel La Catolica La Paz, La Paz
+591-2-2171717
Open 9am to 4:30pm Monday to Saturday
Sucre
Banco Union S A
Ag Chuquisaca
Calle Bolivar 385 Sucre, Chuquisaca
+591-464-42244
Open 9am to 4:30pm Monday to Friday, 9am to 1pm Saturday
Crecer
Av German Mendoza 2353
Central Sucre Sucre, Sucre
+591-3-46913366
Open 8:30am to 5:30pm Monday to Friday, 8:30am to 12pm Saturday
MoneyGram
La Paz
Banco Mercantil Santa Cruz
Avenida. 31 De Octubre 1536
La Paz,
22237048
Open 9am to 4pm Monday to Friday, 9am to 1pm Saturday
Credirapido 1
Avenida. Las Americas #24
La Paz,
59122263381
Open 9am to 7:30pm Monday to Saturday
Sucre
BNB
Calle Espana N 90 Zona Central
Sucre,
59146453055
Open 9am to 6:30pm Monday to Saturday
Oasis Tours
Calle Aniceto #95 Of. 2
Sucre
66432437
Open 8am to 8pm seven days
Tips for picking up cash in Bolivia
The Government of Canada warns Canadian travellers in Bolivia to exercise a high degree of caution due to ongoing political and social tensions, so keep the following tips in mind when picking up cash:
Don't go alone – take a friend with you.
Avoid visiting a cash pick-up branch in an area where you feel unsafe.
Stay away from any high-crime areas.
Always keep your cash hidden and don't display it in public.
Don't carry large sums of money around with you.
What are the steps to send money to Bolivia?
You will most likely need to do the following when you want to send money to Bolivia:
Sign up for an account. Many specialist transfer providers offer free online account signup when you supply your name and your contact information.
Enter your transaction details. You'll need to specify where you're sending the money, who will be receiving it, the amount you're sending and in what currency.
Submit your transfer. Once you've reviewed the details of your transaction, you can submit your transfer request. Most companies also offer an online transaction tracking service.
Ask an Expert
You must be logged in to post a comment.