How to send money to Bahrain
Compare fees and exchange rates to get the best deal on your next money transfer to Bahrain.
Located in the Middle East, Bahrain is an oil rich nation. With high rates of business and travel between Canada and Bahrain, there is a need for affordable and fast money transfers between the two nations.
While some Canadian banks do allow transfers to Bahrain, those banks tend to charge expensive transfer fees and give poor exchange rates. In recent years, specialist money transfer companies have emerged on the scene. These companies offer much more competitive exchange rates than the banks, as well as lower transfer fees and faster transfer speeds.
If you're looking to send money to Bahrain, read our guide to find out more information.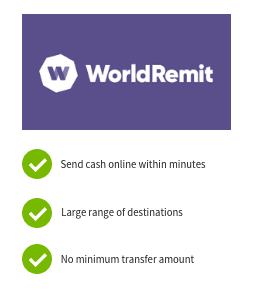 WorldRemit International Money Transfers

WorldRemit can help you get your money where it needs to go in minutes, with upfront exchange rates and low fees.
Use promo code FINDERCA on your first transfer and pay zero fees. T&Cs apply.
Transfers to 150+ countries
Send to bank account, cash pickup, mobile money, airtime top up
Pay with card, Interac or Apple/Android Pay
Compare money transfer companies in the table below
---
The "Rate" and "Amount Received" displayed are indicative rates that have been supplied by each brand or gathered by Finder.

Exchange rates are volatile and change often. As a result, the exchange rate listed on Finder may vary to the actual exchange rate quoted for the brand. Please confirm the actual exchange rate and mention "Finder" before you commit to a brand.
Case study: Banks versus money transfer companies
There are a number of money transfer companies and banks that can help you send and receive money between Canada and Bahrain. Companies like OFX and WorldRemit are some of Canada's most used online money transfer services, and both of these companies offer transfer services to Bahrain, alongside other companies like Western Union and MoneyGram, which are the two most popular cash money transfer services.
Yasmeen has recently moved to Canada from Bahrain with the goal of becoming a farmer. His wife and children are still in Bahrain and he likes to occasionally send them monetary gifts to cover some of their living expenses, and as birthday gifts. Yasmeen has a bank account with one of the top five Canadian banks and is doing some research to find out how much his family would receive if he sent them CAD$1,000. He decides to compare his Canadian bank to three specialist money transfer services. You can see the results of his comparison in the table below, based on the exchange rates between the Canadian dollar and the Bahraini dinar at the time of writing in the spring of 2018. Check the current exchange rates before making a decision.
| | OFX | WorldRemit | Western Union | Canadian bank |
| --- | --- | --- | --- | --- |
| Exchange rate | CAD$1 = BHD0.298 | CAD$1 = BHD0.291 | CAD$1 = BHD0.293 | CAD$1 = BHD0.287 |
| Transfer fee | CAD$15 | CAD$28 | CAD$40 | CAD$30 |
| Amount received for CAD$1,000 | BHD298.80 | BHD288.73 | BHD293.29 | BHD283.50 |
| Transfer time | Three to five days | One to two days | Just minutes | Three to five days |
| Transfer options | Online only | Online only | In person at a branch or online | In person at a branch, online or by telephone |
As you can see from the results, the cheapest option is for Yasmeen to send the funds via the online service provider OFX. This company offers cheaper transfer fees alongside a more competitive exchange rate. He does note however that this company takes a few days to send the money to Bahrain. Fortunately, his family is not in a rush to receive any money.
How do I compare transfer companies when sending and receiving money between Canada and Bahrain?
Exchange rates. Different companies will have different exchange rates depending on the cost associated with that specific currency for them. Most companies have currency converters on their website, which you can check before you commit to sending a transfer. Keep in mind that the exchange rate may not be up-to-date. The best way to know exactly what rate you will pay is to obtain a quote.
Pick-up methods. Methods generally include cash pick-up, bank-to-bank transfers and mobile transfers.
Minimum transfer amounts. Some companies will impose minimum (and sometimes maximum) transfer limits. These minimum limits can be as low as zero dollars and as high as CAD$3,000. Maximum limits can be as low as CAD$250 and as high as CAD$250,000.
Transfer fees. The transfer fees between the different companies will differ significantly and will, therefore, have to be measured against the exchange rate offered. It's important to take into account that the transfer fee may not be the full fee charged if you are sending money to a bank account, as the Bahraini bank to which the money is being transferred may also charge a receiving fee. Some companies may completely waive the transfer fee if you send over a certain sum of money.
Transfer methods. Transfer methods will vary between companies, but may include online, in person at a branch, over the phone or via a mobile app.
Transfer time. Turnaround times vary between different companies, and can be anywhere from just a few minutes to six business days. Banks tend to take between three and five days to transfer funds, however it can sometimes be longer. Companies like Western Union and MoneyGram can have the funds available within just minutes.
How do you send and receive money between Canada and Bahrain?
MoneyGram. This is one of the most convenient methods to send money to Bahrain. You can visit your nearest MoneyGram branch in Canada and transfer money. Your recipient in Bahrain can withdraw it at their nearest Bahrain Financing Company branch. Should you be in an emergency and need the money transferred the same day, there is an emergency service available. This is subject to operating hours, availability and local laws and regulations.
Western Union. Western Union gives you the option to send money to your recipient and have it available for cash pickup within minutes. You can lodge the transaction online from Canada or in person at a branch location.
OFX. With a CAD$15 flat fee for transactions under CAD$10,000 and zero fees for transactions over CAD$10,000, OFX offer transfers to plenty of countries around the world, including Bahrain. OFX may offer some of the most affordable transfers to Bahrain.
WorldRemit. With a relatively low transfer fee to Bahrain, you can send money using the online only services of WorldRemit.
Banks. Some Canadian banks will allow transfers to Bahrain. Visit your local branch or perform the transaction online or via the telephone. Alternatively, you could visit a branch and get a money order or draft cheque. Also known as "snail mail", sending a money order or draft cheque via the mail is the slowest way to send money overseas.
How to handle emergency cash transfers in Bahrain
MoneyGram and Western Union offer cash pick-up services that can be available for pick-up within just minutes of the transfer being lodged. Although these companies charge higher transfer fees for the quick turnaround times, it's worth paying extra if you absolutely need to get money to Bahrain as quickly as possible.
Cash pickup locations in Bahrain for MoneyGram and Western Union
Visit the following MoneyGram and Western Union branches in Manama and Al Muharraq in Bahrain to receive your cash. Make sure that you have a valid government issued ID with you as well as the transaction reference number. Knowing other details like the full name of the sender, the country from which it came from and the amount may also help.
Western Union
Manama
Bank of Bahrain and Kuwait
43 Government Avenue
P.o. Box 597
Manama, 305
+973-17-207492
Office hours:
Monday – Thursday, 7:30 AM – 2:30 PM
BBK Manama Branch
Bldg 177 Government Road
Manama 304
+973-17-223989
Office hours: Monday – Thursday 7:30 AM – 2:30 PM
Friday Closed
Saturday – Sunday 7:30 AM – 2:30 PM
Al Muharraq
Bahrain India International
Exchange company
Sh.abdulla Road, opp. public Bus
Muharraq, BHR
+973-17-216036
Office hours:
Monday – Sunday 8:00 AM – 8:00 PM
Gulf Air Branch
Gulf Air
Muharraq Muharraq
+973-17-320933
Office hours:
Monday – Thursday 8:50 AM – 3:15 PM
Friday – Saturday Closed
Sunday 8:50 AM – 3:15 PM
MoneyGram
Manama
Bahrain Financing Company
Shop 0; Building 150; Road 1507; Block 315
AL MANAMAH,
17228888
Office hours:
Monday – Sunday 8:00 AM – 9:00 PM
Bank of Bahrain and Kuwait
Osama bin Zaid Avenue
Manama
+ 973 1720 7777
Office hours:
Monday – Thursday 8:00 AM – 5:00 PM
Sunday 8:00 AM – 5:00 PM
Friday – Saturday Closed
Al Muharraq
Bahrain Financing Company
Building 1709
Road 1129
Block 211
Muharraq
Monday – Sunday 8:00 AM – 9 : 00 PM
Bank of Bahrain and Kuwait
Avenue 1
Muharraq
Office hours:
Monday – Thursday 8:00 AM – 5:00 PM
Sunday 8: 00 AM – 5:00 PM
Friday – Saturday Closed
Great tips for picking up cash in Bahrain
Bahrain is often in civil distress with the threat of terrorist attacks constantly looming and, with this, the Government of Canada recommends that you exercise a high degree of caution when visiting the nation. There are regular protests and demonstrations. Despite that, when it comes to the issue of carrying cash with you, the country is reasonably safe and has a low crime rate. When you carry cash, follow these simple rules:
Don't flash your cash around. Always keep it in a safe place as soon as you receive it.
Don't wear any type of bag around your waist that will identify you as a tourist.
Try and dress like the locals. In Bahrain, where custom and tradition are taken very seriously, this might just be a general tip as well.
Never put your cash in your back pockets – put it in pockets with zippers that are close to your body and that you can see.
Keep your small notes and large notes in different pockets. You will usually only make use of smaller notes which means pickpockets don't know where all of your cash is stashed when you take cash out to pay for something.
What are the steps to send money to Bahrain?
For cash pick-up:
For cash pick-ups and to send money via services like MoneyGram and Western Union, you'll need to do the following:
Register with the service provider, either in person or online (for Western Union only)
Have the money available that you wish to send
Have a valid government issued ID
Know the nearest pick-up location for your recipient
Be familiar with the personal information of your recipient, including their name and contact details
Be prepared to provide the tracking number to your recipient
Your recipient will need to:
Provide the tracking number at the pick-up location
Have valid government issued ID on hand
Have a copy of the original transaction or receipt as a safety measure
To a bank account:
You can send money to a Bahraini bank account, where you will require the following information:
Your recipient's name and contact information
Your recipient's banking details, including the transitcode, their bank account number and their bank name and address.
Ask an Expert
You must be logged in to post a comment.